Jamie Lynch: Launch of a long Series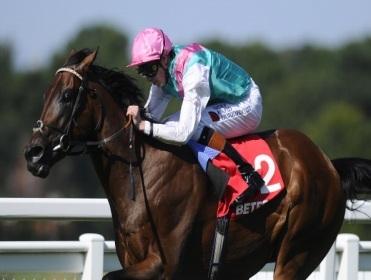 Kingman makes his reappearance in the Greenham Stakes
Jamie Lynch was at the launch of the 2014 British Champions Series and he shares some snippets of information... 
Is Kingman the real deal? The dull answer is that he hasn't proved that he is, but the exciting answer, and equally true, is that he hasn't proved that he isn't...
I don't know but I've been told. I don't know but I've been told.
Running keeps me in the fold. Yellow, blue stars; maroon and gold.
The cadence call, with its familiar command and response structure, is a work song used in military running drills, with the dual purpose of instilling camaraderie and keeping the troops in rhythmic line. It's the lighter side of subordination, an extension of the 'I say jump, you say how high' order, a phrase which also has its origins in military boot camps.
Without going too deep into the psychology of subordination, it can benefit both parties, in that the drill sergeant establishes a position of power, while the foot soldier's smiling subservience reduces the risk of a potentially career-damaging confrontation. In such a relationship, the boss gets what he wants, primarily dominance, and his dependents do all they can to keep in his favour.
On a completely unrelated matter, a number of trainers under the employ of powerful owner Sheikh Fahad Al Thani have taken up his invitation to run the London Marathon this weekend.
Amongst them is Olly Stevens, who, when asked at the luncheon launch of the 2014 British Champions Series why his heavier-set, yellower-fingered counterpart Peter Chapple-Hyam wasn't declared, replied that 'a certain amount of pity has got him off the hook'.
By the way, I'd love to have earwigged the call that was put in to David Barron to enlist him, as a Sheikh Fahad patron, to the marathon team. I suspect the response was along the lines of the old saying that 'If you see me running, you should start running too, because something is probably chasing me.'
Presumably followed by: 'Mind, you can tell the Sheikh that Pearl Secret is still a monster.'
Pearl Secret remains an unfinished symphony, prospectively Barron's greatest work of all, and though Nottingham was little more than an exercise for him, against inferior rivals, you could almost see the power and class radiating from him. On the back of that, Pearl Secret's Timeform rating edged up to 122, with the 'p' reinstated, suggesting he's about as good a sprinter has Britain has got, though speed limits seem lower here than other parts of the world.
It may be that Barron gets only so many shots with Pearl Secret this year, given he's had his problems and needs a certain set of circumstances, and the race that he's made for, but is the longest way off, is the Abbaye: a funnel of speed, just shy of five furlongs, with a bit of cut in the ground, and rarely if ever featuring non-Europeans.
Anyway, back to the launch of the 2014 British Champions Series, held at the Channel 4 building on Tuesday, which I know because, somehow, I got myself a ticket; not that hot-cake stall outside had any competition.
Rather like the Champions Series itself, the event had the feel of something that didn't quite yet know what it wanted to be, proving rather underwhelming despite its best efforts. Caught somewhere between a press conference and a shopping-channel promotion, the ninety-minute presentation came across as a final rehearsal, with all the main protagonists present and word-perfect, but playing to a quarter-full house, preaching to the practiced if not the converted.
What the launch gained in cast and production, it lost in content, the announcement of the big-field handicap for apprentice jockeys on Champions Day being replaced by a big-field handicap for professional jockeys being the only 'exciting development' to report.
More interesting, and more valuable than my commentary, are the proper views of the proper people that were there, some in person (Charlie Appleby as well as the aforementioned Olly Stevens) and most via recorded interviews. Here are the edited highlights:
Olly Stevens likes Gamesome a lot, mentioning the Jersey at Royal Ascot, though having an eye on a valuable six-furlong handicap the week before, presumably the one at York. That sounded ambitious until he suggested that Extortionist is the type of horse who could run in both of the top sprints at Royal Ascot.
Confirmation came from Charlie Appleby - who came across as one of the good guys - that the mainstay of the Godolphin horses remain in Newmarket through the winter nowadays, with only the Carnival runners transported to Dubai, and that Mickael Barzalona is effectively his stable jockey, with Silvestre de Sousa hitched to the bin Suroor squad.
Majeyda (Timeform rated 104) has the Nell Gwyn and Guineas on her agenda, but so too does the once-raced Folk Melody (97p), the latter the one who brought a glint to the Appleby eye. As for the three-year-old colts, Sudden Wonder (106p) will go for the valuable sales race at Newmarket next week, evidently with high expectations, and Pinzolo (106p) will be trained as a Derby contender until the horse tells them otherwise.     
Overlooking Pearl Secret, Jamie Spencer bigged up Zoustar, part-owned by Qatar Racing and the latest in the production line of hot Australian sprinters, who apparently already has his bags packed for Royal Ascot this summer.
In probably the most interesting tit-bit out of the interviews, a surprising would-be opponent for Zoustar was put forward by Roger Varian when he revealed that Aljamaaheer - a classy miler placed in the Lockinge and Queen Anne last year - would have a crack at sprinting this time around. A high cruising speed has long since been the hallmark of Aljamaaheer, and dropping him back in trip could well be the making of him.  
Though the event was largely formal in manner, it did have its funnier moments, including when John Maxse, reduced to a plant, put his hand up in the concluding question-and-answer session to ask Rod Street if there was any qualifying races for the Balmoral Handicap; and when Brian Meehan said that he had 'stakes horses galore' for this season. 
Less predictable was that Sir Michael Stoute, who usually gives only name, rank and serial number, was happy to nominate a 'dark' horse, namely Idea, the winner of a Windsor maiden on what was effectively his debut (had unseated leaving the stalls at Goodwood a fortnight earlier), entered in the Guineas.
Owned by Khalid Abdullah, Idea will be ridden by James Doyle, who, significantly, put Remote in the same category as Kingman when asked which horses he was most looking forward to in 2014.  Remote wasn't seen after Royal Ascot last year, but big things are clearly still expected of him.
And so to this weekend, and Kingman, a ventriloquist horse rather than a talking horse, because all of the talking has been done for him, much of it unfairly provocative, one way or the other. But Kingman has spoken very well for himself so far, thank you very much.
John Gosden was very busy with his hype extinguisher last year, going as far as saying his Guineas price belonged in the Theatre of the Absurd, but it was Kingman alone who clocked a sensational closing sectional for his maiden win and it was Kingman alone who followed up in the Solario Stakes without being fully extended, in a steadily-run four-runner race that wasn't conducive to an explosive performance.          
He is what he is so far: the sixth-best British-trained horse of his generation, but with far greater potential than those ahead of him, as denoted by the Timeform large 'P'. That's more than enough to quantify him as a Group 1 winner in the making and more than enough for him to maintain his unbeaten record in the Greenham, even a good Greenham with Night of Thunder and Berkshire in opposition.
Is Kingman the real deal? The dull answer is that he hasn't proved that he is, but the exciting answer, and equally true, is that he hasn't proved that he isn't.
For most people, the weekend starts on Friday night, and don't forget that the best horse in the world by Timeform's reckoning (if only just now from Treve and Just A Way) makes his seasonal comeback at 22:13 GMT on Friday: Wise Dan. The race will be what his trainer Charles Lopresti calls a 'screw-tightener', in other words a means to an end, with his usual bigger targets lying well ahead of him, but any appearance from a horse as brilliant as Wise Dan is always worth savouring.
Discover the latest articles