Tony Calvin: An analysis of the Douvan price crash for the Betfair Tingle Creek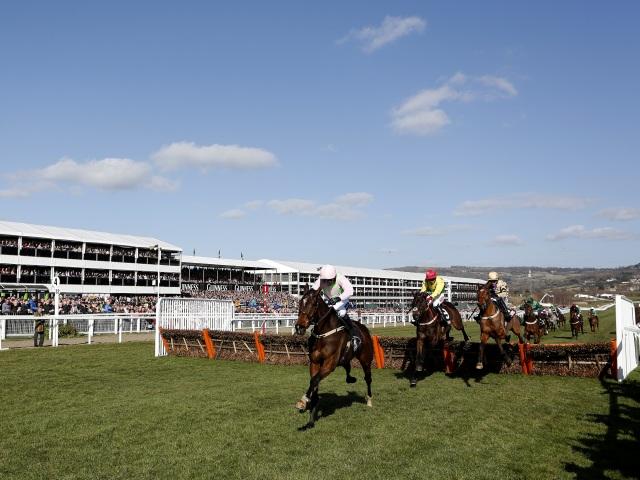 Douvan (pictured, in the lead) has been backed in for the Betfair Tingle Creek
Douvan has been backed in from 5/1 to 4/7 on the Sportsbook for the Betfair Tingle Creek after 'heavy and sustained support' - but what was behind it? Tony Calvin takes a forensic look...
"I think this may not be the last dramatic move to play out in a now-fascinating Betfair Tingle Creek market, so keep 'em peeled."
I started writing this Betfair Tingle Creek assessment on Monday afternoon and then took a pull for 24 hours after the race was re-opened after attracting eight entries at the five-day stage. Those eight still stand, by the way, after no new runners were added to the race on Tuesday morning.

But one thing that immediately struck me as odd yesterday was why in the hell would some bookmakers have priced up Douvan as big as 5/1 for the race?

In fact, why did they price up the contest at all with running plans for a few of the eight - with possible, additional entries still to come after it had been re-opened - up in the air?

To be fair, some books didn't, though curiously they have now. And I would also add that all bookmaker sponsors - in this case Betfair - are pretty much obliged to price up their own races, come what may. It is simply the "done thing" in the industry, for as much marketing and PR purposes for the racing media, as well as the obvious service to their customers.

However, Douvan was always going to be a big odds-on poke if lining up, so why was he available as big as 5/1?

That meant the layers made him a massive price to run, and that was never the case to judge from all reports on Monday. Yes, there were hints, but they always exist in the ante-post arena, so why take the risk?

And even if the books offered 2/1 about Douvan, let alone 5/1, they were always going to be on red alert, anyway.

Surely the crucial point to make is if you price Douvan up at 5/1 all you are going to get is informed money. Or none at all. Or, if the decision is genuinely still 50-50, then informed trading money.

One rumour or hint of attempted interest in the horse - a bet request on the Exchange, or from certain fixed-odds customers - and his price was always going to go into freefall tout suite.

Because, if lining up on Saturday, there isn't an odds-compiler in the country that wouldn't make Douvan more than a 4/7 poke, even if all his seven rivals stand their ground, which they are far from certain to. He is a top-priced 8/11 for the Champion Chase, after all.

His price duly came crashing in on Tuesday morning, with the sponsor's Sportsbook reporting a "flood of money" for the horse, even after cutting him to 11/10 after the first wave of interest.

At the time of writing (1pm), the last traded price for Douvan on the exchange is 1.548/15 - it suspended, as per usual, at midday when the final five-day field was being finalised - but nothing seems to have changed in the interim as regards information, or running plans for the now-favourite.

The stable still say there has been no decision about whether he or stablemate Un De Sceaux are intended to line up at Sandown. Or indeed either of the pair, although Un De Sceaux, the market-leader on Tuesday morning, has predictably drifted and is now out to 6/1 in places.

It's a curious situation, so why has it come about?

I am sure a lot of people are reading this and saying "aftertimer" and probably a lot worse, in truth - it's alright being wise after events this morning, they'll cry - but I obviously can't do anything about that. I am writing this now, for the reasons I explained above, so live with it.

But what I can add is that it will not have taken a lot of money at all for the 5/1 and 4/1 industry-wide quotes to disappear, though the betting bandwagon effect will undoubtedly have kicked in afterwards at reduced odds, however accurately or wisely, as the Sportsbook have reported.

I don't think you can over-estimate the degree to which all bookmakers watch the Betfair Exchange market like a hawk.

Yes, some may decry the fact that the markets can be illiquid but you can bet your bottom dollar that every bookmaker in the land, and plenty layers overseas, track them religiously for any hint of movement, either in the day-of-race markets or ante-post.

My guess is that the original Douvan move originated on the Exchange, for whatever reason - and the traded volumes are there for you all to see as to how much money it took - and every bookmaker then took evasive action and immediately slashed the horse. And not due to any significant weight of money.

I could be bang wrong here but I think the opening move on Douvan, from 5/1 and 4/1, was probably borne of very little money industry-wide.

And that was the most important move that triggered the then sustained, wider betting interest in the horse - and possibly totally misplaced - that saw odds-on quotes materialise across the board in under two hours.

However, what I would stress is that things can change very quickly in ante-post markets where trainers have more than one entry - Gary Moore has the well-fancied pair of Ar Mad and Sire De Grugy in here, and he has a decision to make, too - and please bear in mind that you will do your money if your selection doesn't rock up.

And I think this may not be the last dramatic move to play out in a now-fascinating Betfair Tingle Creek market, so keep 'em peeled.

Discover the latest articles
Read past articles