To Cash Out or Not to Cash Out? Half a million reasons to cheer on Envoi Allen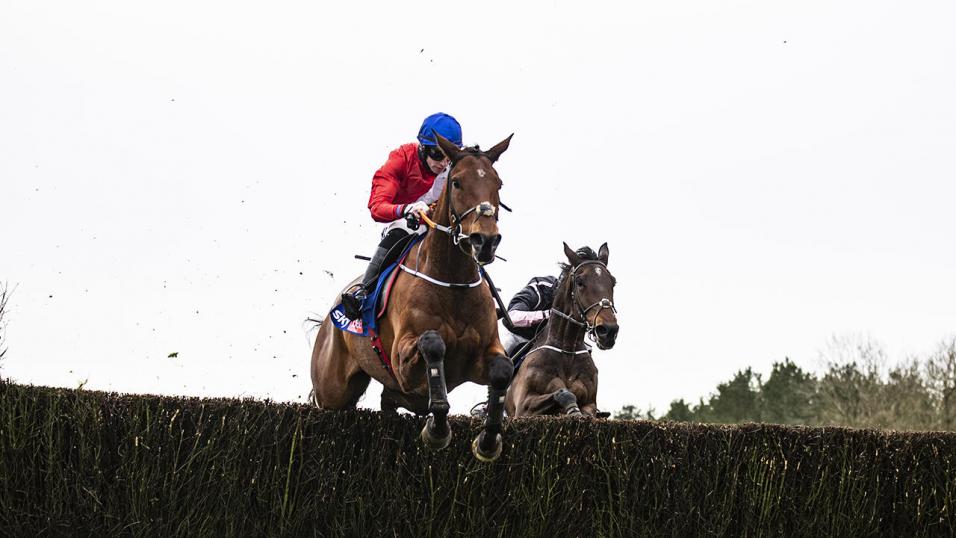 Would you cash out?
It's one of the finest antepost accas we have ever seen and now one Betfair customer must decide whether to let his bet ride to win half-a-million pounds or accept our Cash Out offer of £275,000...
"It's a fantastic offer and I couldn't be happier. I've definitely done the right thing."
UPDATE - MARCH 18
Paul has decided to take a whopping Cash Out of £250,000!
✅ Congratulations to Paul who has taken our partial cash out offer on his stunning £5 acca.

He'll be cheering on Envoi Allen at 1:20pm hoping he can add another £50k to his £250k winnings!#CheltenhamWithBetfair https://t.co/v0Ew7IvcEM pic.twitter.com/6tvTeI8bvv

? Betfair (@Betfair) March 18, 2021
Betfair spokesman, Barry Orr, said : "At Paul's request we gave him a partial Cash Out offer which reflected his desire to have a portion of his bet still running on Envoi Allen, while also ensuring a substantial profit on his incredible bet.
"The offer sees Paul receive £250k if anything other than Envoi Allen wins the Marsh Novice Chase today at 13:20 and an additional £50k should Envoi Allan win. Giving him a total of £300k and fulfilling his wish of being able to cheer home Envoi Allen with gusto."
Paul said: "It's a fantastic offer and I couldn't be happier. I've definitely done the right thing."
When asked what he will do with the money, Paul said: "I'll be going on a lot of holidays! It's my mum and dads 70th this year so we'll be going to New York and to some of the best golf courses in the world. I really want to play Bethpage and Sawgrass. And I think I'll buy a horse."
On placing accumulator bets: "It's all about Cheltenham for me and I love having small ante-post bets and the dream of a big win over the winter. I usually start placing my bets at the next best race meeting after Cheltenham, that's Royal Ascot in June''
On how he picked the horses: "This year I really fancied Golden Hoard and Hello Youmzain at Royal Ascot. Shishkin was an obvious one while Bob Olinger looked so good in him bumper. I also love his trainer, Henry de Bromhead and Bob Olinger's sire, Sholokhov, plus the Ballymore is my favourite race in the world. I've back all the big winner of the race over the years."
On Envoi Allen: "I just love him and want to be able to cheer him home today that's why I have partially cashed out. Come on Envoi!"
**
A lucky Betfair customer stands to win £511,225 for a £5 accumulator bet should his last selection and raging hot favourite, Envoi Allen, win the first race at Cheltenham tomorrow.
We have offered the punter the opportunity to 'Cash Out' of his bet for a profit of £275,000 or he can chose to let the extraordinary bet ride.
Betfair spokesman Barry Orr said: "The customer is sitting on over half a million pound payout for just a £5 bet and told me he won't be able to sleep tonight.
"I'd say that's a massive understatement!"
"He could take the cash out offer of £275,000 and sit back safe in the knowledge that regardless of what happens in the race he is £275,000 better off
"Or he can reject the offer and hope that Envoi Allen beats his seven opponents and also safely negotiate the 16 fences to land his incredible bet.
"Envoi Allen is 4/9 favourite so he may well stick and let the bet run."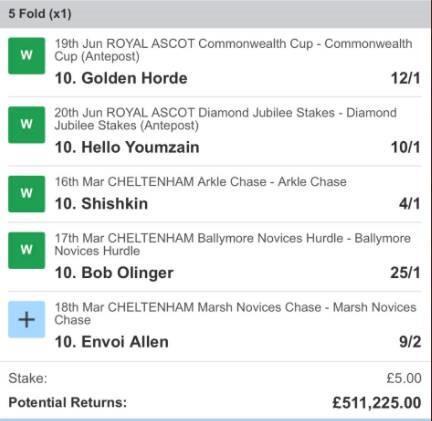 The winning bets so far...
Golden Horde 12/1 - Won The Commonwealth Cup at Ascot, Friday 19th June 2020
Hello Youmzain 10/1 - Won The Diamond Jubliee at Ascot, Saturday 20th June 2020
Shishkin 4/1 - Won The Arkle at Cheltenham, Tuesday 16th March 2021
Bob Olinger 25/1 - Won The Ballymore Novices' Hurdle at Cheltenham, Wednesday 17th March 2021
And now just waiting on...


Envoi Allen 4/1 - The Marsh Novice Chase,
Here's how the guys in the Racing Post studio reacted when Barry told them...
A Betfair punter is waiting on Envoi Allen tomorrow for £511,225!

Golden Horde - Commonwealth Cup 12/1
Hello Youmzain - Diamond Jubilee 10/1
Shishkin - Arkle 4/1
Bob Olinger - Ballymore 25/1

❓ Envoi Allen - Marsh Novices' Chase 9/2pic.twitter.com/sMBHh3SfgQ

? Betfair (@Betfair) March 17, 2021
Discover the latest articles
Read past articles