US Open 2020: Current and event form stats for this year's second major championship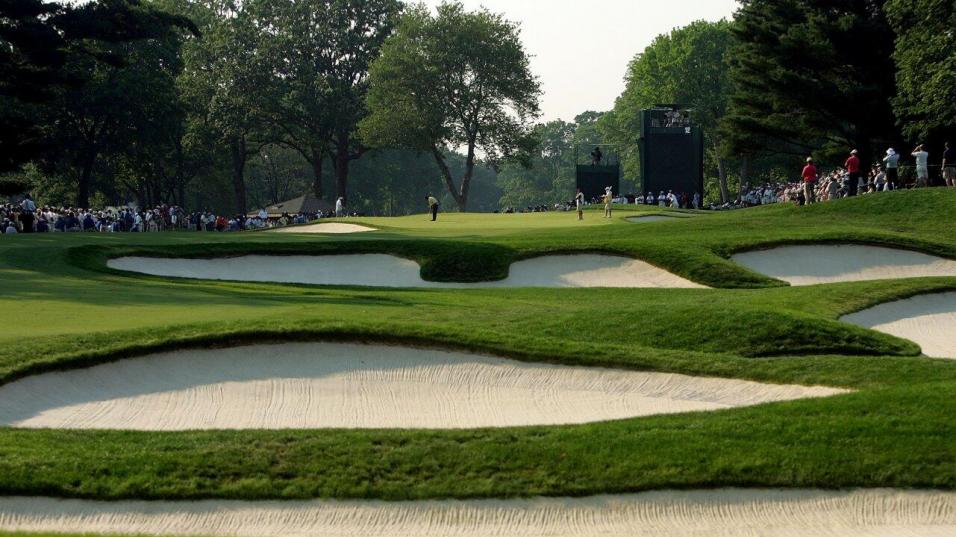 A view of Winged Foot's 12th green
It looks like being a brutal US Open so which men are in the best form for the test to come? Andy Swales brings our current form guide...
"Like most US Open venues, Winged Foot has the potential to be brutal and it will be no surprise if the winning score this week is somewhere around level par."
Winged Foot in New York returns to the major championship arena this week when it stages the rescheduled US Open.
Originally earmarked for its traditional slot in mid-June, the tournament was put on hold for three months when professional golf came to a complete standstill in mid-March because of Covid-19.
The 97-year-old course hosted the most recent of its six championships in 2006 when Geoff Ogilvy took advantage of some costly late errors by Colin Montgomerie, Phil Mickelson and Jim Furyk, to claim his first and so far only major title at the US Open.
Winged Foot's major championship history has certainly been colourful, since hosting the first of its five US Opens 91 years ago - it has also staged one PGA Championship in 1997.
In 1974, just 12 months after Johnny Miller had annoyed USGA officials by winning at Oakmont with a stunning closing round of 63, tournament organisers created a course so difficult that Hale Irwin was crowned champion after completing 72 holes in seven-over-par.
Like most US Open venues, Winged Foot has the potential to be brutal and it will be no surprise if the winning score this week is somewhere around level par.
When Davis Love won the PGA Championship here 23 years ago, he was 11 under. Yet, nine years later, Ogilvy triumphed at the US Open posting five-over par.
Venue changes
To prepare the club's West Course to host this week's event, Albert Tillinghast's original design was given a revamp by American architect Gil Hanse.
The original routing remains untouched but greens, bunkers and tees have all been rebuilt.
According to Hanse's own website (www.hansegolfdesign.com) "the putting surfaces were expanded to their original size which, in most cases, entails a 15-25% expansion.
"Along with lots of tree work, the fairways have been extended to wrap into bunkering. New back tees will add about 250 yards to a course that covered 7,264 yards (par 70) during the last US Open here in 2006."
'Penal off the tee'
Former Ryder Cup golfer and straight-talking television analyst David Feherty took one look at the course and told Golf Digest: "I expect a lot of whining. There always is whining when you've got a golf course that's so penal off the tee."
Check out the latest betting ahead of this week's US Open at Winged Foot
His co-commentator Roger Maltbie, a five-time winner on the PGA Tour, added: "Some guys that have gone to Winged Foot in advance have said they fully expect over par to win the championship.
"From a set-up standpoint, the golf course will be presented in a fashion we would call a traditional US Open set-up. It's going to be a traditional test of US Open skills, which I welcome and can't wait to see."
Tree-lined, tight and parkland in nature, the West Course is located around 24 miles north of Manhattan.
Greens are of average size, for PGA Tour events, while fairways and putting surfaces combine Poa annua with Bentgrass.
It is a well-bunkered venue, with some testing dog-legs, although the only water hazard is a stream which meanders through two holes - but this shouldn't cause too many headaches for world class golfers. That said, there are still plenty of problems lying in wait for this week's 144-player field.
Previous experience
Not surprisingly, fewer than 20 of those taking part teed-up at Winged Foot on the last occasion the course staged a major championship.
Phil Mickelson (2nd) and Steve Stricker (T-6th) finished inside the top 10, while Paul Casey, Ian Poulter and Adam Scott posted T-25s. Tiger Woods and Sergio Garcia were among those who missed the cut.
Meanwhile, Woods, Mickelson and Lee Westwood were all tied-for-29th when the PGA Championship came to town 23 years ago.
Twitter: Andy Swales@GolfStatsAlive
Note: Tour Championship figure for Week 36, relates to a golfer's 72-hole total rather finishing position after handicap was applied.
Last 10 Weeks / Last 10 US Opens (2010-19)
| Player | W37 | W36 | W35 | W34 | W33 | W32 | W31 | W30 | W29 | W28 |
| --- | --- | --- | --- | --- | --- | --- | --- | --- | --- | --- |
| Dustin Johnson | | 3 | 2 | 1 | | 2 | 12 | Wd | MC | |
| Jon Rahm | | 6 | 1 | 6 | | 13 | 52 | | 1 | 27 |
| Justin Thomas | | 3 | 25 | 49 | | 37 | 1 | | 18 | 2 |
| Rory McIlroy | | 7 | 12 | 65 | | 33 | 47 | | 32 | |
| Collin Morikawa | | 7 | 20 | MC | | 1 | 20 | | 48 | 1 |
| Webb Simpson | | 17 | | 6 | 3 | 37 | 12 | | MC | |
| Xander Schauffele | | 1 | 25 | 25 | | 10 | 6 | | 13 | 14 |
| Bryson DeChambeau | | 25 | 50 | MC | | 4 | 30 | | MC | |
| Patrick Reed | | 7 | 40 | 49 | 9 | 13 | 47 | | 10 | 39 |
| Adam Scott | | | 25 | 58 | | 22 | | | | |
| Patrick Cantlay | | | 12 | MC | | 43 | 35 | | 32 | 7 |
| Daniel Berger | | 17 | 25 | 3 | | 13 | 2 | | MC | |
| Tyrrell Hatton | | 5 | 16 | 25 | | MC | 69 | | | |
| Tony Finau | | 14 | 5 | MC | | 4 | 65 | 3 | 8 | |
| Tommy Fleetwood | 3 | | | 44 | 59 | 29 | 35 | MC | | |
| Matthew Fitzpatrick | | | 6 | MC | | MC | 6 | | 3 | 27 |
| Justin Rose | | | | 25 | MC | 9 | | | MC | MC |
| Hideki Matsuyama | | 17 | 3 | 29 | | 22 | 20 | | MC | 22 |
| Tiger Woods | | | 51 | 58 | | 37 | | | 40 | |
| Paul Casey | | | 16 | 49 | 31 | 2 | 67 | MC | MC | |
| Abraham Ancer | | 14 | 33 | MC | | 43 | 15 | | 58 | |
| Louis Oosthuizen | | | 25 | 13 | | 33 | 6 | | 54 | 65 |
| Sung Jae Im | | 12 | 56 | MC | 9 | MC | 35 | | MC | 63 |
| Gary Woodland | | | 33 | MC | | 58 | 57 | | 22 | 5 |
| Marc Leishman | | 28 | 69 | MC | | MC | 52 | | 40 | MC |
| Matt Kuchar | | | 59 | 18 | | MC | 25 | | 32 | 39 |
| Shane Lowry | MC | | | MC | 23 | 66 | 6 | | MC | 39 |
| Kevin Kisner | | 22 | 25 | 4 | 3 | 19 | 25 | | MC | |
| Viktor Hovland | | 14 | 40 | 18 | | 33 | 59 | | 48 | 3 |
| Bernd Wiesberger | | 31 | 5 | | | 43 | 74 | 26 | MC | |
| Billy Horschel | | 30 | 33 | MC | 2 | 43 | 25 | | 13 | 7 |
| Kevin Na | | 27 | 51 | 39 | | MC | 35 | | 9 | |
| Ryan Palmer | | 25 | 40 | 8 | | 43 | 15 | | 2 | MC |
| Matthew Wolff | | | 16 | 44 | | 4 | 49 | 12 | 22 | MC |
| Jason Day | | | 64 | MC | | 4 | 6 | | 4 | 7 |
| Rickie Fowler | | | | 49 | | MC | 15 | | MC | 22 |
| Brendon Todd | | 21 | 8 | 64 | MC | 17 | 15 | | 22 | |
| Henrik Stenson | | | | | | MC | 35 | | | |
| Chez Reavie | 3 | | | 49 | MC | 75 | 6 | | 22 | 17 |
| Lee Westwood | | 10 | 17 | | | 34 | | 70 | | |
| Danny Willett | | | MC | | MC | MC | 69 | | 32 | |
| Sergio Garcia | MC | | | | 66 | MC | 35 | | 32 | |
| Harris English | | 13 | 40 | 2 | 23 | 19 | | 18 | 13 | |
| Matt Wallace | | | 19 | | MC | 77 | 59 | | 4 | 39 |
| Kevin Streelman | 3 | | 51 | 61 | | 58 | 35 | | 54 | 7 |
| Erik van Rooyen | MC | | | | | 51 | 20 | MC | 22 | |
| Cameron Smith | | 22 | 20 | 18 | | 43 | 59 | | 68 | |
| Joaquin Niemann | | 28 | 3 | MC | 42 | MC | 52 | | MC | 31 |
| Phil Mickelson | 44 | | | MC | | 71 | 2 | | 54 | 58 |
| Christiaan Bezuidenhout | | | | | 37 | MC | 20 | | 22 | |
| Victor Perez | | 31 | MC | | | 22 | 65 | | MC | |
| Tom Lewis | | | | MC | 51 | MC | 2 | 32 | | |
| Jason Kokrak | | | 6 | 13 | 15 | MC | 44 | | Wd | MC |
| Mackenzie Hughes | | 7 | 10 | 13 | | 58 | 44 | | 6 | 48 |
| Byeong Hun An | | | 12 | MC | | 22 | 12 | | MC | MC |
| Ian Poulter | | | | 39 | | 22 | 69 | | MC | 5 |
| Joel Dahmen | 52 | | 20 | MC | | 10 | 20 | | 74 | MC |
| Jazz Janewattananond | | | | | | MC | 59 | | MC | |
| Shugo Imahira | | 5 | | | | | | | | |
| Graeme McDowell | | | | MC | MC | MC | 35 | | MC | 35 |
| Bubba Watson | | | 16 | 18 | | 71 | 25 | MC | 32 | MC |
| Rasmus Hojgaard | | 31 | 1 | | | 3 | 6 | 2 | | |
| Adam Hadwin | | | 40 | MC | | 58 | 72 | | 54 | 35 |
| Jordan Spieth | MC | | | MC | 72 | 71 | 30 | | 13 | MC |
| Sung Kang | | | | MC | MC | 79 | 44 | | 73 | MC |
| Rafa Cabrera-Bello | MC | | | | 37 | MC | 78 | 32 | MC | |
| Corey Conners | | | 33 | 25 | MC | MC | 30 | | 22 | 39 |
| Lanto Griffin | | 17 | 10 | 58 | | 19 | 58 | | 44 | MC |
| JT Poston | | | 59 | 39 | MC | 75 | 30 | | MC | |
| Brandt Snedeker | MC | | | MC | 42 | 51 | 67 | | | MC |
| Cameron Champ | | 22 | 65 | MC | | 10 | 25 | | MC | 67 |
| Sebastian Munoz | | 7 | 8 | 18 | 74 | MC | | | 48 | MC |
| Adam Long | | | 56 | 49 | 31 | 51 | | 2 | MC | 52 |
| Thomas Pieters | | | | 15 | 3 | | | | | |
| Max Homa | | | 59 | MC | | MC | 52 | 3 | MC | MC |
| Lucas Herbert | | | | | | MC | 49 | | | |
| Thomas Detry | | 31 | | | 2 | 56 | 2 | MC | | 8 |
| Michael Lorenzo-Vera | | | | | | 43 | | | | |
| Shaun Norris | | | | | | MC | 75 | | | |
| Charles Howell | | | 48 | 44 | MC | | | 3 | 48 | MC |
| Sam Horsfield | | | | 44 | 1 | MC | 1 | 10 | | |
| Matthias Schwab | | | 46 | | 42 | MC | 3 | 32 | MC | |
| Si Woo Kim | 44 | | | 39 | 3 | 13 | 41 | 46 | 18 | 64 |
| Robert MacIntyre | | 24 | | 59 | | 66 | 59 | | | |
| Martin Kaymer | | 2 | 3 | | | MC | MC | | | |
| Keegan Bradley | MC | | | 29 | | MC | 52 | | 68 | 39 |
| Alexander Noren | | | 40 | 8 | | 22 | 9 | 3 | MC | |
| Paul Waring | 32 | 52 | 19 | | | | | | | |
| Chan Kim | | | | | | MC | | | | |
| Jim Herman | | | 40 | MC | 1 | 77 | | | MC | MC |
| Matt Jones | | | | 69 | 37 | MC | 59 | | | 14 |
| Kurt Kitayama | | | | 59 | MC | 51 | MC | | | |
| Lucas Glover | 65 | | | MC | MC | MC | | MC | 38 | |
| Andy Sullivan | | MC | 9 | | 47 | 1 | 41 | 4 | | |
| Branden Grace | 29 | | | | MC | | Wd | MC | MC | |
| Danny Lee | | | 33 | 18 | MC | 71 | | 26 | Wd | MC |
| Romain Langasque | | 17 | MC | 1 | | 26 | 57 | 53 | | |
| Sami Valimaki | | 10 | | 2 | 6 | | | MC | MC | MC |
| Brian Harman | | | 12 | 11 | 27 | 58 | | 41 | MC | |
| Michael Thompson | | | 59 | MC | | MC | 57 | 1 | | MC |
| Ryo Ishikawa | | 21 | | | | MC | | | | |
| Andrew Putnam | 36 | | | | | MC | | MC | MC | 58 |
| Justin Harding | Wd | 3 | | 44 | 47 | 53 | MC | 3 | | |
| Eddie Pepperell | | | Wd | MC | | | Wd | 47 | | |
| Troy Merritt | MC | | | 29 | 59 | MC | 2 | MC | MC | 22 |
| Richy Werenski | | | 20 | 68 | | MC | 1 | 3 | | 35 |
| Mark Hubbard | MC | | 51 | 29 | 15 | 51 | | | 72 | Wd |
| Will Zalatoris | 2 | | 19 | 5 | 18 | 6 | | 14 | 5 | |
| Tyler Duncan | MC | | 48 | 29 | 13 | MC | 49 | | 68 | |
| JC Ritchie | | | MC | MC | MC | MC | | | | |
| Taylor Pendrith | 13 | | 9 | 68 | 11 | 22 | 2 | | 2 | 2 |
| Ryan Fox | 32 | | 28 | 15 | 57 | 19 | 15 | 8 | | |
| Davis Riley | MC | | 24 | 31 | 11 | | MC | 9 | 1 | |
| Renato Paratore | | MC | | 27 | MC | 34 | 28 | 1 | | 15 |
| Paul Barjon | 7 | | MC | MC | MC | 2 | | MC | 2 | 3 |
| Zach Johnson | | | | 49 | 7 | MC | | | 58 | 31 |
| Brandon Wu | | | 1 | 58 | 2 | MC | 44 | 9 | | MC |
| Connor Syme | | 8 | | 8 | 3 | 19 | 68 | MC | | 4 |
| Adrian Otaegui | | 17 | | 37 | 14 | 2 | MC | 35 | | |
| Chesson Hadley | 14 | | | | 51 | | 17 | MC | | 52 |
| Takumi Kanaya | | 5 | | | | | | | | |
| Lee Hodges | 28 | | 29 | 51 | 35 | 1 | 7 | | 14 | 8 |
| Greyson Sigg | 7 | | 2 | 51 | 11 | MC | 7 | | MC | 23 |
| Stephan Jaeger | 7 | | 64 | 5 | 1 | MC | MC | MC | | 46 |
| Scott Hend | | | MC | | 39 | 44 | MC | MC | | |
| Jimmy Walker | | | | | | MC | | | 62 | MC |
| Dan McCarthy | | MC | 3 | 71 | 2 | 67 | | 5 | 24 | MC |
| Curtis Luck | MC | MC | | 1 | MC | MC | | | MC | 27 |
| Steve Stricker | | | | | | MC | | | 18 | 56 |
| Chun-An Yu | | | | | | | | | | |
| Lukas Michel | | | | | | | | | | |
| Davis Thompson | | | | | | | | | | |
| Marty Jertson | | | | | | MC | | | | |
| Ryan Vermeer | | | | | | MC | | | | |
| John Augenstein | | | | | | | | | | |
| Daniel Balin | | | | | | MC | | | | |
| Cole Hammer | | | | | | | | | | |
| Andy Ogletree | | | | | | | | | MC | |
| James Sugrue | | | | | | | | | | |
| Preston Summerhays | | | | | | | | | | |
| Eduard Rousaud | | MC | | | | | | | | |
| Ricky Castillo | | | | | | | | | | |
| Sandy Scott | | | | | | | | | | |
| John Pak | | | | | | | | | | |
| Player | `19 | `18 | `17 | `16 | `15 | `14 | `13 | `12 | `11 | `10 |
| --- | --- | --- | --- | --- | --- | --- | --- | --- | --- | --- |
| Dustin Johnson | 35 | 3 | MC | 1 | 2 | 4 | 55 | MC | 23 | 8 |
| Jon Rahm | 3 | MC | MC | 23 | | | | | | |
| Justin Thomas | MC | 25 | 9 | 32 | | MC | | | | |
| Rory McIlroy | 9 | MC | MC | MC | 9 | 23 | 41 | MC | 1 | MC |
| Collin Morikawa | 35 | | | | | | | | | |
| Webb Simpson | 16 | 10 | 35 | MC | 46 | 45 | 32 | 1 | 14 | |
| Xander Schauffele | 3 | 6 | 5 | | | | | | | |
| Bryson DeChambeau | 35 | 25 | MC | 15 | MC | | | | | |
| Patrick Reed | 32 | 4 | 13 | MC | 14 | 35 | | | | |
| Adam Scott | 7 | MC | MC | 18 | 4 | 9 | 45 | 15 | MC | MC |
| Patrick Cantlay | 21 | 45 | | | | | | 41 | 21 | |
| Daniel Berger | 49 | 6 | MC | 37 | | 28 | | | | |
| Tyrrell Hatton | 21 | 6 | MC | | | | | | | |
| Tony Finau | MC | 5 | | MC | 14 | | | | | |
| Tommy Fleetwood | 65 | 2 | 4 | | 27 | | | | | |
| Matthew Fitzpatrick | 12 | 12 | 35 | 54 | | 48 | | | | |
| Justin Rose | 3 | 10 | MC | MC | 27 | 12 | 1 | 21 | MC | |
| Hideki Matsuyama | 21 | 16 | 2 | MC | 18 | 35 | 10 | | | |
| Tiger Woods | 21 | MC | | | MC | | 32 | 21 | | 4 |
| Paul Casey | 21 | 16 | 26 | MC | 39 | 56 | 45 | | MC | 40 |
| Abraham Ancer | 49 | | | | | | | | | |
| Louis Oosthuizen | 7 | 16 | 23 | 23 | 2 | 40 | Wd | MC | 9 | MC |
| Sung Jae Im | | MC | | | | | | | | |
| Gary Woodland | 1 | 36 | 50 | | MC | 52 | | MC | 23 | MC |
| Marc Leishman | 35 | 45 | 27 | 18 | MC | | MC | | 51 | MC |
| Matt Kuchar | 16 | MC | 16 | 46 | 12 | 12 | 28 | 27 | 14 | 6 |
| Shane Lowry | 28 | MC | 46 | 2 | 9 | MC | | | MC | |
| Kevin Kisner | 49 | MC | 58 | 49 | 12 | MC | | | | |
| Viktor Hovland | 12 | | | | | | | | | |
| Bernd Wiesberger | 76 | | 16 | MC | MC | MC | | | | |
| Billy Horschel | 32 | | MC | 32 | 25 | 23 | 4 | | | |
| Kevin Na | MC | | 32 | 7 | 46 | 12 | | 29 | MC | MC |
| Ryan Palmer | | | MC | | 52 | MC | MC | | 21 | |
| Matthew Wolff | | | | | | | | | | |
| Jason Day | 21 | MC | MC | 8 | 9 | 4 | 2 | 60 | 2 | |
| Rickie Fowler | 43 | 20 | 5 | MC | MC | 2 | 10 | 41 | MC | |
| Brendon Todd | MC | | | | MC | 17 | | | | |
| Henrik Stenson | 9 | 6 | MC | Wd | 27 | 4 | 21 | | 23 | 29 |
| Chez Reavie | 3 | MC | 16 | | | | | MC | 45 | |
| Lee Westwood | | | 55 | 32 | 50 | MC | 15 | 10 | 3 | 16 |
| Danny Willett | 12 | MC | Wd | 37 | MC | 45 | | | | |
| Sergio Garcia | 52 | MC | 21 | 5 | 18 | 35 | 45 | 38 | 7 | 22 |
| Harris English | 58 | | 46 | 37 | | 48 | | | | |
| Matt Wallace | 12 | MC | MC | | | | | | | |
| Kevin Streelman | | | | 13 | | MC | MC | 60 | 67 | |
| Erik van Rooyen | 43 | | | | | | | | | |
| Cameron Smith | 72 | MC | | 59 | 4 | | | | | |
| Joaquin Niemann | | | MC | | | | | | | |
| Phil Mickelson | 52 | 48 | | MC | 64 | 28 | 2 | 65 | 54 | 4 |
| Christiaan Bezuidenhout | | | | | | | | | | |
| Victor Perez | | | | | | | | | | |
| Tom Lewis | | MC | | | | MC | | | | |
| Jason Kokrak | | | 53 | 37 | | | | | | |
| Mackenzie Hughes | | MC | | | | | MC | | | |
| Byeong Hun An | 16 | 67 | MC | 23 | MC | | | | | MC |
| Ian Poulter | MC | 25 | | | 54 | 17 | 21 | 41 | MC | 47 |
| Joel Dahmen | MC | | | | | | | | | |
| Jazz Janewattananond | | | | | | | | | | |
| Shugo Imahira | MC | | MC | | | | | | | |
| Graeme McDowell | 16 | MC | MC | 18 | MC | 28 | MC | 2 | 14 | 1 |
| Bubba Watson | MC | MC | MC | 51 | MC | MC | 32 | MC | 63 | |
| Rasmus Hojgaard | | | | | | | | | | |
| Adam Hadwin | | MC | 60 | | | | MC | | 39 | |
| Jordan Spieth | 65 | MC | 35 | 37 | 1 | 17 | MC | 21 | | |
| Sung Kang | | | | 18 | | | | | 39 | |
| Rafa Cabrera-Bello | 65 | 36 | 42 | 32 | | | | MC | | 47 |
| Corey Conners | | | MC | | | | | | | |
| Lanto Griffin | | MC | | | | | | | | |
| JT Poston | | | MC | | | | | | | |
| Brandt Snedeker | 77 | 48 | 9 | MC | 8 | 9 | 17 | | 11 | 8 |
| Cameron Champ | | | 32 | | | | | | | |
| Sebastian Munoz | | MC | | | | | | | | |
| Adam Long | | | | | | | | | MC | |
| Thomas Pieters | MC | | MC | | | | | | | |
| Max Homa | | | | | | | MC | | | |
| Lucas Herbert | | MC | | | | | | | | |
| Thomas Detry | | | | | | | | | | |
| Michael Lorenzo-Vera | | | | | | | | | | |
| Shaun Norris | | | | | | | | | | |
| Charles Howell | 52 | 25 | | | | | | MC | | |
| Sam Horsfield | MC | | | MC | MC | | | | | |
| Matthias Schwab | | | | | | | | | | |
| Si Woo Kim | MC | MC | 13 | | | | | | | |
| Robert MacIntyre | | | | | | | | | | |
| Martin Kaymer | 35 | MC | 35 | 37 | MC | 1 | 59 | 15 | 39 | 8 |
| Keegan Bradley | MC | MC | 60 | MC | 27 | 4 | MC | 68 | | |
| Alexander Noren | MC | 25 | MC | MC | MC | | | MC | 51 | |
| Paul Waring | | MC | | | | | | | | |
| Chan Kim | MC | | MC | | | | | | | |
| Jim Herman | | | | MC | | | 67 | MC | | 47 |
| Matt Jones | MC | MC | | | | MC | | | | |
| Kurt Kitayama | | | | | | | | | | |
| Lucas Glover | MC | MC | MC | MC | MC | MC | MC | MC | 42 | 58 |
| Andy Sullivan | | | | 23 | MC | | | | | |
| Branden Grace | MC | 25 | 50 | 5 | 4 | | MC | 51 | | |
| Danny Lee | | | | 57 | MC | | | | | |
| Romain Langasque | | | | | | | | | | |
| Sami Valimaki | | | | | | | | | | |
| Brian Harman | | 36 | 2 | | MC | | | MC | | |
| Michael Thompson | | | | | | | MC | 2 | | |
| Ryo Ishikawa | | | | | MC | | | MC | 30 | 33 |
| Andrew Putnam | 43 | | | | | | | | | MC |
| Justin Harding | MC | | | | | | | | | |
| Eddie Pepperell | | | 16 | | | | MC | | | |
| Troy Merritt | | | MC | | | | | | | |
| Richy Werenski | | MC | | | | | | | | |
| Mark Hubbard | | | | | | | | | | |
| Will Zalatoris | | MC | | | | | | | | |
| Tyler Duncan | | 56 | | | MC | | | | | |
| JC Ritchie | | | | | | | | | | |
| Taylor Pendrith | | | | | | | | | | |
| Ryan Fox | MC | 41 | | | | | | | | |
| Davis Riley | | | | | MC | | | | | |
| Renato Paratore | MC | | | | | | | | | |
| Paul Barjon | | | | | | | | | | |
| Zach Johnson | 58 | 12 | 27 | 8 | 72 | 40 | MC | 41 | 30 | 77 |
| Brandon Wu | 35 | | | | | | | | | |
| Connor Syme | | | | | | | | | | |
| Adrian Otaegui | | | | | | | | | | |
| Chesson Hadley | 9 | MC | | | | | | | | |
| Takumi Kanaya | | | | | | | | | | |
| Lee Hodges | | | | | | | | | | |
| Greyson Sigg | | | | | | | | | | |
| Stephan Jaeger | | | 60 | | MC | | | | | |
| Scott Hend | | | | | | | | | MC | |
| Jimmy Walker | MC | 56 | MC | MC | 58 | 9 | | | | |
| Dan McCarthy | | | | | | | | | | MC |
| Curtis Luck | | | | | | | | | | |
| Steve Stricker | | 20 | 16 | | | 21 | 8 | 15 | 19 | 58 |
| Chun-An Yu | MC | MC | | | | | | | | |
| Lukas Michel | | | | | | | | | | |
| Davis Thompson | | | | | | | | | | |
| Marty Jertson | | | | | | | | | | |
| Ryan Vermeer | | | | | | | | | | |
| John Augenstein | | | | | | | | | | |
| Daniel Balin | | | | | | | | | | |
| Cole Hammer | | | | | MC | | | | | |
| Andy Ogletree | | | | | | | | | | |
| James Sugrue | | | | | | | | | | |
| Preston Summerhays | | | | | | | | | | |
| Eduard Rousaud | | | | | | | | | | |
| Ricky Castillo | | | | | | | | | | |
| Sandy Scott | | | | | | | | | | |
| John Pak | | | | | | | | | | |
Discover the latest articles
Read past articles