The Punter's Open Championship In-Play Blog: Sensational 63 sees Shane scoot clear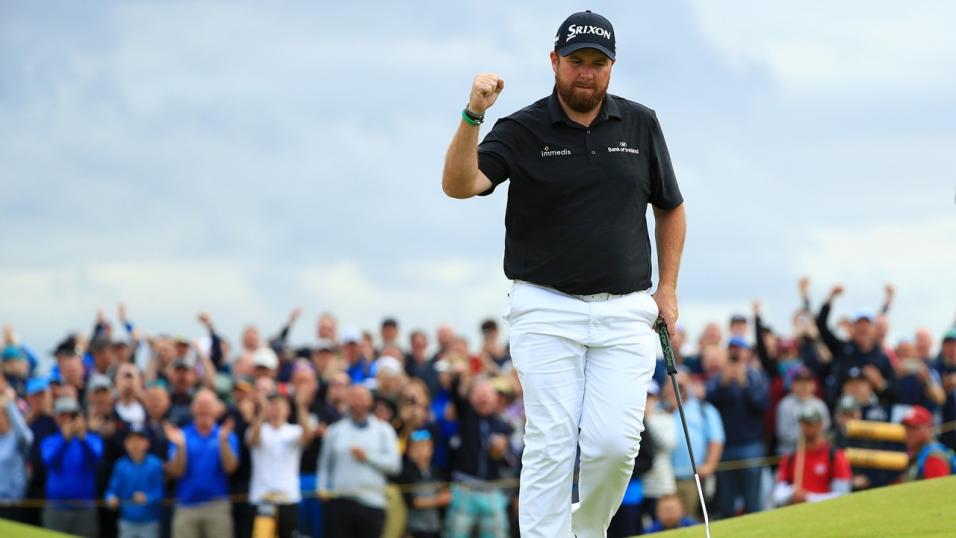 Shane Lowry on his way to a 63 at Portrush in round three
Shane Lowry has put daylight between him and the field but is he a good thing to convert at odds-on? Read what our man thinks ahead of Sunday's final round here...
"Tommy Fleetwood maybe only be four behind but J.B Holmes is six back and the rest trail by at least seven. Unless Tommy puts some heat on, Lowry really should have enough in hand to convert."
23:20 - July 20, 2019
With the incredible support of a brilliant Irish crowd and some unexpectedly benign conditions, Ireland's Shane Lowry birdied six of his last ten holes in round three of the Open Championship today to pull four clear of England's Tommy Fleetwood and six clear of his player partner and co-halfway leader, J.B Holmes. Here's the 54 hole leaderboard with prices to back at 23:15.
Shane Lowry -16 1.635/8
Tommy Fleetwood -12 5.14/1
J.B Holmes -10 42.041/1
Brooks Koepka -9 14.013/1
Justin Rose -9 27.026/1
Rickie Fowler -8 60.059/1
Lee Westwood -8 150.0149/1
Jon Rahm -7 85.084/1
Jordan Spieth -7 110.0109/1
Tony Finau -7 2200.0
Danny Willett -7 330.0329/1
-6 and 380.0379/1 bar
Lowry was simply sensational today and he's given himself a cracking chance of winning his first major championship -although he's been here before...
Lowry led the 2016 US Open by four but eventually finished runner-up, beaten by three. On that occasion, he limped home in 76 strokes at Oakmont but one could argue there was a reason he shot such a dismal fourth round. After weather delays, Lowry had to return to the course on Sunday morning to play the last four holes of his third round, which he did competently enough, recording a pair of pars and two birdies, but he then had the issue of what to do all day.
Having had to get up ridiculously early to finish up the third round, he returned to his digs but was unable to sleep and waiting around for seven hours before attempting to convert his lead couldn't have helped. I maybe being generous, but even if we can't lay at least some of the blame on his early start, he will have learnt from the experience and I suspect he'll improve considerably on that performance tomorrow.
Shane isn't the first to lead a major by four and get beat, far from it. In fact, he was the third to do so in just five years. Adam Scott had led this event by four in 2012 before his late implosion let in Ernie Els and four strokes was how far clear Rory McIlroy was ahead of his infamous collapse at Augusta in 2011. It's never easy to win a major but in the last 15 years six others have led by four and gone on to convert so it's no surprise to see Lowry trading at odds-on.
Looking at all events on the European Tour and the PGA Tour since 1996, the strike-rate for four-stroke 54- hole leaders since 1996 is 72% so one could argue that Lowry's on the skinny side at around 1.654/6 but he's got a lot in his favour. Justin Ray's stat below for starters...
25 previous players have led #TheOpen by 4 or more entering the final round since 1900. 22 have gone on to win.

? Justin Ray (@JustinRayGolf) July 20, 2019

Tommy Fleetwood maybe only be four behind but J.B Holmes is six back and the rest trail by at least seven. Unless Tommy puts some heat on, Lowry really should have enough in hand to convert - although I've already layed him back to ensure a profitable book.
I liked the look of Lowry last night (see yesterday's post) but I waited until today to back him. As suspected, Lowry did drift before his tee-time today and although I missed his high of 10.09/1, I backed him modestly at 9.417/2. I fancy him to convert but I'm more than happy to have traded to a profit and to have taken all the stress out of the job. I've really enjoyed the event so far and watching it tomorrow without thinking about my book will make for a more pleasurable experience and we might yet see plenty of drama.
Conditions are forecasted to be much rougher tomorrow, so much so that tee-times have been brought forward a few hours, and that can only help the chasers. Someone, somehow, always goes against the head and shoots a decent score, even if conditions are dire.
Lowry won the Irish Open ten years ago as an amateur in poor conditions so I've no doubt he can handle poor weather. He's grown up playing links golf in bad weather. And I'm not concerned by the defeat at Oakmont either. Anyone that wins his national Open before he's even turned pro has plenty of bottle and he was impressive enough when winning his three other previous titles - the Portugal Masters, the WGC Bridgestone Invitational, and his latest, the Abu Dhabi Championship in January -but poor weather could conceivably derail him and I suspect, even though he can handle tough conditions, he'd much prefer another day like today.
As for alternatives to Lowry, Fleetwood is the obvious candidate, and chasing down a big lead could be easier for him than converting a lead but as highlighted yesterday, his in-contention stats haven't been spectacular of late and there might be better sport to be had by backing a few players a bit further back? If Lowry gets jumpy and starts dropping shots, I could easily see Fleetwood doing the same and the likes of Brooks Koepka, Justin Rose and Jon Rahm, could be inspired if they smell blood.
Koepka is especially dangerous. He played superbly today but the putter wasn't cooperating. On another day his 67 could have been a 63 and he has to be considered the biggest threat besides Fleetwood. Whether he's a big price given he trails by seven is debatable though and I'm happy to just watch it all unfold now.
Having witnessed the disappointment of Rory McIlroy's missed cut, I really don't want to see an even bigger Irish tragedy so as much as I like Tommy Fleetwood, and most of those in-the-mix, I sincerely hope Lowry gets the job done as it would cap of what's been a most glorious week.
I'll be back on Monday with my customary De-brief.

23:25 - July 19, 2019
We've reached the halfway stage of the Open Championship and with 11 players within just three strokes of the lead, it's open by name and very much open by nature. Here's the 36-hole leaderboard with prices to back at 23:20.
Shane Lowry -8 8.615/2
J.B Holmes -8 19.5
Tommy Fleetwood -7 7.26/1
Lee Westwood -7 18.5
Justin Rose -6 9.28/1
Cameron Smith -6 36.035/1
Justin Harding -6 50.049/1
Brooks Koepka -5 7.87/1
Jordan Spieth -5 18.5
Dylan Frittelli -5 65.064/1
Andrew Putnam -5 75.074/1
Jon Rahm -4 16.5
-4 and 34.033/1 bar
There's no doubt that the vast majority of Open winners are right up with the pace and in the van throughout. As highlighted in the In-Play Tactics section of the preview, eight 36-hole leaders have gone on to win this century, 13 of the 19 winners were inside the top-five places at halfway and 14 of the 19 were within three strokes of the lead after 36 holes. Most years I'd be banging on about the importance of being inside the top five places and within a few strokes of the lead and I'd be looking very hard for value amongst the frontrunners but not this year. There have been a small number of off the pace winners this century and this tournament could very easily produce another.
Francesco Molinari won last year's edition of the Open Championship from tied 29th and six back at this stage and 18 years ago, David Duval won from seven adrift and 35th. Padraig Harrington trailed by six in 2007 and Els was seven back in 2012 but the fields were far more strung out in both those renewals. Pod was only 13th at halfway and Ernie tenth. This year, those on -1 are seven back and tied for 32nd and the group on -2 and six off the lead are tied for 25th so like Molinari 12 months ago, they have a lot of traffic to pass.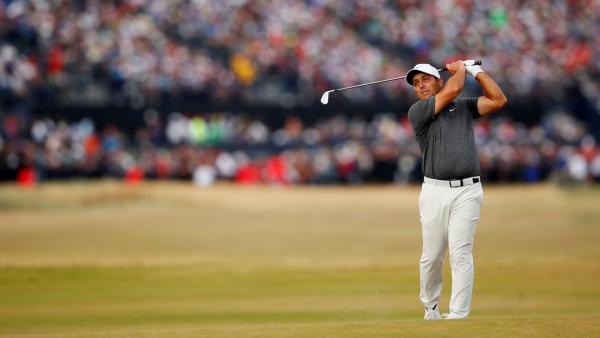 In addition to those winners, we've also seen Marc Leishman get into a playoff in 2015, having sat 50th and nine back at this stage, and both Stuart Appleby and Steve Elkington were miles back before losing in extra time to Ernie Els in 2002 (50th and seven back and 68th and eight adrift).
With the weather forecast suggesting a blustery weekend, and with such a congested leaderboard, there's plenty of scope for an off the pace winner and I wouldn't put anyone off backing a few wild outsiders with work to do. I'd be amazed if at least a couple of players don't make big moves up the leaderboard tomorrow but quite who is anyone's guess.
I managed to snag Molinari at this stage 12 months ago at 100.099/1 so I've been trawling the market since play finished in an attempt to repeat the feat but there are just too many quality players within striking distance and I'm going to continue to wait and watch. I'll have another look in the morning and if I do play any outsiders I'll update again.
As for the leaders, Tommy Fleetwood heads the market narrowly over the major monster, Brooks Koepka, who's looking to be the first player in his history to finish first or second in all four majors in the same year, and I'd have those two priced up the other way around. It's tempting to side with Brooks, lets face it, he's highly likely to hang tough, but he didn't play brilliantly today.
As much as I'm a big fan of the very likable Fleetwood, he looks one to swerve tomorrow as he's endured some awful third rounds when in-contention of late. Since he won his last title, the Abu Dhabi Championship in January last year, he's been inside the top-ten places at halfway 17 times and he's gone backwards on 14 occasions! He's led three events and shot 76, 74 and 70 in round three and the last time he advanced in round three was in Hong Kong in November last year when he moved from fifth to second. He finished 14th - beaten by ten. It's harsh but he has to be opposed.
Lee Westwood should be a fair price against him in their two-ball but how is Lee going to react to being so close to the lead with time running out? Westwood is another really pleasant character and nobody would begrudge him finally winning a major championship at the age of 46 but it's a big ask. He's the one I'd like to see win now but I'm in no rush to back him.
J.B Holmes' stats are brilliant so far this week, he ranks first for Driving Accuracy and second for Greens In Regulation so far this week so he's found form from somewhere but can it last for another two days? I have my doubts and the one I like best of the front four is Shane Lowry. He won an Irish Open as an amateur, he's won a WGC event, he won the Abu Dhabi Championship as recently as January, he knows the course, he won't mind the weather, he has the Irish crowd behind him and he's my idea of the most likely winner at this stage.
I'm in no rush to get him onside before he tees off though because three of the four easiest holes on the course are two, five and seven and plenty of players will start well before Shane's even put a peg in the ground. I can't see his price getting any shorter before he tees off and if a few names get a shift on early he'll drift.
I'm being really cautious but I'm more than happy with that. This has already been a brilliant and memorable major but there's so much more to come and I'm contend with being patient but again, if that changes after I've slept on it, I'll update in the morning.

20:25 - July 18, 2019
We've witnessed quite a first day at the Open Championship with hole scores ranging from one (Emiliano Grillo at the par three 13th) to 13 (David Duval at the par five seventh - and that was the highest score at an Open in 69 years!) but far and away the most significant score was the quadruple-bogey eight made this morning by the championship favourite and home hero, Rory McIlroy, at the opening hole.
We saw lots of coverage of Rory prowling around way before his tee-time and I wonder if he didn't just get a bit too revved up. He was clearly nervous playing in front of his adoring fans and it was an horrendous start. And one from which he simply couldn't recover from. There was a brief rally around the turn but a four-putt double-bogey five at the par three 16th (ironically named Calamity) sank him deeper into the mire before a triple-bogey at the last put pay to any feint hope that remained. Now trailing by 13, he needs a miracle.
Not that it had any effect on his poor performance, but Rory did appear to play in the worst of the weather today and the latter starters appear to have got the better of the draw so far. So much so that New Zealander, Ryan Fox, shot the Open Championship's first ever 29 on the back nine! He's amongst a big group of players to shoot a three-under-par 68 today.
Brooks Koepka kicked off his round when the rain was at it's heaviest but it soon cleared and he raced to four-under-par through 14 before a bogey at 17 took the shine off a terrific start. The world number one was matched at a low of 3.613/5 in-running but that was before Dave Tindall's number one pick, Jon Rahm, got on a roll...
The big Spaniard raced to five-under-par through ten and he was matched at a low of 4.03/1 as he threatened to pull away but he too hit the buffers a bit after that. He birdied the par five 12th but bogeys were made at 12, 15 and 18.
I've made a few mistakes today. My biggest being not laying off my entire position on Rory after his drive at the first. Incredibly, there was several thousands available to lay at 10.09/1 and 10.519/2 for thirty seconds or so AFTER his drive had been shown on TV but I didn't take advantage of the opportunity, even though I was 80% sure he was out of bounds.
Memories of his 2014 win at Hoylake lingered, where I tried to trade him in and out on day one before he went on to win wire-to wire. On that occasion, I layed more off than I should have done early on and never got a chance to get back onboard to a level I wanted. This time I should have just dumped it all but it's easy to say that now.
My second mistake was getting involved too early as a couple of morning starters finished up. I backed both Henrik Stenson and last week's winner, Dylan Frittelli, but after the exploits of Rahm, Koepka and co this afternoon, they've both drifted and I'm leaving it alone for now.
Looking back at previous Opens, it's nearly always been vital to be up with the pace early on and 11 of the last 14 winners were inside the top-ten after the opening round. The three winners that weren't are, Francesco Molinari and Padraig Harrington at Carnoustie (where the majority of winners have come from off the pace), and Henrik Stenson at Troon three years ago.
Molinari sat tied for 18th and four adrift and Stenson was 12th and five back. Harrington was tied for 38th and five back, so he was the only player to pass a lot of traffic but I suspect that's going to be possible this year too.
Portrush is already the star of the show and so far, it's produced an incredibly condensed leaderboard. At the time of writing, with still a few stragglers out on the links, J.B Holmes has posted -5 and he's one ahead of Shane Lowry, who posted four-under-par this morning, but there are 15 players on -3 and tied for third and as many as 55 players are on par or better. It looks wide open and I'm more than happy to sit on my hands for now.
Rory was obviously a disappointment but five of my pre-event picks are on par or better and I'm going to see what the morning brings. Tyrrell Hatton, bogeyed the last but he still shot -3 and he looks a fair price at anything over 40.039/1.
Pre-Event Selections:
Rory McIlroy @ 10.519/2
Matt Kuchar @ 55.054/1
Ian Poulter @ 140.0139/1
Matthew Fitzpatrick @ 110.0109/1
Eddie Pepperell @ 120.0119/1
Tyrrell Hatton @ 140.0139/1
Bernd Wiesberger @ 250.0249/1
Christiaan Bezuidenhout @ 700.0699/1
In-Play Trades:
Henrik Stenson @ 34.033/1
Dylan Frittelli @ 95.094/1
Shane Lowry backed @ 9.417/2 and layed at 1.654/6
*You can follow me on Twitter @SteveThePunter