PGA Championship 2021: Major form analysis ahead of this week's event at Kiawah Island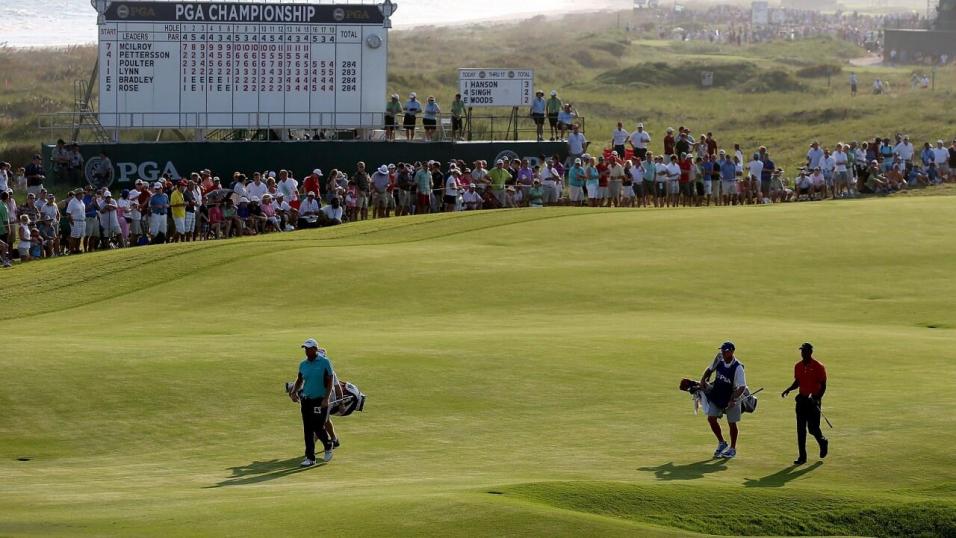 The Ocean Course at Kiawah Island closely resembles that of a British Isles links course
With Rory McIlroy returning to a course where he has already tasted glory, why not check out the major stats for all those teeing-up this week, compiled by Andy Swales...
"It remains a record winning margin for the PGA Championship and McIlroy's career history for Kiawah Island's Ocean Course reads: One start, one major title."
Rory McIlroy's long overdue victory at the Wells Fargo Championship earlier this month has certainly spiced up the world of golf.
The 32-year-old from Northern Ireland ended 18 months without a title, as he sneaked home by a single shot in North Carolina.
During this period his World Ranking had slipped from 1st to 15th, and when he arrived at the Wells Fargo event, he'd recently missed the cut at both Augusta National and TPC Sawgrass.
After opening with a one-over-par 72, which left him in a tie for 73rd, McIlroy covered the remaining 54 holes in 202 shots - four strokes better than anyone else.
It was his third victory at Quail Hollow in 11 attempts, to which you can add a further five top-10 finishes.
A golfer of McIlroy's stature doesn't become a bad one overnight, and Quail Hollow injected him with that much-needed confidence boost which seems to have been lacking over the past year.
Returning to a course where he had enjoyed plenty of success in the past obviously did the trick for Mac.
McIlroy will feel in a much-better place than he was just a few weeks ago, and he now heads to the second major championship of 2021 in excellent shape.
And the good news for him, and bad news for everyone else, is that when he arrives at Kiawah Island for this week's PGA Championship it will evoke more good memories for McIlroy from nine years ago.
Latest odds for this week's PGA Championship
At the age of 23 years and five months, he collected his second major title, romping to an eight-shot victory over the same South Carolina course.
It remains a record winning margin for the PGA Championship and McIlroy's career history for Kiawah Island's Ocean Course reads: One start, one major title.
Those feel-good vibes he obviously enjoys at Quail Hollow, will probably return when he tees-up at Kiawah.
It's now five months short of seven years since he last tasted success in a major championship but he'll be raring to go once again thanks to his fantastic final 54 holes in North Carolina two weeks ago.
So with Rory chasing a fifth career major, what of the other movers and shakers in world golf? Ten to follow:
Dustin Johnson: Worrying times for the world No 1 who hasn't posted a top-10 in his last six outings - and only one of these inside the top-25.
Brooks Koepka: The major king of recent times, thanks to four slam wins from eight starts. However, the 31-year-old is currently fighting back from a serious knee injury and has played just four competitive rounds since the end of February. He missed the cut by three strokes in last week's AT&T Byron Nelson.
Jordan Spieth: When his confidence is high, Spieth is one golfer you can guarantee will bring his 'A-game' to a major championship. Seven T10s from his last nine outings, including a victory at the Texas Open.
Shane Lowry: The still reigning Open Champion will probably feel at home playing alongside the Atlantic Ocean on a course which certainly portrays a links feel. Highest finish of 2021 so far is tied-8th at Sawgrass, followed by another top-10 at Harbour Town, which is a coastal venue in South Carolina.
Collin Morikawa: The defending PGA champion looks rock solid in two important Strokes Gained categories. He currently leads SG: Approach The Green, and is second in SG: Tee-to-Green.
Bryson DeChambeau: Although Kiawah does not appear to be a course that will necessarily favour the longer hitters, the stats show that the American's overall game is in good health. Is top of the PGA Tour categories SG: Tee-to-Green and SG: Off-the-tee.
Check out the latest each-way odds for this week's PGA Championship
Daniel Berger/Viktor Hovland: Among those chasing a first major title are Hovland and Berger. Both are playing well right now, and are inside the world's top-20. Berger won at Pebble Beach earlier this year and stood on the podium again at the weekend. Meanwhile Hovland, winner in Mexico last December, has since had four podium finishes on the PGA Tour.
Keegan Bradley/Justin Rose: Two players who stood on the podium when Kiawah staged the PGA Championship nine years ago. It's almost 10 years since Bradley won his solitary major, but he has shown some decent form in recent weeks. Although an outsider for the title, might be worth an each-way punt. The same goes for Rose who has slipped down the World Ranking during the past year. However, he still has the perfect game to handle major championship layouts.
Click here to view Scoring Ratings (and explanation) for recent majors staged on US soil (since Jan 1st, 2018)
Twitter: Andy Swales@GolfStatsAlive
Note: List Contains Leading Reserves
Last 10 Majors Key: M (Masters); U (US Open); B (The Open (British)); P (PGA Championship)
Last 10 Majors / PGA Ch`ship Form (2011-20)
| Player | 21M | 20M | 20U | 20P | 19B | 19U | 19P | 19M | 18P | 18B |
| --- | --- | --- | --- | --- | --- | --- | --- | --- | --- | --- |
| Dustin Johnson | MC | 1 | 6 | 2 | 51 | 35 | 2 | 2 | 27 | MC |
| Justin Thomas | 21 | 4 | 8 | 37 | 11 | MC | | 12 | 6 | MC |
| Jon Rahm | 5 | 7 | 23 | 13 | 11 | 3 | MC | 9 | 4 | MC |
| Bryson DeChambeau | 46 | 34 | 1 | 4 | MC | 35 | MC | 29 | MC | 51 |
| Xander Schauffele | 3 | 17 | 5 | 10 | 41 | 3 | 16 | 2 | 35 | 2 |
| Collin Morikawa | 18 | 44 | MC | 1 | | 35 | | | | |
| Rory McIlroy | MC | 5 | 8 | 33 | MC | 9 | 8 | 21 | 50 | 2 |
| Patrick Reed | 8 | 10 | 13 | 13 | 10 | 32 | MC | 36 | MC | 28 |
| Tyrrell Hatton | 18 | MC | MC | MC | 6 | 21 | 48 | 56 | 10 | 51 |
| Webb Simpson | 12 | 10 | 8 | 37 | 30 | 16 | 29 | 5 | 19 | 12 |
| Viktor Hovland | 21 | | 13 | 33 | | 12 | | 32 | | |
| Brooks Koepka | MC | 7 | | 29 | 4 | 2 | 1 | 2 | 1 | 39 |
| Patrick Cantlay | MC | 17 | 43 | 43 | 41 | 21 | 3 | 9 | 27 | 12 |
| Tony Finau | 10 | 38 | 8 | 4 | 3 | MC | 64 | 5 | 42 | 9 |
| Hideki Matsuyama | 1 | 13 | 17 | 22 | MC | 21 | 16 | 32 | 35 | MC |
| Daniel Berger | MC | | 34 | 13 | | 49 | 71 | | 12 | MC |
| Matt Fitzpatrick | 34 | 46 | MC | MC | 20 | 12 | 41 | 21 | MC | MC |
| Billy Horschel | 50 | 38 | 38 | 43 | MC | 32 | 23 | 56 | 35 | |
| Abraham Ancer | 26 | 13 | 56 | 43 | MC | 49 | 16 | | | MC |
| Paul Casey | 26 | 38 | 17 | 2 | 57 | 21 | 29 | MC | MC | 51 |
| Sung Jae Im | MC | 2 | 22 | MC | MC | | MC | | 42 | |
| Scottie Scheffler | 18 | 19 | | 4 | | MC | | | | |
| Lee Westwood | MC | 38 | 13 | | 4 | | MC | | | 61 |
| Jordan Spieth | 3 | 46 | MC | 71 | 20 | 65 | 3 | 21 | 12 | 9 |
| Harris English | 21 | | 4 | 19 | | 58 | | | | |
| Cameron Smith | 10 | 2 | 38 | 43 | 20 | 72 | 64 | 51 | 56 | 78 |
| Tommy Fleetwood | 46 | 19 | MC | 29 | 2 | 65 | 48 | 36 | 35 | 12 |
| Joaquin Niemann | 40 | | 23 | MC | MC | | MC | | 71 | |
| Will Zalatoris | 2 | | 6 | | | | | | | |
| Ryan Palmer | 34 | | MC | 43 | MC | | MC | | | |
| Louis Oosthuizen | 26 | 23 | 3 | 33 | 20 | 7 | 60 | 29 | | 28 |
| Victor Perez | MC | 46 | MC | 22 | | | | | | |
| Jason Kokrak | 49 | MC | 17 | MC | 32 | | 23 | | 19 | MC |
| Kevin Na | 12 | 13 | MC | MC | | MC | MC | 46 | 19 | 51 |
| Sam Burns | | | | | | | 29 | | | |
| Adam Scott | 54 | 34 | 38 | 22 | MC | 7 | 8 | 18 | 3 | 17 |
| Corey Conners | 8 | 10 | MC | MC | MC | | 64 | 46 | | |
| Marc Leishman | 5 | 13 | MC | MC | MC | 35 | MC | 49 | 71 | 60 |
| Max Homa | MC | MC | MC | MC | | | 64 | | | |
| Christiaan Bezuidenhout | 40 | 38 | 55 | MC | MC | | | | | |
| Justin Rose | 7 | 23 | MC | 9 | 20 | 3 | 29 | MC | 19 | 2 |
| Stewart Cink | 12 | | | | 20 | | | MC | 4 | 24 |
| Kevin Kisner | MC | MC | MC | 19 | 30 | 49 | MC | 21 | 12 | 2 |
| Robert MacIntyre | 12 | | 56 | 66 | 6 | | | | | |
| Sergio Garcia | MC | | MC | MC | 67 | 52 | MC | MC | MC | MC |
| Shane Lowry | 21 | 25 | 43 | 66 | 1 | 28 | 8 | MC | 12 | MC |
| Brian Harman | 12 | | 38 | 58 | MC | | MC | | 71 | MC |
| Matt Kuchar | MC | MC | MC | MC | 41 | 16 | 8 | 12 | MC | 9 |
| Si Woo Kim | 12 | 34 | MC | 13 | MC | MC | MC | 21 | MC | 67 |
| Garrick Higgo | | | | | | | | | | |
| Matt Wallace | 34 | 46 | 43 | 77 | 51 | 12 | 3 | MC | 19 | MC |
| Gary Woodland | 40 | MC | MC | 58 | MC | 1 | 8 | 32 | 6 | 67 |
| Carlos Ortiz | MC | | | MC | | 52 | | | | |
| Bubba Watson | 26 | 57 | 31 | 71 | 51 | MC | MC | 12 | MC | MC |
| Matt Jones | 26 | | MC | MC | | MC | | | | MC |
| Russell Henley | | | | 37 | | | | | 50 | MC |
| Mackenzie Hughes | 40 | | MC | 58 | | | | | | |
| Kyoung-Hoon Lee | | | | | | MC | | | | |
| Brendon Todd | 46 | MC | 23 | 17 | | MC | | | | |
| Bernd Wiesberger | 40 | 58 | 43 | 43 | 32 | 76 | | | | |
| Lanto Griffin | MC | MC | 43 | 19 | | | | | | |
| Jason Day | MC | MC | 38 | 4 | MC | 21 | 23 | 5 | 19 | 17 |
| Kevin Streelman | | | MC | 58 | 57 | | | | MC | |
| Chris Kirk | | | | | | | | | 31 | |
| Ian Poulter | 26 | 25 | MC | 22 | MC | MC | MC | 12 | 31 | MC |
| Joel Dahmen | | | MC | 10 | MC | MC | 71 | | | |
| Cameron Tringale | | | | Dq | | | | | | |
| Sebastian Munoz | 40 | 19 | 59 | MC | | | | | | |
| Keegan Bradley | | | MC | MC | MC | MC | 29 | 43 | 42 | 79 |
| Antoine Rozner | | | | | | | | | | |
| Charley Hoffman | | | | | 51 | | 54 | 29 | MC | 17 |
| Andy Sullivan | | | MC | | MC | | | | MC | MC |
| Talor Gooch | | | | MC | | | | | | |
| Emiliano Grillo | | | | 66 | MC | 58 | 23 | 62 | 31 | MC |
| Erik van Rooyen | | Wd | 23 | 51 | 20 | 43 | 8 | | | 17 |
| Takumi Kanaya | | | MC | | MC | | | 58 | | |
| Danie van Tonder | | | | | | | | | | |
| John Catlin | | | | | | | | | | |
| Dylan Frittelli | MC | 5 | | 33 | 32 | | MC | | 31 | MC |
| Chan Kim | | | MC | MC | MC | MC | | | | |
| Brendan Steele | | | | 22 | | | | | MC | 47 |
| Harold Varner | | | | 29 | | | 36 | | | |
| Adam Long | | | 13 | 51 | | | 41 | MC | | |
| JT Poston | | MC | MC | 75 | | | 60 | | | |
| Brandon Stone | | | | | MC | | MC | | 12 | 61 |
| Sam Horsfield | | | | | | MC | | | | |
| Martin Kaymer | | | MC | MC | | 35 | MC | 51 | 42 | MC |
| Thomas Pieters | | | 23 | | 67 | MC | 23 | | 6 | 28 |
| Cameron Champ | 26 | 19 | MC | 10 | | | 54 | | | |
| Aaron Rai | | | | | | | | | | |
| Branden Grace | | | MC | | 51 | MC | MC | 58 | 27 | MC |
| Danny Willett | MC | 25 | MC | MC | 6 | 12 | 41 | MC | MC | 24 |
| Dean Burmester | | | | | | MC | | | | |
| Lucas Herbert | | | 31 | MC | | | 71 | | | 51 |
| Martin Laird | 38 | | | | | | | | | |
| Thomas Detry | | | 49 | | | | | | | |
| George Coetzee | | | | | | | | | | MC |
| Sami Valimaki | | | MC | | | | | | | |
| Rikuya Hoshino | | | | | | | | | | |
| Charl Schwartzel | 26 | 25 | | 58 | | | | MC | 42 | MC |
| Rasmus Hojgaard | | | MC | | | | | | | |
| Alexander Noren | | | 17 | 22 | 11 | MC | 54 | 62 | MC | 17 |
| Kurt Kitayama | | | MC | 51 | MC | | 64 | | | |
| Adam Hadwin | | MC | 54 | 58 | 57 | | 29 | | MC | 35 |
| Maverick McNealy | | | | | | | | | | |
| Tom Hoge | | | | 58 | | 43 | | | | |
| Kalle Samooja | | | | | | | | | | |
| Richy Werenski | | | MC | MC | | | MC | | | |
| Chez Reavie | | 29 | MC | 75 | MC | 3 | 14 | | 12 | MC |
| Tom Lewis | | | MC | MC | 11 | | MC | | | 47 |
| Jazz Janewattananond | | 51 | MC | MC | MC | | 14 | | | MC |
| Jason Scrivener | | | | | | | | | | |
| Phil Mickelson | 21 | 55 | MC | 71 | MC | 52 | 71 | 18 | MC | 24 |
| Byeong Hun An | | MC | MC | 22 | 32 | 16 | MC | | 56 | 51 |
| Henrik Norlander | | | | | | | | | | |
| Zach Johnson | MC | 51 | 8 | MC | MC | 58 | 54 | 58 | 19 | 17 |
| Lucas Glover | | MC | 17 | MC | 20 | MC | 16 | | | |
| Rickie Fowler | | 29 | 49 | MC | 6 | 43 | 36 | 9 | 12 | 28 |
| Robert Streb | MC | | | | | | | | | |
| Cameron Davis | | | | | | | | | | 39 |
| Henrik Stenson | 38 | MC | MC | MC | 20 | 9 | 48 | 36 | MC | 35 |
| Aaron Wise | | | | | 41 | 35 | 41 | 17 | MC | |
| Francesco Molinari | 52 | MC | | | 11 | 16 | 48 | 5 | 6 | 1 |
| Matthew NeSmith | | | | | | | | | | |
| Jim Herman | 53 | | MC | 77 | | | | | | |
| Harry Higgs | | | | | | | | | | |
| Wyndham Clark | | | | MC | | | | | | |
| Keith Mitchell | | | | 43 | MC | MC | MC | 43 | | |
| Denny McCarthy | | | | 58 | | | | | | |
| CT Pan | MC | 7 | | MC | MC | MC | MC | | | |
| Peter Malnati | | | | | | | | | | |
| Brandon Hagy | | | | | | | | | | |
| Hudson Swafford | MC | | | | | | | | | |
| Patton Kizzire | | | | | MC | MC | MC | 18 | MC | MC |
| Brian Gay | MC | | | | | | Wd | | 79 | |
| Steve Stricker | | | MC | MC | | | MC | | | |
| Padraig Harrington | | | | | MC | | MC | | MC | MC |
| Jason Dufner | | | | MC | | 35 | MC | | MC | 51 |
| Jimmy Walker | MC | 60 | MC | MC | MC | MC | 23 | 36 | 42 | MC |
| Yong-Eun Yang | | | | | | | MC | | MC | |
| Benjamin Cook | | | | MC | | | MC | | | |
| Rob Labritz | | | | MC | | | 60 | | | |
| Rich Beem | | | | MC | | | 80 | | MC | |
| Vijay Singh | MC | Ret | | | | | | MC | 78 | |
| Daniel Balin | | | MC | MC | | | MC | | MC | |
| Alex Beach | | | | MC | | | MC | | | |
| Omar Uresti | | | | | | | | | MC | |
| Ben Polland | | | | | | | | | | |
| Shaun Micheel | | | | MC | | | MC | | MC | |
| John Daly | | | | | | | MC | | MC | |
| Tyler Collet | | | | | | | | | | |
| Stuart L Smith | | | | | | | | | | |
| Frank Bensel | | | | | | | | | | |
| Brett Walker | | | | | | | | | | |
| Sonny Skinner | | | | | | | | | | |
| Joe Summerhays | | | | | | | | | | |
| Pete Ballo | | | | | | | | | | |
| Mark Geddes | | | | | | | | | | |
| Larkin Gross | | | | | | | | | | |
| Derek Holmes | | | | | | | | | | |
| Greg Koch | | | | | | | | | | |
| Brad Marek | | | | | | | | | | |
| Tim Pearce | | | | | | | | | | |
| Patrick Rada | | | | | | | | | | |
| Player | `20 | `19 | `18 | `17 | `16 | `15 | `14 | `13 | `12 | `11 |
| --- | --- | --- | --- | --- | --- | --- | --- | --- | --- | --- |
| Dustin Johnson | 2 | 2 | 27 | 13 | MC | 7 | | 8 | 48 | MC |
| Justin Thomas | 37 | | 6 | 1 | 66 | 18 | | | | |
| Jon Rahm | 13 | MC | 4 | 58 | | | | | | |
| Bryson DeChambeau | 4 | MC | MC | 33 | | | | | | |
| Xander Schauffele | 10 | 16 | 35 | MC | | | | | | |
| Collin Morikawa | 1 | | | | | | | | | |
| Rory McIlroy | 33 | 8 | 50 | 22 | MC | 17 | 1 | 8 | 1 | 64 |
| Patrick Reed | 13 | MC | MC | 2 | 13 | 30 | 58 | | | |
| Tyrrell Hatton | MC | 48 | 10 | MC | 10 | 25 | | | | |
| Webb Simpson | 37 | 29 | 19 | 33 | 13 | 54 | MC | 25 | MC | MC |
| Viktor Hovland | 33 | | | | | | | | | |
| Brooks Koepka | 29 | 1 | 1 | 13 | 4 | 5 | 15 | 70 | | |
| Patrick Cantlay | 43 | 3 | 27 | 33 | | | | | | |
| Tony Finau | 4 | 64 | 42 | 44 | MC | 10 | | | | |
| Hideki Matsuyama | 22 | 16 | 35 | 5 | 4 | 37 | 35 | 19 | | |
| Daniel Berger | 13 | 71 | 12 | MC | 73 | MC | | | | |
| Matt Fitzpatrick | MC | 41 | MC | MC | 49 | | | | | |
| Billy Horschel | 43 | 23 | 35 | 48 | 79 | 25 | 58 | MC | | |
| Abraham Ancer | 43 | 16 | | | | | | | | |
| Paul Casey | 2 | 29 | MC | 13 | 10 | 30 | MC | 33 | MC | 72 |
| Sung Jae Im | MC | MC | 42 | | | | | | | |
| Scottie Scheffler | 4 | | | | | | | | | |
| Lee Westwood | | MC | | 67 | 85 | 43 | 15 | 33 | MC | 8 |
| Jordan Spieth | 71 | 3 | 12 | 28 | 13 | 2 | MC | MC | | |
| Harris English | 19 | | | | 60 | 48 | MC | 61 | | |
| Cameron Smith | 43 | 64 | 56 | MC | | 25 | | | | |
| Tommy Fleetwood | 29 | 48 | 35 | 61 | | MC | MC | | | |
| Joaquin Niemann | MC | MC | 71 | | | | | | | |
| Will Zalatoris | | | | | | | | | | |
| Ryan Palmer | 43 | MC | | | 42 | MC | 5 | 47 | MC | 19 |
| Louis Oosthuizen | 33 | 60 | | 2 | 22 | 30 | 15 | | 21 | MC |
| Victor Perez | 22 | | | | | | | | | |
| Jason Kokrak | MC | 23 | 19 | 33 | 49 | | MC | MC | | |
| Kevin Na | MC | MC | 19 | MC | 22 | MC | MC | | Dq | 10 |
| Sam Burns | | 29 | | | | | | | | |
| Adam Scott | 22 | 8 | 3 | 61 | 18 | MC | 15 | 5 | 11 | 7 |
| Corey Conners | MC | 64 | | | | | | | | |
| Marc Leishman | MC | MC | 71 | 13 | 60 | MC | 46 | 12 | 27 | |
| Max Homa | MC | 64 | | | | | | | | |
| Christiaan Bezuidenhout | MC | | | | | | | | | |
| Justin Rose | 9 | 29 | 19 | MC | 22 | 4 | 24 | 33 | 3 | MC |
| Stewart Cink | | | 4 | | | | MC | MC | MC | MC |
| Kevin Kisner | 19 | MC | 12 | 7 | 18 | MC | | | | |
| Robert MacIntyre | 66 | | | | | | | | | |
| Sergio Garcia | MC | MC | MC | MC | MC | 54 | 35 | 61 | MC | 12 |
| Shane Lowry | 66 | 8 | 12 | 48 | MC | MC | 46 | 57 | | |
| Brian Harman | 58 | MC | 71 | 13 | | MC | 40 | | | |
| Matt Kuchar | MC | 8 | MC | 9 | MC | 7 | | 22 | MC | 19 |
| Si Woo Kim | 13 | MC | MC | Wd | MC | | | | | |
| Garrick Higgo | | | | | | | | | | |
| Matt Wallace | 77 | 3 | 19 | | | | | | | |
| Gary Woodland | 58 | 8 | 6 | 22 | MC | | MC | 74 | 42 | 12 |
| Carlos Ortiz | MC | | | | | | | | | |
| Bubba Watson | 71 | MC | MC | MC | 60 | 21 | 64 | MC | 11 | 26 |
| Matt Jones | MC | | | | 79 | 21 | 46 | 40 | | |
| Russell Henley | 37 | | 50 | 71 | 22 | 12 | MC | MC | | |
| Mackenzie Hughes | 58 | | | MC | | | | | | |
| Kyoung-Hoon Lee | | | | | | | | | | |
| Brendon Todd | 17 | | | | | MC | 72 | | | |
| Bernd Wiesberger | 43 | | | MC | MC | MC | 15 | MC | MC | |
| Lanto Griffin | 19 | | | | | | | | | |
| Jason Day | 4 | 23 | 19 | 9 | 2 | 1 | 15 | 8 | MC | MC |
| Kevin Streelman | 58 | | MC | | MC | 54 | MC | 12 | | 62 |
| Chris Kirk | | | 31 | MC | MC | | MC | 57 | | 34 |
| Ian Poulter | 22 | MC | 31 | 22 | | MC | 58 | 61 | 3 | 39 |
| Joel Dahmen | 10 | 71 | | | | | | | | |
| Cameron Tringale | Dq | | | | 84 | MC | Dq | | 72 | MC |
| Sebastian Munoz | MC | | | | | | | | | |
| Keegan Bradley | MC | 29 | 42 | 33 | 42 | 61 | MC | 19 | 3 | 1 |
| Antoine Rozner | | | | | | | | | | |
| Charley Hoffman | | 54 | MC | 48 | MC | MC | MC | 40 | MC | MC |
| Andy Sullivan | | | MC | MC | 49 | MC | | | | |
| Talor Gooch | MC | | | | | | | | | |
| Emiliano Grillo | 66 | 23 | 31 | MC | 13 | 61 | | | | |
| Erik van Rooyen | 51 | 8 | | | | | | | | |
| Takumi Kanaya | | | | | | | | | | |
| Danie van Tonder | | | | | | | | | | |
| John Catlin | | | | | | | | | | |
| Dylan Frittelli | 33 | MC | 31 | 63 | | | | | | |
| Chan Kim | MC | | | | | | | | | |
| Brendan Steele | 22 | | MC | MC | MC | 12 | 58 | | | 19 |
| Harold Varner | 29 | 36 | | | MC | | | | | |
| Adam Long | 51 | 41 | | | | | | | | |
| JT Poston | 75 | 60 | | | | | | | | |
| Brandon Stone | | MC | 12 | MC | MC | | | | | |
| Sam Horsfield | | | | | | | | | | |
| Martin Kaymer | MC | MC | 42 | | 7 | 12 | MC | 33 | MC | MC |
| Thomas Pieters | | 23 | 6 | MC | 86 | | | | | |
| Cameron Champ | 10 | 54 | | | | | | | | |
| Aaron Rai | | | | | | | | | | |
| Branden Grace | | MC | 27 | MC | 4 | 3 | 46 | MC | MC | |
| Danny Willett | MC | 41 | MC | MC | 79 | 54 | 30 | 40 | | |
| Dean Burmester | | | | | | | | | | |
| Lucas Herbert | MC | 71 | | | | | | | | |
| Martin Laird | | | | MC | | MC | | MC | 42 | MC |
| Thomas Detry | | | | | | | | | | |
| George Coetzee | | | | | 60 | 7 | MC | MC | MC | |
| Sami Valimaki | | | | | | | | | | |
| Rikuya Hoshino | | | | | | | | | | |
| Charl Schwartzel | 58 | | 42 | 48 | 42 | 37 | 15 | MC | 59 | 12 |
| Rasmus Hojgaard | | | | | | | | | | |
| Alexander Noren | 22 | 54 | MC | 67 | 49 | | | MC | 66 | 34 |
| Kurt Kitayama | 51 | 64 | | | | | | | | |
| Adam Hadwin | 58 | 29 | MC | MC | | | | | | |
| Maverick McNealy | | | | | | | | | | |
| Tom Hoge | 58 | | | | | | | | | |
| Kalle Samooja | | | | | | | | | | |
| Richy Werenski | MC | MC | | | | | | | | |
| Chez Reavie | 75 | 14 | 12 | 22 | | | | | 62 | |
| Tom Lewis | MC | MC | | | | | | | | |
| Jazz Janewattananond | MC | 14 | | | | | | | | |
| Jason Scrivener | | | | | | | | | | |
| Phil Mickelson | 71 | 71 | MC | MC | 33 | 18 | 2 | 72 | 36 | 19 |
| Byeong Hun An | 22 | MC | 56 | 28 | MC | MC | | | | |
| Henrik Norlander | | | | | | | | | | |
| Zach Johnson | MC | 54 | 19 | 48 | 33 | MC | 69 | 8 | 70 | 59 |
| Lucas Glover | MC | 16 | | 33 | | | | MC | MC | MC |
| Rickie Fowler | MC | 36 | 12 | 5 | 33 | 30 | 3 | 19 | MC | 51 |
| Robert Streb | | | | 22 | 7 | 10 | | | | |
| Cameron Davis | | | | | | | | | | |
| Henrik Stenson | MC | 48 | MC | 13 | 7 | 25 | 3 | 3 | | |
| Aaron Wise | | 41 | MC | | | | | | | |
| Francesco Molinari | | 48 | 6 | 2 | 22 | 54 | 58 | 33 | 54 | 34 |
| Matthew NeSmith | | | | | | | | | | |
| Jim Herman | 77 | | | 44 | MC | | | | | |
| Harry Higgs | | | | | | | | | | |
| Wyndham Clark | MC | | | | | | | | | |
| Keith Mitchell | 43 | MC | | | | | | | | |
| Denny McCarthy | 58 | | | | | | | | | |
| CT Pan | MC | MC | | | | | | | | |
| Peter Malnati | | | | | MC | | | | | |
| Brandon Hagy | | | | | | | | | | |
| Hudson Swafford | | | | MC | | | | | | |
| Patton Kizzire | | MC | MC | | 49 | | | | | |
| Brian Gay | | Wd | 79 | | | | | MC | | MC |
| Steve Stricker | MC | MC | | 54 | 42 | 30 | 7 | 12 | 7 | 12 |
| Padraig Harrington | | MC | MC | MC | 13 | MC | MC | MC | 18 | 64 |
| Jason Dufner | MC | MC | MC | 58 | 60 | 68 | Wd | 1 | 27 | 2 |
| Jimmy Walker | MC | 23 | 42 | MC | 1 | MC | 7 | MC | 21 | |
| Yong-Eun Yang | | MC | MC | MC | MC | 48 | MC | MC | 36 | 69 |
| Benjamin Cook | MC | MC | | | | | | | | |
| Rob Labritz | MC | 60 | | | MC | | | MC | | |
| Rich Beem | MC | 80 | MC | MC | 73 | MC | MC | MC | 36 | MC |
| Vijay Singh | | | 78 | 66 | MC | 37 | 35 | 68 | 36 | MC |
| Daniel Balin | MC | MC | MC | | | | | MC | MC | MC |
| Alex Beach | MC | MC | | MC | | | | | | |
| Omar Uresti | | | MC | 73 | MC | MC | | | | |
| Ben Polland | | | | | MC | MC | | | | |
| Shaun Micheel | MC | MC | MC | MC | MC | MC | MC | MC | MC | 74 |
| John Daly | | MC | MC | MC | MC | MC | MC | | 18 | MC |
| Tyler Collet | | | | | | | | | | |
| Stuart L Smith | | | | | | | | | | |
| Frank Bensel | | | | | | | | | MC | |
| Brett Walker | | | | | | | | | | |
| Sonny Skinner | | | | | | | | MC | | |
| Joe Summerhays | | | | | MC | | | | | |
| Pete Ballo | | | | | | | | | | |
| Mark Geddes | | | | | | | | | | |
| Larkin Gross | | | | | | | | | | |
| Derek Holmes | | | | | | | | | | |
| Greg Koch | | | | | | | | | | |
| Brad Marek | | | | | | | | | | |
| Tim Pearce | | | | | | | | | | |
| Patrick Rada | | | | | | | | | | |
Discover the latest articles
Read past articles