DP World Tour Championship 2020: Form guide ahead of this season's finale in Dubai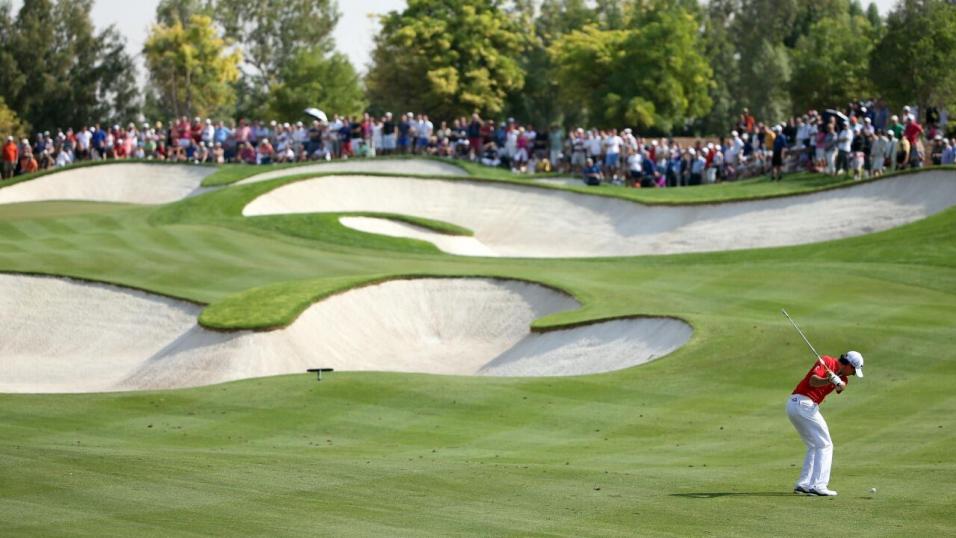 Plenty of sand on the Greg Norman-designed Earth Course
Patrick Reed, Tommy Fleetwood, Collin Morikawa and Tyrrell Hatton are the headline acts this week. Check out course and current form stats supplied by Andy Swales...
"Another big week for Hatton in Dubai would round off the year perfectly, and with two-time Earth Course champs McIlroy and Rahm not taking part, his chances have increased dramatically."
The European Tour season comes to a close with the 12th staging of the DP World Tour Championship at Jumeirah Golf Estates.
First played in 2009, all but one of its previous instalments were held in November.
However, after Covid-19 ransacked the 2020 golfing calendar, which led to the cancellation of many tournaments and the re-scheduling of others, this year's Championship was moved to December, some three weeks later than originally planned.
For the first time since 2011, the DP World Tour Championship will be the final European Tour event of the year, and will hopefully provide a suitable climax following a difficult few months for Keith Pelley and his team at Tour headquarters in Surrey.
With a total purse of $8m to be spread among the elite field, the title of European Tour No 1 for 2020 is still up for grabs.
The leader of the Race To Dubai standings is American Patrick Reed, who is 460 points ahead of nearest challenger Tommy Fleetwood.
Latest betting for this year's Race to Dubai title
Unfortunately, a number of high-profile qualifiers have decided not to make the journey to the United Arab Emirates. These include defending champion Jon Rahm, former winner Rory McIlroy, as well as Louis Oosthuizen, Paul Casey, Adam Scott and Shane Lowry.
Who's teeing-up?
Despite the absence of these big names it remains a decent field. American Collin Morikawa, winner of this year's PGA Championship in San Francisco, is among the entries, as is Korean Sung Jae Im.
Both young stars are set to make their Earth Course debuts this week, along with another first-timer in Viktor Hovland whose name is also among the entry list.
The 23-year-old Norwegian ended the PGA Tour year in style by winning the Mayakoba Classic over the weekend - his second title of 2020.
As for those with plenty of Earth Course experience, Tyrrell Hatton is a former runner-up and is presently enjoying the best season of his career.
A maiden PGA Tour success in March, followed by a clinical victory at Wentworth in October, moved the Englishman into the world's top 10 for the first time.
Another big week for Hatton in Dubai would round off the year perfectly, and with two-time Earth Course champs McIlroy and Rahm not taking part, his chances have increased dramatically.
Another Englishman, Matt Wallace, is playing his best golf of the year and on Sunday finished in a tie-for-second over the Fire Course at Jumeirah Estates.
Wallace was also second over the Earth Course two years ago when Danny Willett scooped top prize.
Hat-trick hunter
Christiaan Bezuidenhout is chasing a third straight victory on the European Tour, but the world No 35 will find this week's field a lot stronger than the ones over which he triumphed in South Africa.
Because of the big-name absentees, it has opened up the tournament to many other players.
Andy Sullivan has enjoyed a mini-renaissance during 2020 and is already in Dubai where he played pretty well last week, when he led through 54 holes only to tie-for second.
Check out latest betting ahead of this week's DP World Tour Championship
Course details
Once again, the Greg Norman-designed Earth Course holds centre stage.
Fairways are generously wide, while there is little in the way of trees to hinder any grossly wayward drives.
However, putting surfaces are big, quick and undulating, and many of the Great White Shark's greens are guarded by large, deep sand bunkers. Water has an impact on just five holes - and mainly on the back nine.
The Earth Course is long, and has an honours' board full of big hitters - although not exclusively. Matt Fitzpatrick, whose name does not appear among the list of longest drivers on Tour, won here four years' ago and has had two other top-10 finishes.
Twitter: Andy Swales@GolfStatsAlive
MC* - Missed Additional 54-Hole Cut
Note: List Contains Leading Reserves
Last 10 Weeks / Earth Course Form Guide
| Player | W49 | W48 | W47 | W46 | W45 | W44 | W43 | W42 | W41 | W40 |
| --- | --- | --- | --- | --- | --- | --- | --- | --- | --- | --- |
| Collin Morikawa | | | | 44 | | | 50 | 12 | MC | |
| Tyrrell Hatton | | | 23 | MC | 7 | | 28 | 3 | 1 | |
| Patrick Reed | | | | 10 | | | 14 | | 3 | |
| Tommy Fleetwood | | | 37 | 19 | | | 57 | 59 | 13 | 2 |
| Sung Jae Im | | | MC | 2 | 50 | | 41 | 45 | 13 | 28 |
| Viktor Hovland | 1 | | | | 15 | | 47 | 12 | | |
| Matthew Fitzpatrick | | | MC | 46 | | | 26 | 12 | 7 | 42 |
| Victor Perez | | | | 46 | | | MC | | 2 | 14 |
| Bernd Wiesberger | 8 | | 4 | 58 | | | 16 | | 40 | 48 |
| Christiaan Bezuidenhout | 1 | 1 | 15 | 38 | | | | | 40 | MC |
| Ian Poulter | | | 50 | 25 | | | | 12 | 5 | 6 |
| Lee Westwood | | | MC | 38 | MC | | 30 | 14 | 18 | 19 |
| Matt Wallace | 2 | | 37 | 46 | | | 48 | 2 | 24 | 30 |
| Erik Van Rooyen | | | | Wd | 20 | | | | 27 | 6 |
| Henrik Stenson | | | 23 | MC | MC | Wd | | | | MC |
| Robert MacIntyre | 19 | 6 | | | 1 | 3 | | Wd | 58 | 14 |
| Danny Willett | 30 | | MC | 25 | Wd | 55 | | | 32 | MC |
| Tom Lewis | | | | | MC | MC | | | 43 | MC |
| Andy Sullivan | 2 | | MC | | | 58 | | | 3 | 26 |
| Graeme McDowell | MC | | 59 | MC | 44 | | | | 24 | MC |
| Jazz Janewattananond | 37 | | | 51 | | | 60 | | MC | MC |
| Rasmus Hojgaard | MC | | | | MC | 37 | | | MC | 48 |
| Thomas Pieters | 25 | | | | | | | | 62 | MC |
| Aaron Rai | 50 | | | | | | | 3 | MC | Won |
| Martin Kaymer | 37 | | | | | | 5 | | 10 | MC |
| Thomas Detry | 37 | | | | 4 | 10 | | | 48 | 30 |
| Sami Valimaki | 13 | | | | 18 | 6 | | | 13 | 63 |
| George Coetzee | 40 | MC | | | | | | | MC | 59 |
| John Catlin | | | | | | | | | MC | MC |
| Sam Horsfield | 45 | | | | | MC | | 43 | MC | MC |
| Garrick Higgo | MC | MC | 61 | | MC | 3 | | | 27 | 26 |
| Shaun Norris | 46 | MC | 3 | | | | 28 | | | MC |
| Jorge Campillo | 66 | MC | | | 3 | 53 | 48 | | MC | 48 |
| Marcus Kinhult | 62 | | | | MC* | MC | | | 10 | 6 |
| Romain Langasque | | | | | MC* | 28 | | | 58 | MC |
| Eddie Pepperell | 50 | 64 | | | | | | 16 | 6 | 9 |
| Benjamin Hebert | MC | | | | MC | 41 | | | MC | 19 |
| Branden Grace | 40 | | 30 | | MC | 40 | | | MC | MC |
| Adri Arnaus | MC | 6 | MC | | | | 5 | | 32 | 26 |
| Callum Shinkwin | 30 | | | | 4 | 1 | | Wd | MC | 30 |
| Renato Paratore | 13 | | | | | | 65 | 37 | 7 | MC |
| Joachim B Hansen | | 20 | 1 | | | | Wd | | 7 | MC |
| Adrian Otaegui | 37 | 20 | 51 | | | | 22 | 1 | MC | 42 |
| Joost Luiten | 11 | 31 | MC | | MC* | 53 | 10 | | MC | 19 |
| Laurie Canter | | MC | | | | 41 | 2 | | | MC |
| Kalle Samooja | MC | | | | MC | 2 | | | 48 | 9 |
| Masahiro Kawamura | | 23 | MC | | 2 | 34 | | MC | 20 | 56 |
| Wil Besseling | 56 | 13 | MC | | | 17 | 16 | 30 | | |
| Gavin Green | MC | 47 | 74 | | 7 | MC | | | 48 | 42 |
| Wilco Nienaber | 11 | 12 | 2 | | MC | 53 | MC | | | |
| Jordan Smith | 25 | | | | MC | 21 | MC | | 13 | 36 |
| Marcus Armitage | 45 | 6 | 30 | | 14 | 12 | 10 | 7 | | |
| Richard Bland | 40 | 2 | 7 | | 16 | MC | 16 | | | MC |
| Brandon Stone | 32 | 23 | 4 | | | | | 16 | MC | 19 |
| Antoine Rozner | 1 | | 20 | | MC* | 21 | 10 | | | |
| Dean Burmester | 4 | MC | 18 | | | | 5 | MC | MC | MC |
| Robert Rock | 45 | | | | | | | | 48 | 3 |
| Scott Jamieson | 32 | 6 | 20 | | | | 48 | 37 | MC | 36 |
| Ross Fisher | 7 | | | | MC | MC | | | 20 | MC |
| Sean Crocker | 22 | 2 | MC | | | MC | | 9 | 44 | 36 |
| Pablo Larrazabal | 35 | 39 | | | MC* | MC | | | 27 | 59 |
| Connor Syme | 10 | MC | | | MC | MC | | 37 | | 48 |
| Marc Warren | 8 | | | | | | 39 | 25 | MC | 4 |
| Jamie Donaldson | 2 | MC | | | 19 | 3 | 39 | 9 | | |
| Justin Harding | | | | MC | 38 | | | 30 | MC | MC |
| Matthieu Pavon | 58 | 57 | MC | | MC | 49 | 30 | | 27 | 55 |
| Grant Forrest | 6 | | 56 | | MC | 49 | | MC | 32 | 19 |
| Player | `19 | `18 | `17 | `16 | `15 | `14 | `13 | `12 | `11 | `10 |
| --- | --- | --- | --- | --- | --- | --- | --- | --- | --- | --- |
| Collin Morikawa | | | | | | | | | | |
| Tyrrell Hatton | 46 | 22 | 8 | 2 | 13 | 6 | | | | |
| Patrick Reed | 28 | 2 | 10 | | 10 | | | | | |
| Tommy Fleetwood | 2 | 16 | 21 | 9 | 53 | 12 | 37 | | | |
| Sung Jae Im | | | | | | | | | | |
| Viktor Hovland | | | | | | | | | | |
| Matthew Fitzpatrick | 9 | 34 | 12 | 1 | 4 | | | | | |
| Victor Perez | 20 | | | | | | | | | |
| Bernd Wiesberger | 28 | | 45 | 4 | 17 | 16 | 34 | 42 | | |
| Christiaan Bezuidenhout | 12 | | | | | | | | | |
| Ian Poulter | 44 | 51 | 31 | | 42 | 21 | 2 | 26 | 22 | 2 |
| Lee Westwood | 38 | 20 | 52 | 13 | 42 | 47 | 5 | 48 | 29 | 3 |
| Matt Wallace | 28 | 2 | | | | | | | | |
| Erik Van Rooyen | 28 | 26 | | | | | | | | |
| Henrik Stenson | 44 | 12 | | 9 | 59 | 1 | 1 | 7 | | 24 |
| Robert MacIntyre | 14 | | | | | | | | | |
| Danny Willett | 5 | 1 | | 50 | 4 | 21 | | 26 | | 55 |
| Tom Lewis | 6 | 7 | | | | | | | | |
| Andy Sullivan | 10 | 26 | 48 | 40 | 2 | 21 | | | | |
| Graeme McDowell | | | | | | 47 | 17 | 52 | 11 | 13 |
| Jazz Janewattananond | | | | | | | | | | |
| Rasmus Hojgaard | | | | | | | | | | |
| Thomas Pieters | 6 | 12 | 58 | 40 | 22 | | | | | |
| Aaron Rai | 40 | 48 | | | | | | | | |
| Martin Kaymer | | 55 | 17 | 19 | 10 | 39 | 19 | 26 | 11 | 13 |
| Thomas Detry | 28 | 29 | | | | | | | | |
| Sami Valimaki | | | | | | | | | | |
| George Coetzee | | | 58 | 30 | | 26 | 32 | 26 | 22 | |
| John Catlin | | | | | | | | | | |
| Sam Horsfield | | 41 | | | | | | | | |
| Garrick Higgo | | | | | | | | | | |
| Shaun Norris | | | | | | | | | | |
| Jorge Campillo | 18 | 51 | | 9 | | | | | | |
| Marcus Kinhult | 16 | 22 | | | | | | | | |
| Romain Langasque | 40 | | | | | | | | | |
| Eddie Pepperell | | Ret | 48 | | 58 | 26 | | | | |
| Benjamin Hebert | 38 | | | | | | | | | |
| Branden Grace | | 34 | 31 | 27 | 3 | 9 | 52 | 6 | | |
| Adri Arnaus | 28 | | | | | | | | | |
| Callum Shinkwin | | | 25 | | | | | | | |
| Renato Paratore | | | | 30 | | | | | | |
| Joachim B Hansen | 36 | | | | | | | | | |
| Adrian Otaegui | | 4 | 42 | | | | | | | |
| Joost Luiten | 20 | 22 | 44 | 13 | 31 | 9 | 4 | 16 | 51 | 26 |
| Laurie Canter | | | | | | | | | | |
| Kalle Samooja | | | | | | | | | | |
| Masahiro Kawamura | | | | | | | | | | |
| Wil Besseling | | | | | | | | | | |
| Gavin Green | | | | | | | | | | |
| Wilco Nienaber | | | | | | | | | | |
| Jordan Smith | 47 | 12 | 25 | | | | | | | |
| Marcus Armitage | | | | | | | | | | |
| Richard Bland | | | | 54 | | | | | | |
| Brandon Stone | | 57 | | 59 | | | | | | |
| Antoine Rozner | | | | | | | | | | |
| Dean Burmester | | 4 | 4 | | | | | | | |
| Robert Rock | | 51 | | | | | | 21 | 8 | 57 |
| Scott Jamieson | | | 45 | | | | 26 | 14 | 54 | |
| Ross Fisher | | 47 | 17 | 17 | 46 | 42 | 26 | | 46 | 13 |
| Sean Crocker | | | | | | | | | | |
| Pablo Larrazabal | | | 55 | 52 | 22 | 16 | 26 | 36 | 10 | |
| Connor Syme | | | | | | | | | | |
| Marc Warren | | | 48 | | 34 | 21 | 52 | 26 | | |
| Jamie Donaldson | | | | | 34 | 12 | 8 | 9 | 26 | 48 |
| Justin Harding | 36 | | | | | | | | | |
| Matthieu Pavon | | | 13 | | | | | | | |
| Grant Forrest | | | | | | | | | | |
| No of Starters: | 50 | 60 | 60 | 60 | 60 | 60 | 56 | 56 | 58 | 60 |
Discover the latest articles
Read past articles