US Open In-play Guide: Trading tips, hole by hole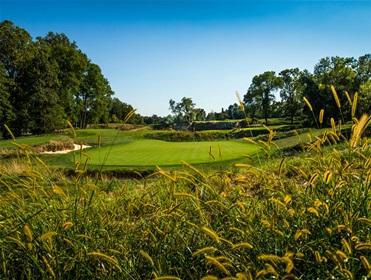 Expect plenty of drama at Merion's 17th hole
Successful in-running trading requires knowing which parts of the course are most opportune to be backing or laying players, depending on the difficulty of forthcoming holes. Paul Krishnamurty runs through the set up at Merion and identifies the key moments for betting...
"Hole 6: Par 4, 487 yards

If a player is already in contention and safely aboard the green in two...this is an ideal time to back them as the easiest stretch of the course awaits."
Hole 1: Par 4, 350 yards
The beginning of the round at Merion is a time for punters to be positive about their selection, because a birdie/birdie start is a realistic aim for everyone. In theory, the opening hole is driveable but given the narrow fairway and penal rough, most will take iron off the tee to set up a straightforward approach shot and good birdie chance. 
Hole 2: Par 5, 566 yards
The first par-five is another chance to make headway with eagle in range for everyone. The key will be accurate driving because the rough is particularly penal on this hole, while out of bounds awaits those missing right. 
Hole 3: Par 3, 256 yards
If your pick has made a good start and their odds have duly shortened, now is the time to think about laying back. There will be few birdies and plenty of casualties on this very long par-three and scrambling will be very difficult from either the left or front right bunker.
Hole 4: Par 5, 628 yards
Usually a par-five is a time to be backing players, especially big-hitters, but this one is barely even a birdie opportunity. The length, rain-softened fairways, plus the fact the green is fronted by a creek, will make this a three-shotter for almost everyone. 
Hole 5: Par 4, 505 yards
Merion may be a short course overall, but this par-four is a brute, especially with rain-softened fairways. A stream running all the way down the left will claim plenty of victims and the green is the most heavily sloped on the course. This is a very good time to be laying players.
Hole 6: Par 4, 487 yards
Another tough hole where par will be a very good score on any day. If a player is already in contention and safely aboard the green in two, however, this is an ideal time to back them as the easiest stretch of the course awaits.
Hole 7: Par 4, 360 yards
Here come the birdie chances. Some will be tempted to back big-hitters in expectation of them overwhelming short par-fours like this, but given the risks involved there is little incentive in trying to drive the green. Short and medium-hitters with no option other than to lay up may fare equally as well.
Hole 8: Par 4, 359 yards
Again, there is little incentive for big-hitters to take on a small, well-protected green here. Alternatively, laying up should set up a relatively straightforward birdie opportunity. 
Hole 9: Par 3, 236 yards
A tough hole closes the front-nine. With the green guarded by water and surrounded by three deep bunkers, the name of the game is hitting the middle of the green to set up a safe par. Sandwiched by birdie opportunities, there's little to be gained either way from altering your betting direction on this hole. 
Hole 10: Par 4, 303 yards
The back-nine begins with a classic risk-reward that will yield plenty of birdies. Again though, don't assume this hole will be a gift for big-hitters as pretty much everyone can reach. The key will be accuracy because missing the green leaves plenty of work for birdie. 
Hole 11: Par 4, 367 yards
Yet another short par-four where the big-hitters may see their advantage negated. Baffling Brook guards the green, taking all the incentive away from an aggressive tee-shot. This remains a good time to be backing, rather than laying, players.
Hole 12: Par 4, 403 yards
This dogleg is medium-ranking in terms of difficulty and liable to produce both birdies and multiple bogeys. Expect to see significant swings in the betting on this hole, although the direction is hard to predict.
Hole 13: Par 3, 115 yards
On paper this looks a straightforward birdie chance although very short holes often prove deceptive. It makes little sense to be backing players at this stage of the round, because this par-three is the last really good chance of a birdie.
Hole 14: Par 4, 464 yards
Merion's famously tough finish starts here. There will be a few birdies on this hole, but plenty more will come unstuck either off the tee or from their approach.
Hole 15: Par 4, 411 yards
The tee shot on this hole is particularly dangerous, threatened by out of bounds on the left, penal bunkers and rough on the right. That could offer an advantage for bigger-hitters preferring to leave driver in the bag. Even once that first part of the job is completed, a severely sloped green makes this another tough par.
Hole 16: Par 4, 430 yards
The quarry is the threat on this hole, so expect most players to be laying up to similar areas. A birdie is perfectly plausible here and could prove a decisive moment on Sunday night.
Hole 17: Par 3, 246 yards
This long par-three is perfectly designed to produce dramatic betting swings during the final round. There are two tee boxes 50 yards apart, so one some days it could be a birdie chance.
Hole 18: Par 4, 521 yards
If you're holding a good position about your pick and haven't laid back yet, do so now! The final hole is the hardest on the course and an extremely tough par. Big-hitters who can carry the quarry will enjoy an advantage.
Discover the latest articles