Ed Hawkins on the Ashes: Warner's old brawn and new brain can hurt England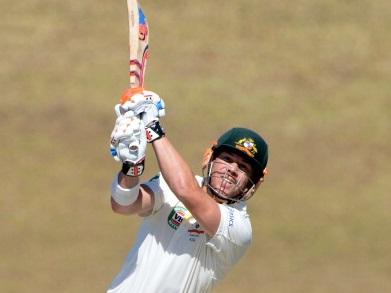 Warner has put his troubled past behind him it seems
Our cricket correspondent analyses the top batsman and bowler markets ahead of the start of the eagerly-awaited five-Test series in Brisbane on Wednesday night...
"In Warner's last 11 innings in domestic cricket he has four centuries – including 197 for New South Wales against Victoria in a one-day game – and two half-centuries"

Recommended Bet
Betting on sport is a mighty tough challenge. Essentially, we are trying to guess what is going on in between the ears of the sports people we have chosen to make us millionaires. That is why some prefer horses, because, by and large, very little is going on.
David Warner, the Australia opening batsman, is a racehorse insofar that there is a void amid his lugholes. For some, that is a good enough reason to avoid his price of 5.59/2 to finish as Australia's top Ashes runscorer.
After all, why risk your hard earned on a player who, at any moment, could be banned for excessive boozing or punching an opposition player in the face? Warner has been a liability to Australia and the fears over an implosion are never far away.
However, it could be argued that the tumbleweeds bouncing into one another inside Warner's head are a good thing. The least musing Warner does the better, particularly during his time at the crease.
There are signs that this new thinking, or rather lack of it, is starting to pay off. Whereas before he might have been distracted by opening a few tinnies at the end of the play or biffing up the smallest bloke in the other squad, he's concentrating on scoring runs.
His form going into the Ashes is sensational. In his last 11 innings in domestic cricket he has four centuries - including 197 for New South Wales against Victoria in a one-day game - and two half-centuries.
Away from the crease, there are encouraging signs, too. Whisper it, but Warner, 27, actually sounds quite a sensible bloke these days. "I've learnt how to respect my body," he said. "You need sleep to recover a lot and I probably wasn't getting enough sleep. I usually don't like going to bed before 12 o'clock because I've probably played out the game too much in my head, thinking about the training session the next day or the game the next day. I've learnt how to calm down and work a bit more on that with Michael Lloyd, our sports psych.
"We train three, four days leading into a Test match. You take that as a nine-day approach. If you're going to have a drink, or not get as much rest, or not do your recovery process right, you're going to be really sore."

Warner's rivals
So what we could see over the next few months is a coming of age. Warner, who averages 36 in Test cricket, has always had the ability to push that above the much-heralded 40 mark. Now he has the lifestyle.
What also makes him a standout bet is the form and fitness of his team-mates. Michael Clarke and Shane Watson are his greatest rivals for honours. There are enough negatives to put us off both of them, particularly Clarke who is prohibitively short at 3.45.
Clarke has a long-standing back problem which England should be able to exploit. They will target him with short balls, safe in the knowledge that he will not be able to duck with the speed and elasticity required. Then they'll throw in the old one-two. Stuck on his crease he'll get a fuller one.
Watson has a hamstring niggle and a technical fault which non-stop cricket for the last six months will not have ironed out. As top runscorer in England he is obviously a runner at 6.05/1 but he has more black marks in his column than Warner. That catastrophic inability to not play around his front pad the boldest.
For the tourists, the majestic Ian Bell rates outstanding value as fourth favourite for top England bat behind Alastair Cook 3.8514/5, Jonathan Trott 4.57/2 and Kevin Pietersen 5.04/1. Bell is 5.24/1 and we expect the flat and true surfaces Down Under to bring out the best in him. After dominating Australia's bowlers in the summer he has the chance to consolidate as one of the finest batsmen in the world over the next few years.

Bowlers bamboozle
The highest wicket-taker markets are not so easy to decipher. The top Australian chart is dominated by Ryan Harris, Peter Siddle and Mitchell Johnson, who are given quotes of 3.3512/5, 3.711/4 and 3.814/5 respectively. The strike rate (the average of how many balls needed to take a wicket) is a good way to sort the winners from the losers.
Harris is way out in front with a wicket every 46.1 balls to Siddle's 56.3. Johnson is 63.2. Harris, however, is unlikely to play all five Tests because of his horrible fitness record so he will have to have a decvent lead by Sydney.
James Anderson is the jolly to be top England wicket-taker. In the last two years Anderson, who can be lethal with the old and new ball, has taken more wickets than any of his team-mates. But 2.8615/8 is incredibly skinny, even if with 24 victims he was the most dangerous when England last visited.
Graeme Swann, the second most successful abroad, is 4.67/2 and Stuart Broad, who has only 15 wickets in his last eight Tests on foreign soil, is 3.8514/5. Chris Tremlett could be the value. His strike rate is superior to all of his colleagues within the confines of our study and that is a tantalising stat. But can he stay fit for five Tests to do the business at 9.617/2? Sadly, probably not.

Recommended bets
D Warner top Australia Ashes runscorer at 5.59/2
I Bell top England Ashes runscorer at 5.24/1
Australian Wallet
Remember, to bet on any Ashes market you'll first need to transfer funds to your Australian Wallet. Find out more in this video.
Discover the latest articles