Australia v England Fifth Test Betting: Broken England to be sent packing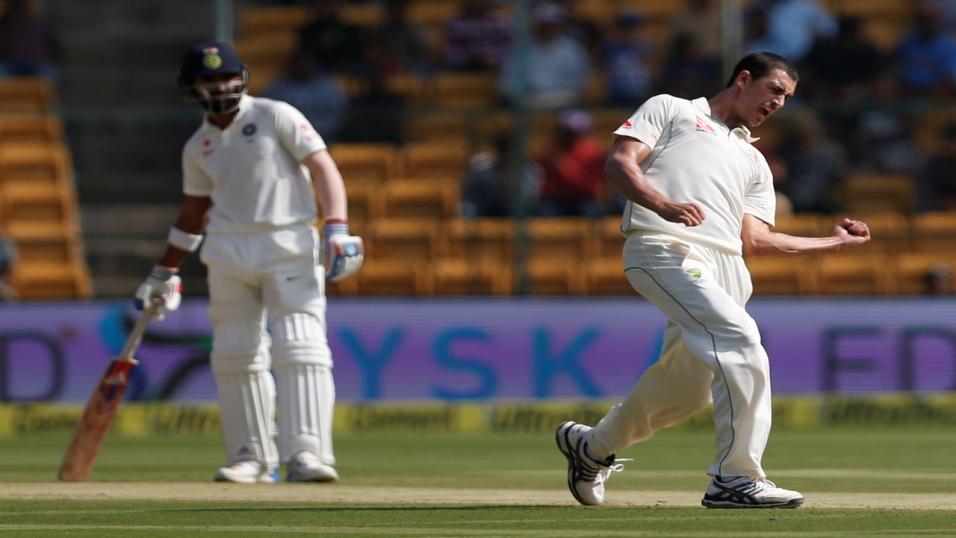 Starc should return
Ed Hawkins previews the fifth and final 'contest' from Sydney which starts on Wednesday night and hopes the hosts will ruin England again
"Crane's inclusion would be the final act of a team which has been mentally shot since Root decided to bowl first in Adelaide"
Australia v England
Wednesday 3 January 23:30 GMT
TV: live on BT Sports
Australia
Mitchell Starc is angling for a return to the team following the bruised heel which kept him out of the drab Melbourne Test. Before the MCG it seemed impossible that Starc's stock couldn't go any higher but the stalemate highlighted just how important he is.
It would be unfair to say he is the difference between the sides but he is the one bowler on show who has the x-factor. He has been bowling off his full run in the nets and he will be itching to join New South Wales team-mates Pat Cummins, Josh Hazlewood and Nathan Lyon on their home ground.
Steve Smith should also be fit despite missing a hit the other day with a sore back. As if the guy needs any practise. Smith is a run machine and England, nor does anyone else for that matter, have any clue where to put the spanner in his works.
If Starc does play then Australia, as we said before Perth, have an enviable balance thanks to the form of Mitchell Marsh in the all-rounder's slot. It means that they can afford to stick with the under-performing Usman Khawaja and Cameron Bancroft.
Ashton Agar, the Western Australian spinner, has been called up in case the hosts feel it will turn square.
England
Joe Root said he was proud of England's performance in Melbourne. Crikey, the bar's dipped that low has it? Well, at least they ended a run of seven consecutive defeats away from home.
The MCG pitch, which has been reported as 'poor by the ICC, did finally give England's impotent bowling attack an excuse. It was pretty lifeless but we still take seriously that they have not taken 20 wickets in the series and at the 'G they averaged a wicket every 17 overs. They would have had to bowl for another day and a bit to get the other six Aussie wickets.
One feels that Melbourne was England's best hope of restoring pride. England do too because they look set to experiment. Untried leggie Mason Crane is expected to play in the place of Moeen Ali. If the pitch takes spin Tom Curran will probably make way.
James Vince needs a substantial score or otherwise his Test career is surely over. There has been talk of him losing his spot to Gary Ballance.
First-innings runs
The average score in the last ten Tests is 356. But there have been some low scores among that lot. Australia were rolled for 127 versus Pakistan in 2010 and India could manage only 191 two years later. An abrasive surface is likely so reverse swing should be a factor. And there should be turn on days four and five. Five of the last eight Tests that have produced a result have been won by the side batting first.
Match odds
Australia are [1.7], England [4.6] and the draw is [5.0]. Australia are as big because of the confusion over Starc. If he plays they will probably go off [1.6]. Consider that they were [1.8] to win in Brisbane and it looks a good shout.
And in reality, that's the gamble at this stage of an uncompetitive series. We're not worried what England will do. Indeed, it may not matter that much considering the inclusion of Crane devalues the format.
England coach Trevor Bayliss said Crane "has to start somewhere". This is true. But that "somewhere" is not Test cricket for a legspinner, a complex art which takes years to master. Crane has bowled 79 overs on tour and his five wickets coast 58 apiece. His first-class record is exactly what you would expect for a 20-year-old leggie - an average of 44. He should be nowhere near the Test team.
It is true that Crane carries the same sort of threat as bedraggled Moeen Ali. But if he replaces Moeen, then England lengthen a tail which has been consistently blown away. Crane's inclusion would be the final act of a team which has been mentally shot since Root decided to bowl first in Adelaide.
Top Australia runscorer
Smith averages 151 in the series and even with a sore back and sore wrist he looks untroubled by England. At the SCG, his home venue, he averages 60 in his team's first-innings. But that is some way off David Warner's average of 89. Warner has three tons and one fifty in six innings. Smith is [3.3] and Warner [4.4].
Top England runscorer
Alastair Cook is alive again in this market and now rivals Root for favouritism with just 0.1 ticks between them at [4.6]. As Cook has found form with the pressure off, few would bet against him. We will keep faith in mathematic, though and bet Root who is overdue. Root is statistically a [3.6] chance so [4.5] is value.
Ed Hawkins P-L
2017: +17.5pts
2016: +18.1pts
2015: +38pts
2014: +31.5pts
2013: +25pts
Based only on available prices. Does not include back-to-lay in-running match advice or commission rate. Figures 2013-2016 on 1pt level stakes. New points system (0.5pt-5) introduced for 2017. Includes Hawk-Eye stats column p-l
Recommended bets
Australia to win Test [1.7] (3pts)
J Root top England runscorer [4.5] (0.5pts)