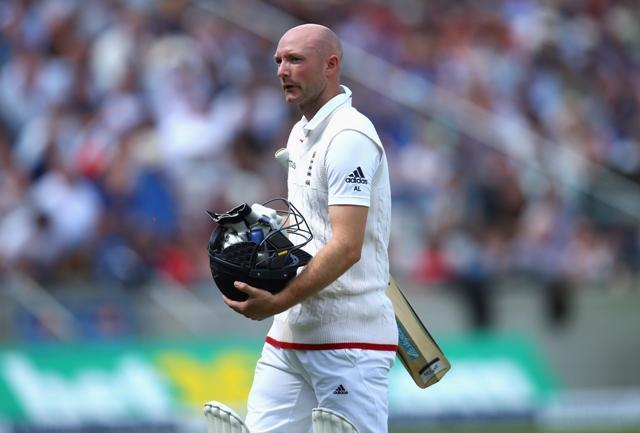 Adam Lyth is not England's only problem
Ed Hawkins says an Anderson-less England should enjoy their Edgbaston victory while they can because they could be drowning their sorrows at the end of the series...
"Lyth, Buttler, Ballance and Anderson's replacement, who is surely on a hiding to nothing, could give England the pallid complexion of someone who's had too much celebratory champagne."
An epic victory deserved an epic celebration. England's players will have woken the morning after the night before feeling elated and prosperous thanks to their achievement at Edgbaston and in no small part to the stuff champions supp. In time those feelings could have given way to a foggy, cantankerous sense of dread. And it won't have just be a hangover.
If England thought it hard work in taking a 2-1 lead against Australia then they are going to have to redouble their effort to hold on to their lead and wrestle back the urn. The smart money, however, may still be on an Australia victory.
The injury suffered by James Anderson was the fly in the fizz. Anderson is out of the fourth Test at Trent Bridge on Thursday and his absence merely adds to a list of problems which England have to solve if they are to cause an almighty surprise.
While the partisan will seek to heap praise on England, and scorn on Australia, it is an uncomfortable truth for the home side that they have as many holes, possibly more, in their make-up than Australia.
The [4.5] that Australia hit back to take the spoils 3-2 or the [3.9] about a draw could well be value. To cover both bases a lay of England at [1.92] to win the series might prove to be shrewdest of all.
It would be a remarkable feat for England to win the Ashes - and upsetting a [1.38] jolly in the process - without Anderson. Calling him their talisman doesn't cut it. He is their greatest bowler ever.
Such men are irreplaceable in a generation, let alone a week. Unfortunately for England they have had skeletal experience of life without Jimmy. Since 2007, when he became the leader of the attack, Anderson has missed only 12 Tests.
Without him in those matches, England won five - a win percentage of 42. With him in the team over the same study period the win percentage is the same. The devil is in the detail, however. England's victories came against poor opposition in Bangladesh and West Indies. The two successes over Bangladesh were preceded by heavy defeats against New Zealand and, gulp, West Indies.
England will miss him horribly. They know it. We know it. Australia know it. Those stats only serve to illuminate slightly a dilemma which will surely be exposed in the cold light of days in Nottingham and south London.
Who should replace Anderson will have vex selectors and coaches. It was not their only conundrum and their brows will resemble ploughed fields for some time. Adam Lyth, Jos Buttler and Jonny Bairstow, in that order, are all cause for concern.
Lyth is, surely, a dead man walking despite a reprieve. He averages just 12 from his six innings. There is no doubt he has a superb eye - his slip catches bear testament to that - but his temperament is sadly lacking. His wafts outside off and unsure foot movement betray a mind addled by pressure.
The Yorkshireman would almost certainly have lost his place if there was an obvious replacement. There isn't. For what it's worth, this column reckons Nick Compton, tight in technique and unflappable, should be give another go.
With Lyth alive, that's one body England have to carry. Buttler is another. There is no suggestion he should be dropped but his return is worse than Lyth's. He also seems overwhelmed by the occasion. Notice his failure to review his leg before to Nathan Lyon when a few balls before he had seen the big screen show an almost identical delivery miss his stumps.
Like Buttler, Bairstow is not going anywhere in this series. Yet there have to be doubts about his ability to score runs. The snorter he got from Mitchell Johnson was a reminder of the gulf between the county game and Test level. The wide eyes and gaping gob with which he greeted his dismissal suggested a shock to the system.
There is the possibility, then, that England could not be carrying just a couple of players - as is the norm in any given international series for a team - but double that. Lyth, Buttler, Ballance and Anderson's replacement, who is surely on a hiding to nothing, could give England the pallid complexion of someone who's had too much celebratory champagne.
Mark Wood is likely to come in for Anderson if fit while Liam Plunkett and Mark Footitt standby. Wood's return would give England a very samey attack at Trent Bridge and without the swing threat which is so vital.
Considering The Oval will probably be hard and flat - exactly like Lord's where England were pitiful - it is paramount they gamble in Nottingham. Even a half-fit Anderson capable of sending down 80mph swingers would have sufficed.
Instead they should have selected a bowler who could (almost) match Anderson's nous and extreme years-in-the-making skill. The only possible candidate was Ryan Sidebottom.
Sidebottom, at 37, would have been the sort of selection which would be laughed at. But it would have been damn smart and it might just have won England the Ashes. He can swing it both ways - he has a first-class average of 17 this term - and England know the occasion wouldn't have got to him. The left-armer would represent one player England would not be worried about. Can they be so sure about Wood, Plunkett or Footitt?
Australia, of course, have problems. Michael Clarke needs runs, Adam Voges is their Lyth and Mitchell Starc is out of form. But the latter is easily solved with the introduction of the irrepressible Peter Siddle, whose bustling pace and lateral movement will be ideal for Trent Bridge. Shaun Marsh will come in for Voges while does anyone really believe Clarke will go through the series without a score?
At worst Australia will feel they are carrying two players. England might wish for such a paucity of problems. They could soon be drowning their sorrows.

Recommended Bet
Lay England to win Ashes at [1.93]

Ed Hawkins P/L
2015: +£262.10
2014: +315.10
2013: +250.80
To £10 level stakes (unless otherwise stated), based only on available prices. Does not include back-to-lay in-running match advice or commission rate.
Follow Ed on Twitter @cricketbetting