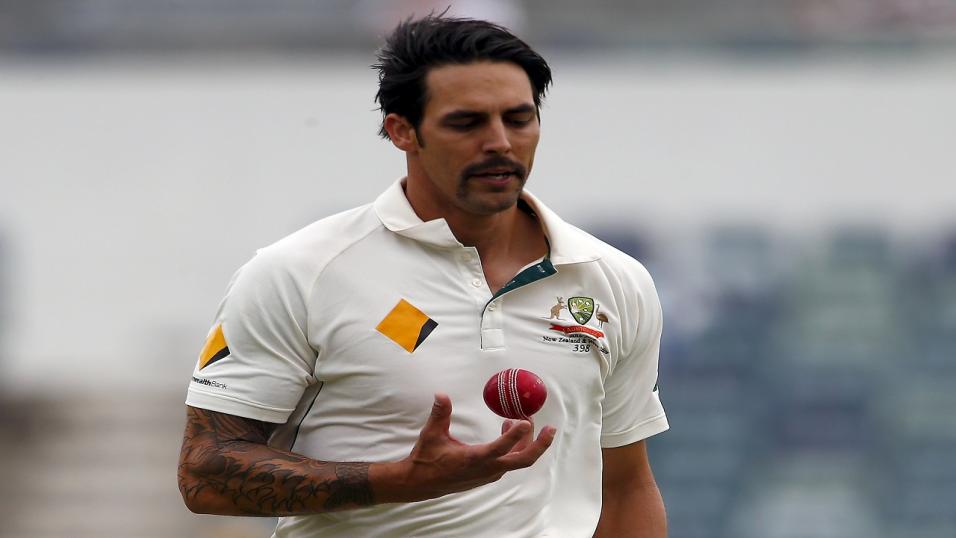 Mitchell Johnson says there will be plenty of short stuff in the Ashes
With exactly a month to go until the first Ashes Test, Ed Hawkins brings us his latest, where he takes David Warner to task and says the series may be nothing more than shortlived skirmish...
"It was a reminder that Australian winter and spring has been dry, meaning pitches are likely to be harder and encourage fast bowlers to have the ball buzzing past the batsman's ears"
It was George Orwell who wrote that sport was war minus the bullets. We're not sure whether David Warner's inflammatory jibe that the impending Ashes series would be precisely that means he is a voracious Orwell reader or not.
But we're pretty sure he is hopelessly wrong. Marcus Trescothick, who knows a thing or two about what sport actually is about and how much it really matters, called his comments "pathetic". It was about a withering assessment of Warner's character as you could get.
If it is a war, it won't be a very competitive one. The odds suggest it will be a brief skirmish with Australia gaining decisive territory very early indeed. They are now no better than [1.49] with England [4.4] and the draw [9.6].
Warner was praised for his diatribe by none other than Glenn McGrath, whose sense of sporting proportion has, seemingly, always been at odds with his reputation as being a good bloke. Naturally he can't allow an Ashes series to pass without making his 5-0 prediction. How many times has been right? Twice. He no tipster that's for sure.
It was an unlikely source who restored decorum to the debate. Mitchell Johnson, not exactly renowned for his common sense, produced some rare insights worth dissecting. His views were very un-Australian because they were measured and thoughtful. And not tub-thumping or 'we'll kill 'em' in the least. Weird.
For a start, he said that England were not no hopers without Ben Stokes, something we have tried to explain before with some statistical detail. His take was on the psychological impact a Stokes-less England might have on Australia.
"I don't think you can read too much into what people are commenting on 'no Stokes, no England'," he said. "I think England can win without him. I think at a contest at that high level, anyone can win.
"If you're Australia, you don't want to be thinking they can't win because Stokes isn't there - that can bite you in the backside pretty quickly."
England would do well to remember that themselves. Their hand-wringing since Stokes' fisticuffs has been almost as stomach-churning as a hawkish Warner.
England should expect plenty of chin music

What was most interesting, though, was Johnson's reveal - or perhaps confirmation - that England face a barrage of short-pitch bowling.
"The wickets are a little bouncier and faster, so some of these new guys might find it harder, and that's where the Australian bowling attack is strong."
It was a reminder that Australian winter and spring has been dry, meaning pitches are likely to be harder and, as Johnson intimated, encourage fast bowlers to have the ball buzzing past the batsman's ears.
That does not bode well for England. They are most likely to suffer a barrage in Brisbane, venue for the first Test, and Perth where the pivotal third Test will be played.
At the Gabba, a fired-up and fresh Australia will surely look to put their plan into immediate action, targeting a soft and inexperienced England batting line-up with the short stuff. It is de rigeur to do the same at the WACA, a wicket which is not as quick as it once was but still possesses some spit and bite.
And, of course, England have horrible records at both grounds. They have lost five of the last seven at the Gabba with two of those draws. Even when utterly dominant in 2010 England couldn't win there. Normal service was resumed in 2013 when they went down by 381 runs.
In Perth England have won once in 13, drawing three. They have managed more than 350 only once since 1986. That was on their last visit when they squeezed out 353 in the fourth-innings in an irrelevant chase of 504.
So with Johnson handily jogging our memories that two of the Tests venues look like absolute gimmes for Australia, it is far beyond the realms of possibility that England could find themselves two to the bad with two to play.
Clear win for hosts is where the value is likely to be

And that means the handicap prices start to take our fancy. Australia are available to bet at +1.5 Tests and it will be interesting to see whether value becomes available once the market matures. England are currently [2.4] to lay with a +1.5 Test headstart.

Naturally, England's record in Brisbane and Perth make the correct score jolly of 3-1 Australia look more than fair. That stands at [7.4]. If England have lost twice by game four, which is at the MCG where they should find conditions more suitable, it all comes down to, in Warner's vernacular, whether they are 'trenches men' or not.
Ed Hawkins P-L
2017: +27.41pts
2016: +18.1pts
2015: +38pts
2014: +31.5pts
2013: +25pts
Based only on available prices. Does not include back-to-lay in-running match advice or commission rate. Figures 2013-2016 on 1pt level stakes. New points system (0.5pt-5) introduced for 2017. Includes Hawk-Eye stats column p-l