The Betfair Poker Interview: Nathan Williams
Poker News

/ Short-Stacked Shamus / 17 February 2012 / Leave a Comment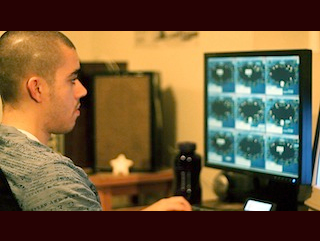 Nathan Williams has played over 6 million hands of online poker.
"There's just so much ego in poker. I mean, I try never to look at it, but anybody who's ever been to my page on Poker Table Ratings, you can see the amount of hate because I'm playing the microstakes [laughs]. But I guess I just got over that at a certain point and recognized that a lot of people honestly do play these stakes."
When it comes to low or "microstakes" online poker, Nathan "BlackRain79" Williams of Vancouver, Canada may well be the most experienced player around. He's played more than 6 million hands of online poker, with full ring NL2 and NL5 his most frequently played game and stakes.
Such a wealth of experience at the micros has not only earned Williams a handsome profit -- greater than one might think possible at such limits -- but has made him an authority of sorts on these stakes as evidenced by his coaching, the instructional videos he's made for DragTheBar, and his strategy book Crushing the Microstakes which I reviewed last week.
This week I had a chance to talk with Williams about his background, his poker career, the book, and other topics.
Short-Stacked Shamus: First of all, congratulations on the book which I enjoyed a lot and I really do think fills a void as far as poker strategy texts go. How did you get the idea to write a book aimed primarily at microstakes players?
Nathan Williams:. Thanks. I make a lot of videos at those stakes for DragTheBar, so I figured if people are going to watch videos for those stakes maybe I could write a book and people would be interested, too. And so far it has worked out.
SSS: It seems to me there must be a huge audience for microstakes-level strategy, given how many players -- both recreational but also more serious-minded -- pretty much stick to those stakes. I wonder why there aren't more books or people making videos for players playing these limits?
NW: I asked that same question of Hunter [Bick], the CEO at DragTheBar. When they hired me to make videos at these limits, I asked him why other instructional sites don't seem to target these stakes. He told me that even though there is a huge player pool at these lower limits, they are the least likely to want to commit to put money down on a poker product.
SSS: Ah, that makes sense. Those playing the micros are going to be hesitant to spend money for strategy help. Or at least will be very judicious when they do.
NW: But you're right, if you look at PokerScout you see these are the limits where most people are playing, so it's kind of a pure numbers thing, eventually. If this amount of people are playing these games, if you do put out a product [for them] I think you're going to get sales.
SSS: So let me ask you a little about your background. In the book you explain how you studied history and philosophy in school and graduated in 2003. Where did you go?
NW: I went to Simon Fraser University here in British Columbia.
SSS: Any favorite periods of history or philosophers that stood out for you?
NW: The first philosophy class I took was in metaphysics and we studied the pre-Socratics, and that really got me fired up. And then later I took a course in existentialism and studied Nietzsche, Kierkegaard, and others and they really influenced me a lot. On the history side, I really loved ancient history as well as the Middle East which is such a hot point, always and to this day, in international affairs.
SSS: You also tell us in the book about how you worked for a while, during which time you also began to play online poker, and eventually were able to quit and play full-time in 2007. What sort of work did you do?
NW: I had a lot of different jobs working at Sears, in construction building houses and factories... basically any entry-level, menial crap job, I did it.
SSS: Turning to the book, one of the things I really like about Crushing the Microstakes and your approach to providing instruction to NL2 and NL5 players is the way you talk about playing these stakes without all of the qualifiers or any kind of embarrassment about taking these stakes seriously. I really appreciate that -- that idea that there's no shame in saying your playing the micros, and that you're wanting to talk seriously about how to do well at these limits.
NW: I think there are a lot of people out there who share that same view [that there's nothing wrong with taking the micros seriously] but who just don't say it. There's just so much ego in poker. I mean, I try never to look at it, but anybody who's ever been to my page on Poker Table Ratings, you can see the amount of hate because I'm playing the microstakes [laughs]. But I guess I just got over that at a certain point and recognized that a lot of people honestly do play these stakes.
SSS: And in truth, a lot of poker involves understanding yourself and being willing to look at yourself honestly. And hopefully we learn to do that and not feel that pressure to present ourselves as something other than what we are.

NW: I think it probably comes down to personality a lot as well. I don't gamble on anything else. I played a sports action ticket once in my life... I'm not really a gambler. I think some of those who criticize lower-stakes players are guys who can't play below NL25 because they like action a lot and believe it would be a waste of their time. And a lot of times they're going bust continually and maybe in some cases they'd be better off playing lower stakes and learning a bit more, but there are always going to be those gamblers who look down on the lower stakes and not understand why people play them.
SSS: So do you still put in a lot of volume at the micros?
NW: I'm trying my best. There's been so much with the book and my coaching requests have increased since the book came out, so actually the last two months are the first in a while that I haven't played 100,000 hands or more per month. I've also been experimenting with playing fewer tables, too. But yes, this year I've been playing NL2, NL5, and NL10.
SSS: Let me ask you just a couple of questions about items you touch on in the book. Early on you divide players at these stakes (NL2 and NL5) into three groups: the regs (which include nits and tight-aggressive players), the fish (which include maniacs, too), and a group you call "SLPs" for "semi-loose passives." Talk a little bit about that third group, which might be kind of unique to the microstakes or at least a group we find more often at these stakes.
NW: I often wonder if I made that term up or not. I noticed a lot of these guys who are not playing tight but not loose either, which is why I call them "semi-loose." They are playing too many hands. You should probably not be playing more than 20% of your hands at a full-ring table, and these guys are usually in the mid-20s or low-30s. And they'll have a low preflop raise percentage, too, say 8% or so, which usually indicates they are a passive player -- there's a big gap between their VP$IP [Voluntarily Put $ In Pot] percentage and PFR [Pre-Flop Raise] percentage.
SSS: Okay. So both "semi-loose" and "passive."
NW: Right. And usually a good rule of thumb in poker is that passive pre-flop equals passive post-flop. And, of course, aggressive pre-flop is aggressive post-flop. So I think a lot of these guys could come from live poker, where it is a little more limpy, or they are recreational players who might have read a couple of books and so aren't just in there playing like goofballs and blasting their money off. They are serious, but also play a lot for fun probably and generally do lose a little bit over time.
SSS: To address another of your groups, there's an idea you bring up at the end of the book that I like a lot -- "fish psychology." You put certain ideas under that heading to help describe what the fish are doing, and I think that's really helpful, actually, to try to recognize the reasons why the fish are doing what they are doing as a way of both identifying them as fish and figuring out how to play back at them.
NW: You're right, there is definitely a pattern to their play. If it were just pure chaos, it would be hard to make a game plan. Someone explained to me once about how a lot of people who play poker might be successful at other things, like in their business or other ventures in life -- they are not idiots, in other words -- but they just might not understand the correct play in each situation at the poker table. But yes, there are definitely thought processes going on, for sure.
SSS: As a coach, what would you say would be the biggest mistake you see your students making?
NW: I would probably say not betting enough for value with their good hands and overplaying marginal hands. Probably more so the latter, taking a hand like A-Q or something that you flop top pair with and firing three barrels against a nit who can only have a set, basically. That kind of thing -- playing way too big of a pot with a one-pair type of hand and not recognizing the type of player you're up against.
SSS: So the mistakes come more frequently after the flop.
NW: Right. A lot are playing a winning range of hands -- from 11% to 18% -- and so their pre-flop decisions are okay, but they become either too passive or too aggressive post-flop.
SSS: So what's next for you poker-wise or writing-wise?
NW: I'm not looking to be a full-time coach or anything, but my goal is to continue to do a mix of playing and coaching. I don't want to be the guy who never plays anymore. I'm not sure where my own poker career is going, but as I said I'm trying to get away from the mass-tabling approach and really focus on short-handed games and game selection. And I have other business interests outside of poker I want to focus on as well.
Much thanks to Nathan Williams for taking the time. Click here to find out how to pick up a copy of Crushing the Microstakes. You can also find more useful advice from Nathan regarding how to improve your win rate at these stakes on his blog and via his videos at DragTheBar.