Poker Book Review: 'Crushing the Microstakes' by Nathan Williams
Poker News

/ Short-Stacked Shamus / 10 February 2012 / Leave a Comment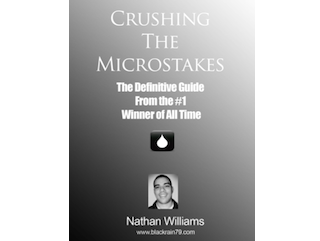 With Crushing the Microstakes, author Nathan Williams has filled a void by providing specific strategy advice for NL2 and NL5 hold'em.
Williams' book provides a terrific primer for the novice player who has some experience and perhaps even has spent time reading other strategy books or the forums but hasn't figured out how to apply those ideas to the NL2 or NL5 game he or she is playing.
When it comes to no-limit hold'em strategy texts, the so-called "microstakes" -- i.e., those low buy-in tables where players can buy in for as little as a buck or two -- have been mostly neglected. With Crushing the Microstakes, poker coach and author Nathan Williams has thus filled a void with a book primarily geared toward NL2 and NL5 hold'em. Backed by his own success and considerable experience at the micros, Williams speaks knowledgably about the game and types of players one tends to find at these lowest of limits, with his book offering much of value to those looking to win big at the small stakes.
As he relates in the book, Williams has been playing online poker since shortly after the "boom" in 2003 -- first for play money, then at the microstakes where he was successful enough to start playing full-time starting in 2007. Since then Williams has played over six million hands of online poker, including a significant number of hands of NL2 and NL5 where he's won tens of thousands a few dollars at a time. He's also become a coach at the instructional site DragTheBar where he has created videos and offered instruction mostly directed toward the low and microstakes.
Crushing the Microstakes is the product of that vast experience, introduced by Williams as "a complete guide" to full-ring NL2 and NL5 created "from the playbook in my head" he has developed through trial-and-error -- or, rather, mostly trial-and-success -- over those many hands.
The micros -- passive, inattentive, exploitable
The book begins with a general intro to playing microstakes real money games online, with some general observations about the quality of play one often finds at NL2 and NL5. The stakes have much in common, both being populated with many inexperienced and/or poor players, with NL2 occasionally distinguishing itself as "the last bastion of completely insane play."
Williams divides player types at the micros into three categories: the regs (including nits and tight-aggressive players); SLPs or semi-loose passives; and the fish. He recognizes that one occasionally might encounter a competent LAG (loose-aggressive) at the microstakes, but correctly notes how they tend to be the exception rather than the norm -- one of many differences between the NL2/NL5 games and what one finds after moving up in stakes.
Indeed, a few themes emerge early on in Crushing the Microstakes and form the basis of much of the advice Williams provides, including noting the overwhelming prevalence of passive play, the general lack of attention being paid to table image or betting patterns, and the often easily-identifiable styles and patterns exhibited by others.
With regard to the latter, Williams recommends the use of HUDs/tracking software such as Hold'em Manager or Poker Tracker, particularly if one intends to multi-table or play high volume -- kind of a given for those hoping to earn significant amounts when playing for these stakes. Williams offers general advice about setting up one's HUD, although directs the reader to his blog for more detailed discussion of the subject.
Taking the initiative
Following that introductory section, Williams notes how one's general approach should involve taking the initiative whenever possible -- key versus the large population of passive players -- and recognizing the importance of position when doing so. Then comes more specific advice about preflop play, with recommendations of starting hands that take into account positional advantage.
While some of this discussion may sound like what one finds in other no-limit hold'em strategy texts, Williams here and elsewhere adds caveats and other reminders that when it comes to NL2 and NL5, there are certain aspects of the game that are wholly unique and must be taken into account if one wants to maximize profitability.
One such aspect is the unwillingness of many passive players -- especially fish but also many regs -- to fold hands preflop. Thus while a standard PF raise of 3x-5x may make sense with most raising hands at higher limits, when the blinds are at 0.01/0.02 there are times when a larger PF raise is in order, such as when one has a premium hand like AA or KK. Such thinking can hold true after the flop as well, where Williams encourages the reader to bet big with strong hands (e.g., two pair or better), as slowplaying or other fancy plays rarely accomplish more than to minimize one's gains.
Williams' advice for preflop play follows those earlier stated guidelines to take the initiative (e.g., 3-betting) and avoid the same passive play others so frequently demonstrate (e.g., calling others' raises/reraises) while always taking position into account as well.
Win big, lose small
Williams then moves on to discuss postflop play, dividing the discussion into sections devoted to the flop, turn, and river.
Williams characterizes the flop as the most important street at the microstakes. It is here that come discussions of what to consider when c-betting (or not) as well as how to respond when opponents bet or raise flops. Again, the general tenor of his advice is to avoid fancy play, building big pots with strong hands and keeping pots small or folding otherwise. "At the micros especially I would advocate that you try to keep all of your decisions as simple as possible," writes Williams.
The turn Williams actually characterizes as "the easiest street to play in hold'em," one of many observations that necessarily need to be understood within the context of the passive environment of the micros where players' actions are infrequently deceptive. Players at the micros generally do not bet or raise without strong hands from the turn onward, thus does Williams recommend controlling the pot with one-pair hands or getting out with less if met with such aggression.
The river Williams also characterizes as relatively straightforward, where we bet big with big hands, value bet or call with medium-strength hands, and avoid making calls of big bets which are rarely going to be bluffs at these stakes. Meanwhile, he encourages us to recognize how the fish often will call big river bets given their disinclination to fold and frequent skepticism regarding others' hands.
Clear, concrete advice
The last section of the book collects various concepts and topics of special significance to microstakes games, including recognizing the importance of "extraction" or "getting the absolute maximum value out of your good to great hands," keeping decisions simple, and understanding why bluffing is generally not worth trying at these stakes. Williams also offers instructions for understanding "fish psychology," the pros and cons of raising draws, what to do against maniacs, how to approach multi-way limped pots, and dealing with tilt.
As a whole, the book provides a terrific primer for the novice player who has some experience and perhaps even has spent time reading other strategy books or the forums but hasn't figured out how to apply those ideas to the NL2 or NL5 game he or she is playing. And Williams communicates his ideas clearly throughout, making the read much less arduous than one sometimes encounters in a typical strategy book.
Williams recognizes how for many the micros are going to represent a stepping stone, a temporary stop where one works on "developing the solid fundamentals that will take your game to the next level."
That said, I think there are a lot of players -- even winning players -- who are content with remaining amid the low-risk environment of the micros, and for them Williams has provided a book worth consulting repeatedly for practical, concrete advice to ensure that win graph continues to rise, slowly and steadily.
Click here for information about how to buy Crushing the Microstakes. Also worth checking out is Nathan Williams' blog where one can also find years' worth of posts containing other helpful advice for those playing low and microstakes hold'em.