Michael Mizrachi Grabs WSOPE Event #5 (€10,400 Split Format); Philippe Boucher Takes Event #6 (€1,620 PLO)
Poker News

/ Short-Stacked Shamus / 15 October 2011 / Leave a Comment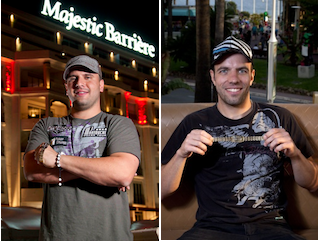 The latest bracelet winners at the 2011 WSOPE: Michael Mizrachi (left) and Philippe Boucher (right) (Photos: PokerNews)
Mizrachi earns his second WSOP bracelet after outlasting Shawn Buchanan heads-up in Event #5, while Philippe Boucher knocked out all five opponents at his final table to win Event #6.
Two more bracelets were awarded in Cannes, France on Saturday as both Events #5 and #6 were concluded. Michael "The Grinder" Mizrachi topped a tough field of 125 to win the unique €10,400 "split format" no-limit hold'em tourney (Event #5), earning himself a €336,008 payday and second WSOP bracelet. And Philippe Boucher of Canada knocked out all five of his opponents at a super-fast final table to earn the €1,620 buy-in short-handed pot-limit Omaha bracelet (Event #6), besting a field of 339 to claim the win and €124,584 first prize.
Event #5: €10,400 "Split Format" NLHE
Like the earlier shootout Event #4, this "split format" event also featured a novel structure which forced players to play different variations of traditional tournament NLHE as the event progressed.
Day 1 saw the field of 125 play a regular nine-handed "MTT" (multi-table tournament) until play ended with 72 remaining and the Swedish player Dennis Bejadal on top. That group then returned on Day 2 to play six-handed NLHE until just 16 were left, at which point Brian Powell of the United States led the way.
The end of the second day meant the cash bubble had burst, as only the top 16 made the money. From Day 3 onward the event was played as a heads-up tournament, albeit with the twist that players began their matches with whatever chips they'd accrued during the first two days (i.e., uneven stacks to start).
Those losing their first matches on Friday included Kent Lundmark, Bryn Kenney, Joel Nordkvist, Alexander Roumeliotis, Dmitry Motorov, Matt Waxman, Erik Seidel, and Jason Mercier, all of whom earned €26,618. Round of 8 losers then included Brian Hastings, Anatolii Ozhenilok, Brian Powell, and Dan Fleyshman, all of whom claimed €54,810 for getting as far as they did.
That created a final four of Roger Hairabedian and Michael Mizrachi in one bracket, and Shawn Buchanan and Noah Schwartz in the other. Interestingly, the former two each came into Saturday with stacks in the 1.1-1.2 million range, while the latter pair both had just under 700,000 to begin. That meant the semifinal matches would begin with both pairs of opponents roughly even to start their matches, but the Hairabedian-Mizrachi winner would have a big head start over the Buchanan-Schwartz winner in the final.
Buchanan jumped out to a quick lead over Schwartz in their match, and eventually Schwartz committed a short stack with Ah-5s only to run into Buchanan's Kh-Kd. The kings held, and Buchanan moved on to the final with 1.359 million chips.
The match between "The Grinder" and "Big Roger" took longer, remaining fairly close for much of it. Then came a hand in which both saw a flop come Jh-5s-8s and Mizrachi called a leading bet by Hairabedian. The turn was the 4d, and when Hairabedian bet again Mizrachi made a big raise. After a bit of delay, Hairabedian shoved all in and Mizrachi quickly called.
Hairabedian had 5c-5h for a set of fives, but Mizrachi had turned a straight with his 7c-6h. The river was the 3s, and Hairabedian was out.
Mizrachi thus took 2.397 million to the final, and quickly used his bigger stack to pressure Buchanan, ultimately forcing him down to less than 500,000.
Finally the end came when Mizrachi reraised all in before the flop with Ah-10d and Buchanan called with Ac-Jd. The flop came 10c-6s-3d, pairing the Grinder, and after the turn and river both brought red deuces, Mizrachi had claimed his second WSOP bracelet.
Event #5 final day payouts:

1st: Michael Mizrachi (United States) -- €336,008

2nd: Shawn Buchanan (Canada) -- €207,624

3rd (tie): Roger Hairabedian (France) -- €112,092

3rd (tie): Noah Schwartz (United States) -- €112,092
Event #6: €1,620 PLO (6-max.)
Event #6 actually finished prior to Event #5 on Saturday thanks to a super-fast final table that took less than four hours to complete.
Among those cashing but failing to make Saturday's final table were Event #3 winner Steve Billirakis (35th, €2,616), Richard Ashby (33rd, €2,616), Roberto Romanello (31st, €2,616), Carlos Mortensen (26th, €3,339), Ludovic Lacay (20th, €4,360), Alexander Kostritsyn (17th, €5,731), Antony Lellouche (12th, €7,629), Victor Ramdin (10th, €10,261), and Bryan Devonshire (8th, €13,948).
With six left the Chilean Nicolas Fierro held the chip advantage, although the stacks were all fairly close to start play on Saturday with only Jack Elwood much shorter than the others. And after an initial stretch of cautious play Elwood would be the first to go, getting his stack in against Boucher and failing to outdraw him to hit the rail in sixth.
More eliminations then came quickly thereafter, with Boucher next wiping out Jarred Solomon of South Africa in fifth, then likewise eliminating the Ukrainian Alexander Dovzhenko in fourth -- both hands also featuring all-in preflops that went Boucher's way.
By then Boucher had claimed the advantage with more than 700,000, Michel Dattani had pushed into second with a little over 500,000, and Fierro had slipped to third with about 250,000.
Fierro then found himself in a hand against Boucher in which he'd three-bet the Canadian preflop and the pair saw the first three community cards come 2s-8h-10d. That's when Fierro committed the last of his stack with Kd-Ks-10s-8c and Boucher was there, too, with Jh-10c-Qs-5s.
Fierro had the advantage for the moment with two pair, but the turn was the Qc and river the 3h, meaning Boucher ended the hand with a better two pair and Fierro was out.
Heads-up play began with Boucher enjoying about a 2-to-1 chip lead over Dattani, and it only took a little over a half-hour for Dattani to be all in preflop with Ac-Ad-Jc-7s against Boucher's As-Qc-10d-9c.
The board ran out 6c-6d-8c-Js-Qh, giving Boucher a straight and a clean sweep of the final table.
Event #6 final table payouts:

1st: Philippe Boucher (Canada) -- €124,584

2nd: Michael Dattani (Portugal) -- €76,982

3rd: Nicolas Fierro (Chile) -- €53,426

4th: Alexander Dovzhenko (Ukraine) -- €37,529
5th: Jarred Solomon (South Africa) -- €26,676
6th: Jack Ellwood (United Kingdom) -- €19,181