Poker Book Review: 'Cowboys Full: The Story of Poker' by James McManus
Bloggers

/ Short-Stacked Shamus / 06 November 2009 / Leave a Comment
Cowboys Full: The Story of Poker, the latest offering from James McManus, has finally hit the shelves. The nearly 500-page work carefully compiles poker's colorful history into 52 chapters -- one for each card in the deck -- providing both a handy reference for anyone interested in poker's past as well as an engaging page-turner chock full of dramatic twists and turns. And flops and rivers.
I had the chance recently to talk with McManus about his new book, and will be sharing that interview in full here next week. I asked him about the path that led him to write Cowboys Full.
Back in 2000, McManus was unknown in the poker world. A poet and novelist teaching at the School of the Art Institute in Chicago, Illinois, McManus was tapped that spring to write a piece about the World Series of Poker for Harper's Magazine. The article was to focus on the emergence of women in professional poker, and also to talk about the increasing influence of books and computer training programs.
McManus was additionally to keep tabs on a fairly high-profile murder trial with a WSOP connection -- that of Sandy Murphy and Rick Tabish, accused of the murder of Ted Binion, son of Horseshoe owner and WSOP founder Benny Binion. As the WSOP was winding down, a verdict was imminent, and so it made sense that in reporting from the WSOP he'd incorporate that news into his feature as well.
But a funny thing happened on the way to the computer keyboard. McManus satellited his way into the Main Event, and after a wild, week-long run found himself at the final table. He'd become part of the story he was covering! And like an unexpected river card that alters the course of a poker tournament, the future direction of the teacher's life had suddenly changed.
"My life detoured," McManus told me when we spoke a week ago. "And I'm still on that detour. Getting to cover the World Series just completely changed my life -- my writing life, my hobby life -- and it's amazing how that can happen. I never would have predicted it."
McManus would finish fifth at that WSOP Main Event final table (won by Chris "Jesus" Ferguson), and the experience proved too big for a single feature. In his best-selling Positively Fifth Street, first published in 2003, McManus artfully wove the various threads he had been assigned to cover with an account of his own astonishing run. In addition to tying together those contemporary storylines, the book takes numerous side trips through poker's storied past. Looking back, it is clear that these digressions to discuss the origins of playing cards, poker tales from the Old West, or previous WSOPs clearly planted a seed for McManus.
"The idea for [Cowboys Full] came when I was writing Positively Fifth Street," McManus told me. "It turns out that there's no history of poker. I thought that was very odd -- it was a vacuum that needed to be filled." And so, further spurred by a period of writing poker columns for The New York Times, McManus set about filling that gap in poker literature.
Cowboys Full is a wide-ranging chronicle of poker, reaching way back to the ancient world to discuss man's earliest examples of gambling, then moving to the early medieval period and the first card games, then forward to modern European games like mus, poch, primiera, and poque -- the precursors to poker.
By the time the story reaches the turn of the nineteenth century, McManus turns his attention to poker's progress in the United States, detailing how its spread coincided with Westward expansion, intimately integrating itself into the American character. Indeed, for McManus, poker provides a unique glimpse into understanding human nature, generally speaking, and Americans' predilection for "energetic risk taking, restless curiosity, and competitive self-promotion" in particular.
McManus describes poker's prominence on Mississippi steamboats, in gaming dens, and in Old West saloons of the 19th century, noting in particular the many instances of cheaters and "sharps" who dominated the game during this time. Among these tales are the stories of familiar names like Wild Bill Hickok and "Poker Alice" Ivers, as well as some lesser known poker-related yarns from the Civil War and elsewhere.
Moving into the 20th century, McManus tells of how stud poker came to challenge five-card draw as the country's most popular poker variant. He relates the story behind those "Dogs Playing Poker" paintings, shares many anecdotes involving poker-playing presidents, and documents the emergence of poker strategy books. Regarding the latter, McManus devotes several chapters to Herbert O. Yardley, the code-breaker and author of the influential The Education of a Poker Player, a figure he believes deserves consideration for enshrinement into the Poker Hall of Fame.
McManus then covers such episodes as the famous Johnny Moss-Nick "the Greek" Dandalos match at Binion's Horseshoe, the origins and development of Texas hold'em, the birth and growth of the World Series of Poker, and the Andy Beal-vs.-"The Corporation" matches. There are also essay-like chapters considering such issues as the luck-vs.-skill debate and differences between women and men at the poker table. Final chapters take on the significance of artificial intelligence and "poker bots," the Unlawful Internet Gambling Enforcement Act of 2006, some of the recent online cheating scandals, and how poker in the early 21st century has become a kind of international meeting place -- both online and in casinos around the world.
Good thing for those with an interest in poker and its story that McManus found himself taking that detour nearly a decade ago. Cowboys Full most assuredly satisfies that need for a solid, comprehensive poker history McManus had noticed, providing an important reference work to future historians of the game.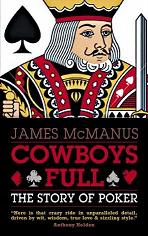 It's also a damned good read. Anyone with an interest in poker should find the book compelling, and I'd imagine it would serve well as a Christmas gift for that poker player in your life. Above is the cover to the U.S. version, and here to the left is what you'll see in the U.K. when the book appears there next spring.
I'll be back next week with my interview with McManus in which we discuss Cowboys Full and a host of other topics, including why he thinks -- as he says in the book's initial chapter -- "the story of poker helps us to explain who we are."