New Poker Adventures for Annette
News

/ Editor / 01 May 2010 / Leave a comment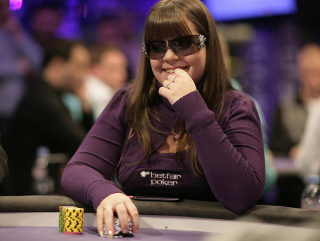 After more than two-and-a-half years as part of the Betfair poker team, Annette Obrestad will soon be moving on as she pursues her already wildly successful career on the professional poker circuit. Just weeks away from her first ever World Series of Poker in Las Vegas, Obrestad looks to build on an already impressive resume of tourney wins and deep finishes as she enters this next exciting phase of her poker career.
Obrestad first joined the Betfair team in September 2007 -- just days before both her victory at the inaugural 2007 World Series of Poker Europe Main Event and her 19th birthday. Of course, even before her historic WSOPE win where she topped a field of 362 of the best poker players in the world to claim the £1,000,000 first prize, many in the poker world -- especially in the online community -- were already well acquainted with the teenager from Sandnes, Norway better known as "Annette_15."
Among her list of online accomplishments leading up to that WSOPE victory were a final table finish in the World Championship of Online Poker Main Event (netting a cool $163,000), a couple more victories worth $30,000-plus in online events in 2007, and a victory in the $500,000 guaranteed in August 2007 (a $117,000 score).
Then came the 2007 WSOPE Main Event which saw nearly all of the best players in the world vying for the first ever Main Event bracelet to be awarded outside of the U.S. Obrestad would ultimately outlast future Betfair teammate John Tabatabai. On the dramatic final hand, Obrestad held only a slight chip lead when the pair saw a flop come 7c 6c 5h. All of the chips ended up in the middle, with Tabatabai holding 6d 5s for bottom two while Obrestad had 7h 7s for top set. The turn brought a deuce, meaning no river card could come to change the outcome.
At a day shy of 19, Obrestad had won the WSOPE Main Event. Now everyone knew about Annette.
It was later that week that Obrestad signed on with Betfair. "I look forward to being a good ambassador," said Obrestad at the time. That she has been, having carried the Betfair name around the globe on the European Poker Tour, at the Aussie Millions, onto shows such as Late Night Poker, and more recently to the U.S. where this year she has appeared on Poker After Dark and the NBC National Heads-Up Poker Championship.
Indeed, it didn't take long for the new Betfair pro to enjoy still more success on the felt. Just six weeks after her triumph in London, Obrestad found herself the chip leader during the latter stages of the 2007 EPT Dublin Main Event, an advantage she enjoyed right up until heads up play when some unfortunate hands landed her a runner-up finish versus Reuben Peters. Still, she'd added another €297,800 to her live tourney winnings.
Since then Obrestad has enjoyed a series of cashes and wins at various events, with a 21st-place finish at the 2009 Aussie Millions, a 13th-place finish at the 2009 EPT Grand Final in Monte Carlo, a victory in the pot-limit Omaha event at the 2010 Aussie Millions, and a seventh-place finish at the 2010 Aussie Millions Main Event final table among the many highlights. Incredibly, at the age of 21 and still a few weeks away from her first WSOP event in the U.S., Obrestad's live tourney winnings have already crossed the $3 million mark.
Her recent appearances on U.S. television have further whetted the appetite of many to see how she does this summer. Her appearance on NBC's Poker After Dark in January was well received, with established pros like Mike Matusow and Antonio Esfandiari clearly demonstrating in their comments on the show the respect many of her peers already have for her game.
More recently Obrestad has appeared on the NBC National Heads-Up Poker Championship, an event which took place in March and began airing a couple of weeks ago. After outlasting Orel Hershiser in the first round, the former baseball star complimented her as "the better player," to which Obrestad graciously replied by saying Hershiser had in fact played "extremely well" and that she "was lucky to win." She'd go on to defeat Phil Hellmuth next before falling to Doyle Brunson in the round of 16.
At these and other events -- such as the Caesars Cup at the 2009 WSOPE where Obrestad served as captain for the victorious European team -- Obrestad has well represented Betfair both with her successful play and her unfailing sportsmanship, gaining herself many more fans along the way. All of those fans -- as well as her Betfair colleagues -- will be watching and rooting for her this summer and beyond.