Annette in deep run at EPT Copenhagen
News

/ Dave Allan / 19 February 2010 / Leave a comment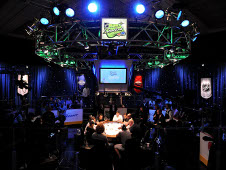 Betfair sponsored pro Annette Obrestad managed yet another deep run in a major tournament but this time had to endure the disappointment of narrowly missing out on the money places at EPT Copenhagen.
In total 423 players started over two Day 1's with Annette deciding to play on the first of them. It was a difficult and rather uneventful day for Annette but she still managed to end the day with a healthy 61,100 mainly due to flopping the nut straight with QJ on an A-K-T board and somehow getting paid off!
She started Day 2 with 242 other hopefuls and had a real roller coaster affair. The talented Norwegian battled all day long and managed to pass the 200,000 chip mark, with help of winning a 70,000 pot when her tens held up against Big Slick but things started to go wrong from there.
Miss Obrestad lost a large portion of her stack after three-barrel bluffing on a A-K-7-J-6 board only to be called down on every street by the big blind who held Ace-Nine! Annette's frustration came through on her Twitter page but she even managed a "LOL" after that hand.
With her stack dwindling around the 55,000 mark and around three quarters of an hour left of play, Annette tweeted that she did not really want to come back for Day 3 with just 10 big blinds and thanks to a double up with pocket eights against 2008 WSOP Main Event Champio, Peter Eastgate's KdJd, she finished the day with 107,400 chips, with the average stack being 170,000.
When play for Day 3 began there were 79 players remaining with 56 of them being paid. With only 26 big blinds, Annette had a playable stack but she knew she would need to double it sooner rather than later if she wanted to be in with a shout of the 3,675,000 DKK first prize. However, it was not meant to be as around 40 minutes into play she shoved her 100,000 remaining chips into the middle with KdTh after a min-raise by Jesper Petersen in early position.
Petersen tanked for several minutes before calling off the majority of his stack with a pair of red nines! By the turn the board read JcAd3sAs meaning Annette could hit any ten, jack, queen or king to double up but when the 7s arrived on the river it was curtains for the 21-year old and she headed for the rail after finishing 68/423, just 12 places off the money.