Prix de l'Arc de Triomphe Tips: Tony Calvin adds Stradivarius to his antepost picks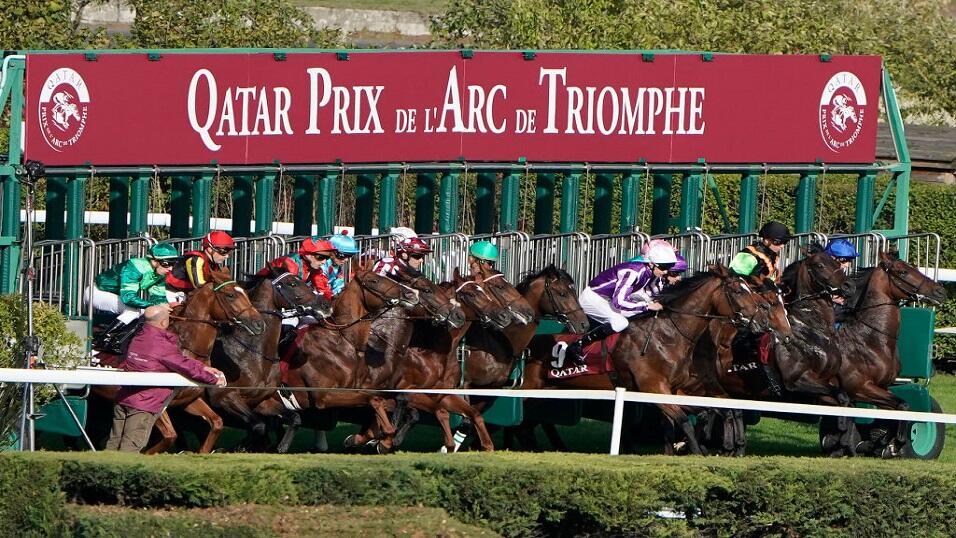 TC has backed two antepost and there may be more to come at the weekend
All eyes will be on Longchamp for the Prix de l'Arc de Triomphe on Sunday. Our tipster Tony Calvin is monitoring the Parisian weather forecast and has added another bet to his antepost picks...
"I may be getting rather ahead of myself here – these forecasts often bite you on the a*se, as previously stated – but will Enable even run if the ground turns heavy?"
Weather forecasts. Discuss.
We all know they are an inexact science - and different weather sites can somehow come up with wildly differing forecasts for the following day - but just how frustrating are they for racing professionals and punters alike?
The answer is very.
Which weather forecast to believe?
They were brought into sharp focus last Thursday afternoon when everyone, not least trainers, will have been looking how much rain that Newmarket was set to get before racing on Friday afternoon.
One site reckoned the course was going to get 33mm+, which was would have basically turned the ground soft-cum-heavy, but it only got 3mm and, with a gale the order of the day, some time and going analysts believe that racing actually took place on firm ground on Friday, even allowing for the tailwind.
The predicted wet weather didn't materialize on Saturday either, and Majestic Dawn ended up breaking the course record in the Cambridgeshire (on the somewhat questionable, it seems, official going description of good ground).
Why am I stating the bleedin' obvious as regards weather forecasts?
Because we could be looking at a heavy ground Arc next Sunday if we believe what we read.
Very soft ground at Longchamp
The current going at Longchamp is now very soft after 19mm on Sunday, and from Thursday this week it is set to be very wet - Friday is looking an ideal day for Le Trench Coat - so I reckon it could be all change in the market, with Enable set to overtake Love in the betting sooner rather than later.
When I did an ante-post piece on the Arc a fortnight ago, I argued the top two in the market were underpriced and Sottsass was the value at 20/1+, and nothing has changed with the prospect of deep ground on Sunday.
In fact, that opinion has hardened, as the ground is set to soften.
All of a sudden, the girls look very beatable, and I sense the layers could sniff an opportunity with every drop that falls in the French capital.
However, one firm was offering just 11/8 Love and 15/8 Enable on Sunday afternoon (they have lengthened them to 15/8 and 5/2 now, to be fair), so they clearly didn't want to lay them at all!
I think Enable would prefer better ground than seems likely (well, that's the current guess) at the moment, though her record tells you that she remains highly capable with plenty of dig.
Indeed, you can argue her premier performance came on soft ground when winning this race in 2017, though more testing conditions could have contributed to her defeat in her hat-trick bid last year, I guess.
Her age and unconvincing profile this year concern me more about her winning prospects - I personally think she has yet to run within 7lb or her best, perhaps even more - but the forecast must be an even bigger headache for connections of Love.
The camp have consistently labelled her as a good ground horse this season - with a preference for it quicker - and that no doubt has the basis in the fact that she was beaten in all three of her starts on going easier than good in her two-year-old days.
We know how favoured she is by the age and sex allowance, and her Yorkshire Oaks defeat of Alpinista was given a boost when the runner-up should have won the Group 3 at Newmarket last week - I have no idea how anybody could watch that race and not conclude Alpinista would have won with a better passage/ride, but apparently some did - but the ground is a big black cloud hanging over her chestnut head.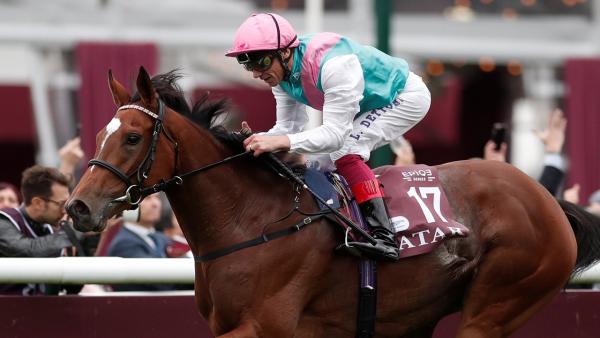 I may be getting rather ahead of myself here - these forecasts often bite you on the a*se, as previously stated - but will she even run if it turns heavy?
And if she does, she will have to hang far tougher than she has done this season, in the crowded environment of a big-field attritional Arc.
I have no inside knowledge here whatsoever, but I just wonder if that is in the back of Aidan O'Brien's mind in his decision to run four others - the brothers Mogul and Japan, and Classic winners Sovereign and Serpentine - in the race.
Then again, he is always one to give himself options, and is never shy of going in mob-handed.
I can only see Love's price going one way during the week, even if her drift started on Sunday afternoon (so there may not be much scope for a major lengthen) with the weather chat beginning in earnest.
She is 9/43.25 at the time of filing, having traded at a low of 9/52.8, and Enable is 12/53.35.
While on the subject of O'Brien's Arc challengers, his Mogul is unproven on anything worse than on yielding to soft and his impressive Grand Prix de Paris defeat of German Derby winner In Swoop (himself a shortener in recent days) came on much quicker ground than the official good.
Derby winner Serpentine is a touch shorter than him in the betting after shaping well enough when fourth to Mogul in that contest, especially considering he was having his first start since his Classic success and he was ridden with far more restraint than when burning them all off from the front at Epsom.
But if it is soft or worse next weekend, then that has to be a worry for him, too - you can't read too much into a Ballydoyle debut, but he was stuffed on soft on his racecourse bow and he hasn't been near it since - and I don't see Japan crying out for 1m4f in deep ground, even if his fourth in this race last season was one of his better efforts.
Mind you, the ground may be the least of his problems after his disappointing run in the Irish Champion last time, and it would take a Bob Beamon (one for the oldies) leap of faith to back the 2019 Irish Derby winner Sovereign to win after his Irish St Leger run last time, even if he has won on heavy.
Bad ground on Sunday could make for a bad day for Aidan's quintet, which is why it wouldn't have surprised me had Magical re-entered the mix, as she can handle it.
Stradivarius can play a leading role
I am more than happy with the Sottsass recommendation two weeks ago, but the predictable move started on Stradivarius on Sunday and I can see it attracting some further betting momentum during this week.
The one firm that offered him at 16/1 on Sunday morning were quickly accommodated, and he is now a general 12/1 chance, and that could still be on the big side.
In fact, it is. Anything at 8/1 or bigger is a bet.
Now, he will not have the assistance of Frankie Dettori, but we learned on Sunday that four-time Arc winner Olivier Peslier has got the call up.
He will have had worse rides in the race than Stradivarius.
The idea that the 6yo needs quick ground has been blown out of the water this season, to the extent that his best form has come with dig, most obviously his stroll in the soft in the Gold Cup this season. Don't forget just how jaw-droppingly good he was there.
Sure, he has been beaten in both his starts over 1m4f this season, but he was making his reappearance in the Coronation Cup and you could not have painted a worse scenario for him in the Prix Foy last time - a 1m4f race run at a funereal crawl on quick ground (Simon Rowlands on the ATR website reported that they were nearly a furlong slower hitting the straight they were in the Grand Prix de Paris), putting the emphasis purely on speed - so his narrow second to Anthony Van Dyck has to be viewed in a very positive light.
Of course, it was a not a patch form-wise on his Gold Cup win - which, incidentally, makes him a better horse on 2020 form than the front two in the market, though the females obviously receive weight - but it proves he has the necessary gears to play a leading role.
I have really come round to him, and I thought Dettori had a little twinkle in his eyes - then again, when doesn't he in front of the cameras? - when telling ITV's Opening Show viewers on Saturday morning not to forget him.
It wouldn't surprise me if he was into single figures by the weekend. He can handle any ground, but soft/heavy would be preferable given the trip, and how it would inconvenience others.
Connections of Telecaster will be praying for Paris puddles for their heavy-ground Grand Prix de Deauville winner (though he is equally at home on a quicker surface) but he won't be getting such an easy lead here, and his class may fall one league shy of this Group 1 company.
Persian King is a potential bet but hold fire
That is not the case with Persian King, and Andre Fabre's fascinating decision to let him run over 1m4f for the first time in the Arc has added some real spark to the race.
I wrote a fortnight ago that it would be "something else" if he ran in the race, and here we are.
One thing is for certain and that is this is the three-time Group 1 winner is bang up there form-wise with the market leaders after his Moulin win, in which Circus Maximus was six lengths away - some may have thought he was a very lucky winner there given the ride/run Pinatubo got, but at least one jockey who rode in the race didn't necessarily think so - and he handles deep ground.
Whether or not he will stay 1m4f is the 64,000 euros question, given the Moulin win obviously came over 1m and the furthest he has raced over resulted in a two-length defeat at the hands of Sottsass in last year's French Derby over 1m2f110yd last year.
But if Fabre thinks he has a good chance of staying - though I accept 1m4f in testing ground would be a big ask - then that should be good enough for the rest of us, and the pedigree gives some encouragement.
The sire, Kingman, suggests no, but the distaff side of his pedigree hints at a definite maybe, and I would not be laying him at the 25/1 or so some Exchange players are currently willing to.
In fact, I'll fess up to backing him at 33/1 each way - only small, mind you - on the fixed-odds front when it was announced the big dice were being rolled by the little "Napoleon" last week.
In the likely absence of Mishriff (I'll stop banging on about him now as he will have to wait until next year to win his Arc, though there is still time lads) and impressive Vermeille winner Tarnawa - I have watched that race a few times now, and I still can't bring myself to believe the three-length runner-up Raabihah a bet at 18/1+, however much his trainer adores her - I firmly believe the only plausible back bets in the race at this stage are Stradivarius and Persian King.
I have been laying Love at 2/13.05 myself, and I had a few quid on June's Group 1 Grand Prix de Saint Cloud winner Way To Paris at 179/1180.0 for a chuckle on Sunday, but the above pair have been added as positives to my Exchange book.
The question was: "Do I put them up here, too?"
I will hold fire on Persian King as I want to see the ground for him before making a tipping call on him on Saturday morning, but I can see Stradivarius being the big shortener in the race, so I am adding him to the Sottsass recommendation at 12/113.0 or bigger. I think you will put yourself into a decent trading position at the very least.
He is also 10/1 with the Betfair Sportsbook, too, if you want to play there. The 14s and 12s in the marketplace went on Monday morning,
Yes, he may not have the necessary pace - and he won't if Persian King truly stays - but he is the one of the best stayers we have seen in years (he could have been given a higher rating than 125 after his career-best Ascot win in June), and certainly better than Order Of St George, who was third and fourth in this race in 2016 and 2017 respectively.
An Arc win would be a fitting reward for his owner given how he has campaigned the horse this season but, as much as that would be nice for the multi-millionaire, winning some dosh my end would be better.
Oh, and if the weather forecast is wrong, don't blame me. Bring back Wincey Willis, I say.
Recommended bets
Stradivarius at 11/112.0 or bigger in Arc ante-post market on Sunday (also available at 10/1 with the Sportsbook, which obviously gives you the each-way option).
Already Recommended
Sottsass at 22/123.0 in Arc ante-post market