US Open 2020: Your major championship form guide ahead of this week's event in New York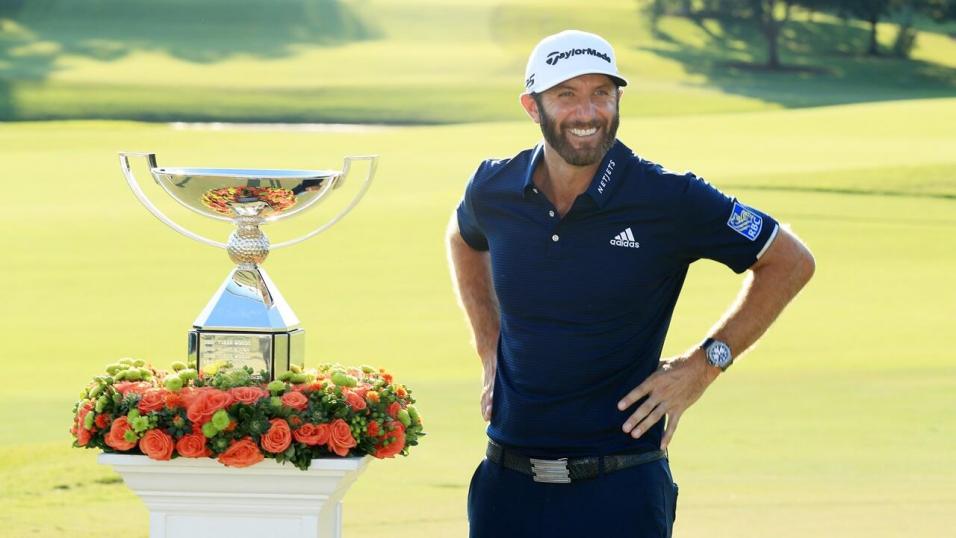 DJ is playing Major-winning golf right now
Can world No 1 Dustin Johnson secure a second major title this weekend? Check out our major form stats, supplied by Andy Swales...
"Everything about Xander seems to suggest he is destined for major glory at some stage during his career. Is incredibly consistent, which seems perfect for US Open venues. His three US Open starts read: 5th-6th-3rd."
There's no better time to find your form in major championship golf than right now.
This week's US Open in New York will be the second of seven majors to be staged over a period covering less than one year.
Starting from last month's PGA Championship, through to next year's Open at Royal St George's, there will have been seven major titles up for grabs in the space of just 49 weeks.
This unique situation, created by the upheaval caused by the Coronavirus pandemic, will be 'golf heaven' for many followers of the sport.
It also provides world No 1 Dustin Johnson with the perfect opportunity to increase his rather meagre tally of major trophies.
So far, the 36-year-old has banked just a single major title, which arrived more than 50 months ago at Oakmont Country Club in Pennsylvania.
Since then he's won more than a dozen times on the PGA Tour and is currently producing some of the best golf of his career.
But there was further frustration for DJ in last month's PGA Championship at Harding Park in California, where he tied-for-second behind Collin Morikawa. It was his seventh podium finish in a major and 18th top-10.
Check out the latest betting ahead of this week's US Open at Winged Foot
The field, as a whole, will be boosted by the knowledge that the 'major man' of recent years - Brooks Koepka - will not be teeing up at Winged Foot.
The 30-year-old has withdrawn after suffering from persistent knee and hip injuries for much of the season, and he tweeted last week that he will now be focusing his attentions on getting fully fit ahead of November's US Masters.
So who will be Dustin's biggest rivals this week?
Jon Rahm: The world No 2 will also be feeling the pressure of trying to develop a winning reputation in the majors. The 25-year-old Spaniard has won twice since lockdown ended but he may possess a game better suited to Augusta National than the majority of US Open layouts.
Justin Thomas: Whenever he tees-up, is usually considered a strong contender and this week is no different. A winner of 13 PGA Tour titles in less than five years, including the PGA Championship of 2017.
Rory McIlroy: The major clock continues to tick for 31-year-old Rory whose most recent title arrived more than six years ago. His last PGA Tour victory on American soil came in August 2019. Maybe a new season, can bring about a change in fortune?
Collin Morikawa: The newest major champion who closed 65-64 to win in California, in what was only the second Slam event of the 23-year-old's career. Began 2020 at No 65 in the World Ranking and is now No 5.
Webb Simpson: Despite being the world No 6, usually remains under the radar going into majors, which probably suits him anyway. US Open champion from eight years ago.
Xander Schauffele: Everything about Xander seems to suggest he is destined for major glory at some stage during his career. Posted the lowest 72-hole total at the recent Tour Championship, but was not declared the winner because of the PGA Tour's handicapping system. Is incredibly consistent, which seems perfect for US Open venues. His three US Open starts read: 5th-6th-3rd.
Bryson DeChambeau: On paper, it would appear that the wider fairways of Augusta National might suit the big hitting 26-year-old more than Winged Foot. However, following a sketchy start to major championship life, the American sprang into action at Harding Park last month where he registered a first major top-10 by finishing in a tie-for-fourth.
Adam Scott: The 40-year-old is certainly not expected to be among the front-runners this week but the Australian might just spring a surprise or two in New York. Playing fairly solidly at present, so wouldn't need to up his game too much to contend at Winged Foot.
Viktor Hovland: Solid from tee-to-green, and finished tied-12th on his US Open debut last year. The Norwegian is a reasonable each-way chance.
Kevin Kisner: Despite his unfortunate recent Tweet, the 36-year-old from South Carolina is a solid performer. His best major display to date is tied-second at Carnoustie in 2018.
Absolutely disgusting from Kevin Kisner. What goes through a professional sportsman and role model's head before writing something like this for millions to see. pic.twitter.com/evcZt6v9S6

? Today's Golfer (@TheTodaysGolfer) September 12, 2020
Major Analysis
Click here to view Major Championship Performance Breakdown since 2016
Check out the latest each-way odds for this week's US Open
Check out the latest odds for a Top-10 finish in this week's US Open
Check out the latest odds for a Top-20 finish in this week's US Open
Twitter: Andy Swales@GolfStatsAlive

Last 10 Major Championship Results
| Player | 20 PG | 19 BO | 19 US | 19 PG | 19 UM | 18 PG | 18 BO | 18 US | 18 UM | 17 PG |
| --- | --- | --- | --- | --- | --- | --- | --- | --- | --- | --- |
| Dustin Johnson | 2 | 51 | 35 | 2 | 2 | 27 | MC | 3 | 10 | 13 |
| Jon Rahm | 13 | 11 | 3 | MC | 9 | 4 | MC | MC | 4 | 58 |
| Justin Thomas | 37 | 11 | MC | | 12 | 6 | MC | 25 | 17 | 1 |
| Rory McIlroy | 33 | MC | 9 | 8 | 21 | 50 | 2 | MC | 5 | 22 |
| Collin Morikawa | 1 | | 35 | | | | | | | |
| Webb Simpson | 37 | 30 | 16 | 29 | 5 | 19 | 12 | 10 | 20 | 33 |
| Xander Schauffele | 10 | 41 | 3 | 16 | 2 | 35 | 2 | 6 | 50 | MC |
| Bryson DeChambeau | 4 | MC | 35 | MC | 29 | MC | 51 | 25 | 38 | 33 |
| Patrick Reed | 13 | 10 | 32 | MC | 36 | MC | 28 | 4 | 1 | 2 |
| Adam Scott | 22 | MC | 7 | 8 | 18 | 3 | 17 | MC | 32 | 61 |
| Patrick Cantlay | 43 | 41 | 21 | 3 | 9 | 27 | 12 | 45 | MC | 33 |
| Daniel Berger | 13 | | 49 | 71 | | 12 | MC | 6 | 32 | MC |
| Tyrrell Hatton | MC | 6 | 21 | 48 | 56 | 10 | 51 | 6 | 44 | MC |
| Tony Finau | 4 | 3 | MC | 64 | 5 | 42 | 9 | 5 | 10 | 44 |
| Tommy Fleetwood | 29 | 2 | 65 | 48 | 36 | 35 | 12 | 2 | 17 | 61 |
| Matthew Fitzpatrick | MC | 20 | 12 | 41 | 21 | MC | MC | 12 | 38 | MC |
| Justin Rose | 9 | 20 | 3 | 29 | MC | 19 | 2 | 10 | 12 | MC |
| Hideki Matsuyama | 22 | MC | 21 | 16 | 32 | 35 | MC | 16 | 19 | 5 |
| Tiger Woods | 37 | MC | 21 | MC | 1 | 2 | 6 | MC | 32 | |
| Paul Casey | 2 | 57 | 21 | 29 | MC | MC | 51 | 16 | 15 | 13 |
| Abraham Ancer | 43 | MC | 49 | 16 | | | MC | | | |
| Louis Oosthuizen | 33 | 20 | 7 | 60 | 29 | | 28 | 16 | 12 | 2 |
| Sung Jae Im | MC | MC | | MC | | 42 | | MC | | |
| Gary Woodland | 58 | MC | 1 | 8 | 32 | 6 | 67 | 36 | MC | 22 |
| Marc Leishman | MC | MC | 35 | MC | 49 | 71 | 60 | 45 | 9 | 13 |
| Matt Kuchar | MC | 41 | 16 | 8 | 12 | MC | 9 | MC | 28 | 9 |
| Shane Lowry | 66 | 1 | 28 | 8 | MC | 12 | MC | MC | | 48 |
| Kevin Kisner | 19 | 30 | 49 | MC | 21 | 12 | 2 | MC | 28 | 7 |
| Viktor Hovland | 33 | | 12 | | 32 | | | | | |
| Bernd Wiesberger | 43 | 32 | 76 | | | | | | 24 | MC |
| Billy Horschel | 43 | MC | 32 | 23 | 56 | 35 | | | MC | 48 |
| Kevin Na | MC | | MC | MC | 46 | 19 | 51 | | | MC |
| Ryan Palmer | 43 | MC | | MC | | | | | | |
| Matthew Wolff | 4 | | | | | | | | | |
| Jason Day | 4 | MC | 21 | 23 | 5 | 19 | 17 | MC | 20 | 9 |
| Rickie Fowler | MC | 6 | 43 | 36 | 9 | 12 | 28 | 20 | 2 | 5 |
| Brendon Todd | 17 | | MC | | | | | | | |
| Henrik Stenson | MC | 20 | 9 | 48 | 36 | MC | 35 | 6 | 5 | 13 |
| Chez Reavie | 75 | MC | 3 | 14 | | 12 | MC | MC | 53 | 22 |
| Lee Westwood | | 4 | | MC | | | 61 | | | 67 |
| Danny Willett | MC | 6 | 12 | 41 | MC | MC | 24 | MC | MC | MC |
| Sergio Garcia | MC | 67 | 52 | MC | MC | MC | MC | MC | MC | MC |
| Harris English | 19 | | 58 | | | | | | | |
| Matt Wallace | 77 | 51 | 12 | 3 | MC | 19 | MC | MC | | |
| Kevin Streelman | 58 | 57 | | | | MC | | | | |
| Erik van Rooyen | 51 | 20 | 43 | 8 | | | 17 | | | |
| Cameron Smith | 43 | 20 | 72 | 64 | 51 | 56 | 78 | MC | 5 | MC |
| Joaquin Niemann | MC | MC | | MC | | 71 | | | MC | |
| Phil Mickelson | 71 | MC | 52 | 71 | 18 | MC | 24 | 48 | 36 | MC |
| Christiaan Bezuidenhout | MC | MC | | | | | | | | |
| Victor Perez | 22 | | | | | | | | | |
| Tom Lewis | MC | 11 | | MC | | | 47 | MC | | |
| Jason Kokrak | MC | 32 | | 23 | | 19 | MC | | | 33 |
| Mackenzie Hughes | 58 | | | | | | | MC | | MC |
| Byeong Hun An | 22 | 32 | 16 | MC | | 56 | 51 | 67 | | 28 |
| Ian Poulter | 22 | MC | MC | MC | 12 | 31 | MC | 25 | 44 | 22 |
| Joel Dahmen | 10 | MC | MC | 71 | | | | | | |
| Jazz Janewattananond | MC | MC | | 14 | | | MC | | | |
| Shugo Imahira | | MC | MC | MC | MC | MC | | | | |
| Graeme McDowell | MC | 57 | 16 | 29 | | | | MC | | MC |
| Bubba Watson | 71 | 51 | MC | MC | 12 | MC | MC | MC | 5 | MC |
| Rasmus Hojgaard | | | | | | | | | | |
| Adam Hadwin | 58 | 57 | | 29 | | MC | 35 | MC | 24 | MC |
| Jordan Spieth | 71 | 20 | 65 | 3 | 21 | 12 | 9 | MC | 3 | 28 |
| Sung Kang | 79 | | | 7 | | | | | | 44 |
| Rafa Cabrera-Bello | MC | MC | 65 | 71 | 36 | 10 | 74 | 36 | 38 | MC |
| Corey Conners | MC | MC | | 64 | 46 | | | | | |
| Lanto Griffin | 19 | | | | | | | MC | | |
| JT Poston | 75 | | | 60 | | | | | | |
| Brandt Snedeker | 51 | MC | 77 | 16 | MC | 42 | MC | 48 | | |
| Cameron Champ | 10 | | | 54 | | | | | | |
| Sebastian Munoz | MC | | | | | | | MC | | |
| Adam Long | 51 | | | 41 | MC | | | | | |
| Thomas Pieters | | 67 | MC | 23 | | 6 | 28 | | MC | MC |
| Max Homa | MC | | | 64 | | | | | | |
| Lucas Herbert | MC | | | 71 | | | 51 | MC | | |
| Thomas Detry | | | | | | | | | | |
| Michael Lorenzo-Vera | 43 | MC | | 16 | | 65 | | | | |
| Shaun Norris | MC | MC | | MC | | | 61 | | | |
| Charles Howell | | | 52 | 41 | 32 | 71 | MC | 25 | | 73 |
| Sam Horsfield | | | MC | | | | | | | |
| Matthias Schwab | MC | | | | | | | | | |
| Si Woo Kim | 13 | MC | MC | MC | 21 | MC | 67 | MC | 24 | Wd |
| Robert MacIntyre | 66 | 6 | | | | | | | | |
| Martin Kaymer | MC | | 35 | MC | 51 | 42 | MC | MC | 48 | |
| Keegan Bradley | MC | MC | MC | 29 | 43 | 42 | 79 | MC | | 33 |
| Alexander Noren | 22 | 11 | MC | 54 | 62 | MC | 17 | 25 | MC | 67 |
| Paul Waring | | 63 | | | | | | MC | | |
| Chan Kim | MC | MC | MC | | | | | | | |
| Jim Herman | 77 | | | | | | | | | 44 |
| Matt Jones | MC | | MC | | | | MC | MC | | |
| Kurt Kitayama | 51 | MC | | 64 | | | | | | |
| Lucas Glover | MC | 20 | MC | 16 | | | | MC | | 33 |
| Andy Sullivan | | MC | | | | MC | MC | | | MC |
| Branden Grace | | 51 | MC | MC | 58 | 27 | MC | 25 | 24 | MC |
| Danny Lee | 71 | | | 36 | | | | | | MC |
| Romain Langasque | | 63 | | | | | | | | |
| Sami Valimaki | | | | | | | | | | |
| Brian Harman | 58 | MC | | MC | | 71 | MC | 36 | 44 | 13 |
| Michael Thompson | MC | | | MC | | | | | | |
| Ryo Ishikawa | MC | | | | | | | | | |
| Andrew Putnam | MC | 32 | 43 | 78 | | 59 | | | | |
| Justin Harding | | 41 | MC | 54 | 12 | MC | | | | |
| Eddie Pepperell | | 71 | | MC | 51 | 59 | 6 | | | |
| Troy Merritt | MC | | | MC | | MC | | | | |
| Richy Werenski | MC | | | MC | | | | MC | | |
| Mark Hubbard | 51 | | | | | | | | | |
| Will Zalatoris | | | | | | | | MC | | |
| Tyler Duncan | MC | | | | | | | 56 | | |
| JC Ritchie | | | | | | | | | | |
| Taylor Pendrith | | | | | | | | | | |
| Ryan Fox | | 16 | MC | MC | | 27 | 39 | 41 | | 54 |
| Davis Riley | | | | | | | | | | |
| Renato Paratore | | | MC | | | | | | | |
| Paul Barjon | | | | | | | | | | |
| Zach Johnson | MC | MC | 58 | 54 | 58 | 19 | 17 | 12 | 36 | 48 |
| Brandon Wu | | MC | 35 | | | | | | | |
| Connor Syme | | MC | | | | | | | | |
| Adrian Otaegui | | MC | | MC | | 65 | | | | |
| Chesson Hadley | | | 9 | MC | | MC | MC | MC | | |
| Takumi Kanaya | | MC | | | 58 | | | | | |
| Lee Hodges | | | | | | | | | | |
| Greyson Sigg | | | | | | | | | | |
| Stephan Jaeger | | | | | | | | | | |
| Scott Hend | | | | | | | | | | MC |
| Jimmy Walker | MC | MC | MC | 23 | 36 | 42 | MC | 56 | 20 | MC |
| Dan McCarthy | | | | | | | | | | |
| Curtis Luck | | | | | | | | | | |
| Steve Stricker | MC | | | MC | | | | 20 | | 54 |
| Chun-An Yu | | | MC | | | | | MC | | |
| Lukas Michel | | | | | | | | | | |
| Davis Thompson | | | | | | | | | | |
| Marty Jertson | MC | | | 82 | | MC | | | | |
| Ryan Vermeer | MC | | | 80 | | MC | | | | MC |
| John Augenstein | | | | | | | | | | |
| Daniel Balin | MC | | | MC | | MC | | | | |
| Cole Hammer | | | | | | | | | | |
| Andy Ogletree | | | | | | | | | | |
| James Sugrue | | MC | | | | | | | | |
| Preston Summerhays | | | | | | | | | | |
| Eduard Rousaud | | | | | | | | | | |
| Ricky Castillo | | | | | | | | | | |
| Sandy Scott | | | | | | | | | | |
| John Pak | | | | | | | | | | |
Discover the latest articles
Read past articles