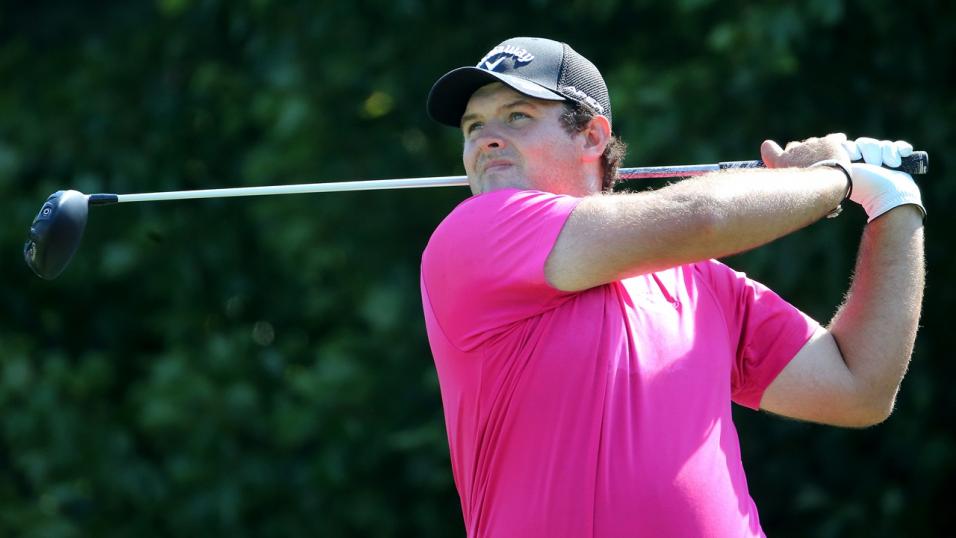 Patrick Reed – fancied to go well again by The Punter
We're in for a real treat this week as a stellar field assembles in Charlotte, North Carolina, for the 16th edition of the Wells Fargo Championship. Read our man's in-depth preview of the event here...
"Since Reed won the first of his six PGA Tour events in August 2013, which include a WGC event, a FedEx Cup playoff tournament and a major, the vastly more experienced Rickie Fowler has won just two PGA Tour titles. A third of Reed's tally. Yet the ever-unreliable Rickie is a [13.0] chance and the rock-solid, in-form, brand new major winner, with course form to boot, Reed, is more than twice his price. It just doesn't make sense to me and I was more than happy to play Reed at [27.0]."
Tournament History
The Wells Fargo Championship was first staged as recently as 2003 so this is just the 16th edition but it's already established itself as one of the strongest tournaments on the PGA Tour.
With usual host, Quail Hollow, being used for last year's USPGA Championship, the tournament was switched to Eagle Point in Wilmington but the tournament returns to Quail Hollow this time around.
With the likes of Justin Thomas, Rory McIlroy, Masters champ, Patrick Reed, Rickie Fowler and Tiger Woods, all in attendance, to name but five star names, we're set for a cracking renewal yet again.


Venue
Quail Hollow Club, Charlotte, North Carolina.
Course Details
Par 71 -7,442 yards
Stroke Index in 2016 (par 72) - 72.95
Stroke Index at 2017 US PGA - 73.47
Designed by George Cobb in 1961 and built on a former dairy farm, Quail Hollow was the host course for the Kemper Open between 1969 and 1979 and, apart from last year, it's been the host venue for this event since its inception in 2003.
The course underwent an extensive renovation by Tom Fazio in 1997, well in advance of the first edition of this event and in preparation for last year's USPGA and the Presidents Cup (to be staged here in 2021) there were several changes to the course prior to the 2013 and 2014 editions of this event.
The 8th hole was straightened and reduced to 346 yards and is now drivable and the 16th hole was changed dramatically. The fairway was shifted and lengthened to bring water in to play and the par three 17th hole, which was tough enough before the changes were made, was lengthened and now measures 223 yards.
After lots of negative publicity about the poor state of the greens at the 2013 edition, all the putting surfaces were changed from bent grass to Bermuda and tress were removed to allow light to get to them. The trees that framed the fairways were also thinned out considerably and since the last edition of this event, prior to last year's major, and after last the US PGA, they made even more chances to the venue.
All the greens have been changed from MiniVerde Ultradwarf Bermuda to Champion G-12 Ultradwarf Bermuda and this year they've also been overseeded with poa annua. They'll run much slower than they did at the USPGA, at around 11.5 compared to 13.5.
The par four 11th hole was extended by 36 yards before the USPGA but other than that, holes six to 18 remain the same. The major changes were to holes one to five...
Back in 2016, the first hole was a 418 yard par four and a birdie opportunity and the second was an innocuous par three averaging 3.1 but the two holes have since been combined to create a long par four measuring 495 yards but that's actually a reduction in length since the USPGA. It measured a monstrously long 524 yards then.
The fourth and fifth holes (a par three and four) were brand new at the USPGA and the second and third holes now (both par fours) are the old third and fourth holes. So we now have a very difficult opening three holes that ranked as the second, 12th and seventh hardest at the USPGA, as well as a really demanding finish. The last three holes have always play tough and are collectively known as the "Green Mile". They ranked as the third, fifth and first hardest in the USPGA and the tenth, sixth and first hardest in this event in 2016.
TV Coverage
Live on Sky Sports all four days, starting at 19:00 on Thursday. Live featured Group coverage begins at midday on Thursday.
Last Five Winners
2017 - Brian Harmon -10 (Eagle Point)
2016 - James Hahn -9 (playoff)
2015 - Rory McIlroy -21
2014 - J.B Holmes -14
2013 - Derek Ernst -8 (playoff)
What Will it Take to Win the Wells Fargo Championship?
Length has always been an important asset at Quail Hollow (Jim Furyk in 2006 is the only course winner to rank worse than 28th for Driving Distance) and recent evidence suggests it's even more so now. James Hahn only ranked 23rd for DD when he won two years ago but Justin Thomas ranked first at the USPGA last year and the two winners before Hahn, Rory McIlroy and J.B Holmes, also ranked number one for DD the week they won.
It's hard to know what to focus on after that. Historically, Greens In Regulation and Scrambling were the two main stats to concentrate on. Looking back, ten of the first 13 winners ranked inside the top-12 for GIR and the last three winners of this event here have ranked inside the top-ten for Scrambling. The first three home in 2014 ranked inside the top-six for Scrambling and it was a similar story 12 months later with only one player inside the top-eight ranking worse than 16th for that stat but GIR and Scrambling weren't key stats in the last edition of this event, or at the USPGA. Both Hahn and Thomas putted brilliantly.
It's very hard to know what to expect this time around. The course is harder (and the par's been reduced from 72 to 71) but the greens won't be running anywhere as fast as they were at the USPGA. This is a tough event to gauge statistically and we should learn a lot this year but hitting it far off the tee is almost certain to be key again.
Is There an Angle In?
The Houston Open looks to correlate nicely with this event. Vijay Singh, Anthony Kim and J.B Holmes have all won both tournaments and Houston winners Phil Mickelson, Adam Scott and even D.A Points have come very close to taking this title as well.
Look for a rising star this week as three truly world class players have all won their first PGA Tour titles here. Anthony Kim has disappeared off the face of the earth after serious injury forced him away from the game but he was a player of undoubted ability, destined for major success, and he won here ten years ago. Rory McIlroy announced himself to the American public with a course record 62 in round four to win the 2010 edition from the cut mark and current world number six, Rickie Fowler, won the first of his four PGA Tour titles here in 2012.
Is There an Identikit Winner?
The roll of honour here is a real mixed bag. Major winners David Toms, Vijay Singh, Jim Furyk, Tiger Woods, Lucas Glover and Rory McIlroy have all won the title and we've seen several really top-class winners too but this event has produced three separate results that have had us all scratching our heads.
The 2004 edition saw 200/1 shots Joey Sindelar and Aaron Oberholser playoff to decide the outcome, in 2013, [1000.0] shot, Derek Ernst beat [350.0] chance, David Lynn, in extra time and two years ago, another player matched at [1000.0] before the off, James Hahn, beat [600.0] shot, Roberto Castro, in a playoff, so if you fancy a rank outsider, don't be afraid to go for it.
In-Play Tactics
A slow start can definitely be overcome at Quail Hollow. Thomas sat tied for 44th and six back after round one in the USPGA and he was still five adrift at halfway. Hahn and Castro (first and second in 2016) were five and six back after round one and Hahn still trailed by five in a tie for 13th at halfway. The two winners before Hahn both opened up with 70s and trailed by four and five strokes and yet they won with ease and one or two winners have come from a very long way back. Rory won here eight years ago having only just made the cut. He sat tied for 48th and nine off the lead at halfway and he still trailed by four after day three but incredibly, he went on to win by four!
After a course record 61 in round three in 2015, Rory sat four clear through 54 holes and he blasted away to win by seven and J.B Holmes converted from the front four years ago but he was the first third round leader to win since Anthony Kim in 2008 and the last two courses winners sat third and fourth and two shots adrift after 54 holes.
The likes of Phil Mickelson, Nick Watney, Webb Simpson and Zach Johnson have all failed to convert a 54-hole lead and Sergio Garcia managed to give up a six-stroke lead in 2005 so this is not necessarily an easy place to make the running.
If you're trading in-running, watch out for the tough finish. Hideki Matsuyama hit the front and hit a low of [1.91] in the USPGA last year but failed to get home and in the last renewal of this event here, in 2016, the third round leader, Rickie Fowler, was matched at a low of [2.04] and Justin Rose hit [1.62] but both disappointed their followers. Mickelson led by one with three to play five years ago and he was matched at just [1.4] but he didn't even make the playoff! And Holmes dropped two shots over the 'Green Mile' four years ago but fortunately for him and his backers, he was far enough clear for it to matter.
Market Leaders
Rory McIlroy's chance is blindingly obvious. He only finished 22nd in the USPGA here but conditions were tougher than he'll encounter this week and his event form figures here read a superb 1-MC-2-10-8-1-4. Having won the Arnold Palmer he was disappointing at the WGC-Match Play in his penultimate start and he'll have been disappointed with himself by the way he contended at Augusta to finish fifth last time out.
If the rest has done him good and he can forget all about his latest episode of US Masters grief, and if he putts like he did at Bay Hill, then he's bound to contend but there are plenty of ifs there for my liking and I'm not absolutely convinced he should be heading the market...
Justin Thomas missed the cut at the uniquely formatted Zurich Classic of New Orleans last week, playing alongside Bud Cauley, but I'm more than happy to disregard that completely and he was only 17th at the US Masters but that wasn't necessarily a poor result. Thomas is taking his time to get to grips with Augusta and that was his best effort in three visits, having finished 39th on debut and 22nd in 2017, so he may well be better judged on his form prior to the year's first major.
A strong ninth at the Genesis Open was followed by a win at the Honda Classic and a playoff defeat to Phil Mickelson in Mexico preceded a semi-final defeat at the WGC-Match Play but referring back to that event may point to a potential problem here. Had Thomas reached the final, he'd have gone to the top of the world rankings and he confessed afterwards that - that played on his mind a lot. Victory here would also see him top the charts. That's a potential issue and so is him returning to Quail Hollow. He clearly plays the course well but emotionally, how is he going to cope with returning to the scene of his career highlight?
Rickie Fowler is an in-form course winner but he's simply too short at [13.0]. He just doesn't win enough to go backing at that sort of price, regardless of how emphatically he ticks the metaphorical current and course form boxes.
Jason Day only finished ninth in the USPGA last year but that doesn't tell half the story. He was bang in-contention towards the end of round three but bogeyed 17 and made eight on 18! This course does seem to suit given he finished 22nd on debut in 2010 and ninth here in 2012 but after a good start to the year, he's just gone off the boli a bit of late and I'm happy to swerve him too.
Selections
This is a fabulous tournament but a tough one to predict. Both the market leaders have very solid claims and if one of them went on to win I wouldn't be in the least bit surprised but I'm scanning a little bit lower down the list for the first of my three picks - US Masters winner, Patrick Reed.
Reed was runner-up here at the USPGA last year and besides his initial major success last month, he's been in brilliant form since the beginning of March. He finished second at the Valspar Championship, seventh at the Arnold Palmer and he reached the last 16 of the WGC-Match Play. And he even finished tied for seventh last week playing alongside Patrick Cantlay in the Zurich, which was a great way to restart his campaign after his major success.
Reed's first victory PGA Tour victory was the Wyndham Championship in Greensboro, North Carolina and he contended at Eagle Point last year too so it's a State he's enjoys playing in.
Since Reed won the first of his six PGA Tour events in August 2013, which include a WGC event, a FedEx Cup playoff tournament and a major, the vastly more experienced Rickie Fowler has won just two PGA Tour titles. A third of Reed's tally. Yet the ever-unreliable Rickie is a [13.0] chance and the rock-solid, in-form, brand new major winner, with course form to boot, Reed, is more than twice his price. It just doesn't make sense to me and I was more than happy to play Reed at [27.0].
Fowler is the nice guy on Tour and Reed is universally unpopular so that might go someway to explaining the huge disparity in their prices and my second selection is someone else the often-staid and traditional audiences can't quite grasp - Bryson DeChambeau.
Already a PGA Tour winner, having pounced late to take the John Deere Classic last July, DeChambeau could very easily be lining up here looking for his fourth title already. He was impressive when going toe-to-toe with Rory in the Arnold Palmer Invitational three starts ago and he was beaten by a stroke at RBC Heritage last time out, despite a terrible third round 77. He's an unorthodox character for sure but he's also straight out of the top drawer and given how well he's playing right now, I thought [65.0] was generous enough.
My final pick is Beau Hossler who was very unlucky not to get off the mark at the Houston Open recently. As mentioned above, form at the two venues appears to correlate to a degree and Beau would fit the mould of a high class young player getting off the mark, a la Kim, McIlroy and Fowler.
Selections:
Patrick Reed @ [27.0]
Bryson DeChambeau @ [65.0]
Beau Hossler @ [140.0]
I'll be back later today with my GolfSixes preview.

*You can follow me on Twitter @SteveThePunter