The Punter's In-Play Blog: Tight at the top in Mississippi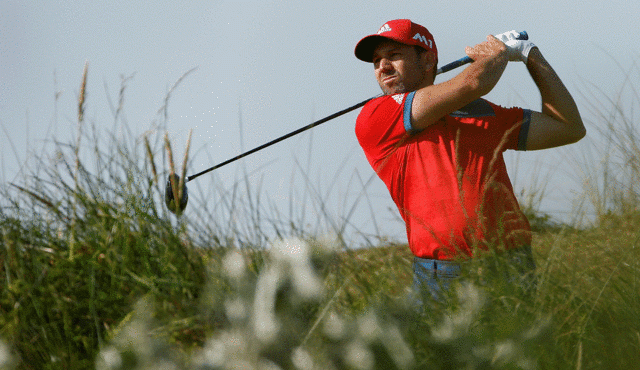 Tommy Fleetwood- two off the lead in Scotland
Sergio Garcia heads the market with a round to go at the Sanderson Farms Championship but is he the man to beat? Steve Rawlings gives his verdict here...
"Poston's finish to round three was a bit scruffy but he did OK yesterday given he was in the final group and at 5/16.0, I thought he was the value play with a round to go."
12:15 - October 4, 2020
With just 18 holes to play, only two strokes separate the top-eight at the Sanderson Farms Championship. Here's the 54 hole leaderboard with prices to back at 12:10.
Sergio Garcia -14 4/14.9
Cameron Davis -14 9/25.3
J.T Poston -14 5/16.0
Brandt Snedeker -13 9/19.8
Kristoffer Ventura -13 9/110.0
Denny McCarthy -12 17.5
Keegan Bradley -12 19.5
Aaron Wise -12 21/122.0
Charley Hoffman -11 41/142.0
Tyler McCumber -11 [50,0]
-10 and 74/175.0 bar
With halfway leader, Keegan Bradley, stuttering and Cameron Davis and Sergio Garcia charging from off the pace in round three, it's a very different leaderboard to survey this morning and a very competitive one.
Outsiders and first-time winners have won the last six editions of the Sanderson Farms Championship so all three of Dave Tindall's each-way picks would fit the bill and given the last three winners were all in front with around to go, everything points to Davis, but having backed Brand Snedeker and Aaron Wise at decent prices yesterday, I've now added J.T Poston.
Davis has to back-up yesterday's nine-under-par 63, something that's never easy to do, and I always want to be against Sergio in-contention. Poston's finish to round three was a bit scruffy but he did OK yesterday given he was in the final group and at 5/16.0, I thought he was the value play with a round to go.
21:15 - October 3, 2020
Conditions at the Renaissance Club worsened as the day wore on today and anyone shooting close to level-par performed brilliantly. The 36 hole leader, Lucas Herbert, shot the worst round of the day, a six-over-par 79, and my 49/150.0 pre-event pick, Lee Westwood, who led after the first round, played the back-nine in 40 to slip to a tie for 10th. Tommy Fleetwood's two-under-par 69 in the worst of the weather was a great knock. Here's the 54-hole leaderboard with prices to back at 21:10.
Robert Rock -9 100/304.3
Tommy Fleetwood -7 14/53.8
Ian Poulter -7 7/17.8
Marcus Kinhult -7 11.5
Wade Ormsby -7 15.5
Andy Sullivan -5 27/128.0
Gavin Green -5 39/140.0
Victor Dubuisson -5 47/148.0
Adri Arnaus -5 49/150.0
-4 and 54/155.0 bar
With as many as 30 players within six of Rock's lead, this is a ridiculously tough event to call with a round to go.
I was fairly disparaging of Rock this morning but he managed his game brilliantly - although I fancy the conditions helped his cause. So bad was the weather today that there wasn't any time to worry about winning the Scottish Open, it was a war of attrition and survival was the name of the game but it should be a different story for the leaders tomorrow, if the forecast can be believed.
Wind and heavy rain will greet the early starters so movement from off the pace looks impossible and with the wind easing and the rain stopping as the day wares on, the latter starters should enjoy slightly easier conditions.
In theory, if Rock has a bad day, with 30 players all within five strokes of each other behind him, this really is anyone's and it's very hard to pick a winner. Obviously, the pre-event favourite, Fleetwood, is the one they all have to beat but he's won just once in the last 32 months and he's not bombproof.
Although close enough if the leader flaps, I'm happy to rule out anyone on -3 and below at this stage because if the weather forecast is correct, anyone teeing off so early is really up against it, whereas some of the group on -4 and three strokes of the group of four tied for second, tee off less than an hour before the leaders. They may just miss the very worst of the weather and if they do, they're right in this if the three market leaders - Rock, Fleetwood and Ian Poulter - all struggle.
If I had to pick one from towards the head of the market, I'd plump for Poults. He was magnificent today and if he maintains that focus tomorrow he could be the one to grind out the win but with the conditions so rough, it's not a tournament I want to go investing heavily in.
Pre-event picks, Andy Sullivan, Lee Westwood and Eddie Pepperell are still just about in the argument if the leaders faulter so I'm going to cheer them on and I've thrown a few pounds on a couple of outsiders on -4...
Robert Macintyre tees off only 33 minutes before the leaders and he has the ability to do something special in the poor conditions. And I thought the 2018 winner, Brandon Stone, looked worth chancing at a triple-figure price but it's one to be wary of, even at this late stage.
If you're intending to watch and get involved in-running, it may well pay to side with anyone that manages to post a score. If one of the players on -3 or -4 can get in the house with a score within a couple of the lead, with the conditions so tough, that may well be enough and, as so often is the case when the wind is blowing, the value will be with those safely in the clubhouse.
11:50 - October 3, 2020
After two rounds at the Sanderson Farms Championship in Mississippi, the 2011 US PGA Champion, Keegan Bradley, leads by two. Here's the halfway leaderboard with prices to back at 11:40.
Keegan Bradley -13 7/24.4
J.T Poston -11 13/27.6
Charley Hoffman -11 7/18.0
MJ Daffue -10 26/127.0
Denny McCarthy -9 16.5
Kristoffer Ventura -9 16/117.0
-8 and 25/126.0 bar
Keegan Bradley has a major championship and three other PGA Tour victories to his name but I've always viewed him as an inconsistent sort that can't be relied upon in-contention and I also think he's one of the luckiest golfers around. All four of his titles were won because at least one other player messed up and he's one to take on.
This is the eighth time he's led or co-led at halfway and the only time he went on to win was at the US PGA Championship when Jason Dufner messed up at the end. On the last two occasions he's been leading through 36 holes he's finished 10th and 46th! I've layed small amounts at an average of 30/1001.31 in the Top 10 Finish market and I'd quite like to get him in the Top 5 too.
Charley Hoffman and J.T Poston are tied for second and of the leaders, Poston's the one I like best. He was an impressive winner of the Wyndham Championship last year and I can see why he's been shortening up all morning. He was 15/28.4 first thing and he's nearly a point shorter now but he too has his negatives.
Poston was in this position here 12 months ago and he finished up finishing 11th and he was even worse in-contention at the Honda Classic in March when he finished 35th having sat second at halfway. He's going to have to learn from those two efforts but the 27-year-old definitely has more scope than Hoffman and Bradley and I can see why he's been supported.
Alone in fourth is regular Monday qualifier. MJ Daffue and it would be some story if he could win in just his fifth appearance on the PGA Tour.
Reminder how razor thin making it and not making it is.

MJ was in a SEVEN hole playoff at the Mon Q. Multiple times players had a chance to knock him out. Had that happened he would be at home watching. Instead hes leading a PGA Tour event. pic.twitter.com/mA1v32CIhn

? Monday Q Info (@acaseofthegolf1) October 2, 2020

Dave Tindall's each-way picks, Denny McCarthy and Kristoffer Ventura, sit tied for fifth and four off the lead but I've added three that sit even further back.
Alongside my pre-event selection, Anirban Lahiri, in a tie for seventh and five off the lead, Brandt Snedeker and Kevin Chappell have been chanced at juicy prices and I've also had a few pounds on Aaron Wise who sits six off the lead.
9:50 - October 3, 2020
Matt Cooper's each-way selection, Lucas Herbert, leads at the halfway stage of the Scottish Open. Here's the current state of play with prices to back at 9:40.
Lucas Herbert -11 4/14.8
Robert Rock -10 11.5
Ian Poulter -9 6/17.0
Lee Westwood -9 6/17.0
Mike Lorenzo-Vera -8 14.5
Joost Luiten -7 24/125.0
Marcus Kinhult -7 33/134.0
Kalle Samooja -7 54/155.0
Fabrizio Zanotti -6 69/170.0
Pablo Larrazabal -6 74/175.0
Wade Ormsby -6 109/1110.0
Craig Lee -6 119/1120.0
Tommy Fleetwood -5 15/116.0
-5 and 64/165.0 bar
The 36-hole leader, Lucas Herbert, has been shortening up slowly since the close of play yesterday and the 24-year-old Dubai Desert Classic winner certainly looks like the man to beat.
If Robert Rock, currently alone in second, plays like he did last week in Ireland when in-the-mix, Herbert is effectively two clear of a pair of veterans in Ian Poulter and Lee Westwood. Rock sat third and just a stroke off the lead at Galgorm this time last week but a dreadful 78 saw him plummet to 35th! He's a terrific links player but he's always been a little suspect in-contention.
Westwood claimed he'd played just as well on Friday as he'd done on Thursday but I watched a fair bit of both rounds and I'm not so sure I agree with him. The disparity in his scores was perhaps wider than deserved but he wasn't in the same form yesterday when he shot a level-par 71, having fired 62 on Thursday.
With Mike Lorenzo-Vera, who is still in search of his first European Tour title, alone if fifth, it's perhaps not surprising to see that the leader's shortened up but there are a couple of factors that put me off him. He was six off the lead with a round to go when he won in Dubai, so although a winner, he's not actually won from the front, or even close to the front, and on the four previous occasions he's led or been tied for the lead at halfway he's been beaten. And another factor to consider, is from how far back we've seen the winners of the Scottish Open come of late...
Last year's Scottish Open winner, Bernd Wiesberger, was in front at halfway but the man he beat in a playoff, Benjamin Hebert, had trailed by six through 36 holes and the two winners before Wiesberger (albeit at different links venues), Rafa Cabrera-Bello and Brandon Stone, both trailed by seven strokes at this stage so scanning down the leaderboard makes sense.
I've added Rasmus Højgaard at 69/170.0 and Haotong Li at 99/1100.0, who both trail be seven, and I'll be keeping a close eye on the early leaderboard this morning. Saturday is Moving Day and I fancy we may well see some big moves from off the pace.
I'll be back shortly with a look at the state of play at the Sanderson Farms Championship, where Keegan Bradley leads by two.
19:20 - October 1, 2020
The early starters at the Scottish Open this morning were greeted with wind and rain and birdies were extremely hard to come by. One of my picks, Romain Langasque, was in the first group out off the 10th tee and he was three-over-par through two holes. The Frenchman eventually went on to shoot an eight-over-par 79 and he may as well go home now.
As the morning wore on, the rain stopped and the wind dropped and the latter starters have enjoyed a huge advantage of 3.35 strokes. Min Woo Lee is the only morning starter inside the top-13 and another of my picks, Lee Westwood, who took full advantage of the draw - shooting a nine-under-par 62 - shows the way.
I'll update again in the morning but with the leaders off early tomorrow, I thought it made sense to get the blog started. Westwood tees off just before eight and if the forecast is correct, the PM-AM starters are going to get the better of it again tomorrow.
Joost Luiten was on the radar before the off after his strong finish in Ireland last week so I've got him onside now too. I picked up scraps at an average of 23/124.0 after he'd birdied the first hole (his tenth) and he finished nicely. In fact, so nicely that had he birdied the ninth, his 18th, he'd have tied the lead and rewarded followers of Dave Tindall's First Round Leader column handsomely. He looks the biggest danger to Westwood at this very early stage and anything in double-figures is probably fair. Like Westwood, he's out very early tomorrow.
With Paul Krishnamurty busy on US election debate duties, I stepped in for him with the Find Me a 100 Winner column and with the draw in mind, I went for a pair of late starters today - Eddie Pepperell and Matthew Southgate. Both did OK but given he opened up with three straight birdies, Southgate's three-under-par 68 was more disappointing than Eddie's and they both look to have too much on their plates already.
The afternoon wave have just started at the Sanderson Farms Championship and I'll take a look at that one tomorrow. Seasoned pros, Charley Hoffman and Jimmy Walker are tied for the lead after shooting eight-under-par 64s but one of my outsiders, Anirban Lahiri is only two back after an opening 66.
.
Scottish Open Pre-Event Selections:
Lee Westwood @ 49/150.0
Romain Langasque @ 54/155.0
Andy Sullivan @ 59/160.0
John Catlin @ 64/165.0
Andrew Johnston @ 89/190.0
Thorbjorn Olesen @ 129/1130.0

Find Me a 100 Winner Picks:
Eddie Pepperell @ 109/1110.0
Matthew Southgate @ 199/1200.0
In-Play Picks:
Joost Luiten @ an average of 23/124.0
Rasmus Højgaard @ 69/170.0
Haotong Li @ 99/1100.0
Robert Macintyre @ 59/160.0
Brandonn Stone @ 109/1110.0
Sanderson Farms Championship Pre-Event Selections:
Doc Redman @ 39/140.0
Tom Lewis @ 79/180.0
Nate Lashley @ 149/1150.0
Wyndham Clark @ 179/1180.0
Anirban Lahiri @ 199/1200.0
Fabian Gomez @ 519/1520.0
In-Play Picks:
Brandt Snedeker @ 35/136.0
Kevin Chappell @ 43/144.0
Aaron Wise @ 64/165.0
J.T Poston @ 5/16.0
Sportsbook Wagers
Fabian Gomez each-way @ 400/1 - eight places
Top-20 @ 10/1
Top-30 @ 11/2
Top-40 @ 7/2
*You can follow me on Twitter @SteveThePunter
New on Betting.Betfair – Betslip
You can now bet without leaving Betting.Betfair with our brand new on-site betslip for Exchange markets. You'll see the Exchange back and lay prices at the end of articles - simply login and place your bets as you would do on the main Exchange site