PGA Championship 2021: Check out current form ahead of this week's major in South Carolina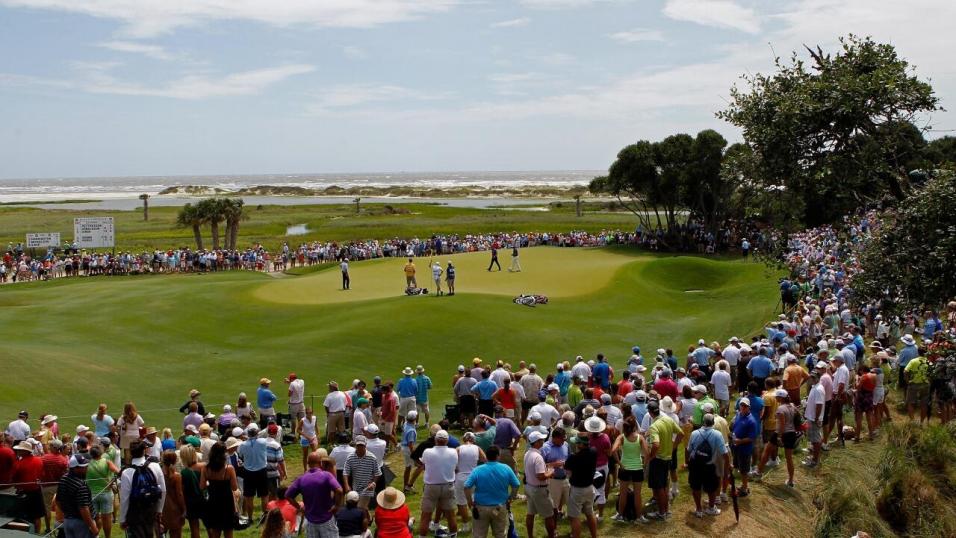 Kiawah Island: A coastal layout which runs alongside the Atlantic Ocean
With the PGA Championship starting this Thursday, check out the current form of those teeing-up at Kiawah Island. Words and stats by Andy Swales...
"Since America triumphed at the 1991 Ryder Cup, it's generally been an unlucky venue for home golfers."
Just 39 days after Hideki Matsuyama claimed the biggest prize ever won by a Japanese golfer, the second major championship of 2021 will tee-off in South Carolina.
This week's PGA Championship takes place at Kiawah Island which became famous 30 years ago when it hosted the most fractious Ryder Cup of all time.
In September 1991, unruly and rowdy spectators helped to create an atmosphere so hostile that the match was dubbed the 'War On The Shore' by the golfing media.
The Americans snatched a narrow 14½-13½ victory after Bernhard Langer missed a five-foot putt for a tie, on the final green of the final singles.
Langer remarked, many years later, "it was the first time the Ryder Cup nearly got out of hand."
Paul Azinger, now a TV commentator, became embroiled in an argument with Seve Ballesteros and famously made a crass comment comparing his team's success at Kiawah Island, to his country going to war with Iraq earlier that year.
Spaniard Manuel Pinero, who played in 1981 and 1985, and was helping European skipper Bernard Gallacher in 1991, described the week as his worst experience at a Ryder Cup.
He said the fans became "too involved in matches" and at times were "too close to the players." He admitted being "worried about the future of the Ryder Cup".
Latest odds for this week's PGA Championship
Thankfully, 21 years later, the atmosphere was much calmer when Kiawah's Ocean Course staged its first major championship which was won by a 23-year-old Rory McIlroy.
And it's back to the beach again this week, when the players travel to the Atlantic coast for the 103rd PGA Championship at Kiawah Island Golf Resort, situated some 25 miles south-west of Charleston.
Venue
The Ocean Course was designed by Pete and Alice Dye, and opened in 1976.
Thanks largely to its coastal location, the venue certainly resembles that of a British links course, with weather to match.
The Ocean Course is reckoned to be one of America's toughest layouts, with the 2012 PGA Championship being the first major in history to be contested on fairways and putting surfaces covered by paspalum grass.
Sand and coastal scrub is in plentiful supply on most holes, and there are many twists and turns, and fairway-kinks, along the way.
Water is realistically a threat on 10 holes, and maybe a few more depending on how wayward a golfer is.
Kiawah tournaments
Since America triumphed at the 1991 Ryder Cup, it's generally been an unlucky venue for home golfers.
In 1997, when the World Cup of Golf was staged here, the tournament was won by Ireland, with Scotland runners-up. Colin Montgomerie won the individual event while the United States, represented by Justin Leonard and Davis Love, joined forces to finish third.
Leonard and Love had both won majors that year, but were unable to prevent European golfers from occupying the top four positions in the individual competition.
Six years later the World Cup of Golf returned to Kiawah and was won by South Africa. England, France and Germany came next, with the hosts - represented by Jim Furyk and Leonard - finishing in a tie for fifth, alongside Ireland. The format had changed by then, and there was no individual event.
Who will finish as the top European golfer at this week's PGA Championship? Check the latest odds.
Another nine years on, and to the final major of 2012, which witnessed McIlroy's amazing eight-stroke triumph - and it remains a record winning margin for the PGA Championship. Englishman David Lynn finished as runner-up, with seven Europeans and three Americans occupying the top 10 positions.
In many ways, Europe has exacted its Kiawah revenge over the United States, many times, since the infamous Ryder Cup of 1991.
Meanwhile, the PGA of America has agreed for 10,000 fans to attend this week's tournament on a daily basis.
Twitter: Andy Swales@GolfStatsAlive
Note: List Contains Leading Reserves
Last 10 Weeks / Kiawah Island 2012
| Player | W20 | W19 | W18 | W17 | W16 | W15 | W14 | W13 | W12 | W11 |
| --- | --- | --- | --- | --- | --- | --- | --- | --- | --- | --- |
| Dustin Johnson | | | 48 | | 13 | MC | | 28 | | 48 |
| Justin Thomas | | 26 | 13 | | | 21 | | 42 | | 1 |
| Jon Rahm | 34 | MC | | 7 | | 5 | | 5 | | 9 |
| Bryson DeChambeau | 55 | 9 | | | | 46 | | 42 | | 3 |
| Xander Schauffele | | 14 | | 11 | | 3 | | 18 | | MC |
| Collin Morikawa | | | | MC | 7 | 18 | | 56 | | 41 |
| Rory McIlroy | | 1 | | | | MC | | 28 | | MC |
| Patrick Reed | | 6 | MC | | | 8 | | 28 | | 22 |
| Tyrrell Hatton | | | | 8 | 39 | 18 | | 56 | | MC |
| Webb Simpson | | | | | 9 | 12 | | 28 | | MC |
| Viktor Hovland | | 3 | 3 | 25 | | 21 | | 42 | | MC |
| Brooks Koepka | MC | | | | | MC | | | | |
| Patrick Cantlay | | MC | | 11 | MC | MC | | 18 | | MC |
| Tony Finau | | MC | | 17 | | 10 | MC | 28 | | MC |
| Hideki Matsuyama | 39 | | | | | 1 | 30 | 42 | | MC |
| Daniel Berger | 3 | | | | 13 | MC | | 18 | | 9 |
| Matt Fitzpatrick | MC | | | | 4 | 34 | | 18 | | 9 |
| Billy Horschel | | | | 4 | 25 | 50 | | 1 | | 58 |
| Abraham Ancer | | 2 | 5 | | 18 | 26 | 23 | 18 | | 22 |
| Paul Casey | | | 21 | | MC | 26 | | 28 | | 5 |
| Sung Jae Im | | MC | 29 | MC | 13 | MC | | 42 | 8 | 17 |
| Scottie Scheffler | 47 | | 29 | 8 | | 18 | 54 | 2 | | MC |
| Lee Westwood | 21 | | | | 63 | MC | | 18 | MC | 2 |
| Jordan Spieth | 9 | | | | | 3 | 1 | 9 | | 48 |
| Harris English | 13 | 43 | | | MC | 21 | | 42 | | |
| Cameron Smith | | | | 1 | 9 | 10 | | 28 | | 17 |
| Tommy Fleetwood | | 14 | | | MC | 46 | | 5 | | MC |
| Joaquin Niemann | | 18 | 8 | | | 40 | | 18 | 25 | 29 |
| Will Zalatoris | 17 | MC | | | 42 | 2 | | 28 | | 21 |
| Ryan Palmer | 47 | | 63 | 7 | | 34 | 17 | 17 | | 17 |
| Louis Oosthuizen | | | 8 | 2 | | 26 | | 61 | | 41 |
| Victor Perez | | | | | | MC | | 4 | | 9 |
| Jason Kokrak | | | 13 | 21 | | 49 | | 42 | | 9 |
| Kevin Na | | | 29 | | MC | 12 | | 42 | | Wd |
| Sam Burns | 2 | | 1 | 4 | 39 | | MC | | | MC |
| Adam Scott | | | | | | 54 | | | 13 | 48 |
| Corey Conners | | 43 | 21 | | 4 | 8 | 14 | 61 | | 7 |
| Marc Leishman | 21 | | | 1 | | 5 | | 28 | | MC |
| Max Homa | | MC | 6 | 17 | | MC | | 18 | | MC |
| Christiaan Bezuidenhout | | | | | 33 | 40 | | 56 | | 41 |
| Justin Rose | | | MC | 11 | | 7 | | | | |
| Stewart Cink | | 37 | | | 1 | 12 | | | 19 | MC |
| Kevin Kisner | | | MC | MC | MC | MC | | 18 | | MC |
| Robert MacIntyre | 8 | | | | 59 | 12 | | 9 | | MC |
| Sergio Garcia | MC | | | | MC | MC | | 5 | | 9 |
| Shane Lowry | | 65 | | | 9 | 21 | | 42 | 36 | 8 |
| Brian Harman | | 18 | | | 13 | 12 | | 5 | | 3 |
| Matt Kuchar | 17 | | | | 18 | MC | 12 | 3 | | MC |
| Si Woo Kim | 55 | | | | 33 | 12 | 23 | 56 | | 9 |
| Garrick Higgo | | 1 | 8 | 1 | 4 | | | MC | 16 | 19 |
| Matt Wallace | | 6 | | 23 | 18 | 34 | 3 | 28 | MC | |
| Gary Woodland | | 5 | MC | | | 40 | 6 | | | MC |
| Carlos Ortiz | 21 | 65 | | | MC | MC | | 42 | | MC |
| Bubba Watson | | 18 | 13 | 8 | | 26 | | 9 | | MC |
| Matt Jones | | 37 | | MC | | 26 | | | 1 | 55 |
| Russell Henley | | 72 | MC | | 9 | | | 28 | 3 | MC |
| Mackenzie Hughes | | MC | MC | | 52 | 40 | | 9 | 36 | MC |
| Kyoung-Hoon Lee | 1 | 58 | 29 | 23 | 56 | | 23 | | MC | 41 |
| Brendon Todd | | | | 27 | 39 | 46 | | 42 | | 35 |
| Bernd Wiesberger | 34 | | | | | 40 | MC | 42 | | MC |
| Lanto Griffin | | 26 | MC | MC | | MC | 34 | 61 | | 35 |
| Jason Day | MC | MC | | | | MC | | 42 | | 35 |
| Kevin Streelman | | 26 | MC | MC | 33 | | | 9 | 36 | MC |
| Chris Kirk | | | MC | 27 | 7 | | 6 | | 25 | 48 |
| Ian Poulter | | MC | 21 | | 48 | 26 | | 9 | MC | MC |
| Joel Dahmen | | 18 | | MC | | | 74 | 1 | | MC |
| Cameron Tringale | | MC | 3 | MC | | | 9 | | 13 | MC |
| Sebastian Munoz | 55 | MC | | | MC | 40 | 9 | 61 | | MC |
| Keegan Bradley | | 18 | 2 | 4 | | | 23 | | 30 | 29 |
| Antoine Rozner | MC | | MC | 15 | | | | 18 | | 1 |
| Charley Hoffman | | | 18 | 11 | 18 | | 2 | 34 | | 17 |
| Andy Sullivan | 6 | | | 71 | | | | 42 | | 19 |
| Talor Gooch | 39 | 26 | MC | 17 | | | | 56 | 46 | 5 |
| Emiliano Grillo | | 14 | MC | | 2 | | | 6 | | MC |
| Erik van Rooyen | MC | MC | MC | 17 | | | 14 | 9 | 60 | |
| Takumi Kanaya | | 7 | 15 | 16 | 1 | | | | | |
| Danie van Tonder | | MC | 57 | 2 | | | | 1 | MC | 2 |
| John Catlin | MC | | 5 | 52 | 1 | | | MC | 28 | 42 |
| Dylan Frittelli | | | | MC | 56 | MC | | 9 | MC | 22 |
| Chan Kim | | 15 | 9 | 2 | MC | | | | | |
| Brendan Steele | | 70 | | 4 | | | 77 | | 3 | 41 |
| Harold Varner | | MC | | MC | 2 | | MC | | 19 | 61 |
| Adam Long | | MC | MC | | MC | | MC | 28 | MC | 22 |
| JT Poston | | 26 | 54 | | MC | | | 28 | MC | 22 |
| Brandon Stone | | MC | MC | 1 | | | | | | 7 |
| Sam Horsfield | 21 | | MC | 4 | 15 | | | 3 | 8 | |
| Martin Kaymer | MC | | | | 3 | | | | MC | |
| Thomas Pieters | MC | | | 8 | | | | 13 | | 13 |
| Cameron Champ | 55 | | | 17 | | 26 | 34 | | | MC |
| Aaron Rai | | | | | | | | 30 | 24 | MC |
| Branden Grace | | | 54 | MC | 42 | | 23 | | | MC |
| Danny Willett | 11 | | MC | 8 | 18 | MC | MC | 8 | | |
| Dean Burmester | 6 | 4 | 1 | 38 | MC | | | MC | 8 | Wd |
| Lucas Herbert | | MC | | | | | | MC | 46 | |
| Martin Laird | 61 | | MC | MC | | 38 | 30 | | | 69 |
| Thomas Detry | 43 | | | | 71 | | | 13 | | 9 |
| George Coetzee | | 14 | | | | | | MC | 16 | MC |
| Sami Valimaki | 21 | 27 | 22 | | | | | | | |
| Rikuya Hoshino | 1 | 15 | 23 | 1 | MC | | | | | |
| Charl Schwartzel | 3 | 14 | 21 | 2 | | 26 | 69 | | 53 | MC |
| Rasmus Hojgaard | MC | | MC | MC | 12 | | | | | MC |
| Alexander Noren | 21 | | 21 | 21 | 25 | | | | 46 | MC |
| Kurt Kitayama | | | MC | MC | 15 | | | MC | 2 | 9 |
| Adam Hadwin | | MC | MC | | MC | | 23 | | 8 | 29 |
| Maverick McNealy | | MC | | MC | 4 | | | | MC | MC |
| Tom Hoge | MC | MC | MC | MC | 25 | | 12 | | MC | 22 |
| Kalle Samooja | | 9 | 3 | MC | | | | | 12 | 28 |
| Richy Werenski | | 37 | MC | 3 | MC | | | | MC | MC |
| Chez Reavie | | MC | MC | MC | MC | | | | MC | MC |
| Tom Lewis | MC | MC | 48 | 8 | 25 | | 54 | 56 | 36 | MC |
| Jazz Janewattananond | 11 | | | | | | | 2 | MC | 50 |
| Jason Scrivener | MC | | | | | | | | | |
| Phil Mickelson | | 69 | MC | | | 21 | MC | | 25 | 35 |
| Byeong Hun An | | MC | 67 | MC | MC | | MC | | MC | MC |
| Henrik Norlander | | MC | 48 | 21 | MC | | MC | | MC | MC |
| Zach Johnson | | 51 | 29 | | MC | MC | MC | | 8 | 41 |
| Lucas Glover | | MC | 48 | MC | 33 | | 4 | | 19 | 48 |
| Rickie Fowler | MC | MC | | | | | 17 | | 65 | MC |
| Robert Streb | | MC | | MC | 52 | MC | | | 13 | MC |
| Cameron Davis | | 26 | MC | | 25 | | 69 | | 33 | MC |
| Henrik Stenson | | | 63 | 11 | | 38 | MC | | MC | MC |
| Aaron Wise | 55 | 9 | | | MC | | 44 | | 13 | 65 |
| Francesco Molinari | | MC | | | | 52 | | | | MC |
| Matthew NeSmith | | 58 | 21 | MC | 48 | | 34 | | 36 | MC |
| Jim Herman | | | MC | | MC | 53 | | | 53 | MC |
| Harry Higgs | MC | MC | | MC | 59 | | MC | | 19 | 29 |
| Wyndham Clark | 39 | 43 | 60 | 17 | 64 | | | | MC | MC |
| Keith Mitchell | 26 | 3 | 69 | 4 | | | 17 | | 53 | MC |
| Denny McCarthy | | MC | 39 | | 13 | | 34 | | 3 | 55 |
| CT Pan | | 18 | | MC | MC | MC | | | 3 | MC |
| Peter Malnati | | 43 | MC | 31 | MC | | MC | | MC | MC |
| Brandon Hagy | | 26 | 60 | 28 | MC | | 17 | MC | 2 | |
| Hudson Swafford | MC | | MC | | MC | MC | | 6 | MC | MC |
| Patton Kizzire | 3 | 58 | 60 | | MC | | 9 | | MC | 35 |
| Brian Gay | | | MC | | MC | MC | MC | | 46 | MC |
| Steve Stricker | | | | | | | | | 13 | MC |
| Padraig Harrington | MC | | | | | | 69 | 56 | MC | |
| Jason Dufner | | 43 | 57 | MC | MC | | MC | | 53 | MC |
| Jimmy Walker | MC | 72 | 29 | | | MC | 59 | | 58 | MC |
| Yong-Eun Yang | | MC | | Wd | | | | | | |
| Benjamin Cook | | | | | | | | | | |
| Rob Labritz | | | | | | | | | | |
| Rich Beem | | | | | | | | | | |
| Vijay Singh | | | | | | MC | | | MC | |
| Daniel Balin | | | | | | | | | | |
| Alex Beach | | | | | | | | MC | | |
| Omar Uresti | | | | | | | | MC | | |
| Ben Polland | | | | | | | | | | |
| Shaun Micheel | | | | | | | | | | |
| John Daly | | | | | | | | | | |
| Tyler Collet | | | | | | | | | | |
| Stuart L Smith | | | | | | | | | | |
| Frank Bensel | | | | | | | | | | |
| Brett Walker | | | | | | | | | | |
| Sonny Skinner | | | | | | | | | | |
| Joe Summerhays | | | | | | | | | | |
| Pete Ballo | | | | | | | | | | |
| Mark Geddes | | | | | | | | | | |
| Larkin Gross | | | | | | | | | | |
| Derek Holmes | | | | | | | | | | |
| Greg Koch | | | | | | | | | | |
| Brad Marek | | | | | | | | | | |
| Tim Pearce | | | | | | | | | | |
| Patrick Rada | | | | | | | | | | |
| Player | 2012 |
| --- | --- |
| Dustin Johnson | 48 |
| Justin Thomas | |
| Jon Rahm | |
| Bryson DeChambeau | |
| Xander Schauffele | |
| Collin Morikawa | |
| Rory McIlroy | 1 |
| Patrick Reed | |
| Tyrrell Hatton | |
| Webb Simpson | MC |
| Viktor Hovland | |
| Brooks Koepka | |
| Patrick Cantlay | |
| Tony Finau | |
| Hideki Matsuyama | |
| Daniel Berger | |
| Matt Fitzpatrick | |
| Billy Horschel | |
| Abraham Ancer | |
| Paul Casey | MC |
| Sung Jae Im | |
| Scottie Scheffler | |
| Lee Westwood | MC |
| Jordan Spieth | |
| Harris English | |
| Cameron Smith | |
| Tommy Fleetwood | |
| Joaquin Niemann | |
| Will Zalatoris | |
| Ryan Palmer | MC |
| Louis Oosthuizen | 21 |
| Victor Perez | |
| Jason Kokrak | |
| Kevin Na | Dq |
| Sam Burns | |
| Adam Scott | 11 |
| Corey Conners | |
| Marc Leishman | 27 |
| Max Homa | |
| Christiaan Bezuidenhout | |
| Justin Rose | 3 |
| Stewart Cink | MC |
| Kevin Kisner | |
| Robert MacIntyre | |
| Sergio Garcia | MC |
| Shane Lowry | |
| Brian Harman | |
| Matt Kuchar | MC |
| Si Woo Kim | |
| Garrick Higgo | |
| Matt Wallace | |
| Gary Woodland | 42 |
| Carlos Ortiz | |
| Bubba Watson | 11 |
| Matt Jones | |
| Russell Henley | |
| Mackenzie Hughes | |
| Kyoung-Hoon Lee | |
| Brendon Todd | |
| Bernd Wiesberger | MC |
| Lanto Griffin | |
| Jason Day | MC |
| Kevin Streelman | |
| Chris Kirk | |
| Ian Poulter | 3 |
| Joel Dahmen | |
| Cameron Tringale | 72 |
| Sebastian Munoz | |
| Keegan Bradley | 3 |
| Antoine Rozner | |
| Charley Hoffman | MC |
| Andy Sullivan | |
| Talor Gooch | |
| Emiliano Grillo | |
| Erik van Rooyen | |
| Takumi Kanaya | |
| Danie van Tonder | |
| John Catlin | |
| Dylan Frittelli | |
| Chan Kim | |
| Brendan Steele | |
| Harold Varner | |
| Adam Long | |
| JT Poston | |
| Brandon Stone | |
| Sam Horsfield | |
| Martin Kaymer | MC |
| Thomas Pieters | |
| Cameron Champ | |
| Aaron Rai | |
| Branden Grace | MC |
| Danny Willett | |
| Dean Burmester | |
| Lucas Herbert | |
| Martin Laird | 42 |
| Thomas Detry | |
| George Coetzee | MC |
| Sami Valimaki | |
| Rikuya Hoshino | |
| Charl Schwartzel | 59 |
| Rasmus Hojgaard | |
| Alexander Noren | 66 |
| Kurt Kitayama | |
| Adam Hadwin | |
| Maverick McNealy | |
| Tom Hoge | |
| Kalle Samooja | |
| Richy Werenski | |
| Chez Reavie | 62 |
| Tom Lewis | |
| Jazz Janewattananond | |
| Jason Scrivener | |
| Phil Mickelson | 36 |
| Byeong Hun An | |
| Henrik Norlander | |
| Zach Johnson | 70 |
| Lucas Glover | MC |
| Rickie Fowler | MC |
| Robert Streb | |
| Cameron Davis | |
| Henrik Stenson | |
| Aaron Wise | |
| Francesco Molinari | 54 |
| Matthew NeSmith | |
| Jim Herman | |
| Harry Higgs | |
| Wyndham Clark | |
| Keith Mitchell | |
| Denny McCarthy | |
| CT Pan | |
| Peter Malnati | |
| Brandon Hagy | |
| Hudson Swafford | |
| Patton Kizzire | |
| Brian Gay | |
| Steve Stricker | 7 |
| Padraig Harrington | 18 |
| Jason Dufner | 27 |
| Jimmy Walker | 21 |
| Yong-Eun Yang | 36 |
| Benjamin Cook | |
| Rob Labritz | |
| Rich Beem | 36 |
| Vijay Singh | 36 |
| Daniel Balin | MC |
| Alex Beach | |
| Omar Uresti | |
| Ben Polland | |
| Shaun Micheel | MC |
| John Daly | 18 |
| Tyler Collet | |
| Stuart L Smith | |
| Frank Bensel | MC |
| Brett Walker | |
| Sonny Skinner | |
| Joe Summerhays | |
| Pete Ballo | |
| Mark Geddes | |
| Larkin Gross | |
| Derek Holmes | |
| Greg Koch | |
| Brad Marek | |
| Tim Pearce | |
| Patrick Rada | |
Discover the latest articles
Read past articles