AT&T Pebble Beach Pro-Am 2021: Course and current form guides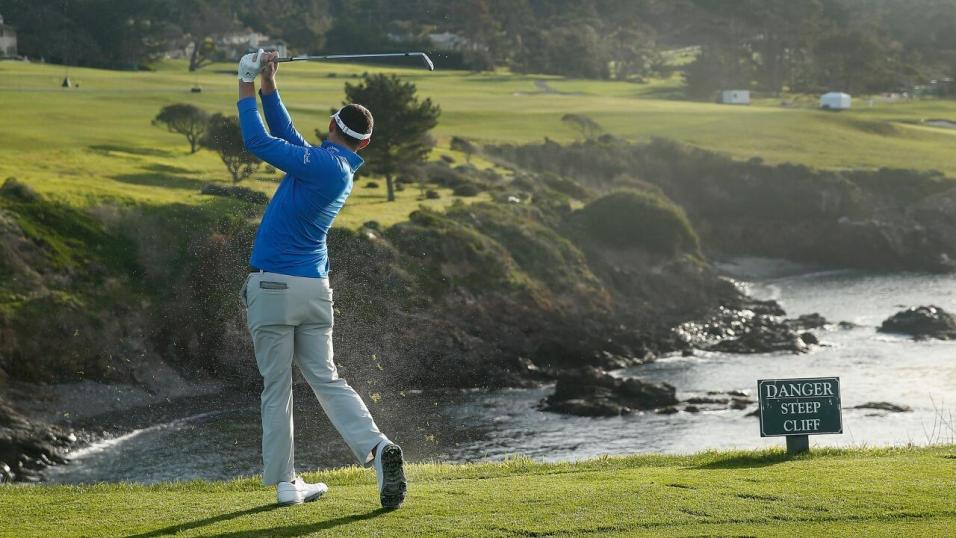 The perils of Pebble Beach, as viewed from the 8th tee
It's another trip to the California coast for the PGA Tour as the players pitch up at Pebble Beach. Words and stats by Andy Swales...
"Spyglass Hill has earned a reputation for being one of the toughest layouts on the PGA Tour schedule."
This year's AT&T Pebble Beach Pro-Am will have a completely different feel than normal.
Because of the on-going Covid-19 pandemic, organisers have decided to ditch the pro-am segment of the tournament.
Although the tournament's name will continue to include the words 'Pro-Am', it will be a professionals-only event, with 156 players competing over two courses, rather than the usual three.
Monterey Peninsula's Shore Course will take a one-year sabbatical, leaving Pebble Beach Golf Links and Spyglass Hill as tournament venues.
The golfers will play one round on each course over Thursday and Friday, with Pebble Beach becoming the sole focus on days three and four.
Check out the latest betting ahead of this week's Pebble Beach Pro-Am
On the tee
With world No 1 Dustin Johnson deciding to withdraw from this week's event, fellow American Patrick Cantlay is 'top seed'.
The world No 11 tied-11th at Pebble 12 months ago and was runner-up last time out in Palm Springs.
Former Pro-Am champion Jordan Spieth has journeyed from Arizona to California on the back of last week's top-five finish at TPC Scottsdale.
Although the 27-year-old will be disappointed with his closing round of 72, he should still feel buoyed by this result - as well as his overall performance.
His highest finish during a mediocre 2020 was a tie-for-ninth at Pebble and, with two months until The Masters, Spieth may already be viewed as a potential winner on another course he loves.
Check out the latest betting ahead of April's US Masters
Phil Mickelson, a five-time winner at Pebble, somehow saves his best performances for this event, even though the 50-year-old is no longer the force he once was. But don't rule out another T-10 this week.
World No 59 Kevin Streelman is another course specialist, while Paul Casey - runner-up two years ago at the Monterrey Peninsula - arrives in the States following a victorious trip to the Middle East.
Enjoying a good run of current form is 33-year-old Swede Henrik Norlander who is now ranked inside the world's top 100 for the first time.
Pebble history
The tournament has been around in various guises for more than 80 years, with Pebble Beach first becoming involved in 1947.
Pebble has hosted this event 73 times, with Spyglass Hill the second most used venue in the history of this popular competition.
Following its debut in 1967, Spyglass will be making its 53rd appearance this week.
Host course Pebble Beach has some of the smallest greens in professional golf.
This photogenic public links, which opened for business in 1919, hugs the Pacific coastline, and is approximately 125 miles south of San Francisco.
Nearby Spyglass Hill, whose own history as a public course began in March 1966, has earned a reputation for being one of the toughest layouts on the PGA Tour schedule.
Although water only comes into play on three holes, there are plenty of tricky doglegs and tree-lined fairways to contend with.
Spyglass, which is generally an inland layout, does not meander too close to the Pacific coast, unlike Pebble Beach.
Stats anomaly
Usually, the overall tournament average for Greens hit in Regulation produces a bigger percentage than for Driving Accuracy.
For example, the largest percentage difference over the last five years (2016-20) belongs to Silverado, where the figure is 17.81.
However, the Pebble Beach Pro-Am is one of those few tournaments where this (%) difference is not Plus (+) but Minus (-), in this case -1.37.
This is testament to a number of factors, including very small greens at Pebble, and less rough than normal because of the presence of amateur golfers - who won't be attending this event in 2021.
Course Comparisons (2016-20)

Driving Accuracy (%)
73.88: Sea Island (RSM Classic) (1/29)
70.05: Pebble Beach (AT&T Pro-Am) (3/29)
52.24: Torrey Pines (Farmers Insurance) (29/29)
Greens in Regulation (%)
75.98: Sedgefield (Wyndham) (1/29)
68.68: Pebble Beach (AT&T Pro-Am) (13/29)
58.99: Innisbrook (Valspar) (29/29)
Putting (GiR)
1.664: PGA West (host) (American Express) (1/29)
1.758: Pebble Beach (AT&T Pro-Am) (18/29)
2.668: Augusta National (Masters) (29/29)
Key: Above stats are for all 29 courses which staged four or more PGA Tour events between January 1st, 2016 and December 31st, 2020. To qualify for a ranking (between 1 & 29), tournaments must have a minimum of 50 players competing over the final two rounds of the event. Averages do not include players who failed to complete at least 54 holes.
Pebble Beach Pro-Am Data (2016-20)
DA: (T10 - 69.80%); (Cat10 - 81.66%)
GiR: (T10 - 71.19%); (Cat10 - 76.07%)
Putts: (T10 - 1.704); (Cat10 - 1.651)
Key: T10 (Average for Top-10 finishers); Cat10 (Average for Top-10 in Category)
Twitter: Andy Swales@GolfStatsAlive
Note: List Contains Leading Reserves
Last 10 Weeks / Pro-Am Form (2011-20)
| Player | W6 | W5 | W4 | W3 | W2 | W1 | W52 | W51 | W50 | W49 |
| --- | --- | --- | --- | --- | --- | --- | --- | --- | --- | --- |
| Dustin Johnson | 1 | | | | 11 | | | | | |
| Patrick Cantlay | | | 2 | | 13 | | | | | |
| Daniel Berger | MC | | | 7 | 10 | | | | | 23 |
| Paul Casey | 12 | 1 | 8 | | | | | | | |
| Matt Kuchar | 42 | | | MC | | | | | | |
| Jason Day | MC | MC | | | | | | | | |
| Si Woo Kim | 50 | MC | 1 | 25 | | | | | | |
| Jordan Spieth | 4 | MC | | | | | | | | |
| Will Zalatoris | 17 | 7 | | | | | | | | 52 |
| Kevin Streelman | 22 | 37 | MC | | | | | | | 32 |
| Sebastian Munoz | MC | | | 65 | 17 | | | | | MC |
| Rickie Fowler | MC | 53 | 21 | | | | | | | MC |
| Adam Long | MC | | 69 | | | | | | | 3 |
| Chez Reavie | MC | | MC | 67 | | | | | | MC |
| Joel Dahmen | MC | MC | MC | | | | | | | 20 |
| Tom Lewis | MC | 42 | MC | | | | | | 23 | |
| Phil Mickelson | 53 | 53 | MC | | | | | | | |
| Rafa Cabrera-Bello | 33 | 35 | 4 | | | | | | | MC |
| Brendan Steele | 30 | | 21 | 4 | | | | | | MC |
| Brian Harman | 36 | | 8 | 56 | | | | | | 30 |
| Michael Thompson | MC | | 5 | 25 | 21 | | | | | |
| Francesco Molinari | | 10 | 8 | | | | | | | |
| Max Homa | 42 | 18 | 21 | | | | | | | 12 |
| Rory Sabbatini | MC | 10 | 12 | MC | | | | | | 40 |
| Alexander Noren | | 37 | 40 | | | | | | | MC |
| Jim Herman | | | MC | 32 | | | | | | |
| Sung Kang | MC | | MC | MC | | | | | | 37 |
| Matt Jones | 30 | 48 | 21 | 11 | | | | | | |
| Henrik Norlander | 22 | 2 | 12 | MC | | | | | | MC |
| Cameron Tringale | 17 | 18 | 56 | | | | | | | |
| Brandt Snedeker | | 32 | MC | MC | | | | | | |
| Chris Kirk | MC | | 16 | 2 | | | | | | 46 |
| Andrew Landry | | | 64 | MC | 38 | | | | | |
| Tom Hoge | MC | MC | MC | MC | | | | | | 3 |
| Nick Taylor | MC | | 47 | 11 | 29 | | | | | |
| Harry Higgs | MC | 65 | | 32 | | | | | | MC |
| Aaron Wise | 66 | | MC | | | | | | | 2 |
| Stewart Cink | 58 | | | 19 | 31 | | | | | |
| Nate Lashley | 17 | | MC | MC | | | | | | 38 |
| Cameron Davis | | 32 | 3 | 31 | | | | | | |
| Branden Grace | | | | MC | | | | | 8 | 40 |
| Harold Varner | 13 | MC | | | | | | | | 71 |
| Kyoung-Hoon Lee | 2 | MC | 32 | 19 | | | | | | 59 |
| Peter Malnati | | 10 | MC | 14 | | | | | | MC |
| Charley Hoffman | MC | Wd | Wd | 14 | | | | | | 46 |
| Wyndham Clark | 36 | 32 | 54 | | | | | | | |
| Sam Burns | 22 | 18 | MC | | | | | | | |
| Scott Piercy | | | MC | MC | | | | | | 40 |
| Mark Hubbard | 30 | | MC | 32 | | | | | | 59 |
| Tyler Duncan | MC | MC | 56 | | | | | | | 23 |
| Luke List | 30 | 10 | 21 | MC | | | | | | MC |
| CT Pan | MC | | MC | MC | | | | | | |
| Troy Merritt | MC | 72 | MC | 56 | | | | | | 40 |
| Austin Cook | MC | | 32 | 47 | | | | | | 63 |
| Maverick McNealy | | MC | 71 | | | | | | | 12 |
| Vaughn Taylor | MC | | 60 | 25 | | | | | | MC |
| Keith Mitchell | MC | MC | | 14 | | | | | | 70 |
| Min Woo Lee | MC | MC | MC | | | | | | | |
| Brian Stuard | 58 | MC | 47 | 47 | | | | | | MC |
| Brian Gay | MC | | MC | 72 | 29 | | | | | |
| Matthew NeSmith | 7 | 48 | MC | MC | | | | | | |
| Ryan Moore | MC | MC | MC | | | | | | | |
| Patton Kizzire | 50 | | 53 | 7 | | | | | | 32 |
| Kristoffer Ventura | | MC | MC | | | | | | | MC |
| Andrew Putnam | 7 | | 21 | MC | | | | | | MC |
| Denny McCarthy | MC | 73 | MC | | | | | | | MC |
| Xin Jun Zhang | 65 | 60 | MC | MC | | | | | | 63 |
| Pat Perez | MC | 69 | MC | 32 | | | | | | 52 |
| Ryan Armour | MC | | 16 | 32 | | | | | | MC |
| Will Gordon | MC | 42 | 64 | MC | | | | | | MC |
| Kyle Stanley | 36 | 18 | 32 | MC | | | | | | 46 |
| Russell Knox | 53 | MC | 16 | MC | | | | | | 23 |
| James Hahn | 10 | MC | 32 | 41 | | | | | | |
| Jhonattan Vegas | 41 | MC | | | | | | | | 20 |
| Davis Riley | 58 | | | | | | | | | |
| Jim Furyk | | | | 47 | | | | | | |
| Patrick Rodgers | MC | MC | MC | | | | | | | 17 |
| Padraig Harrington | MC | 6 | 62 | | | | | | | |
| Adam Schenk | MC | MC | 37 | MC | | | | | | MC |
| Scott Brown | MC | MC | MC | 47 | | | | | | |
| Scott Stallings | 36 | MC | MC | | | | | | | |
| Chase Seiffert | | 60 | 12 | MC | | | | | | 59 |
| Bo Hoag | 36 | 18 | 16 | MC | | | | | | 23 |
| JB Holmes | MC | MC | | | | | | | | |
| Chesson Hadley | | MC | MC | | | | | | | MC |
| Sam Ryder | 57 | 10 | 47 | MC | | | | | | MC |
| Doug Ghim | | 37 | 5 | MC | | | | | | 46 |
| Brice Garnett | MC | | MC | 32 | | | | | | 32 |
| Joseph Bramlett | | 18 | MC | | | | | | | MC |
| Tyler McCumber | | 75 | 40 | MC | | | | | | |
| Kiradech Aphibarnrat | 41 | 60 | MC | | | | | | | Wd |
| Beau Hossler | MC | MC | MC | | | | | | | MC |
| Fabian Gomez | | Wd | MC | MC | | | | | | MC |
| Kramer Hickok | | MC | 21 | 19 | | | | | | |
| Bronson Burgoon | | 42 | 37 | MC | | | | | | MC |
| Josh Teater | | | 40 | | | | | | | |
| Brandon Hagy | | 42 | 21 | MC | | | | | | 40 |
| Roger Sloan | | 53 | 40 | MC | | | | | | MC |
| Cameron Percy | | 48 | MC | | | | | | | Wd |
| Hank Lebioda | | MC | 62 | MC | | | | | | 38 |
| Scott Harrington | MC | MC | MC | | | | | | | MC |
| Zack Sucher | | | | | | | | | | |
| Jason Dufner | MC | 77 | MC | | | | | | | 52 |
| Wes Roach | | | | | | | | | | |
| Nick Watney | | MC | MC | MC | | | | | | MC |
| Kevin Tway | MC | MC | MC | MC | | | | | | |
| Ted Potter | 64 | 18 | MC | MC | | | | | | |
| Aaron Baddeley | | MC | MC | 41 | | | | | | MC |
| Satoshi Kodaira | 63 | MC | MC | 56 | | | | | | 40 |
| Sebastian Cappelen | | MC | 64 | | | | | | | MC |
| Rob Oppenheim | | MC | 47 | MC | | | | | | MC |
| Seamus Power | | MC | | MC | | | | | | |
| Jimmy Walker | MC | MC | 60 | MC | | | | | | |
| Chris Baker | | MC | MC | 56 | | | | | | 30 |
| Ryan Brehm | | MC | | | | | | | | 59 |
| Michael Gligic | | MC | MC | MC | | | | | | MC |
| DJ Trahan | | | | MC | | | | | | MC |
| David Hearn | | MC | 64 | MC | | | | | | |
| Rhein Gibson | | 53 | 40 | MC | | | | | | MC |
| Vincent Whaley | MC | MC | MC | | | | | | | 23 |
| Kelly Kraft | MC | 60 | MC | | | | | | | 52 |
| Ben Martin | | | 56 | | | | | | | |
| Tim Wilkinson | | 73 | MC | MC | | | | | | MC |
| Peter Uihlein | | | | | | | | | | |
| Nelson Ledesma | | MC | 68 | 47 | | | | | | |
| JJ Spaun | | MC | MC | MC | | | | | | 65 |
| Mark Anderson | | MC | MC | MC | | | | | | MC |
| Luke Donald | MC | | MC | | | | | | | MC |
| Matt Every | | MC | MC | MC | | | | | | MC |
| Shawn Stefani | | | | | | | | | | |
| KJ Choi | | 69 | | 71 | | | | | | 46 |
| Bill Haas | | 42 | MC | MC | | | | | | |
| Grayson Murray | 42 | 79 | MC | MC | | | | | | |
| Jonathan Byrd | | | | | | | | | | |
| Michael Gellerman | | MC | MC | MC | | | | | | 69 |
| Martin Trainer | MC | Wd | MC | 47 | | | | | | |
| Seung-Yul Noh | | MC | MC | | | | | | | |
| Greg Chalmers | | | | | | | | | | |
| Johnson Wagner | | | | | | | | | | MC |
| Kevin Chappell | | | | | | | | | | |
| Sean O`Hair | | | MC | | | | | | | |
| Roberto Castro | | | | | | | | | | |
| George McNeill | | | | | | | | | | |
| Andy Ogletree | | MC | | | | | | | | 46 |
| Rafael Campos | | MC | MC | MC | | | | | | 52 |
| Dominic Bozzelli | | | | | | | | | | |
| Sangmoon Bae | | | | | | | | | | |
| Ben Taylor | | MC | MC | MC | | | | | | 65 |
| Akshay Bhatia | | | MC | | | | | | | 52 |
| Ryan Blaum | | | | | | | | | | |
| Ricky Barnes | | | | | | | | | | |
| Jim Knous | | MC | | | | | | | | |
| Michael Kim | 58 | 53 | MC | 65 | | | | | | MC |
| Hunter Mahan | MC | MC | MC | MC | | | | | | 67 |
| John Senden | | MC | MC | | | | | | | |
| Matt Gogel | | | | | | | | | | |
| Kevin Stadler | MC | 77 | MC | | | | | | | MC |
| David Duval | | | | | | | | | | |
| Tom Lehman | | | | | | | | | | |
| John Daly | | | | | | | | | | |
| Bo Van Pelt | 30 | | MC | MC | | | | | | MC |
| DA Points | | | | | | | | | | MC |
| William McGirt | MC | | | MC | | | | | | |
| Kenny Pigman | | | | | | | | | | |
| Kamaiu Johnson | | | | | | | | | | |
| Kevin Hall | | | | | | | | | | |
| Player | `20 | `19 | `18 | `17 | `16 | `15 | `14 | `13 | `12 | `11 |
| --- | --- | --- | --- | --- | --- | --- | --- | --- | --- | --- |
| Dustin Johnson | 32 | 45 | 2 | 3 | 41 | 4 | 2 | MC | 5 | 55 |
| Patrick Cantlay | 11 | | 35 | 48 | | | | 9 | | |
| Daniel Berger | 5 | | | | | 10 | | | | |
| Paul Casey | 64 | 2 | 8 | | | | | | | |
| Matt Kuchar | 38 | 22 | 62 | MC | | | | | | |
| Jason Day | 4 | 4 | 2 | 5 | 11 | 4 | MC | 6 | | |
| Si Woo Kim | MC | 4 | | MC | 35 | | | MC | | |
| Jordan Spieth | 9 | 45 | 20 | 1 | 21 | 7 | 4 | 22 | | |
| Will Zalatoris | | | 68 | | | | | | | |
| Kevin Streelman | 2 | 7 | 6 | 14 | 17 | MC | | 40 | 9 | 63 |
| Sebastian Munoz | | MC | | MC | | | | | | |
| Rickie Fowler | | | | | | | | | MC | |
| Adam Long | MC | MC | | | | | | | | |
| Chez Reavie | 25 | 38 | 2 | MC | 26 | MC | | 62 | MC | MC |
| Joel Dahmen | 14 | | 55 | 48 | | | | | | |
| Tom Lewis | | | | | | | | | | |
| Phil Mickelson | 3 | 1 | 2 | 65 | 2 | | 19 | 60 | 1 | 9 |
| Rafa Cabrera-Bello | MC | 22 | 26 | | | | MC | MC | | |
| Brendan Steele | | | | | | | MC | | MC | MC |
| Brian Harman | | | | | | | MC | 50 | 20 | |
| Michael Thompson | MC | 10 | | MC | MC | MC | 19 | | | 48 |
| Francesco Molinari | | | | | | | | | | |
| Max Homa | 14 | 10 | | MC | | 29 | MC | | | |
| Rory Sabbatini | | MC | 72 | 48 | MC | MC | MC | MC | MC | 15 |
| Alexander Noren | 32 | | | | | | | | | |
| Jim Herman | 55 | | MC | MC | 17 | MC | 27 | MC | | MC |
| Sung Kang | MC | 14 | | MC | 17 | | | | Wd | 63 |
| Matt Jones | 5 | 53 | MC | 23 | 11 | 7 | 45 | 30 | MC | 15 |
| Henrik Norlander | 25 | | | 39 | MC | | | MC | | |
| Cameron Tringale | 64 | 53 | 47 | MC | | | 13 | 22 | 61 | MC |
| Brandt Snedeker | MC | MC | 20 | 4 | 35 | 1 | MC | 1 | | MC |
| Chris Kirk | MC | | MC | 39 | | MC | 61 | 2 | | MC |
| Andrew Landry | MC | | | | MC | | | | | |
| Tom Hoge | 60 | MC | MC | 39 | 41 | MC | | | | |
| Nick Taylor | 1 | 28 | MC | 10 | 30 | MC | | | | |
| Harry Higgs | 18 | | | | | | | | | |
| Aaron Wise | 62 | | 15 | | | | | | | |
| Stewart Cink | 38 | | MC | 55 | 21 | | | | | |
| Nate Lashley | Wd | 45 | MC | | | | | | | |
| Cameron Davis | 38 | 59 | MC | | | | | | | |
| Branden Grace | MC | 28 | 20 | | | | | | | |
| Harold Varner | MC | | | | | | | | | |
| Kyoung-Hoon Lee | | MC | | | | | | | | |
| Peter Malnati | 11 | MC | 35 | MC | 66 | | MC | | | |
| Charley Hoffman | MC | MC | Wd | MC | | | MC | | 35 | MC |
| Wyndham Clark | 18 | MC | | | | | | | | |
| Sam Burns | | | | | | | | | | |
| Scott Piercy | 18 | 10 | 20 | 55 | | | | | | MC |
| Mark Hubbard | MC | | | 62 | 26 | MC | | | | |
| Tyler Duncan | MC | 22 | MC | | | | | | | |
| Luke List | | | | | MC | | | MC | | |
| CT Pan | | | | MC | | | | | | |
| Troy Merritt | 25 | | 8 | MC | MC | MC | MC | | | MC |
| Austin Cook | MC | MC | MC | | | | | | | |
| Maverick McNealy | 5 | | MC | | | | | | | |
| Vaughn Taylor | MC | MC | 55 | MC | 1 | 10 | | MC | MC | 26 |
| Keith Mitchell | 32 | MC | 47 | | | | | | | |
| Min Woo Lee | | | | | | | | | | |
| Brian Stuard | MC | 45 | MC | MC | MC | 21 | | 30 | | |
| Brian Gay | 38 | 7 | 8 | MC | 58 | | 45 | | 20 | MC |
| Matthew NeSmith | 11 | | | | | | | | | |
| Ryan Moore | | | | | MC | | | | 20 | |
| Patton Kizzire | | | | | | | | | | |
| Kristoffer Ventura | MC | | | | | | | | | |
| Andrew Putnam | | 38 | MC | | | MC | | | | |
| Denny McCarthy | | | 66 | | | | | | | |
| Xin Jun Zhang | 64 | | 43 | | | | | | | |
| Pat Perez | MC | MC | 35 | 14 | 41 | 4 | 7 | 50 | 58 | MC |
| Ryan Armour | MC | MC | 20 | MC | | 29 | | | | |
| Will Gordon | | | | | | | | | | |
| Kyle Stanley | | | | | 41 | MC | 61 | | | 48 |
| Russell Knox | MC | 14 | 15 | | MC | | 27 | 28 | MC | |
| James Hahn | MC | MC | 26 | 58 | MC | 29 | MC | 3 | | |
| Jhonattan Vegas | | | | | MC | | | | | |
| Davis Riley | | | | | | | | | | |
| Jim Furyk | MC | 14 | | MC | | 7 | 35 | 30 | 40 | MC |
| Patrick Rodgers | MC | MC | 8 | | | | | | | |
| Padraig Harrington | MC | | MC | MC | 21 | MC | 27 | MC | 7 | 63 |
| Adam Schenk | 50 | 45 | MC | | | | | | | |
| Scott Brown | MC | MC | MC | 58 | MC | 62 | MC | 30 | MC | |
| Scott Stallings | MC | 3 | 7 | 14 | | | | | MC | MC |
| Chase Seiffert | 50 | | | | | | | | | |
| Bo Hoag | MC | | | | | | | | | |
| JB Holmes | 14 | MC | MC | 23 | 11 | 10 | 61 | 50 | MC | 13 |
| Chesson Hadley | 18 | MC | 35 | | MC | 10 | 10 | | | |
| Sam Ryder | | | 68 | | | | | | | |
| Doug Ghim | MC | MC | | | | | | | | |
| Brice Garnett | MC | MC | 35 | | MC | | 19 | | | |
| Joseph Bramlett | 18 | | | | | | | | 40 | MC |
| Tyler McCumber | 32 | | | | | | | | | |
| Kiradech Aphibarnrat | MC | | | | | | MC | | | |
| Beau Hossler | 38 | MC | 43 | MC | | | | | | |
| Fabian Gomez | MC | MC | MC | | | 57 | MC | MC | | MC |
| Kramer Hickok | Wd | MC | | | | | | | | |
| Bronson Burgoon | | | 47 | | 21 | | | | | |
| Josh Teater | MC | 45 | | | | MC | MC | 50 | 35 | MC |
| Brandon Hagy | MC | | | 33 | | 34 | | | | |
| Roger Sloan | | MC | | | | MC | | | | |
| Cameron Percy | | | MC | 10 | MC | 57 | | 62 | | MC |
| Hank Lebioda | MC | 38 | | | | | | | | |
| Scott Harrington | MC | | | | | | | | | |
| Zack Sucher | MC | | | MC | | MC | | | | |
| Jason Dufner | 62 | | | | 51 | | | | | MC |
| Wes Roach | 55 | MC | | | MC | | 32 | | | |
| Nick Watney | MC | MC | 47 | 14 | | 2 | MC | MC | 40 | 6 |
| Kevin Tway | | | | 48 | | | MC | | MC | |
| Ted Potter | MC | MC | 1 | | | | MC | 16 | MC | |
| Aaron Baddeley | 25 | MC | 55 | | 51 | 54 | 56 | 12 | 4 | 6 |
| Satoshi Kodaira | MC | | | | | | | | | |
| Sebastian Cappelen | MC | | | | | | | | | |
| Rob Oppenheim | 38 | | 47 | 8 | MC | | | | | |
| Seamus Power | 38 | | MC | 39 | | | | | | |
| Jimmy Walker | MC | MC | 8 | 55 | 11 | 21 | 1 | 3 | 9 | 9 |
| Chris Baker | 38 | | | | | | | | | |
| Ryan Brehm | 68 | | | MC | | | | | | |
| Michael Gligic | 55 | | | | | | | | | |
| DJ Trahan | MC | 18 | | | MC | | | MC | 40 | 48 |
| David Hearn | MC | MC | MC | MC | 30 | 21 | | | | MC |
| Rhein Gibson | MC | | | | 68 | | | | | |
| Vincent Whaley | 38 | | | | | | | | | |
| Kelly Kraft | | MC | MC | 2 | MC | | | 40 | | |
| Ben Martin | 25 | | 26 | MC | MC | | MC | | | |
| Tim Wilkinson | 25 | | | 39 | MC | MC | 7 | | | |
| Peter Uihlein | MC | | | | | | | | | |
| Nelson Ledesma | MC | | | | | | | | | |
| JJ Spaun | MC | MC | | MC | | | | | | |
| Mark Anderson | MC | | | MC | | | MC | | 35 | |
| Luke Donald | 55 | | MC | 23 | 26 | | | | | |
| Matt Every | 32 | 14 | MC | MC | | | MC | 30 | MC | 31 |
| Shawn Stefani | | | MC | | | | | MC | | |
| KJ Choi | MC | | 26 | MC | MC | | MC | | | 39 |
| Bill Haas | MC | | | | 8 | | | | | |
| Grayson Murray | | MC | 8 | MC | | | | | | |
| Jonathan Byrd | MC | 22 | 62 | | 51 | MC | | | | MC |
| Michael Gellerman | MC | | | | | | | | | |
| Martin Trainer | MC | 28 | | | | | | | | |
| Seung-Yul Noh | | | | 8 | | MC | 19 | 69 | | |
| Greg Chalmers | MC | | MC | MC | MC | 51 | MC | | | |
| Johnson Wagner | MC | 57 | 55 | | | MC | | MC | | MC |
| Kevin Chappell | 25 | | 8 | 48 | MC | 18 | 35 | MC | MC | 69 |
| Sean O`Hair | 50 | Wd | 73 | MC | 35 | 29 | 56 | 16 | 29 | 31 |
| Roberto Castro | MC | 53 | | MC | 8 | MC | 19 | MC | 50 | |
| George McNeill | MC | | MC | | | | 52 | | MC | MC |
| Andy Ogletree | | | | | | | | | | |
| Rafael Campos | | | | | | | | | | |
| Dominic Bozzelli | MC | MC | MC | MC | | | | | | |
| Sangmoon Bae | | MC | 15 | | | | MC | | 61 | |
| Ben Taylor | MC | | | | | | | | | |
| Akshay Bhatia | | | | | | | | | | |
| Ryan Blaum | | | 73 | MC | | | | | | |
| Ricky Barnes | MC | MC | 62 | 48 | 41 | MC | MC | MC | 3 | |
| Jim Knous | | MC | | | | | | | | |
| Michael Kim | | MC | | | | | | | | |
| Hunter Mahan | MC | MC | MC | MC | MC | 54 | 6 | 16 | 15 | 2 |
| John Senden | 67 | MC | | MC | | | MC | | | |
| Matt Gogel | | | | | | | | | | |
| Kevin Stadler | MC | | | | | | 45 | 3 | 25 | 55 |
| David Duval | Wd | MC | MC | MC | MC | MC | 35 | MC | MC | 66 |
| Tom Lehman | | | | | | MC | | | | |
| John Daly | | | | | | MC | MC | MC | | MC |
| Bo Van Pelt | MC | | | | MC | MC | MC | | | MC |
| DA Points | MC | MC | MC | 39 | MC | MC | Dq | MC | 67 | 1 |
| William McGirt | | | 26 | MC | MC | 21 | MC | 16 | MC | 31 |
| Kenny Pigman | | | | | | | | | | |
| Kamaiu Johnson | | | | | | | | | | |
| Kevin Hall | | | | | | | | | | |
Discover the latest articles
Read past articles