Cricket Betting: Flintoff, Atherton and others set bad example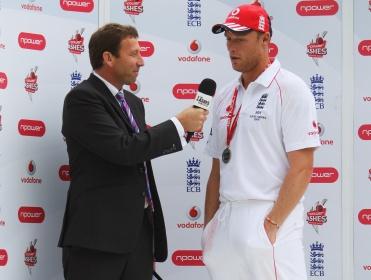 Atherton and Flintoff in happier times
A string of disagreements between international crickets and ex-players turned pundits lead Frank Gregan to wonder where the respect has gone.
Professional cricket is no guarantee of fame and fortune. The pyramid's base is wide and only a small percentage of those who are paid to play get to represent their country. When retirement comes around for those who have played international cricket it must be hard to accept they are no longer living the dream. A media gig, as a commentator or pundit, enables past greats to stay involved in the game, but again the pyramid is vast. There are lots of ex-internationals and not many jobs to go around.

When players enter the press rooms and commentary boxes, they are no longer held in the same high regard by their fellow pros. The line has been crossed, as some recent, scathing attacks on pundits by high profile players demonstrate. The most ill-advised of these was paper wielding Denesh Ramdin's reaction to Sir Viv Richards' criticism of his performances. Inept, amateurish and embarrassing, Ramdin was bang out of order.
But two other incidents are worthy of further investigation. Kevin Pietersen incurred the wrath of the ECB after his tweet which cast doubt on the credentials of Nick Knight who holds one of the most sought after gigs in English media, a job with Sky Sports. KP tweeted: 'Please tell me how Nick Knight has walked his way into the commentary box for the home Tests? RIDICULOUS.'
Was that tweet really worthy of a fine? This is England not North Korea, it seems to many that it was a fair question, worthy of an explanation rather than punishment. It's a hot topic, should the expert opinion be delivered by only the very best players or is it a case of just having played Test cricket is enough?

Nick Knight got the job because he is articulate, photogenic and knowledgeable. He's there on merit, he may not have played as many Tests as KP or have anywhere near as good a batting average but Knight's analysis, rather than his batting record, is what matters in this instance. He engages the public and on the whole his assessments are fair and insightful. That's how he "walked into the commentary box."

The third attack on a former player turned media man was last week when Andrew Flintoff let Michael Atherton have it with both barrels at a Sky TV party. Freddie's four letter tirade contained the kind of comments that the pied piper of British supermarkets shouldn't be making publicly, not unless we want an entire generation to learn some special words way before their time.

But look beyond the cursing and you'll see that Freddie has a point. Atherton has alienated himself from his former colleagues with some scathing and hurtful comments. His description of 50 over skipper Alastair Cook as a "plodder" with the bat and a "donkey" in the field were churlish. Cook is Speedy Gonzalez at the crease compared with Atherton who is right up there with Geoff Boycott and Chris Tavare in the boring batsmen hall of fame.

It's a two way street, the players need to grow a tougher hide and leave their egos in the pavilion but the poacher turned gamekeeper in the commentary box needs to treat the current pros with the respect they deserve.

Speaking of respect, the Australians are in town. The first of a five ODIs gets underway on Friday. It's indicative of how highly thought of they are that both sides are available to back at around 1/12.0. That's a generous price for the English who continue to look the real deal on home soil.