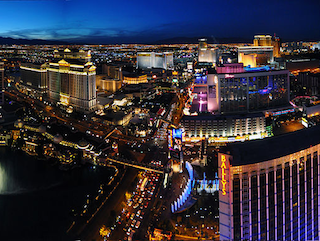 Poker players heading to Las Vegas for the first time have plenty to choose from when it comes to low stakes live cash games.
On the strip, the MGM Grand, Mirage, Flamingo, and Bally's all frequently have low stakes LHE games going. One can also generally find a $4-$8 LHE game at the Bellagio and the Venetian, although there most of the LHE action will be $10-$20 and higher.
While not every casino in Sin City includes poker among its offerings, many do. Indeed, just sticking to the "strip" -- i.e., that long stretch of Las Vegas Boulevard where the Bellagio, the Venetian, and other hot spots are located -- there are something like 20 different poker rooms from which to choose. And there are about 30 more if one ventures elsewhere such as the "downtown" area where Binion's and the Golden Nugget are located or to other popular off-strip casinos such as the Orleans or Red Rock.
Hold'em remains the most popular game in town, with every poker room in Las Vegas primarily -- and in many cases exclusively -- offering fixed limit and/or no-limit hold'em.
Low stakes players looking for fixed limit hold'em games are often going to encounter rooms where there are perhaps only one or two tables of LHE being spread, or perhaps none at all. In many cases, the lowest stakes available for LHE will be $4-$8 or sometimes $3-$6, but there are rooms where $2-$4 is routinely offered as well.
Incidentally, minimum buy-ins for these games are generally five big bets -- so $20 for $2-$4, $30 for $3-$6, and $40 for $4-$8 -- although one will certainly want to buy in for more than that when first sitting down. (There is no maximum limit for buying into LHE games.)
On the strip, the MGM Grand, Mirage, Flamingo, and Bally's all frequently have low stakes LHE games going. One can also generally find a $4-$8 LHE game at the Bellagio and the Venetian, although there most of the LHE action will be $10-$20 and higher. One will also find a number of rooms with either no LHE or just one table full of players who aren't looking as though they are going to move and open up a spot any time soon.
Venture off the strip, however, and the low stakes LHE player is likely going to find games going in most rooms. Places like the Orleans, Red Rock, and South Point are often spreading at least one or two $2-$4 and $4-$8 LHE games (sometimes more), as are Binion's, Golden Nugget, Palms, and elsewhere.
Meanwhile, low stakes players looking for no-limit hold'em will have little trouble finding games wherever they go in Las Vegas. Every room has $1-$2 or $1-$3 NLHE games on offer, although when it comes to the less popular rooms it will happen that there will be times of day and night when there aren't enough players to get a game going.
For advice about the low stakes NLHE scene in Las Vegas, I asked my friend Bob Woolley, author of the popular Poker Grump blog, to provide a few pointers. A resident of Las Vegas and full-time poker player, Bob has likely visited and played in every room in LV -- many multiple times -- and is thus a great resource for us here.
Bob reminds me that one poker room on the strip, Bill's Gamblin' Hall, actually sometimes spreads a $0.50-$1 NLHE game with a minimum $20 buy-in (maximum $200), perhaps not a bad option for the absolute novice who just wants a taste of NLHE.
Buy-in limits for the $1-$2 games varies from room to room. For example, at the MGM one can buy-in for as little as $60 or as much as $300, while at the Bellagio the min. is $100 and max. $200.
Bob points out that with the smaller rooms -- such as Bill's Gamblin' Hall -- one generally is going to have to go either on the evenings or weekends to find games at all. The most popular rooms, including the MGM, Venetian, Caesars, Aria, Mirage, and Bellagio, will usually have games running at all hours, but if heading elsewhere one might want to call ahead first.
I asked Bob which rooms he would rate as the toughest in terms of competition, and he rightly pointed out to me how such evaluations can be very subjective. He did point out that he's encountered tough $1-$2 and $1-$3 games at the Wynn, Red Rock, Golden Nugget, Aria, and Treasure Island -- though, of course, it all depends on your table draw.
He did offer a kind of general rule of thumb that one often finds the tougher games tend to occur in the more aesthetically-pleasing rooms, meaning that for softer games one might consider seeking out games at relatively less-upscale locales like the Imperial Palace, Hooters, O'Shea's, Stratosphere, Luxor, Tuscany, Excalibur, Riviera, or Fitzgerald's.
But for the low stakes NLHE player hoping to find a seat in a $1-$2 game without a lot of hassle -- and who doesn't necessarily want specifically to play during "prime time" (i.e., nights or weekends) -- Bob says the MGM, Mirage, and Planet Hollywood are all reasonably good choices for not necessarily tough games. (Though again, one can always draw a bad table.)
Finally, when it comes to non-hold'em fare, the choices are quite limited, especially for those looking to stick to low stakes games.
Some rooms -- such as Bellagio, Venetian, and Aria -- have been spreading $1-$2 or $1-$3 pot-limit Omaha games on occasion. I even remember the MGM doing so, too, a couple of summers ago, though not often. And at the busiest rooms one can also sometimes find Omaha/8 or mixed games as low as $4-$8, though the majority of rooms never spread non-hold'em games.
However, if you are with a group and have enough to start a low-limit mixed game, just ask and some rooms will gladly deal such games for you. I know I've had great fun at places like MGM, Imperial Palace, and the Hard Rock (before it was downsized last summer) playing $1-$2 mixed games with friends.
If you're about to visit Vegas for the first time and are looking for more information about low stakes cash games, let me also point you to a couple of other resources.
The All Vegas Poker website is an excellent repository of information. There you'll find highly detailed reviews of all the poker rooms in LV that include current information on what games/stakes each offers.
Also, Bryan Clark recently filed a "Status of Las Vegas Poker - Summer, 2011" report for Two Plus Two Magazine that includes charts detailing what many rooms are currently offering.