Tourney Strategy: The Short-Stack Shove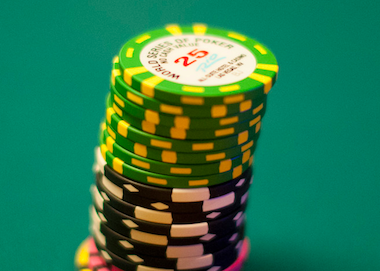 Players have differing views over how best to manage a short stack in tournaments.
Becoming short-stacked in a no-limit hold'em tournament is never ideal, although some players manage the situation with less anxiety than others. Most are aware that it is not recommended to allow one's stack to become so short that an all-in shove no longer can encourage folds. Still, players exhibit a wide range of thinking when it comes to deciding when it is most prudent to put one's short stack at risk. I've made it back to Las Vegas where I'll be helping cover the rest of the 2012 World Series of Poker. Yesterday I witnessed an example of a player shoving his short stack in a spot where others may well have chosen to act otherwise. It was the final table of Event No. 35, the $2,500 mixed hold'em event. Eight players remained, and in a NLHE hand Phil Ivey had opened with a minimum-raise from the cutoff. Then Samuel Golbuff, sitting one seat over on the button, reraised all in for 159,000 total -- just under 16 big blinds at the time. The blinds folded and Ivey quickly called with his 8d-8s, leaving himself just 11,000 behind. Golbuff then tabled his hand -- 6h-2s. His reraise-shove was a big, bold bluff, and he'd been called by the eight-time bracelet winner. Golbuff was bailed out, though, when the board rolled out 5c-3c-2h-Ks-4s to give him a winning straight. Ivey would soon exit in eighth place. Golbuff had found himself down in what he considered the danger zone with his stack of almost 16 big blinds. However, rather than allow Ivey to steal his button and perhaps choose another opportunity to push before the blinds came back around, he thought he'd try to push Ivey off his hand instead. If Ivey had folded, Golbuff would've picked up a little over 40,000 or a 25% increase to his stack. That's a significant reward, although he might have picked a better spot -- and a better hand -- with which to make the move. Later on yesterday in Event No. 38, a $1,500 no-limit hold'em event, the opposite extreme was exhibited in a hand involving Chad Brown. Brown tweeted about the hand afterwards. "Something I have never seen before in a wsop," Brown wrote. "In 2-4 hundred blds player limps on bt for 400 w 275 behind. Mucks on flop. Lmao." Here the player on the button had already either experienced some Ivey-like misfortune to become crippled to less than two big blinds, or had made other misjudgments to allow his stack to become that depleted before shoving earlier. In any event, as Brown's incredulity indicates, the limp-and-fold was hardly correct -- two errors, really. Brown had never seen a play like that at the World Series of Poker, and indeed, most players recognize having a stack of 10 big blinds or less essentially eliminates the possibility of post-flop play, forcing one into all-in-or-fold mode before the flop. That said, there are some players who are comfortable with seeing flops cheaply by limping or raising the minimum, then folding with shorter stacks. The most conspicuous example of such a player is probably Phil Hellmuth, one of the most successful players in WSOP history. I am recalling a WSOP "Hand of the Day" report from last summer in which I shared a couple of instances of Hellmuth seeing flops then folding with stacks of less than 10 big blinds. Both were plays others questioned, although it is hard to argue against Hellmuth's record of tourney success. Survival is paramount in no-limit hold'em tournaments. But don't let your desire to keep your seat prevent you from utilizing your chips effectively while you still have them. Join Betfair Poker Now.
Most players recognize having a stack of 10 big blinds or less essentially eliminates the possibility of post-flop play, forcing one into all-in-or-fold mode before the flop.