The Top Five Poker-Playing Presidents
Poker has always been a favoured game among U.S. presidents, perhaps in part because of the many ways the strategies and challenges afforded by the game tend to overlap with those of politics. Stories of poker-playing presidents are well known, despite the efforts by some of them not to let their interest in the game become publicized because of the potential political damage. While being a card player certainly can help a president connect with some citizens, moral objections to gambling by others can make being associated with poker a potential deficit, too. For instance, when current president Barack Obama was initially running for the office a few articles appeared reporting how Obama was an avid poker player, noting how as a state senator Obama found poker a ready means to network and get to know fellow Congressmen as he made his rise through the political ranks. However, stories of Obama's card-playing have been less frequently told since he has taken office, no doubt because of the higher political "stakes" (so to speak) associated with his every move. Still, many have argued persuasively that the skills one develops as a poker player can serve a president particularly well. Being able to weigh risk and reward, to be calculating enough to think several steps ahead, and to read others' bluffs are all part of both poker and being a president. Many presidents in U.S. history are known to have been poker players, even though the game really didn't begin to spread until the early-to-mid 19th century. Here listed in reverse order are the top five presidents according to their reputation as players.
5. Warren G. Harding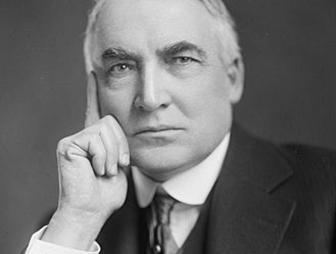 Many presidents continued to play after taking office, but Warren G. Harding's twice-a-week games with members of his cabinet were probably more well known than most. In fact, his cabinet became known as the "poker cabinet" thanks to the ongoing game, which most report was highly competitive. Harding is said to have insisted to those who played with him not to worry about the differences in rank at the table, an issue that comes up frequently in stories about presidential poker games.
While Harding sneaks into the top five thanks to his dedication to the game, others rank ahead of him in terms of their skill primarily because of a famous story of Harding once losing the White House china in a game of cards. However, the game in which Harding lost was something called "cold hand" -- really just gambling to see who draws the highest card, with the winner getting to name the stakes -- and so we'll dock Harding for being too loose of a gambler but not for his poker-playing ability.
4. Harry Truman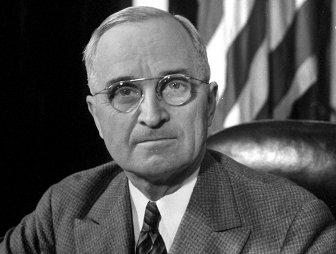 Harry Truman was likewise an ardent poker player as well as a somewhat loose player who loved to gamble. After learning the game as a soldier in WWI, he continued to play his entire life including while as president, and in fact had a chip set designed with the presidential seal. The famous saying often associated with Truman "The Buck Stops Here" and which he kept on a sign on his desk is in fact derived from poker, with the "buck" referring to the buck knife sometimes used as a button in early poker games.
Truman is said to have played poker with members of the press while aboard the U.S.S. Augusta in August 1945 during the days when the decision was made to drop the atomic bombs on Japan. As the poker writer David Spanier once explained, however, such was not "proof of Truman's acting callously or superficially in the face of great events," but rather a means to seek relief during a period of great stress while formulating the decision. Another famous poker game following WWII came when Winston Churchill came to the U.S. where he ultimately delivered his famous "Iron Curtain" speech affirming the alliance of the U.K. and America, and they played a game with the press the night before.
Truman loved to play games involving wild cards and was on the loose side in terms of his style, and while competitive was known for appreciating the entertainment and social aspects of the game as much or more than the financial rewards it could offer.
3. Franklin D. Roosevelt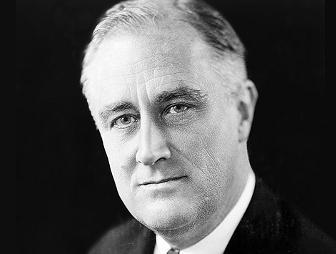 Truman of course succeeded Franklin D. Roosevelt as president when the latter died in 1945, and in fact is said to have been in the middle of a poker game when he was delivered the news of FDR's passing. Roosevelt was likewise dedicated to low stakes stud poker and is also known to have sought relief from the pressures of WWII by engaging in lengthy games. While it might be apocryphal, some have alleged Roosevelt occasionally could be heard riffling poker chips while delivering his famous "Fireside Chats" over the radio during the war.
Roosevelt was apparently a skillful player although he wasn't above using his position occasionally to help ensure his success. For example, every year he would host a game on the last night of a Congressional session in which there was a rule that whoever was ahead at the moment the session adjourned would be declared the winner. A story goes that once FDR was doing badly in the game when the call came that the session had concluded. However, Roosevelt pretended it was someone else, then a couple of hours later when he was ahead had someone bring him a phone and then reported to the others the session was over, thus making him the winner.
It wasn't until the next day that the others in the game found out the session had ended much earlier! For such competitiveness and cunning, we'll give FDR third position in our rankings.
2. Dwight Eisenhower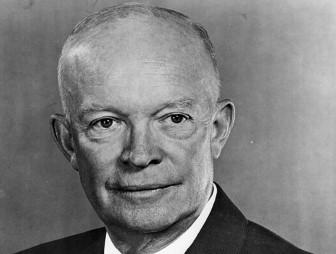 By all accounts the 34th president of the U.S. Dwight Eisenhower was an especially good poker player who learned the game in his youth, studied the odds and used that knowledge to his advantage, then continued to play and consistently win while in the military where he'd become a five-star general during WWII.
"Ike" would play regularly with George Patton during the war and one famous story that comes from their game concerns Eisenhower taking pity on an officer who had lost badly one night, so much so that the stakes were of significance to him. Eisenhower arranged with others in the game to lose on purpose to the soldier the next night in order to allow him to recover his losses.
The story continues with Eisenhower taking to Patton about discontinuing the game -- at least for money -- but the decision was made not to play at all thereafter. While poker purists may find fault in "Ike" and regard his compassion for a losing opponent a flaw in his game, his obvious skill at poker earns him a spot close to the top in the list of poker-playing presidents.
1. Richard Nixon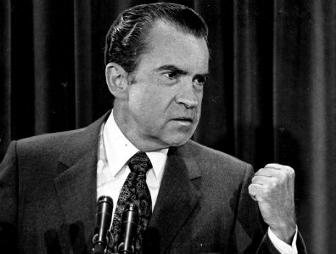 By contrast, Eisenhower's vice-president Richard Nixon by most accounts apparently possessed the killer instinct when it came to poker. Despite being raised a Quaker and thus taught to avoid gambling as sinful, Nixon famously became a highly successful poker player while serving in the Navy during WWII, with many of those who played with him then describing him as not only the best player among the officers, but the best they'd ever seen.
Nixon studied the game with great intensity, and was known as a tight player who could successfully run big bluffs when circumstances called for doing so. He apparently left the Navy having won and kept a significant amount from his fellow officers, and stated himself that the funding of his first campaign for a U.S. House of Representatives seat in 1946 was supplemented significantly by his poker winnings. Accounts vary, but many suggest poker winnings comprised most of the $10,000 that Nixon speaks of as being used for that initial campaign.
While Nixon claimed not to have played much poker after he got into politics, he did continue to play with fellow Congressmen with one of them -- later Speaker of the House Tip O'Neill -- later insisting that Nixon actually wasn't as good a player as others suggest. But his reputation as the best ever poker-playing president nonetheless prevailed, even while his reputation as a president was damaged irreparably by the Watergate scandal and his becoming the only president ever to resign the office.
It was Albert Upton, one of Nixon's professors back at Whittier College, who when asked by an earlier biographer about his student suggested that "a man who can't hold a hand at a first-class poker table is unfit to be President of the United States."
While the application of that idea to Upton's most famous student might yield some ambiguous conclusions given how Nixon's presidency unfolded, the general idea most certainly still applies. Knowing how to play poker and the strategies involved definitely seem like they apply readily to the many tasks and challenges that come with being a U.S. president.
Discover the latest articles
Read past articles