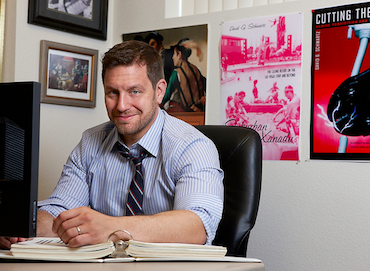 David G. Schwartz, author of Roll the Bones: Casino Edition
Last week I reviewed David G. Schwartz's Roll the Bones: Casino Edition, an updated version of his terrific history of gambling that concentrates especially on the origin and growth of casinos throughout the world. I had a chance to talk recently with Schwartz about his background and current position as the Director of the Center for Gaming Research at the University of Nevada Las Vegas, as well as about his book, humans' urge to gamble, and how poker fits into the history of casinos. Short-Stacked Shamus:  Talk a little about the path you took that brought you to UNLV to head its Center for Gaming Research. David Schwartz:  I was born in Atlantic City and grew up there, then worked in a couple of casinos before going off to college. After that I decided I wasn't too interested in working in a casino again, and so went to graduate school to study history because I always enjoyed studying history. When it came time to write a dissertation, I was searching for a topic that hadn't really been written about before, and the idea came to me to write about casinos and how they developed and the history of gambling. SSS:  Because the topic hadn't been covered so much by others...? DS:  Right.  Later I found out there was a good reason people hadn't written a lot about the history of gambling and casinos, because it doesn't really make you the most marketable job candidate for a job in a history department. But at the time I was blissfully unaware and just plunged through and did it, with my research taking me to Las Vegas and UNLV along the way. When I finished I went back to Atlantic City and did end up working in a casino for a while in surveillance. Then I found out about the opening for Director of the Center for Gaming Research at UNLV and applied without really thinking they would ever hire me, but lo and behold they did. And here I am about 12 years later. SSS:  So you got to UNLV and eventually there came the first edition of Roll the Bones. Explain how this new version differs from the earlier one. DS:  Well, to go back... soon after I got to UNLV I published my dissertation as a book (Suburban Xanadu). Then I started on a second one about the Wire Act, online gambling, and the mob when I was approached by an editor from Gotham Books asking about my writing a big history of gambling throughout the world. This was about 2004, a time when the big thing in publishing were these books that told the story of the world via an unusual angle -- books like Cod: A Biography of the Fish That Changed the World by Mark Kurlansky or ones about tobacco and other things. And so Gotham was looking for that sort of big book but about gambling. At first I wasn't too sure I wanted to take on something that big, especially since I wasn't really a Europeanist and knew it would require a lot of time and work. Then they said there was an advance involved, and I said "Okay, sign me up!" SSS:  And that became the first edition of Roll the Bones. DS:  Right... it came out in 2006. Since then the book went out of print and Gotham let me get the rights back to the book. I basically had three options: (1) do nothing and be sad the book was no longer in print; (2) republish it as it was before; or (3) do a substantially different edition. I took the third option as a chance to redo the book in light of some readers' feedback and recent developments in gambling. SSS:  What are some of the differences, then? DS:  Well, some of the readers said they enjoyed the older material, but most tended to prefer the chapters covering later years and especially those dealing with casinos. So I took out some of the lottery and horse racing material and made the book's focus just on casinos. I also added material covering the years since the first edition discussing the recession and its effect on the industry as well as the growth of casinos in Asia. SSS:  It's kind of a unique decision, really, to carve an original book down and actually jettison some material rather than simply adding more. DS:  One reason why I did it is that I'm teaching a class called "The History of Casinos" and I wanted an edition of the book that I could assign to the students without telling them to ignore the first 200 pages. And I'm hoping perhaps some other people might teach similar classes and the book can be adopted for their courses, too. SSS:  In the book you cover a variety of gambling games and prove how gambling has been something humans have done pretty much in every culture throughout history. Do you think wanting to gamble is something humans are born with or are we somehow nurtured into acquiring that urge? DS:  Well, I'm not an expert in psychology, but my uninformed opinion is that the desire to gamble or take risks is something we're born with. We all know some people who really love gambling and who will gamble on anything, no matter the odds.  And then we know others that just don't go for it. But I think that for those who do like to gamble it is something they are born with... I don't think you can really learn to have that desire. I do think you can learn how to play gambling games, but you can't really teach that love for gambling that some people have and some people don't. SSS:  Would you say that this urge to gamble or take risks is maybe connected to our desire for self-preservation? That it's kind of part of our survival instinct? DS:  Yeah, I think it's there. I also think it's kind of a temperament thing where people have it to different degrees. But pretty much everyone likes some kind of risk-taking -- the question is how much or how little risk each person is willing to take. SSS:  Let me ask one other question of you about poker specifically.  Your book covers a variety of different gambling games, including poker. In our little poker world we're constantly talking to each other about how our game is different from other gambling games because of its skill component. That is to say, unlike roulette or craps or other casino games that are essentially chance-based, there is skill involved in poker. I'm wondering... would you call this effort to distinguish poker from other gambling games a recent development? DS:  Well, the definition of gambling has changed so much. There used to be a much bigger group of behaviors that were thought of as gambling. If you go back to the 17th century, people weren't really too sure about, say, insurance, because it seemed like a form of gambling. Aren't you betting your ship is going to sink (or whatever else you're insuring)? Or buying and trading stock... that was also considered gambling. What happened was this switch to commercial or mercantile gambling that started in the 17th century and really picked up steam in the 18th and 19th centuries, and that's when gambling started to become more narrowly defined as bank games or people betting "against the house." SSS:  Ah, yes... and poker is something different. We don't bet against the house but against other players. DS:  Right, poker is clearly not that. It's obviously a social game and resembles other social games that don't involve betting money. But it also resembles social games in which money is sometimes wagered. Take for example golf. That's a game which a lot of time involves gambling.   But ultimately poker is pretty unique. It's clearly not a "bank game." It also is different from the other casino games. And I think the argument for it being a skill game is very compelling. SSS:  So you might say it's a little strange that many people do group poker in with the other casino games, since it's so different in so many respects.   DS:  Yeah, it is kind of funny. In fact you'll find some people who think that video poker -- in which you do play against the house -- is actually somehow the proper form of the game, and this other version where people play against each other is not! Click here for information about how to obtain Roll the Bones: Casino Edition (available in both paperback and electronic editions). Join Betfair Poker Now.
"I think that for those who do like to gamble it is something they are born with... I don't think you can really learn to have that desire.  I do think you can learn how to play gambling games, but you can't really teach that love for gambling that some people have and some people don't."