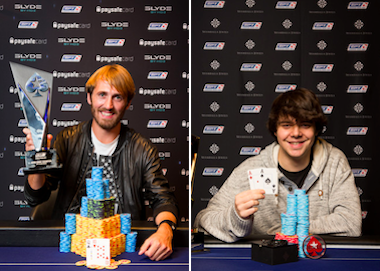 2012 EPT San Remo Main Event champion Ludovic Lacay (left) and High Roller winner Benny Spindler (right) (Photos: PokerNews/PokerStars/Neil Stoddart)
After spending a couple of weeks in France for the 2012 World Series of Poker Europe, many players made their way to San Remo, Italy for the latest stop in Season 9 of the European Poker Tour. A full schedule of more than 30 events culminated this week with the €10,000 + €300 High Roller event and the €5,000 + €300 Main Event, with Benny Spindler emerging as the High Roller champ while Ludovic Lacay of France took the Main Event title. High Roller In the High Roller event, an eight-handed, no-limit hold'em tournament, a total of 74 players entered with 10 of those taking the option to rebuy, thus creating a total prize pool of €823,200. Benny Spindler overcame a tough final table to win, including High Roller-regular Philip Gruissem (who finished sixth), Joseph Cheong (who took fourth), and eventual runner-up Keven "Stammdogg" Stammen. The heads-up battle between Spindler and Stammen began with Spindler enjoying a big advantage with more than 3.4 million chips to the 791,000 of Stammen. The American fought back, however, and after closing the gap the pair paused proceedings to make a deal that lessened the divide between first- and second-place money. Those two would continue for what amounted to about four hours' worth of heads-up action, with several lead changes along the way. Finally Spindler had regained a better than 3-to-1 lead over Stammen when a hand arose in which Stammen picked up 7d-7s but Spindler had caught Ad-As, and when the aces held, Spindler had won. For the young German known as "toweliestar" and "psychobenny" online, the victory marks yet another significant score following his win at the 2011 EPT Main Event in London (for £750,000), a win in the 2011 EPT Tallinn High Roller event, and a second-place finish in the High Roller at the 2011 EPT Grand Final in Madrid, Spain. 2012 EPT San Remo High Roller final table payouts (*reflects two-way deal): 1st: Benny Spindler (Germany) -- €253,000* 2nd: Keven Stammen (United States) -- €200,000* 3rd: Joel Nordkvist (Sweden) -- €98,500 4th: Joseph Cheong (United States) -- €74,100 5th: Kent Roed (Norway) -- €57,600 6th: Philip Gruissem (Germany) -- €41,200 7th: Igor Kurganov (Russia) -- €32,900 8th: Igor Yaroshevsky (Ukraine) -- €24,700 Main Event Meanwhile, the Main Event at EPT San Remo attracted a big field of 797 players, thus building a whopping prize pool of €3,865,450. The top 120 finishers divided those riches, with many familiar names among those cashing yet failing to reach the eight-handed final table, including Liv Boeree (120th, €8,000), Chris Moneymaker (116th, €8,000), Ana Marquez (104th, €8,000), 2012 WSOP "Octo-Niner" Marc-Andre Ladouceur (91st, €10,000), Oleksii Kravchuk (85th, €10,000), Stephen Chidwick (83rd, €10,000), Roberto Romanello (65th, €12,000), David Vamplew (62nd, €12,000), Mike Watson (59th, €12,000), Shaun Deeb (48th, €14,000), Justin Bonomo (36th, €16,000), Isaac Haxton (26th, €19,000), Yevgeniy Timoshenko (23,000), Matt Salsberg (16th, €27,000), Michael Benvenuti (14th, €32,000), and Iulian-Georgian Ruxandescu (12th, €40,000). By the time Day 6 began and just eight players remained, it was the Canadian Jason Lavallee sitting atop the counts with Ludovic Lacay of France not far behind. Those two would continue to battle for the top spot as short stacks Ismael Bojang, Adrian Piasecki, and Micah Raskin successively hit the rail. By then Lacay had pushed out in front with more than 10 million while the nearest challenger, Angelo Recchia of Italy, sat with 6.7 million. Following the elimination of Jason Tompkins in fifth, Recchia's fortunes would take a downturn, and before long the Italian was all in with Ac-7c against Lacay's Jh-Js. The jacks held, and they were down to three. Shortly after that hand the Russian Artem Litvinov was all in with his relatively short stack after a 2d-5s-6s flop and holding 8s-7s for a straight flush draw. He was up against Lacay's 8c-6h (pair of sixes), and after the 10c turn and Kc river Litvinov was out. Heads-up play began with Lacay enjoying almost a 2-to-1 lead over Lavallee with 15.8 million to Lavallee's 8 million. As happened in the High Roller event, the pair struck a deal to tighten up the payouts, leaving €100,000 for which to play. It would take less than an hour to find a winner. After Lacay chipped Lavallee down under 5 million, a hand arose in which the pair got all of Lavallee's stack in on a Qd-4c-10c-Jh board with Lacay holding Qc-10h for two pair and Lavallee 8c-6c for a club flush draw. The river then brought the 10d, improving Lacay to a full house and giving him the title. After several years' worth of deep runs and having accumulated over $2 million worth of tourney winnings, the victory marks Lacay's biggest ever score, his previous career best coming at the 2009 WSOP Main Event where he finished 16th to earn $500,557. 2012 EPT San Remo Main Event final table payouts (*reflects two-way deal): 1st: Ludovic Lacay (France) -- €744,910* 2nd: Jason Lavallee (Canada) -- €538,089* 3rd: Artem Litvinov (Russia) -- €283,000 4th: Angelo Recchia (Italy) -- €225,000 5th: Jason Tompkins (Italy) -- €171,000 6th: Micah Raskin (United States) -- €132,000 7th: Adrian Piasecki (Poland) -- €96,000 8th: Ismael Bojang (Germany) -- €65,450 Join Betfair Poker Now.
In the High Roller event, Benny Spindler's heads-up match with Keven Stammen went for about four hours, with several lead changes and both players come back from big deficits before Spindler finally won. Meanwhile in the Main Event, Ludovic Lacay began heads-up play with a 2-to-1 lead over Jason Lavallee, and within an hour managed to secure the last of Lavallee's chips to win the EPT trophy.