x_pirito And qspa8i Emerge Victorious From GSOP 9 Event #4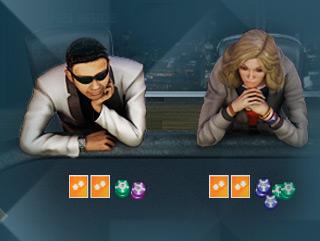 After a night of rebuy action, the Grand Series Of Poker (GSOP) reverted back to a freezeout format for te fourth events of this superb online poker festival. Event #4 was the $162 buy-in No Limit Hold'em with a a guaranteed prize pool of $125,000, while the GSOP Mini-Event #4 was a $22 buy-in sporting a $20,000 prize pool.
Cobra1388,__BINGOBOY__ and Action_play reached the final table, busting in eighth, fifth and fourth place respectively. Superb performances by everyone and those three final tablists won over $3,100 by themselves!
As both guarantees were smashed, a combined total of $157,040 was paid out to 340 players, the lion's share of each prize pool going to x_pirito ($22,298.59) for winning GSOP Event #4 and qspa8i ($4,080.62)for conquering mini-Event #4. Both players also won a $5,000 and $525 seat to the respective Grand Slam tournaments too.
GSOP Event #4: $162 No Limit Hold'em ($125,000 guaranteed)
After two days of playing like a complete fish I was looking forward to playing something close to my A-game in the fourth events of GSOP 9. I feel like my strongest game played in a freezeout format and although $162 is above what I usually play, I never felt out of my depth.
The first 30 or so hands were pretty straight forward with none really standing out as hands to mention on here. In fact, the play was very tight but I never had the right hands or the situation just wasn't right for me to take advantage of that, which is a shame as I could have added to my stack. Towards the break I did make a large mistake that I'm not proud of. Want to hear about it? Of course you do!
The blinds were 100/200 and the action folded around to TheBarney1 in the hijack and he opened to 450. I was on the button with the trusty Ad-9h and I three-bet to 1,025, as you do. Villain called and it was heads-up to the 10d-5d-Js flop. Villain checked to me and although I said to myself "if I bet here he is shoving on me" I still bet 1,190 and guess what happened? Villain shoved and I folded like a girl, a small girl with pigtails and a pink dress.
That hand cost me 2.2k chips and I basically never recovered from it. My exit hand saw the action fold to me in late position and I decided to move all-in for 3,990 (blinds 125/250/25a) with Jd-Jd. Unfortunately for me C-O-C-O was next to act and he had been dealt a pair of aces. The rest as they say is history.
Although disappointed with myself for finishing in 485th place, I was not as disappointed as fellow Team Betfair player DrZmey who finished in 121st place and burst the money bubble. Someone has to pop that bubble and at the moment it seems like Betfair players are the ones being chosen by the Poker Gods.At least 18 of our heroes made it through to the money places, netting a combined $28,516.37 between them.
The reason for such high winnings stems from the fact we had four players on the final two tables and two players on the ten-handed final table! MikelRenberg busted in 18th place, while ekz1ter fell shortly after in 14th. Croatia's tedwho2 finally fell in fifth place and bagged a $6,073.43 score and once again we had a bridesmaid because UA4empion of Ukraine finished in second place and although the $15,491.65 will have helped to numb the pain they must be extremely disappointed not to have won Team Betfair's first title of GSOP 9.
GSOP Event #4 Statistics
Total entrants: 870
Team Betfair entrants: 168 (19.31% of entrants)
Team Betfair cashes: 18 (10.71% ITM)
Team Betfair prize money: $28,516.37
GSOP Mini-Event #4: $20+$2 No Limit Hold'em ($20,000 Guaranteed)
Mini-Event #4 attracted a bumper crowd of 1,327 players, among who were an impressive 196 Team Betfair players. Of this huge army of Betfair flag fliers, 35 would go on to make it into the money pace and three of those would reach the final table; but one of them was not yours truly. Bah humbug.
I knew it was going to be one of those nights when the following hand took place during the second level of play. djsin21 -- now known as fishcake -- opened to 75 from under the gun with blinds at 15/30. I was the only player who called, doing so from the button with Jd-Js. The flop fell a beautiful looking Jc-Qs-Qc and I was ready to scoop a huge pot. Fish cake lead out, betting 85 into the 280 pot and I raised it up to 360. To my surprise Fishcake put in a raise of his own, this one to 795. Now I am thinking he has a queen and is getting giddy himself so I raise to 1,990 and get ready to click call when he shoves on me. Weirdly, he just called! The pot is now 4,175 and we have effective stacks of 2,970 which look to be going into the middle. That is until the turn is the Qd and if my read is correct then Fishcake has just hit quads. Amazingly he checked and I checked behind. The turn is then the Ac completing a potential Royal Flush and if our "friend" doesn't have a queen he could have an ace. Again he checked and I checked behind and was shown Ad-10d! Wowzers. [ ] Poker is dead.
Being awesome I managed to battle my way to a more than respectable 10,000 chips, which at the time was worth around 50 big blinds.These 50BB were soon much less when I koeymans open-limped in early position, ingentingen5 made up the small blind and I checked my Qc-9c in the big. To cut a long story short, a raising war took place with koeymans on the river of a 9h-9s-3d-4c-10c board and I lost to Ad-9d. Thanks for that. I still had 30BB so not to worry -- or so I thought.
My stack dwindled to 2,265 at the 80/160 level so when the action was on me in early position I moved all-in with Ac-Qc. The action folded around like an origami convention until malaxit called on the button, covering me by 700 or so chips.ksanthos3 moved all-in from the big blind (though I did not see this) and malaxit called off his remaining stack. I was delighted to see the Ah-10c of malaxit especially when the board ran out Js-8d-5s-Qs-5c but the pot slid towards the big blind. WTF? Oh yeah, there was another player in the hand wasn't there? A player with pocket king. FML. Thanks for the 1,027 place finish!
Again my shoddy finish was rectified by the awesomeness of Team Befair. Not only did iceblondy, Boj0inG and KnightRider all make it to the last two tables of the tournament but Cobra1388, __BINGOBOY__ and Action_play reached the final table, busting in eighth, fifth and fourth place respectively. Superb performances by everyone and those three final tablists won over $3,100 by themselves!
GSOP Mini-Event #4 Statistics
Total entrants: 1,327
Team Betfair entrants: 196 (14.77% of entrants)
Team Betfair cashes: 35 (17.86% ITM)
Team Betfair prize money: $5,062.50
Discover the latest articles
Read past articles