GSOP 9 Event #9: Y0rk5h1r3Pud Takes Down Mini-Event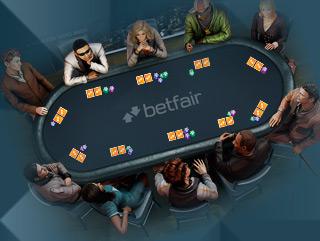 Ladies and gentlemen, boys and girl we have an announcement to make. It has taken nine events coming but we finally have our first Team Betfair victory at the Grand Series of Poker 9 (GSOP)! You may think the name in the title is familiar and that is because it is my alias! I only went and won a GSOP event!
We were now at 50,000/100,000,10,000a and villain shoved for 995,584 on the button. I had been dealt 10s-10d and bit his hand off! The 10h-Kc-2d flop all but sealed the deal and the 3c on the turn ensured I had outlasted the 1,622 strong field and won the tournament! My prize was $4,844.32 in cash and a $525 seat to the mini-Grand Slam, meaning I have my largest score ever and a one over $5,000 to boot!
GSOP 9 Event #9: $190+$10 No Limit Hold'em Deepstack ($300,000 guaranteed)
Event #9 turned out to be the second most attended tournament of GSOP 9 so far, with a massive crowd of 1,726 players exchanging $200 for 5,000 tournament chips and a chance to become a GSOP champion. Even I was one of the faces in the crowd, hoping to get my hands on almost $50,000 for winning this event, but sadly that never happened.
After a number of disappointing performances and a bad run of cards and luck thrown in for good measure, I really wanted this tournament to be the one that reignited my love for the game and boosted my confidence. It was not.
Twenty-four hands in I added 735 chips to my stack after I check-called the flop, turn and river of a 4d-5s-6d-Ah-Jd board with Qh-Qs to find villain was making moves with nothing but Kc-10d, but lost those back and a few more with 10s-8s versus Kc-Ks of Laban173 on a draw heavy 7c-4s-9c-Qc-10h board.
That was the last of the big pots until my exit 91 hands in. The blinds had now increased to 80/160 and I was sat with a still workable 3,035 in the small blind with Qc-Jc. Yvon1201 open-limped from UTG+1 and the action folded to Diceman420 on the button and he called. I completed the small blind and trecale99 checked in the big. The 9h-10s-5h flop gave me an open-ended straight draw but some of my outs were dirty due to the flush draw being on the table. The action checked to yvon1201 and he bet the minimum of 160 into the 640 pot, Diceman420 raised to 560 and I decided to take the high variance route and move all-in for 2,955 chips. Trecale99 folded, yvon1201 also folded but Diceman420 tanked and used up most of his timebank before mustering a call with what turned out to be Ac-10d. I was exactly 50/50 with him as any king, queen, jack, or eight would win me the hand but none of them appeared on the turn or river and I was eliminated. I was kind of hoping Diceman420 put me on a set, possibly 55, but I suppose with all the draws out there he put me on one of them and committed with top pair.
Although my tournament ended earlier than expected, Event #9 went on much longer for 46 of Team Betfair's players, 46 who made it into the money places. PapAmericano had a great GSOP 8 earlier in the year and he added some more cash to his bankroll with a 259th place finish in this event ($276.99). Others who helped themselves to some cash included Ireland's kiddreamer19 (146th), Captain_WOW_ (72nd), HarziMcGoon (26th) and Bear&Vokda (22nd). Big shout-outs have to go to Sweden's frida111 who finished in 12th spot for $2,838.40 whilst Germany's chilled_one was the first player to fall at the final table, finishing 10th for $3,672.49.
GSOP 9 Event #9 Statistics
Total entrants: 1,726
Team Betfair entrants: 311 (18.02% of total entrants)
Team Betfair cashes: 46 (14.79% ITM)
Team Betfair winnings: $29,019.80
GSOP 9 Mini-Event #9: $20+$2 No Limit Hold'em Deepstack ($30,000 guaranteed)
What a great event Mini-Event #9 was , what a great event indeed. Yes folks, this is the tournament that I somehow managed to donk my way through and win, the first Team Betfair win of GSOP 9! Boom, ship it etc!
I should have known this was going to be THE tournament for me when I won two pots in quick succession; one with Ah-Kd when I spiked two kings and one with Js-10h when I turned a straight. But any thoughts of victory were well in the back of my mind as this tournament would ultimately take over 13 hours to complete!
After those early pots I hovered around the 5,000 starting stack until the 80/160 level when it looked like it was all going to go Pete Tong. From UTG+1 I opened to 350 with Qd-Qc and when the action folded to jangah_x on thebutton they three-bet to 1,040. I should probably have taken a flop but instead I clicked it back and made it 1,850 to play, only to see villain do the same and make it 2,960. I'd not backed myself into a corner and moved in for the rest of my 4,510 stack and villain fist-pumped and called with pocket aces! Ooops. I flopped a flush draw on the 2d-Kd-Jd flop but I didn't need it because the Qh landed on the turn to gift me the hand. See, I don't run bad all the time!
I seemed to be making two pair and trips for fun but never scooping large pots with them, but I still sat on over 10,000 chips and was in good shape. My own aces were cracked by the Ac-2c of Beckstage who turned an unlikely straight and as the 150/300/30a level kicked in I was sat with 7,686 chips. If anyone asks what hand the best in Hold'em is I am going to answer 8d-6d for reasons that are going to become apparent very soon. I opened from late position with 8d-6d and when Iflopqu4ds min-raised to 1,350 on the button I made a loose call. We shared an 8c-10s-4s fop and this is where things get silly. The pot was 3,450 and villain had 4,390 behind so any bet I make is ripe for him to shove all-in over the top with regardless of his holding. So, I moved all-in myself and as I covered villain he had to call for his tournament life, which is very easy to when holding Ad-Ac! FML. However, the Poker Gods had chosen me as they put the 9c out on the turn and the 7d on the river to give me a runner-runner straight and a very workable stack of almost 15,000!
Everything went quiet until the 250500/50a level when I four-bet my 20bb stack into the middle with Jc-Jd and held against Migelson's As-Qs, won an 18,200 pot with 5s-4s on a 7d-3s-7c-Jh-7h board and then a huge 42k pot to ensure I was at the very least going to cash in this event.
No matter what I did I could not do any wrong but I was getting very tired and my concentration had started to fade fast. At one point, at around 03:30am, I headed to bed and used Splashtop software on my iPad so I could play from bed on my tablet! I fell asleep twice, once for at least 20 minutes but I was OK as I had over 150,000 chips and the big blind was 4,000. Another huge pot was won with 10d-10h against ace-jack to see me over 300,000 chips and I started to get the feeling a very deep run was on the cards.
For first time in my limited tournament career I surpassed 1,000,000 chips after my Qc-10c beat a short-stack's Ah-8s but from then on we were on the final table bubble, playing five-handed and I and the rest of the table were been given a lesson on short-handed final table bubble play by pillow100; I really learned a lot from him that is for sure. I was responsible for taking a huge chunk of change from him, but at least I put his chips to good use. Pillow100 had three-bet to 67,500 on the button and I four-bet with Ac-Ks to 143,000 from the small blind. The initial raiser folded but pillow100 moved in, covering me. I made the call and beat his Jh-Js to move up to 1.65m
I don't really remember much about the final table because I was on an adrenaline high and had drank four coffees in an attempt to keep me awake! I do remember pillow100 busting out in 10th and with him out of the way I really believed I could win. One-by-one the players fell until it was just me and Szachista007 heads-up for the title.
I held a 6,034,612 to 2,075,388 chip lead which I managed to increased to 7.2m within the first half hour. I then lost with fours versus eights to give villain a lifeline and he then drew level. I grinded him back down to 10bb and lost As-4d to his jacks, back to 15bb and lost with Tc-8s to 2h-2s on a 4d-8d-2c-6h-8c board, but I kept cool, despite ranting on Facebook, and was rewarded with the winning hand at around 08:10am!
We were now at 50,000/100,000,10,000a and villain shoved for 995,584 on the button. I had been dealt 10s-10d and bit his hand off! The 10h-Kc-2d flop all but sealed the deal and the 3c on the turn ensured I had outlasted the 1,622 strong field and won the tournament! My prize was $4,844.32 in cash and a $525 seat to the mini-Grand Slam, meaning I have my largest score ever and a one over $5,000 to boot!
Anyway, enough of my bragging because I was also at the virtual felt with 254 other Team Betfair folk, 45 of whom made it into the money places and shared $8,106.18 amongst themselves! PapAmericano (215) cashed again, as did pcplod_x (171st). Adamjoesph (36th) was the first Betfair player on the night to pick up a three-figure score, whilst innerstu2010 almost reached the final table but busted out in 15th place.
Joining yours truly on the final table were the aforementioned pillow100 (10th) and PokahMama (7th), making a great day for Team Betfair players!
GSOP 9 Mini-Event #9 Statistics
Total entrants: 1,622
Team Betfair entrants: 255 (18.02% of total entrants)
Team Betfair cashes: 45 (14.79% ITM)
Team Betfair winnings: $8,106.18
Discover the latest articles
Read past articles