GSOP 9 Event #5: Doobs Comes So Close To Victory In PLO8 Event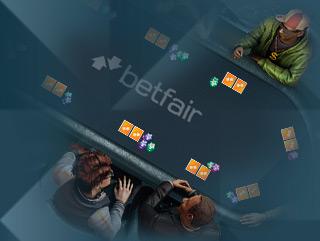 Another runner-up finish for a Team Betfair player
Last night saw the Grand Series Of Poker (GSOP) switch from Hold'em to the crazy game that is Pot Limit Omaha Hi/Low Split-8 or Better, or PLO8 as poker connoisseurs call it.
Betfair regular Doobs almost went all the way only to fall at the very last hurdle and finish in second place. Doobs walked away with $6,523.55 for his efforts.
The fifth event of GSOP 9 event was a $54 buy-in event with a $50,000 guarantee, while the mini-Event sported a much more palatable $5.50 buy-in and featured a $7,500 guarantee. Oh and to add to the craziness both events allowed unlimited rebuys for the first hour of play!
GSOP Event #5: $50+$4 Pot Limit Omaha Hi/Low with rebuys ($50,000 guaranteed)
With me being a fish at the best of times, never mind with four hole cards and the split pot format to contend with I gave the $54 rebuy a swerve and instead donated my money to the mini-Event prize pool; more on that later. But event without my attendance, 357 players turned out for the event, 76 of those being Team Betfair players, meaning the $50,000 prize pool would be shared out among the top 52 players.
Finishing in 52nd place, just inside the money, was the MondSpieler, the $196.16 making him a slight profit after he took the add-on at the break. Others who made it into the money places included thesearch66 (44th); LEGOisfun (43rd), losenok (18th) and the player who burst the final table bubble Neptunism (11th).
As has been the pattern throughout GSOP 9, we had two Team Betfair players on the final table, both from the United Kingdom. SEKLFM_x was our first player eliminated, busting out in eighth place for $1,188.48 but his superb performance was outdone by that of the Betfair regular Doobs, who almost went all the way only to fall at the very last hurdle and finish in second place. Doobs walked away with $6,523.55 for his efforts and the Cambridgshire based player, ranked 85th in the United Kingdom, is now rapidly approaching $100,000 in tournament winnings on Betfair Poker.
GSOP Event #5 Statistics
Total entrants: 357
Team Betfair entrants: 76 (21.29% of total)
Team Betfair cashes: 13 (17.11% ITM)
Team Betfair prizes: $10,998.12
GSOP Mini-Event #5: $5+$0.50 Pot Limit Omaha Hi/Low with rebuys ($7,500 guaranteed)
My fishy little self was among the 663 players in the mini-Event #5 and I was also one of hundreds who opted to rebuy and take the add-on. That many of us rebought that the $7,500 guarantee was completely smashed as the total prize pool stood at $10,660. Unfortunately I did not get my hands on any of the beautiful money.
As my Holdem Manager does not track Omaha hands - because I am a tight arse and didn't want to pay for the upgrade - I do not have any hands that I can really give as an example of how not to play PLO8! Although not my best game, PLO8 can be good fun but it can also be quite tedious if you are getting horrific hands like 2c-6d-10h-Ks I mean WTF are you meant to do when that is all you are being dealt?
Although I crashed and burned in 344th place, with 92 places paid, it did make me want to play some more PLO8 in the future so watch out for me sitting down at your cash tables over the coming weeks. Feel free to berate me for my bad play!
It seems that low stakes PLO8 tournaments are popular with Team Betfair players as 114 of them crawled out from the woodwork to take part in this particular tournament, including -LORDLUCAN-- but we cannot confirm or deny that the player actually is the infamous Lord Lucan.

When most poker players are working out whether or not their bankroll can stretch to playing rebuy tournaments they take an average of three rebuys to work from. God only knows what delimegetjo from Denmark uses because he gets today's completely made up award of Complete Lunatic Of The Day as he re-bought a staggering nine times and took the add-on! This means that despite him finishing in 34th place and "winning" $46.44 (notice winning was in inverted commas) he still made a loss of $9.06, which I think is marvellous!
Special mentions must also go to RR_Trueffel and Billjard for finishing 20th and 13th respectively and a massive shout out to landmine88 from Canada for being an absolute hero and finishing in third place for a $939.76 score. Spend most of it on beer and women and then waste the rest of it, that is my advice.
We get back to No Limit Hold'em tonight with the $54 rebuy ($100,000 guaranteed) and the $5.50 rebuy, which I am playing, that sports a $15,000 guarantee. Make sure you say hi if you see Y0rk5h1r3Pud at your table!
GSOP Mini-Event #5 Statistics
Total entrants: 663
Team Betfair entrants: 114 (17.19% of total)
Team Betfair cashes: 19 (16.67% ITM)
Team Betfair prizes: $1,664.02
Discover the latest articles
Read past articles