GSOP 9 Event #11: peters2014 Finishes Second For $11,384.78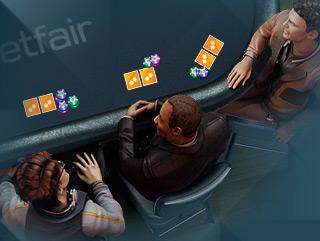 After the craziness of the Mad Tilt rebuy in Event #10, some normality was restored in Event #11 the No Limit Hold'em Short-Handed with rebuys - well as normal as you can get in a six-max rebuy tournament!
Two players almost went all the way but fell at the final hurdle. Line2sky2 busted out in third place ($1,319.55) whilst Im the 1st fell in second place becoming yet another Team Betfair runner-up. When will our luck change and we get more champions?
GSOP 9 Event #11: $50+$4 No Limit Hold'em Short-Handed With Rebuys ($75,000 guaranteed)
I really wish I had stuck my neck on the line and played in the big GSOP tournament, if only because the $75,000 guarantee was completely smashed and the 662 players who had grown a pair and entered were playing for a slice of $92,900.
Throughout GSOP 9, Team Betfair players have finished in second place so many times it is not funny, we really could have had five or six champions had our players' luck held out for a little longer. Peters2104 was the latest in a long line of runners-up, though this second place finish booted his bankroll by an impressive $11,384.78 which will have certainly gone some way to numb the pain of coming second.
Peters2104 was almost joined at the final table by three other Team Betfair players but they ultimately fell short of the last active table. Bear&Vodka made another impressive run by finishing in 10th place for $1,276.48 whilst ROSSTHEBOSS6 (9th) and pay_my_stuff (7th) were the other two players to go on very deep runs.
Everyone who made it through to the money places needs a round of applause directed at them because this tournament was full of top class players and managing to navigate through to the payout places was no easy task by any stretch of the imagination. Congratulations all!
GSOP 9 Event #11 Statistics
Total entrants: 662
Team Betfair entrants: 107 (16.16% of field)
Team Betfair cashes: 16 (14.95% ITM)
Team Betfair winnings: $20,821.21
GSOP Mini-Event #11: $5+$0.50 No Limit Hold'em Short-Handed With Rebuys ($12,500 guaranteed)
Another GSOP tournament and another cash in the bag for me. Not a huge cash but another confidence boosting deep run nonetheless with me finishing 93rd from 1,143 entries. In all honesty I think I could have gone much deeper but this event took place the day after my GSOP Event #9 win and I had only had three hours sleep in 48 hours so was uber-tired as you can appreciate.
The first real hand of note came during the 60/120 level and saw me open to 300 from the button with the monster hand that is 8s-6c. regueira16 folded his small blind but Diffurius_I made the call from the big blind. We saw the flop come down 7d-8c-8d, which as you can see is pretty amazing for my hand! It got better too because villain lead out with a 660 bet into the 660 pot, a bet I just called. The 6h on the turn was obviously delightful to see, even more so when villain bet pot again (1,980) making the pot 3,960. I figured he must have an eight or something and is playing it super-fast so I just moved all-in for my 6,250 and villain tanked, used his entire timebank and folded. Meh.
The next big hand came in the 100/200/20a level and was a hand that showed how important watching players is. The action folded to me on the button and I raised to 400 with my Jd-Js. Again, the small blind folded but MagicFind385 was the big blind and he defended by three-betting to 1,100. Now, villain had been three-betting a lot, especially against steals, so I didn't give him much credit. I four-bet to 2,775 only to see villain shove for 12,690 putting me all in for my 6,050 chips that I had behind. Players don't usually five-bet all that often at these stakes but something felt off and out of place so I trusted my gut (well it is big enough) and I was shown Ah-Jh. My jacks held and I was up to almost 18,000 chips.
From there I won a big flip with Ac-Ks against the pocket fives of wabaku to take me over 30,000 chips and then got very lucky in a badly misplayed hand. At the 250/500/50a level, jani8903 opened from the button to 1,000, I called in the small blind with pocket fours and vip_1985z called in the big blind. The flop came down 7h-3c-5h, I checked, vip_1985z checked but our friend on the button bet 1,910. I attempted to buy the pot with a raise to 9,030 but knew I was in bad shape when the big blind shoved for an additional 690 or so chips. The button folded and I called only to be shown 7c-5c! Oops! Not to worry because I run like God and after the meaningless Jd landed on the turn, a straight filling 6c on the river won me the hand! Better to be lucky than good I guess.
I slowly built to 52,000 then won another flip with nines versus ace-queen to point me towards 75,000 chips but then the wheels started to come off and everything that could go wrong, did go wrong. At the 1,000/2,000/200a level I found myself down to 20 big blinds and these were reduced further when the action folded to Jalo_4A in the small blind, who then shoved for 15,569 with what turned out to be 9c-6c. I called with Ks-9s but by the river the board read 2s-8s-8h-7c-10h and villain made a straight.
The very next hand, The_Chel opened to 4,000 from the cutoff, I three-bet all-in from the small blind for my 11 bigs with pocket eights and villain called. The Jh was the door card and I couldn't find my two outer this time around and I finally got some sleep!
Joining me in the money were the likes of Jagshemash (yet again) in 27th place, 3kgtvr4tt in 22nd place and two players who almost went all the way but fell at the final hurdle. Line2sky2 busted out in third place ($1,319.55) whilst Im the 1st fell in second place becoming yet another Team Betfair runner-up. When will our luck change and we get more champions?
GSOP 9 Mini-Event #11 Statistics
Total entrants: 1,143
Team Betfair entrants: 158 (13.82% of field)
Team Betfair cashes: 23 (14.56% ITM)
Team Betfair winnings: $4,035.03
Discover the latest articles
Read past articles