GSOP 9 Event #10: actionjambo Reaches Final Table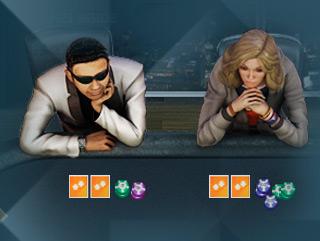 Event #10 of the Grand Series of Poker 9 (GSOP) saw scores of players let of some steam in the tournament dubbed the "Mad Tilt Rebuy." In this special event, players started with 100 chips and could purchase unlimited rebuys for the first 30-minutes.
GSOP 9 Event#10 : $50+$4 No Limit Hold'em Mad Tilt Rebuy ($75,000 guaranteed)
This was not one of the tournaments I had in my schedule, simply due to the craziness of the action it produces and the fact my bankroll at the time would not be able to take such lunacy! Thankfully 486 players did not think like me, 92 of them being Team Betfair players, and the craziness ensued.
From the 92 Betfair players in the field, 10 would go on and make it into the money places. BetfFairy was the first of our crew to pick up some cash, finishing in 58th place for $260.15. Miss_Fearo's 32nd place finish saw her receive $348 whilst Apparaten_x of Sweden busted in 12th place for $862.83. Out highest placed finisher was actionjambo who fell in 9th place, good for $1,377.14.
GSOP 9 Event #10 Statistics
Total entrants: 486
Team Betfair entrant: 92 (18.93% of field)
Team Betfair cashes: 10 (10.87% ITM)
Team Betfair winnings: $5,129.54
GSOP Mini-Event #10 $5+$0.50 No Limit Hold'em Mad Tilt Rebuy ($12,500 Guaranteed)
They say that the number thirteen is unlucky for some, and was certainly the case for me in Mini-Event #10 as that is the number of hands I managed to last. I did rebuy even though I said I was not going to but event hat did not help me in my quest to win this completely bonkers tournament!
The only hand I actually played saw me in early position with 155 chips at the 40/80 level. My 5h-5c was more than enough to ship it in with but I knew I was in trouble when Bevardis1984 re-shoved for 300 chips and shane 2 called off his remaining 220 chips from the big blind. Bevardis1984 held a dominating 6c-6h whilst shane 2 turned over Qs-Js. The board ran out &s-10d-Kd-4s-3d and with that my tournament was over.
Although 13 was unlucky for me it was certainly lucky for the 13 Team Betfair players who managed to make it through into the money places. Jagshemash once again made it into the money in a GSOP event, finishing in 60th place for $32.53, whilst fishformore's 11th place finish was just shy of the final table. The $113.20 they picked up for 11th place will help to numb the pain we are sure. The Team Betfair player who had the deepest run was Eachie of the UK, who busted out in seventh place and picked up $294.90 for a couple of hours work. Not a bad job if you can get it!
GSOP 9 Mini-Event #10 Statistics
Total entrants: 714
Team Betfair entrant: 124 (17.37% of field)
Team Betfair cashes: 13 (10.48% ITM)
Team Betfair winnings: $796.62
Discover the latest articles
Read past articles