The Punter's US Masters In-Play Blog: Hot Hideki shoots clear at Augusta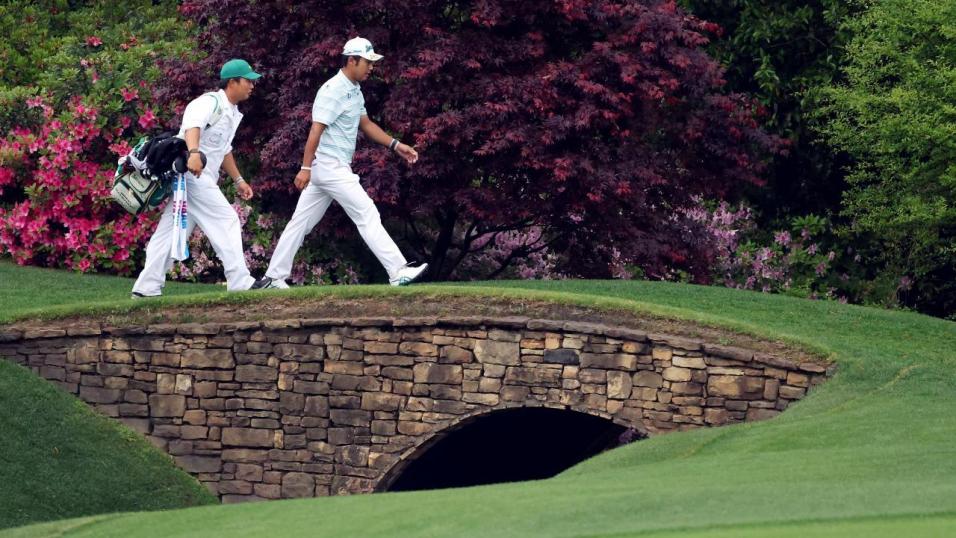 Hideki Matsuyama in action in round three
Hideki Matsuyama took full advantage of the vastly different conditions after a weather break at Augusta on Saturday and he now leads by four but is he a value play at odds-on with a round to go?
"DJ was a 1.422/5 chance before round four five months ago and Spieth was trading at 1.51/2 in 2015 so Matsuyama must be considered a fair price at around 1.910/11."
13:20 - April 11, 2021
Third round leader, Justin Rose, birdied the first two holes of round three yesterday but bogeys at four and five followed and with others picking up strokes, the field was condensing nicely when the horn went for bad weather as the final pairing played the seventh hole.
When play was suspended, Rose was trading at 4.57/2 but as many as many as eight players were trading at 16.015/1 and below. Justin Thomas (6.05/1) and Jordan Spieth (8.615/2) appeared the biggest dangers to the Englishman but everything changed after the restart.

Rose played poorly but scrambled brilliantly to play his remaining 11 holes in level-par, Thomas completely imploded, making an eight at the par five 13th after hitting a wedge into Raes Creek, and Spieth's play was scruffy at best.
Thomas played his remaining holes in four-over-par after the restart and he's out of the equation now whereas Spieth is just hanging in after a level-par 72 but the huge benefactor of the break was Hideki Matsuyama, who caught fire when play was resumed.
Having played his first ten holes in one-under-par, with his sole birdie coming at the ultra-tough seventh hole, Matsuyama was a 13.012/1 chance when play was suspended. He trailed the leader, Rose, by a couple of strokes and after a poor drive at the tough 11th before the horn went, that price didn't look big.
He got lucky off the tee though, with his wild drive finishing right of the fairway and right of the trees to the right of the fairway but he made the most of his break and went on a crazy run, birdying 11 and 12 before eagling 15, birdying 16 and 17 and making an incredible up-and-down for par at 18.
Playing alongside Matsuyama, Xander Schauffele tip-toed along to keep within four but almost everyone else seemed to really struggle to get to grips with the new, softer conditions, and Matsuyama has assumed command. Here's the 54-hole leaderboard with prices to back at 13:10.
Hideki Matsuyama -11 1.9420/21
Xander Schauffele -7 6.611/2
Justin Rose -7 12.011/1
Marc Leishman -7 13.5
Will Zalatoris -7 13.5
Corey Conners -6 26.025/1
Jordan Spieth -5 19.5
Brian Harman -4 130.0129/1
Tony Finau -3 140.0139/1
-2 and 380.0379/1 bar
Hisako Higuchi and Hinako Shibuno have both won majors but Hideki Matsuyama would be the first male winner from Japan and the pressure he's going to feel to break through will be immense but that's arguably the biggest negative going into today's final round and the stats suggest he's a fair price...
On the PGA Tour since 1996, 54 players have led by four with a round to go in a 72-hole stroke play event and 40 went on to win. That's a strike-rate of 74% but that percentage takes a bit of a tumble if we look at the small number of 54-hole four-stroke leaders in major championships in that time.
Since 1996, we've seen nine players take a four-stroke lead into the final round of a major championship and four of them failed to convert.
Tiger Woods won the US Open by three having led by four in 2002 but Payne Stewart (1998) and Shane Lowry (2016) were both beaten in that major having led by the same margin. Lowry's redemption came in the 2019 Open Championship when, like Louis Oosthuizen 11 years ago at St Andrews, he converted a four-stroke lead but Adam Scott was caught and passed by Ernie Els in the 2012 edition at Royal Lytham, having led by four and who can forget Rory McIlroy's infamous collapse here in 2011.
Despite Rory's demise, looking specifically at this major, players with a four-stroke lead or more have converted on 11 of 15 occasions so that's another positive for the leader.
Dustin Johnson in November and Spieth in 2015 both went on to win a Green Jacket having led by four at Augusta and both were considerably shorter than Hideki is today.
DJ was a 1.422/5 chance before round four five months ago and Spieth was trading at 1.51/2 in 2015 so Matsuyama must be considered a fair price at around 1.910/11.
The winner of the US Masters has played in the final two-ball in 25 of the last 30 editions so it's no surprise to see Xander Schauffele next best in the market. The two played nicely together yesterday, even communicating in Japanese at times (Xander's Taiwanese mother was raised in Japan), but I fancy that's more another positive for Matsuyama than it is for Xander and he looks short enough to me.
Having finished third in 2015, after sitting second, four behind Spieth in 2015, and having traded at a low of 1.171/6 two years later before losing a playoff to Sergio Garcia, Rose would be a popular winner for many a golf fan but can he find his form today? He's played brilliantly in spells and his gutsy finish yesterday had to be seen to be believed but it's hard to see him finding what's required today. I hope I'm wrong.
The stats are definitely against Will Zaratoris and the experienced Marc Leishman looks a far better option at around the same price.
Let's try this again

Last time a Masters rookie won: 1979, Fuzzy Zoeller

1979 - Ed Sneed led by 5, seeking 1st major win
Zoeller was T-4, 6 shots back

2021 - Matsuyama up by 4, seeking 1st major win
Zalatoris is T-2, 4 shots back

? Justin Ray (@JustinRayGolf) April 11, 2021
Leishman has plenty of major experience and I wouldn't be at all surprised to see him being the one to push Matsuyama the hardest but I definitely haven't given up on my Find Me a 100 Winner pick. Corey Conners, just yet and he looks a very fair price at in excess of 25.024/1.
The stats are against Conners given the last 31 Masters winners have been inside the top-five with a round to go and that the last 28 major winners have been within four of the lead but he was really unlucky with the weather break yesterday and he's playing brilliantly.
Having bogeyed the par four 10th, when his approach shot tumbled off the firm green (Zalatoris landed it in the same spot and birdied the hole after the rain), Conners returned to the course with his ball on the par five 13th fairway. He hit a decent shot to set up an eagle chance but completely misjudged the pace of his first putt, leaving it short on the now much softer green and he three-putted for par.
He followed that with an errant drive on 14 that was severely punished but he cracked on after that and played some lovely golf again coming in.
There is now 5 lefties who made the cut with Corey Conners @coreconn playing this left-handed shot on 14

And very lucky not to hit the tree day three @TheMasters pic.twitter.com/c1IfMsuVJu

? Fatiha (@TOURMISS) April 10, 2021
Conners made a straightforward two-putt birdie at the par five 15th after a brilliant approach before paring 16 and birdying 17 and he was very unlucky again at 18 when his pinpoint approach struck the pin leaving him 14 feet four birdie instead of two. He missed the putt which would have seen him in today's final pairing but that might not be a bad thing and I'm hoping he can put in a run today.
Spieth is capable of great things and although he has plenty to do, his price will soon shift if he starts well but after his victory in Texas last week, he could just be running on fumes.
If you don't mind taking odds-on, the stats suggest the price about Matsuyama is perfectly fair but he hasn't won anywhere in four years and I'm more than happy to leave him alone.
I'll be back tomorrow with the debrief.
12:15 - April 10, 2021
Conditions eased at Augusta yesterday, with slightly softer greens and easier pin placements resulting in the stroke average falling from 74.52 on Thursday to 72.25 yesterday. Only three players broke 70 on day one, 18 achieved the feat yesterday.
First round leader, Justin Rose, playing in the morning, began his round poorly before recovering nicely to post a level par 72 and his somewhat pedestrian performance, coupled with the easier conditions, have resulted in the field concertina up nicely and we have ourselves a very competitive renewal to assess now with as many as 20 players under-par and within seven of the lead. Here's the 36-hole leaderboard with prices to back at 12:00.
Justin Rose -7 8.07/1
Will Zalatoris -6 14.013/1
Brian Harman -6 15.5
Jordan Spieth -5 6.05/1
Marc Leishman -5 24.023/1
Justin Thomas -4 6.86/1
Tony Finau -4 17.016/1
Hideki Matsuyama -4 21.020/1
Si Woo Kim -4 30.029/1
Cameron Champ -4 48.047/1
Bernd Wiesberger -4 80.079/1
Xander Schauffele -3 30.029/1
Collin Morikawa -2 38.037/1
Cameron Smith -2 48.047/1
Corey Conners -2 95.094/1
Ryan Palmer -2 140.0139/1
Bryson DeChambeau -1 30.029/1
Viktor Hovland -1 70.069/1
Matt Jones -1 330.0329/1
Stewart Cink -1 800.0799/1
Jon Rahm Ev 55.054/1
Even par and 170.0169/1 bar
Jack Burke won the 1956 edition, having trailed by eight after both 36 and 54 holes, but Augusta is a very hard place at which to play catch up and five of the last seven winners were leading or tied for the lead at halfway.
Only eight winners in the entire history of the US Masters have been outside the top-ten at the halfway stage and Charl Schwartzel, who sat tied for 12th and six off the lead ten years ago, is the only winner to be outside the top-ten at this stage since Jack Nicklaus way back in 1986. Given that stat, anyone positioned below Bernd Wisberger in the list above is really up against it. Let's start with the leader...
Rose steadied the ship well yesterday and five of the last seven winners were in front at this stage. He's a very fair price but a couple of stats are against him - including his age.
There have been 15 players age 40 or older to hold the 36-hole lead at #TheMasters (Rose is 40).

None of the last 14 to do it went on to win.

The only one who did was Ben Hogan in 1953.

? Justin Ray (@JustinRayGolf) April 9, 2021
His lack of current form before the off is a negative too and only one of the previous seven players to hold a clear lead after rounds one and two have gone on to win (Spieth in 2015) but I don't expect Rose to wilt tamely. He's held a clear 36-hole lead 14 times and he's gone on to win on seven occasions, and he's done so on each of the last four such occurrences. He's also been very good when the margin of his lead isn't huge.
This is the seventh time he's led by just one at halfway and he's looking to make it five wins from seven. His rusty form could be an issue, and one could easily argue that he's where he is now because of a bit of a fluky run on Thursday, but he won't lose because of nerves.
Of the two men sitting tied for second, debutant Will Zalatoris, who plays alongside Rose today, is narrowly favoured in the market over my 200.0199/1 Find Me a 100 Winner pick, Brian Harmon, but the stats are really against him.
The most famous US Masters fact trawled out year after year is that no debutant has won at Augusta since Fuzzy Zoeller in 1979 but he'd at least won on the PGA Tour previously. Zalatoris hasn't yet but at least his second name starts with Z and he doesn't lack for confidence.
"If I'm stupid enough to think I can play here, I'm stupid enough to think I can win it." - Will Zalatoris pic.twitter.com/tYPIeZIDTt

? GOLF.com (@GOLF_com) April 9, 2021
His four-under-par 68 was some knock yesterday given he parred the four par fives but it's very hard to envisage him winning his first PGA Tour event on his first visit to Augusta National.
So far this week, my man Harman ranks 16th for Driving Accuracy, ninth for Greens In Regulation and first for Scrambling. He's been the epitome of neat and today and he's playing as well as I could have hoped for. Can he go on to win? If he continues to play like he has over the first two days and a few more putts drop then why not.
From a stats and trends perspective, he doesn't have the usual number of appearances (this is his third) and a triple-figure priced player hasn't won this since 2009 but that negative also applies to Rose and Zalatoris. Other than that, he ticks quite a few boxes and I'm hopeful.
Only two back, Spieth heads the market and rightly so. The 2015 winner loves Augusta and having won the Valero Texas Open last week with a GIR ranking of 57th he sits two off the lead here having hit more greens than anyone else over the first two days.
I'm still not convinced he's over his collapse here in 2016 when defending and his triple-bogey seven at nine on Thursday set the alarm bells ringing but I certainly wouldn't want to put anyone off him. Those fears may not be rational and Spieth winning again wouldn't be a surprise.
Alongside Spieth, Marc Leishman looks a big price. The Aussie has plenty of Augusta experience and he won't mind today's windy conditions one iota but he came into this week on the back of a few missed cuts and he's disappointed in-contention here before.
Justin Thomas missed a silly little par putt on the 18th yesterday but he's right where he'd want to be at the halfway stage and the market is correct to judge him the second most likely to win. Every chance.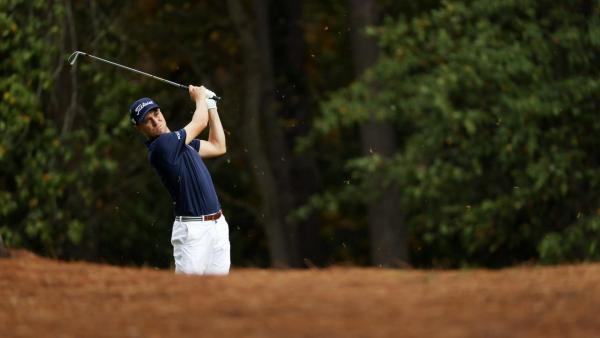 The only three players not mentioned that trade at 30.029/1 and below are the perennial bridesmaid, Tony Finau, Xander Schauffele and Hideki Matsuyama.
Backing Finau is quite simply a no-no given he lets his backers down time and time again, Schauffele looks way too short given he trails by four and that he hasn't won in three years and Matsuyama is another that flatters to deceive far too often. He's looking to win for the first time in almost four years and he's far from convincing in-the-mix.
In-play pick, Si Woo Kim, looks a decent price at 30.029/1 given he only trails by three but I suspect there's a worry he won't be able to keep his temper. Somewhat bizarrely, he broke his putter in anger yesterday and he had to use his three-wood on the last four greens! I suspect he may need to remain a bit calmer than that if he's going to go on and win.
Of the rest inside the top-eight and ties, Cameron Champ has been excellent so far but can his form continue over the next two days? Since finishing 19th on debut here in November, he's produced form figures reading 31-MC-MC-MC-48-MC-MC-34 so quite where he's found this form from is baffling. That said, he's some talent and can't be dismissed lightly and although he's a multiple European Tour winner, Bernd Wiesberger has also been playing poorly of late and it's very hard to see him winning.
With the wind forecasted to get up today, this looks a really tricky puzzle to solve so I'm sitting on what I have for now but I can't say I wasn't tempted to get Spieth onside or to add Champ.
I'll be back tomorrow with a look at the state of play after round three.
11:50 - April 9, 2021
Having played his first seven holes in two-over-par, Justin Rose, generally a 140.0139/1 pre-event chance on the exchange, was matched at a high of 490.0489/1 for a few pounds last night but after catching a slight break at the par five eighth, where a generous bounce set up this eagle three, the 40-year-old Englishman, who was one of Matt Cooper's two each-way fancies before the off, caught fire.
Never rule out @JustinRose99 at Augusta #TheMasters pic.twitter.com/W4tEmcWHzU

? The European Tour (@EuropeanTour) April 8, 2021
Despite being drawn on the wrong side of the draw (the PM starters averaged exactly a stroke more than the morning starters), Rose didn't let up after that, birdying seven of his last ten holes, and for a fourth time in his illustrious career, he ended the first round of a US Masters in front. Here's the first round leaderboard with prices to back at 11:40.
Justin Rose -7 5.49/2
Hideki Matsuyama -3 17.5
Brian Harman -3 29.028/1
Patrick Reed -2 15.014/1
Webb Simpson -2 21.020/1
Will Zalatoris -2 44.043/1
Christiaan Bezuidenhout -2 55.054/1
Jordan Spieth -1 10.09/1
Tyrrell Hatton -1 36.035/1
Shane Lowry -1 50.049/1
Si Woo Kim -1 65.064/1
Jason Kokrak -1 80.079/1
Jon Rahm Ev 15.5
Xander Schauffele Ev 28.027/1
Justin Thomas +1 17.5
Collin Morikawa +1 46.045/1
Dustin Johnson +2 25.024/1
Even par and 55.054/1 bar
On a day when only two other players broke 70, Rose's 65 was a remarkable round and it's going to be fascinating to see if he can back it up today.
In 84 previous editions, only two winners - Nick Faldo in 1990 and Tiger Woods in 2005 - have trailed by seven strokes after round one and that's the furthest any winner has trailed after the opening day's play.
If that trend is to continue, you can put a line through Justin Thomas, the defending champ, Dustin Johnson, Collin Morikawa and anyone else sitting outside the top-19 places but I'm far from convinced it's that simple.
This is the fourth time Rose has led or co-led after the opening round of the US Masters and he didn't fare brilliantly on the previous three occasions. He led by two after rounds one and two in 2004 but eventually finished 22nd and having been tied for the lead after the opening round in both 2007 and 2008, he ended those two renewals in fifth and 36th.
As highlighted in the In-Play Tactics section of the preview, being up with the pace is extremely important at Augusta. Tiger Woods sat tied for 11th and four off the lead after the opening round in 2019 but that was the first time any winner had sat outside the top-ten after round one since he'd sat tied for 33rd and seven off the lead in 2005 but as Justin Ray highlights below, holding a clear lead after the opening round doesn't appear to be much of a positive.
Justin Rose is the 24th outright first round leader at #TheMasters since 1985.

Only 1 of the previous 23 went on to win: Jordan Spieth in 2015.

? Justin Ray (@JustinRayGolf) April 9, 2021
Knowing Rose had a decent run of holes to come, I jumped onboard at 25.024/1 when he parred the hardest hole on the course yesterday (the 11th) but I layed him back last night at 5.24/1. He's still a very small winner but I'm really struggling to envisage him pulling away today.
This is the 25th time that Rose has led after round one in his career. He's only gone on to win four times previously and as Justin's tweet demonstrates, first round leaders tend to struggle. Since 1996, as many as 35 players have led or co-led the US Masters after round one and only seven of them broke 70 in round two. Of the last eight to lead or co-lead, last year's winner, DJ, who shot 70 in round two, is the only one to break par on Friday.
Charley Hoffman, in 2017, is the last player to lead by four after round one (also opened with a 65) but he shot 75 in round two to be tied at halfway and he eventually finished tied for 22nd.
Rose is an odds-on shot to lead at halfway and that's probably fair given he's a major champion with a great bank of US Masters form but everything points to him having his work cut out to win the tournament and odds of around 4/1 do look short this morning.
My only other in-play pick yesterday was Tyrrell Hatton, who I backed at 42.041/1 as he played the 17th. He's tied for eighth and six behind Rose and as it was only a small bet, I'm hanging on to it for now. I really fancied his chances in November but he missed the cut for a second time in four appearances and he wasn't very enthusiastic about the venue after his round last night, saying it doesn't really suit him. It'll be interesting to see how he fares today.
After the Rose trade, my book isn't looking too bad this morning. Pre-event picks, Paul Casey and Collin Morikawa had very disappointing finishes to their rounds and they both sit alongside ante-post pick, Justin Thomas, and one of my Find Me a 100 Winner selections, Corey Conners, on +1, but 42.041/1 fancy, Patrick Reed, is bang there and 200.0199/1 Find Me a 100 Winner pick, Brian Harman, sits tied for second.
The 2015 winner, Jordan Spieth, is the man most likely to challenge Rose according to the market but his triple-bogey seven at the ninth yesterday showed that although back to form, he has a destructive hole in him and although I haven't been able to confirm the fact, I'm almost certain that nobody has won the US Masters having made a triple-bogey or worse.
He was quite brilliant after the ninth but even he admitted that he was extremely fortunate on 15 when making an eagle three. Had his third shot not been bang on-line it was going in the water!
Having arrived at Augusta late following the birth of his son, Jon Rahm is an interesting runner after a decent start but the two I've added this morning for tiny stakes are Christiaan Bezuidenhout and Si Woo Kim. Bez is an ante-post pick for the Open Championship and the US Open so it would be somewhat galling to see him go in here. It's only going to get tougher here over the next three days and he certainly does tough. And I thought Kim looked fractionally big given he was a bit unlucky at 15 yesterday.
As I did yesterday, I'm going to be tweeting live from the Betfair Exchange account again today and I'll be back tomorrow with a look at the state of play at halfway.
#TheMasters 2021 is underway!

We've got @SteveThePunter here for the next four days to take you through the ups and downs and provide some of the best insight in the game. pic.twitter.com/zBV7lxYnNw

? Betfair Exchange (@BetfairExchange) April 8, 2021
I haven't had a chance to go through all the three-balls yet but Paul Krishnamurty has had a good look here and after breaking even yesterday, he's got five more bets today here.
Pre-Event Selections:
Justin Thomas 16.015/1 (ante-post)
Collin Morikawa @ 38.037/1
Patrick Reed @ 42.041/1
Paul Casey @ 55.054/1
In-Play Trades:
Justin Rose backed at 25.024/1 & layed @ 5.24/1
Tyrrell Hatton @ 42.041/1
Christiaan Bezuidenhout @ 55.054/1
Si Woo Kim @ 65.064/1
Find Me a 100 Winner Selections:
Back Corey Conner 2u @ 150.0149/1
Place order to lay 10u @ 10.09/1 & 10u @ 2.35/4
Back Brian Harman 2u @ 200.0199/1
Place order to lay 10u @ 10.09/1 & 10u @ 2.35/4
Back Kevin Na 1u @ 380.0379/1
Place order to lay 10u @ 10.09/1 & 10u @ 2.35/4
*You can follow me on Twitter @SteveThePunter

Discover the latest articles
Read past articles