The Punter's In-Play Blog: Will Harris hold on in Memphis?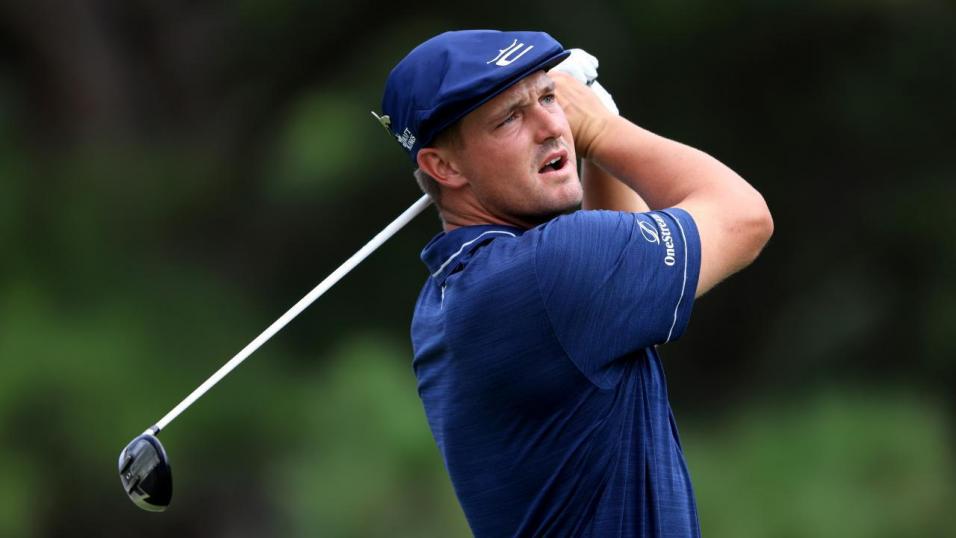 Bryson DeChambeau in action in round three
There's just one round to go at both the WGC-FedEx St Jude Invitational and the Barracuda Championship so our man's back with his last in-play post of the week here...
"He may be universally disliked but there's no denying DeChambeau is a huge danger to the leader and he's won the last three of his eight PGA Tour titles form this position."
09:35 - August 8, 2021
Harris English set the early pace at the WGC-FedEx St Jude Invitational and with 18 holes left to play, he's still in front. Here's the 54-hole leaderboard with prices to back at 09:30.
Harris English -18 2.427/5
Bryson DeChambeau -16 3.55/2
Cameron Smith -16 5.69/2
Abraham Ancer -14 18.017/1
Scottie Scheffler -13 26.025/1
Ian Poulter -13 50.049/1
-11 and 95.094/1 bar
Although he's won four times previously on the PGA Tour, and he's held a clear halfway lead three times previously (winning twice), strangely, this is the first time in Harris English's lengthy career that he's began the final round of any event with a clear lead.
He was tied for the lead through 54 holes when he lost a playoff at the 2015 Farmers Insurance Open and he'd began day four tied at the top when he won the Sentry Tournament of Champions in extra time in January so there's no reason whatsoever to think he won't be able to handle the pressure.
English is attempting to win the event wire-to-wire but he would be far from the first course winner to do so. This is what I wrote in the In-Play section of the preview.
"When Crane won here seven years ago, he was the sixth wire-to-wire winner since 1996. He was the first winner on the PGA Tour to fail to record a birdie in round four since Justin Leonard had won here in 2005, suggesting that this really is somewhere that you can start fast and cling on."
The big danger to English is the ever-unpopular Bryson DeChambeau, who is again getting plenty of stick. Whether it's not taking a covid jab, not bothering to shout fore when he hits a wayward tee, or merely tackling a fence in an odd manner, Bryson certainly gets under golf fans' skin.
Something tells me Bryson hasn't encountered many fences in his day. pic.twitter.com/Q8cv5lamAB

? Drive The Green Golf (@drive_the_green) August 7, 2021
He may be universally disliked but there's no denying he's a huge danger to the leader and he's won the last three of his eight PGA Tour titles form this position. Sitting in second place, he trailed by three with a round to go when winning the Rocket Mortgage Classic last July, by two at the US Open in September and he trailed Lee Westwood by a stroke at the Arnold Palmer Invitational in March.
DeChambeau has put in a couple of dodgy performances in-contention since those victories though, falling from second to third in round four at the Players Championship, the week after he'd won the Arnold Palmer, from fourth to 26th when defending his US Open title and from ninth and three back to 19th and six behind the winner, Harris English, at the Travelers Championship in June.
His ongoing feud with Brooks Koepka appears to be damaging both parties and Bryson hasn't spoken to the media since the news broke that he hasn't had a covid jab. His off the course antics aren't helping his golf and it will be interesting to see how he plays today. Will we see the old ruthless DeChambeau or the more-recent wobbly one?
Alongside DeChambeau on -16, courtesy of a birdie at the 18th in round three, Cameron Smith looks a far bigger danger than Mexico's Abraham Ancer, who bogeyed his last two holes in round three, but both represented their nations in the Olympics last week and fatigue could be an issue.
Having backed English after round one at

6.8

6/1

, I'm fairly happy with my lot and I'm going to leave things alone for now.
Over at the Barracuda Championship, Find Me a 100 Winner pick, Scott Piercy, and in-play pick, Andrew Putnam, were tied for the lead when I called it a night last night but I've woken up to see that neither man impressed on the back-nine and that pre-tournament 48.047/1 chance, Adam Schenk, goes into the fourth and final round leading by four points.
The 29-year-old, who was 12th in this event on debut last year, looks short enough at less than 2/1 given his sole title to date is the 2017 edition of the Lincoln Land Charity Championship on the Korn Ferry Tour and that he was beaten on the only previous occasion he's led with around to go - at the 2016 United Leasing Championship on the Korn Ferry Tour.
Last year's winner here, Richy Werenski, trailed by seven points at this stage so given they only trail by four and five strokes respectively, Putnam and Piercy aren't dead yet and I'll hope to wake up to some better news tomorrow.
21:35 - August 7, 2021
In-play pick, Calum Hill, threatened to run away from the rest in the early stages of the third round of the Hero Open at Fairmont St Andrews today. He played his first seven holes in five under-par and he was matched at a low of just 2.021/1 but he dropped a couple of shots after the turn when the wind picked up and fellow Scotsman, Grant Forrest, took up the running after a sensational 10-under-par 62, that began with a bogey five!
Hill birdied 15 and 18 to pull alongside Forrest again and those two take a single stroke lead into tomorrow's fourth and final round. Here's the 54-hole leaderboard with prices to back at 21:25.
Calum Hill -18 3.45
Grant Forrest -18 5.04/1
Santiago Tarrio -17 5.79/2
David Law -16 10.519/2
Lucas Bjerregaard -16 16.015/1
Matthew Jordan -15 16.5
Berry Henson -15 44.043/1
-14 and 30.029/1 bar
This tournament is fascinatingly poised but it's one to be wary of given only two of the top-seven have tasted victory on the European Tour before.
The halfway leader, Lucas Bjerregaard, who unsurprisingly shot a lacklustre one-under-par 71 today after Friday's brilliance, has chalked up a couple of high profile wins and David Law was a 1000.0 surprise winner of the Vic Open in 2019.
Calum Hill has won three times on the Challenge Tour and although he's been in the van throughout, and he hit a bump in the road on the back nine today, he's the one to beat and I much prefer him to Grant Forrest, who's yet to win anywhere. He needs to back up today's ridiculously low round and that's something that Bjerregaard showed us today, isn't always easy.
Santiago Tarrio is an interesting runner given he's tasted victory twice on the Challenge Tour as recently as June and that recent winning experience should stand him in good stead.
Many a halfway leader bounces back on a Sunday to win after a disappointing third round and Bjerregaard has a history of doing it himself. He won the Alfred Dunhill Links Championship three years ago having entered the final round trailing by four, after he'd sat tied for the lead at halfway, and he was beaten in extra time at the European Masters a month earlier having shot 63 in round four, after he'd fallen from second place to third on Saturday.
Bjerregaard could bounce back tomorrow, as could Justin Walters, who also stuttered today (now five back) and we might even see a rebound by one of last Sunday's flops...
Jordan Smith showed us last week how difficult it is to convert a lead on the European Tour when he shot a disastrous 74 on Sunday to fall from one clear to third place and he's dangerous. He'll feel as though he has nothing to lose from tied eighth and four off the lead and should the leaders do what he did last week, he may well be the one to benefit.
I've had a little tweak of my book, laying some of my Hill bet back and getting both Tarrio and Bjerregaard onside but this looks a devilishly tough tournament to work out and I'm certainly not confident of a positive outcome.
08:45 - August 7, 2021
We're yet to see just how acute the draw bias is going to be at the Hero Open on the European Tour. After a lengthy delay to the start of play yesterday, when the weather was just too awful for play to go ahead, some of the latter starters are yet to complete their second rounds. Round two is still ongoing this morning and I'm going to leave the event alone for now.
Denmark's Lucas Bjerregaard, who's currently ranked 960th in the world rankings, having sat inside the top-50 two years ago, has hit the front after a spectacular run of form yesterday that Chris Paisley's caddie, Jason Palmer, described as "the best putting display I've ever seen in my life."
It isn't every day that you get to witness something truly special first hand but today was one of those days. 20 putts in 18 holes from @LBjerregaard was the best putting display I've ever seen in my life. And I've seen a few! pic.twitter.com/H99mjpan5W

? Jason Palmer (@jasonpalmergolf) August 6, 2021
Brilliant putting performances are usually a one-off and given the Dane's general run of form, he looks opposable, despite holding a handy two-stroke lead.
Over in Memphis, the first round leader, Harris English, is still at the head of affairs at the WGC-FedEx St Jude Invitational but Abraham Ancer and Cameron Smith trail by just two in a tie for second.
Just like Bjerregaard in Scotland, Smith needs to back up an incredible putting performance and having backed English after round one, I'm happy to stick with him for now.
18 putts thru 18 holes.

1: 1 putt
2: 2 putts
3: 0 putts
4: 0 putts
5: 1 putt
6: 1 putt
7: 1 putt
8: 0 putts
9: 1 putt
10: 1 putt
11: 2 putts
12: 1 putt
13: 2 putts
14: 1 putt
15: 1 putt
16: 0 putts
17: 1 putt
18: 2 putts

Golf claps for Cameron Smith pic.twitter.com/PPwNuuomji

? PGA TOUR (@PGATOUR) August 6, 2021
This is a difficult tournament to assess. We've seen as many as five halfway leaders go on to win in the last 12 years but two of the last three winners were trailing by seven at this stage and the 2011 and 2012 winners, Harrison Frazar and Dustin Johnson, both trailed by five at halfway.
With course winners, Daniel Berger, Justin Thomas, and Dustin Johnson all within seven, this looks wide-open and I'm happy to sit on my hands for now and see what today brings.
Over at the Barracuda Championship, I'd just about given up on my Find Me a 100 Winner selection, Scott Piercy, late last night after he'd made his second extremely damaging double bogey of the week at his seventh hole of the second round (the par four 16th).
Under the modified Stableford scoring system used this week, a bogey equals minus one point but a double-bogey or worse takes three off your score so that mistake put Piercy firmly behind the eight ball, but he responded in fine style, birdying eight of his last 11 holes to get within four points of Emiliano Grillo's lead of 29.
Grillo is the man to beat according to the market but he's not the greatest in contention and he looks opposable. And the one I like is the 2018 winner, Andrew Putnam, who sits alongside Piercy and Scott Harrison in a tie for fourth.
It's merely coincidental and there's probably nothing in it but somewhat quirkily, I've noticed a bit of a pattern of players performing well in this event, every three years...
JJ Henry won the event in 2012 and 2015, Gary Woodland finished second in 2016, three years after he'd won the event in 2013, and Richy Werenski took the title last year, three years after he'd finished second in 2017. Can Putnam keep the streak going?
Obviously, that's just quirky nonsense really but on a more serious note, event form does count for plenty here and I was happy to get Putnam onside modestly at an average of 15.014/1, although fingers are now firmly crossed for Piercy, who hasn't quite hit the first lay back target of 10.09/1 yet.
I may be back tonight with a look at the Hero Open with a round to go, if they don't finish too late, or I may wait until tomorrow morning, when I'll look at all three tournaments at the same time with just one round to go at each.
22:30 - August 5, 2021
The weather was so bad this afternoon at the Hero Open, that the chances of the winner coming from the PM-AM side of the draw look remote at best.
The afternoon starters averaged 75.46, compared to the 70.42 shot by the morning starters - a difference of 5.04 strokes! And looking at the forecast for tomorrow, there's no chance whatsoever of things evening up - if anything the differential between the two sides of the draw will be worse by the time we reach halfway.
Wind and rain are forecasted throughout the day, with the breeze dropping fractionally as the day wears on, so there appears very little chance that the first round leader, Calum Hill, will be caught by the time he tees off.
The Barracuda Championship is well underway but I'm going to let that one run until halfway given last year's winner, the first at this venue, Richy Werenski, sat tied for 38th and eight points off the lead after round one, suggesting a patient approach may be the best way to play that event but I've jumped in and had an in-play bet at the WGC - FedEx St Jude Invitational, where the opening round has just finished.
Harris English won the first of his four PGA Tour events at TPC Southwind in the FedEx St Jude Invitational back in 2013. Technically, this event replaces the WGC Bridgestone Invitational but the old St Jude hasn't been played since this event replaced the Bridgestone, so in effect it replaces both tournaments and form at Southwind is surely worth more than the old Bridgestone form at Firestone Country Club.
English led after rounds one and two before slipping to second after three rounds when he won here in '13 and he's one of eight first round leaders to go on and win here in the last 25 years. That's a decent enough strike-rate.
Harris won the Sentry Tournament of Champions in January wire-to-wire so all things considered, given he leads by two, I was happy to chance him modestly at 6.86/1.
13:10 - August 5, 2021
The morning wave are just finishing up at the Hero Open and with the wind starting to rise, in the clubhouse is the place to be.
Scotland's Calum Hill is setting the early pace after a nine-under-par 63 and I'm happy to get him onside at

5.8

5/1

.
Hill, a pre-event 36.035/1 chance, matched at a high of 44.043/1, has missed three of his last three cuts so this performance certainly wasn't telegraphed. He's in search of his first victory on the European Tour and he's never finished the end of round one in front on any Tour so it will be interesting to see how the three-time Challenge Tour winner fares after today.
My 210.0209/1 Find me a 100 Winner pick, Jonathan Caldwell, who was also one of Matt Cooper's each-way fancies, has also started nicely and at the time of writing, he sits alone in second after opening the event with an eight-under-par 64.
One of my three pre-event picks, Adrian Otaegui, is in the clubhouse on -5 but Daniel Van Tonder has had a poor opening round and Andy Sullivan is out in the afternoon.
With the wind blowing, it would be remarkable if one of the afternoon starters manages to get to the leader and with the forecast suggesting tomorrow morning will be tougher than the afternoon, a significant draw bias in favour of the AM-PM starters looks on the cards.
Neither the Barracuda Championship, which I've previewed here, nor the WGC-FedEx St Jude Invitational, which I've previewed here, have kicked off yet so if you fancy a play on the first round leader market there, here's Dave Tindall's thoughts on the market.
WGC-FedEx St Jude Invitational Pre-Event Selection:
Daniel Berger @ 28.027/1
In-Play Pick:
Harris English @ 6.86/1
Hero Open Pre-Event Selections:
Andy Sullivan @ 21.020/1
Adrian Otaegui @ 32.031/1
Daniel Van Tonder @ 50.049/1
In-Play Pick:
Calum Hill @ 5.85/1
Barracuda Championship Pre-Event Selection:
Pat Perez @ 60.059/1
In-Play Pick:
Andrew Putnam @ 15.014/1
Find Me a 100 Winner picks:
Barracuda Championship
Back 2 u Scott Piercy @ 140.0139/1
Place order to lay 10u @ 10.09/1 & 10u @ 2.01/1
Hero Open
Back 1 ½ u Jonathan Caldwell @ 210.0209/1
Place order to lay 10u @ 10.09/1 & 10u @ 2.35/4
Back 2 u James Morrison @ 130.0129/1
Place order to lay 10u @ 10.09/1 & 10u @ 2.01/1
*You can follow me on Twitter @SteveThePunter
Discover the latest articles
Read past articles