The Punter's In-Play Blog: DJ nicely poised at Olympia Fields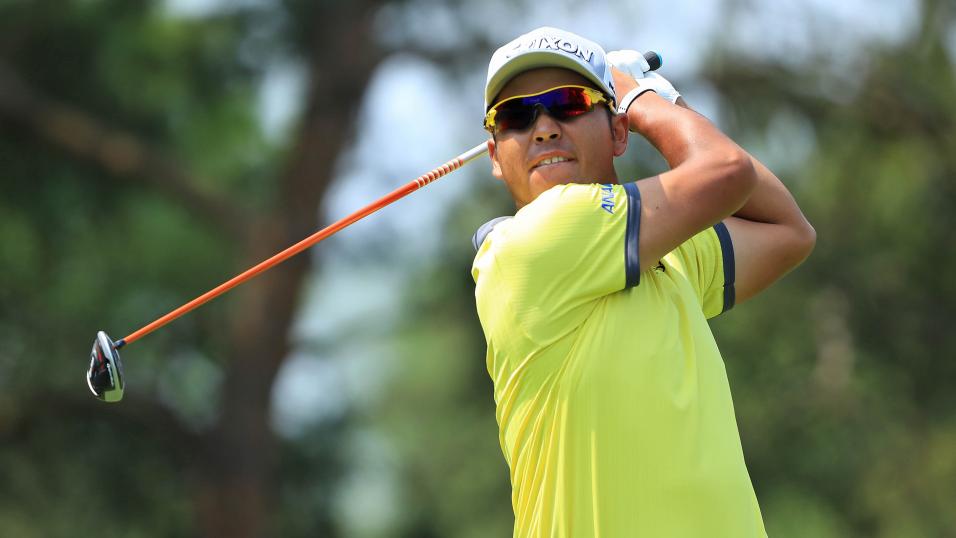 Hideki Matsuyama - tied for the lead with a round to go
Dustin Johnson and Hideki Matsuyama are tied at the top with a round to go at Olympia Fields as our man shares his final in-running thoughts for the week here...
"With Matsuyama so reliant on his short game so far this week and with DJ due to get a bit more fortune on the greens, I suspect the pre-event favourite to convert from here and almost 2/1 is a very fair price still."
13:00 - August 30, 2020
Kevin Streelman and Jon Rahm both shot four-under-par 66s at Olympia Fields yesterday on what transpired to be the easiest day of the week there so far. With a few tees moved up, the field averaged 71.39 in round three of the BMW Championship, compared to the 72.83 averaged on Thursday and the 72.72 on Friday but there's still only two men under-par. Here's the 54-hole leaderboard with prices to back at 12:50.
Dustin Johnson -1 2.982/1
Hideki Matsuyama -1 4.77/2
Adam Scott +1 12.011/1
Joaquin Niemann +1 24.023/1
Mackenzie Hughes +1 30.029/1
Jon Rahm +2 11.521/2
Rory McIlroy +2 14.5
Kevin Kisner +2 32.031/1
Bubba Watson +2 40.039/1
Brendon Todd +2 42.041/1
Sebastian Munoz +2 75.074/1
+3 and 70.069/1 bar
Having watched every shot of the third round at Olympia Fields, I can't quite work out how Matsuyama is still under-par and still level with DJ. After three rounds, Matsuyama ranks 61st for Driving Accuracy and 57th for Greens In Regulation but he's scrambled and putted superbly.
In contrast, DJ ranks third for GIR and the three men tied for third rank second, 12th and 19th for GIR. Johnson only ranks 24th for DA but he gave himself chance after chance for birdie yesterday and had he been leading by three, four or even five, it wouldn't have been out of line. Matsuyama couldn't have scored any better that he did yesterday and Johnson could barely have scored any worse. DJ is the man to beat.
I'm absolutely relishing this week's event because it's more like a traditional tough US Open than a standard PGA Tour event and I suspect round four to play out just like a traditional tough US Open when hanging on to what you already have is the order of the day.
I haven't read that they've watered the course at all and I suspect it will play slightly harder than it did yesterday. I doubt we'll see Rahm and Streelman's 66s beaten today and it's perfectly possible that the winning score is over-par. The two strokes the two leaders have in hand on the rest are worth plenty and making up ground on them will be extremely hard.
With Matsuyama so reliant on his short game so far this week and with DJ due to get a bit more fortune on the greens, I suspect the pre-event favourite to convert from here and almost 2/1 is a very fair price still.
If the front two are to fail, with nine players separated by a stroke, it's very hard to call but the market isn't wrong to favour Jon Rahm over everyone else. His 66 yesterday really was an incredible knock given he picked up a penalty for picking up his ball on the fifth green without marking it first. The Spaniard was matched at a high of 370.0369/1 after an opening 75 but he's bang there now and unlike many of the contenders, he doesn't have to worry about his position in the FedEx Cup standing.
21:10 - August 29, 2020
After a three-under-par 69 in round three of the UK Championship, pre-event 600.0599/1 chance, Justin Walters, who's in search of his first European Tour title after 226 starts, still shows the way. Here's the 54 hole leaderboard with prices to back at 21:00.
Justin Walters -12 3.55/2
Martin Kaymer -10 3.613/5
Benjamin Hebert -10 4.47/2
Rasmus Højgaard -7 18.5
Jorge Campillo -7 30.029/1
Laurie Canter -7 44.043/1
Marcus Armitage -7 44.043/1
Marcus Kinhult -6 50.049/1
Min Woo Lee -6 20.019/1
Bryce Easton -6 150.0149/1
Bernd Wiesberger -5 60.059/1
-5 and 80.079/1 bar
Justin Walters successfully converted a one stroke lead at the Royal Swazi Open on the Sunshine Tour way back in 2011 but on the only occasion he's been in front with a round to go on the European Tour he came up short.
Having been tied for the lead through three rounds of the Joburg Open in 2014, he shot 73 in round four and he was beaten by three. He led by five at one stage during round three here but the fact that he never went any shorter than 2.427/5 tells you all you need to know. A lead like that through two and half rounds would usually see someone go odds-on and the market doesn't have much faith in the 39-year-old maiden. I'm not convinced he's a bad price though...
Despite trailing by two, multiple major champion, Martin Kaymer, is vying for favouritism with Walters but he has his own demons to exorcise. The 35-year-old German hasn't won since he galloped to US Open victory at Pinehurst He's been leading or within two of the lead nine times since that victory and he's yet to convert. He used to be bombproof in-contention but that all changed in January 2015 when he contrived to get beat in Abu Dhabi having led by ten strokes during the final round. I'd love to see Kaymer win again but I'm happy to cheer him on without a financial interest on him here.
Alongside Kaymer is Benjamin Hebert - another player with questions to answer. The 33-year-old Frenchman has won six times on the Challenge Tour but he's still yet to taste victory on the European Tour. And he's had numerous chances.
Hebert trailed by just a stroke with a round to go twice back in 2017 but he could only finish eighth on both occasions, beaten by five and eight strokes respectively, and he was beaten in a playoff at the China Open last year having led by three through three rounds. Favoured by being a bit further back through 54 holes, he was also beaten in a playoff at both the Scottish Open (where he missed a short putt for the win) and the Turkish Airways Open last year and I'm in no rush to back him either.
The market, quite rightly, strongly suggests that one of the front three will win but it's an impossible job picking out which one and I'm happy to swerve them all and take a chance on a few from further back...
Rasmus Højgaard, who trails by five, looks a reasonable price at around 18.017/1 and he's the most likely to prosper if the front three all flop but I'm also happy to throw a few pounds at Markus Kinhult, Min Woo Lee and Bernd Wiesberger at juicy prices too.
10:30 - August 29, 2020
Having had to return to the Belfry early on Friday morning to finish off their badly disrupted opening rounds, it looked like those drawn PM-AM at the UK Championship were going to be on the wrong side of the draw but it actually worked out the other way.
The still and relatively calm conditions of Friday morning more than made up for the inconvenience of the disrupted first round and those drawn PM-AM ended up averaging 0.65 of a stroke less than those drawn AM-PM - although the first and second at halfway both began early on Thursday. Here's the leaderboard with prices to back at 10:20.
Justin Walters -9 12.011/1
Benjamin Hebert -8 6.611/2
Paul Waring -7 7.26/1
Bernd Wiesberger -6 7.06/1
Ryan Fox -6 11.010/1
Mathew Jordan -6 14.013/1
Marcus Armitage -6 22.021/1
Julian Suri -5 36.035/1
Scott Vincent -5 40.039/1
-4 and 40.039/1 bar
Having tried to back Bernd Wiesberger at a slightly too greedy 30.029/1, I spent the first two days regretting not setting my request to back at 29.028/1 and when he got to eight under-par and was matched at just 4.67/2 I thought I'd really missed the boat but a double-bogey at his final hole of round two has seen him drift considerably.
Wiesberger does look like the biggest danger to the leaders but I'm still going to hang fire on him for now as he looks just fractionally short given his stats after the opening couple of days. He's putting well but he ranks poorly for Greens In Regulation and not brilliantly for Driving Accuracy. If he can continue to putt well and improve his tee-to-green game then he'll be the one to beat but there's just not enough juice in his price of around 7.06/1.
I'm happy to remain largely cautious but I did have a small bet on Julian Suri last night at 42.041/1. In contrast to Wiesberger, his long game's in decent order but he isn't making many putts. If they start to drop with more frequency, I can see him moving up nicely today.
Over at the BMW Championship, world number one and pre-event favourite, Dustin Johnson, birdied the last two holes of his second round to move to within one of the lead but it's Rory McIlroy, who is one of just two players under-par, that just heads the market. He's the latest standings with prices to back at 10:30.
Rory McIlroy -1 5.24/1
Patrick Cantlay -1 6.86/1
Dustin Johnson Level 5.39/2
Hideki Matsuyama Level 13.5
Adam Scott +1 18.5
Tony Finau +1 22.021/1
Billy Horschel +1 30.029/1
Louis Oosthuizen +1 30.029/1
Brendon Todd +1 36.035/1
+2 and 32.031/1 bar
As Justin Ray's tweet below shows, the contrast between this week and last is stark.
Field score to par through 2 rounds, last two weeks:

Last week: 382-under
This week: 383-over

? Justin Ray (@JustinRayGolf) August 28, 2020
I'm really enjoying seeing the world's best tested to the max and I'm looking forward to what the weekend will bring. I'm happy to be onboard DJ from the start and I'm surprised he hasn't returned to the front of the market.
Rory has played nicely for the first two days and although he's missed some short putts, he's largely putting well too, but I still think it's more likely that Johnson wins the tournament.
Co-leader, Patrick Cantlay, seems to find a way of getting beat so I'm happy to swerve him and the first round leader, Hideki Matsuyama, is already back-peddling. If I hadn't already been on DJ, I'd be backing him this morning as he's the most likely winner in my mind but if Brendon Todd keeps finding fairways and putting so well, he might just cause a surprise.
Todd's been in terrific form both before and after the pandemic break and of those on +1 and within just two of the lead, he looks the best value this morning. It is possible that someone could make headway from some way back but so far this week, Hideki's three-under-par 67 on Thursday is the lowest round score so the chances of someone going low over the weekend are extremely remote.
So tough is the course playing, that we may even get an over-par winning total and I suspect the winner will be the person already within one or two of the lead that grinds the best and that could very easily be Todd.
12:25 - August 28, 2020
The UK Swing on the European Tour has been quite a success but organising golf tournaments in England in the summer is always going to be risky and round one of the UK Championship needed to be paused for more than four hours yesterday when the Belfry became waterlogged. Play eventually resumed at 18:15 yesterday evening and the first round was finally finished off earlier this morning.
The second round is well underway and I'm going to wait and see how things materialise today. My sole selection, Andy Sullivan, is one of those that appears to have been handicapped by a PM-AM draw and with the benefit of hindsight, I wish I'd added a couple of others.
I also liked Arron Rai and Bernd Wiesberger but I was a bit greedy on price. Rai looks too far back anyway but I wish I'd taken 29.028/1 on Wiesberger rather than holding out for 30.029/1 as he now heads the market after an opening five-under-par 67 before play was suspended yesterday.
The tournament is live on Sky now and the weather's good but with heavy rain forecasted this afternoon, another suspension can't be ruled out. I'm leaning towards waiting until halfway but if I do get involved. I'll post any bets to Twitter.
Over on the PGA Tour, the first round of the BMW Championship is done and dusted and we now know that the North Course at Olympia Fields is indeed a tough assignment. We've got ourselves a US Open type test and I'm relishing it.
Most of what I'd read and heard had suggested that the rough would be brutal and that finding fairways would be key but the BMW Championship has been played on some tough courses previously and the set-up has been much easier than expected before the off. That's not been the case here though. With just three players breaking par on day one, it's a really tough test to enjoy.
Hideki Matsuyama (-3), Tyler Duncan (-2) and Mackenzie Hughes (-1) fill the top three places but with ten players on level par and a further seven on +1, the tournament is still wide open.
A seemingly rejuvenated Rory McIlroy, on level par, and last week's runaway winner, Dustin Johnson, on +1, are vying for second favouritism behind Matsuyama and my preference is for DJ. I had a small bet before the off at 11.010/1 but he looks a fair price today at 10.09/1. His first round back after last week's incredible feat was always going to be difficult, especially in such different conditions, but he's nicely placed and he's won a US Open in tough conditions...
DJ's sole major success came at Oakmont in 2016 where he won with a 276 - four-under-par total and he was one of just four players to break par. When Jim Furyk won his one and only major, the 2003 US Open here at Olympia Fields, he too was one of just four players to break par. Johnson may have won in 30-under-par last week but he's more than capable of grinding it out in gruelling conditions and he's the one to beat still.
In contrast, all Rory's wins have come when the conditions aren't brutal and he's never won a title with a score in relation to par worse than -12. Nobody is getting to a double-digits under-par score here and I suspect Rory won't be contending come Sunday afternoon - especially if he continues to miss so many short putts. He missed two putts from inside four feet and one from inside three feet yesterday!
I'm looking forward to seeing how round two pans out later as I much prefer a tough test to a birdie-fest and I've backed a couple for small stakes at big prices this morning. Hughes looked a bit big at 65.064/1 given his form before the tournament and his nice start and Carlos Ortiz looked huge at 190.0189/1 given how strong his stats were yesterday. The Mexican, who is amongst those tied for fourth on level par, ranked fourth for Driving Accuracy, second for Greens In Regulation and second for Scrambling. If he can get his putter to warm up a bit more, I can see him hanging around.
UK Championship Pre-Event Selection:
Andy Sullivan @ 24.023/1
In-Play Picks:
Julian Suri @ 42.041/1
Rasmus Højgaard @ 18.5
Markus Kinhult @ 50.049/1
Bernd Wiesberger @ 65.064/1
Min Woo Lee 80.079/1
BMW Championship Pre-Event Selections:
Dustin Johnson @ 11.010/1
Collin Morikawa @ 28.027/1

In-Play Picks:
Mackenzie Hughes @ 65.064/1
Carlos Ortiz @ 190.0189/1
Brendon Todd @ 36.035/1
*You can follow me on Twitter @SteveThePunter
New on Betting.Betfair – Betslip
You can now bet without leaving Betting.Betfair with our brand new on-site betslip for Exchange markets. You'll see the Exchange back and lay prices at the end of articles - simply login and place your bets as you would do on the main Exchange site
Discover the latest articles
Read past articles