The Punter's US Open In-Play Blog: Wolff shows the way but Bryson's value to hunt him down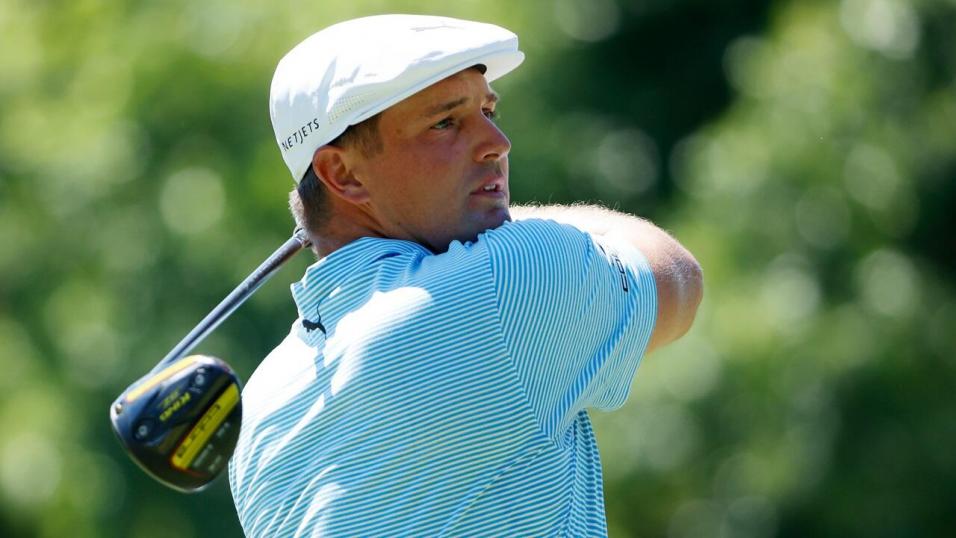 Bryson DeChambeau - two back at the US Open
A sensational five-under-par 65 by world number 36, Matthew Wolff, has given the 21-year-old a two-stroke lead at the 120th US Open but can he become the first debut winner in 107 years?
"The last 21 US Opens have been won by someone within four strokes of the lead so if that trend is to continue, only three men can win – Wolff, DeChambeau or Oosthuizen."
10:20 - September 20, 2020
There were six players under-par at the halfway stage of the US Open at Winged Foot but none of them were able to break 70 in round three and there are now just three men under-par with a round to go.
There were some catastrophic third rounds by the leaders, most notably by my pre-event 55.054/1 pick, Patrick Reed, who having led by three early on, and having been matched at a low of 3.412/5, played the back nine in eight-over-par, and only one of the current front three, Bryson DeChambeau, was inside the top-six 24 hours ago. Here's the 54-hole leaderboard with prices to back at 10:15.
Matthew Wolff -5 2.8415/8
Bryson DeChambeau -3 3.55/2
Louis Oosthuizen -1 13.012/1
Xander Schauffele E 11.521/2
Hideki Matsuyama E 16.015/1
Harris English E 25.024/1
Rory McIlroy +1 17.016/1
+2 and 100.099/1 bar
The field had largely struggled early on yesterday, with Alex Noren's three-under-par 67 an outlier in the early scores, but the wind eased as the day wore on and Matthew Wolff took full advantage, playing a front-nine that was scarcely believable.
Incredibly, Wolff birdied five of his first eight holes to edge in front and with the overnight leaders all flapping, he now shows the way by two with a round to go. He's just the fourth player to take a two-stroke lead into the final round of a US Open since 1996 and he's looking to be the second of the four to successfully convert. Tom Lehman in 1997 and Aaron Baddeley ten years later both failed but Retief Goosen won at Shinnecock in 2004.
Wolff is also looking to become the first debutant to win since Francis Ouimet in 1913 but rather strangely, Ouimet was the last player to win the US Open in September. Could that be some sort of strange omen?
Back in the real world, the last 21 US Opens have been won by someone within four strokes of the lead so if that trend is to continue, only three men can win - Wolff, DeChambeau or Louis Oosthuizen. Although of those three, DeChambeau is the only on to fit the halfway trends. Historically, Wolff and Oosty were too far back at halfway and Bryson does feel like the one to beat.
It's going to take something very special for Wolff to back up yesterday's heroics and I'm inclined to think he's vulnerable in front. Admittedly, he won the 3M Open last year by a stroke having moved into a tie for the lead after an incredible 62 in round three but on the other hand, he led the Rocker Mortgage Classic by three with a round to go in July after a pair of 64s on Friday and Saturday but he was beaten by three in the end after a lacklustre 71 on Sunday. And who was the man that beat him? Bryson DeChambeau. Could that be an omen?
Louis is the only other player under-par but he's not for me. He's still yet to win in the States and he's often a little flaky in-contention - although plenty would disagree with me on that that. They would point to him being a major champion and to the fact that he's finished runner-up in all four majors but I think the dangers to the leaders are slightly further back.
Xander Schauffele has been lurking all week long but hasn't quite got into his stride. Is today the day he strings a few early birdies together? Harris English needs to start considerably better than he did yesterday when he played the first seven holes in four-over-par and if Hideki Matsuyama could putt a bit better, he'd be in front already. His three-putt bogey at seven yesterday from 12 feet yesterday was hard to watch but oh so Hideki.
Rory McIlroy has put himself back in the picture with a brilliant 68 in round three but can he keep his card as clean today? Rory was bogey-free after a drop at the opening hole yesterday but he'll need to keep the mistakes down to a minimum again today. From six adrift, in all likelihood, he's going to need help from the two leaders, as they all will, and for me, the best value this morning is DeChambeau.
12:20 - September 19, 2020
We've reached the halfway stage of the US Open and my pre-event 55.054/1 pick, Patrick Reed, has edged in front by a solitary stroke. As many as 21 players were under-par after the opening round but Winged Foot played considerably tougher yesterday - averaging 2.69 more strokes in round two than it had in round one. That was the biggest leap between rounds one and two in US Open history and as a result, only three players broke the par of 70 and there are only six players under-par heading into the weekend.
Hideki Matsuyama's one-under-par 69, aided by this incredible birdie at the first (his tenth of the round), was arguably the round of the day given he played the course in the afternoon when it averaged 1.29 strokes more than it had in the morning.
The best golfers in the world had to get *extremely* imaginative around the greens at Winged Foot yesterday pic.twitter.com/nt4y4oylAP

? Sky Sports Golf (@SkySportsGolf) September 19, 2020

Playing in the morning, Bryson DeChambeau eagled the ninth (his 18th) to shoot the lowest round of the day - a two-under-par 68 - and he was matched at just 3.814/5 as the afternoon starters struggled early on.
Patrick Reed and Harris English coped best with the conditions but Rory McIlroy was blown away and Justin Thomas looked in big trouble when he played his first eight holes in four-over-par. To his credit, Thomas battled back brilliantly having drifted all the way out to 20.019/1 and he's back in it again heading into the weekend. Here's the 36-hole leaderboard with prices to back at 12:10.
Patrick Reed -4 5.59/2
Bryson DeChambeau -3 5.95/1
Justin Thomas -2 6.86/1
Harris English -2 18.017/1
Rafa Cabrera-Bello -2 42.041/1
Jason Kokrak -1 42.041/1
Xander Schauffele E 12.011/1
Hideki Matsuyama E 22.021/1
Brendon Todd E 42.041/1
Matthew Wolff E 42.041/1
Thomas Pieters E 60.059/1
Jon Rahm +1 15.014/1
+1 and 30.029/1 bar
As touched upon yesterday, up with the pace is the place to be at a US Open and no matter how we play with the stats, the players at par or worse are really up against it. As many as 22 of the last 24 US Open winners were within two of the lead at this stage and five of the last six, or seven of the last ten, whichever you prefer, were already in front at halfway. Advantage Mr Reed.
As mentioned yesterday, Webb Simpson was tied for 29th and six off the lead through 36 holes at the 2012 US Open and Brooks Koepka trailed by five in a tied for fourth two years ago, when Dustin Johnson led by four but since 1996, Michael Campbell, who trailed by just two strokes in a tie for sixth in 2005, is the only other winner not to be inside the top-four places at halfway.
With Reed is the obvious place to start and given the stats, he's a perfectly fair price at over 4/1 but he has been here before and failed. The world number ten was tied at the top at halfway at the 2015 US Open, alongside the eventual winner, Jordan Spieth, but rounds of 76 and 71 saw him tumble down to a tie for 14th. That was a disappointing effort and it came just a year after he'd been beaten at the Quicken Loans National having been tied for the lead at halfway but his record when leading is perfect decent. He's led or co-led at halfway eight times and he's gone on to win on five occasions. On the four occasions he's held a clear advantage he's gone on to win and that includes at the US Masters two years ago. If he gets beat, it's unlikely to be because of a lack of mental fortitude.
Reed isn't finding as many fairways as he'd like (currently ranks 88th for Driving Accuracy), which is severely hampering how many greens he hits (ranks 33rd for Greens In Regulation) but he's putting and scrambling brilliantly and he might just take some stopping.
Bryson DeChambeau's long game is considerably better than Reed's and if he can keep finding fairways and greens (ranks 18th for DA and sixth for GIR) he's going to hang around all weekend but he may be in trouble if he doesn't. As brilliant as he undoubtedly is, he doesn't quite have Reed's touch around the greens and if, as I suspect it will do, this boils down to who saves the most pars, I'm happy to be onboard the leader.
Watching Justin Thomas and Rory McIlroy take on Winged Foot without their A games yesterday was fascinating. Tough as teak, Thomas, dug in and fought like a tiger despite failing to find fairways and the fact the he was able to battle back to shoot a three-over-par 73 was testament to how mentally strong he is compared to McIlroy who just wilted away.
Thomas can't be underestimated, and he certainly isn't being in the market, but his form coming into the event wasn't as strong as he'd have liked and he's either going to have to find something fast or fight like never before to win. He was ble to carve out a score in the softer, easier conditions on Thursday but it's going to be a long weekend if the course continues to play tough. And I see absolutely no reason why it won't.
Rafa Cabrera-Bello is notoriously flaky in-contention and Paul Krishnamurty's brilliant Find Me a 100 Winner pick, Jason Kokrak, is still in search of his first PGA Tour title so although they're in-the-mix, I'm very happy to oppose them in the outright market but I have backed the only other player under-par at this stage - Harris English.
English hasn't won in seven years and that's a huge negative but he very much reminds me of the 2006 winner here, Geoff Ogilvey, and like Ogilvy back in '06, English sits tied for third and two off the lead.
Harris isn't long off the tee, ranking only 93rd for Driving Distance so far this week but he ranks 18th for Driving Accuracy, sixth for GIR and second for Scrambling. His putting has been OK but not spectacular and if that improves fractionally, he should be there or thereabouts at the finish. I got him onside last night at an average of 20.019/1 but his current price of 18.017/1 is still perfectly fair.
While their class and claims are clear, history suggests the likes of Xander Schauffele, Jon Rahm and Hideki Matsuyama are too short at their current odds and the world number one and per-event favourite, Dustin Johnson, looks a very poor price at 30.029/1 given he trails by seven in a tie for 22nd but I have thrown a few pounds at one of the players currently over-par.
Two-time US Masters winner, Bubba Watson, double-bogeyed his final hole yesterday - the par four 18th - but he was still one of only three men to break par and his caddy has confirmed the mercurial magician is on song.
One of the best rounds of golf I have seen @bubbawatson play, even with a 6 on 18!! #wingedfootgolfclub is hard everyday. Today, the wind was blowing. Much harder course than the benign conditions of yesterday #usopengolf2020

? ted scott (@jtedscott) September 18, 2020

The stats are clearly against him given he trails by five in a tie for 12th but he's an incredible tallant when on and I was happy to take a small chance at 75.074/1.
11:40 - September 18, 2020
The first round of the US Open didn't quite get finished yesterday, with play being suspended due to darkness before the final three-ball could complete their rounds. Connor Syme, Paul Barjon and Marty Jertson will return to the course early today to complete their opening rounds so we don't have the first round scoring average yet but we're heading for a surprisingly low number.
Field scoring average now hovering around 72.5, which would be the 2nd-easiest opening round in U.S. Open history. Was 72.3 at Baltusrol in 1993.

? Justin Ray (@JustinRayGolf) September 17, 2020
Winged Foot definitely played a lot easier than expected yesterday and there are as many as 21 players under-par. At the 2006 US Open held here, won by Geoff Ogilvy with a +5 total, only Colin Montgomerie broke the par of 70. Monty opened the championship with a one-under-par 69. Here's the first round leaderboard with prices top back at 11:30.
Justin Thomas -5 5.14/1
Patrick Reed -4 13.012/1
Matthew Wolff -4 18.017/1
Thomas Pieters -4 29.028/1
Rory McIlroy -3 8.88/1
Louis Oosthuizen -3 30.029/1
Lee Westwood -3 55.054/1
Xander Schauffele -2 10.09/1
Harris English -2 55.054/1
Brendon Todd -2 55.054/1
Joaquin Niemann -2 75.074/1
Jason Kokrak -2 100.099/1
Rafa Cabrera-Bello -2 100.099/1
Jon Rahm -1 11.521/2
Bryson DeChambeau -1 27.026/1
Tony Finau -1 42.041/1
Rickie Fowler -1 55.054/1
-1 and 46.045/1 bar
The opening day of a major is always crucial and a poor start will almost certainly kill a player's chances. The 2018 US Open winner, Brooks Koepka, shot 66 in round two at Shinnecock two years ago to move from 46th to fourth and world number one, Dustin Johnson, needs something similar today.
The pre-event favourite is currently sitting in a tie for 71st, trailing by eight, and trading at 46.045/1 after a three-over-par 73 yesterday afternoon and that doesn't look a big enough price to me. Every US Open winner since 1999 has been within six of the lead after round one and over the last 20 years, the average position of the winner after round one is 9.9.
Along with the likes of the well-fancied Tommy Fleetwood, Collin Morikawa, Daniel Berger, and Tyrrell Hatton and former winners, Justin Rose, Tiger Woods, and defending champ, Gary Woodland, as well another of my fancies, Jason Day, DJ looks out of it already.
Justin Thomas leads and although it's a congested early leaderboard, he isn't too short at 4/1. As highlighted in my side markets piece on Tuesday, five first round leaders have gone on to win the US Open (all won wire-to-wire) this century and of the 15 players to open a US Open with a round of 65 or better, four went on to win.
Away from the US Open stats, Justin has led twice previously after the opening round of a PGA Tour event and he won on both occasions. Although it might be worth mentioning that he was three-clear on both occurrences whereas he leads by just one here.
In-play looks the best approach
As already mentioned, Koepka was tied for 46th after the opening round two years ago and back in 1996, Steve Jones sat tied for 84th and seven off the lead but coming from that far back is unusual. Since the turn of the century, 13 of the 20 winners, and five of the last six, have been inside the top-eight and ties after the opening round at the US Open, suggesting we probably shouldn't scan too far down the leaderboard but a better tactic might be to wait until later today and to make a move in-running.
Like Koepka two years ago, Jones shot 66 in round two to make giant strides in 1996. Koepka moved up to a tie for fourth and Jones sat tied for fifth at halfway. Brooks was five off the lead but Dustin Johnson (whose putter was ice-cold all weekend) led by four. Jones trailed by only two at halfway and being up with the pace through 36 holes is crucial.
Webb Simpson was tied for 29th and six off the lead through 36 holes at the 2012 US Open but since 1996, Michael Campbell, who trailed by just two strokes in a tie for sixth in 2005, is the only other winner not to be inside the top-four places at halfway. Koepka and Simpson are the only two winners since 1996 to be more than two strokes adrift after two rounds. The evidence is conclusive, up with the pace at halfway is the place to be in a US Open and concentrating on the very top of the leaderboard later on today, before the market settles and adjusts at the end of play and overnight, will be the way to play it.
Rory McIlroy is understandably well-fancied after his opened round. This is the fourth time he's opened up a major with 67 or lower and on the three previous occasions he went on to win but I'm always cautious of Rory's short putting and his ability to hang tough as a course gets harder. He ranks tied first for Greens In Regulation after day one so he's clearly dialled but with an ever-present and troublesome breeze forecasted today, I'm more than happy to swerve him at this stage.
Wait and see with Rahm
Trailing by three in a tie for eighth, in search of his first major title and without an official win in almost two years (although he did shoot the lowest 72 hole score at the Tour Championship last time out), Xander Schauffele looks too short and at a bigger price and just one stroke further back, the prolific world number two, Jon Rahm, is a far better proposition.
I'm quite tempted to play the Spaniard now at 11.521/2 but given he plays the harder back-nine first and he doesn't have too much margin for error, I'm happy to see how he gets on early on in round two.
Next in the betting is my pre-event pick, Patrick Reed, who's forgiven for scuppering my no Hole-in-One wager detailed in the side markets piece.
HOLE-IN-ONE

Patrick Reed holes out on the 7th to move under par

Watch the opening round live now on Sky Sports Golf or follow live updates here: https://t.co/gG85aVkxUQ pic.twitter.com/3Vo6kTVnpv

? Sky Sports Golf (@SkySportsGolf) September 17, 2020
That got Reed right back on track and he didn't look back after that. In fact, he missed a few short putts later in the round and he could very easily have shot one or two less than 66. As it transpired, Will Zalatoris also aced the seventh later in the day so the side bet would have been done for anyway and I'm pleased to see Reed in the thick of it.
I have backed these two...
As already alluded to, I'm going to concentrate hard on the market as play draws to a close today but I have had a couple of bets this morning...
Lee Westwood's name always comes up in any conversation regarding the best player not to have won a major and he has a chance to end that here after his opening 67. It's asking a lot for him to finally break his major duck at the age of 47 but there's a lot to like about his demeanour of late.
Westwood tees off early at the first and the 60.059/1 available this morning could look big if he starts well, and I'm also very happy to throw a few pounds at Chile's rapidly rising young star, Joaquin Niemann. He plays tough courses brilliantly and is just too big at 75.074/1 given he trails by only three.
I'll be back tomorrow at the halfway stage.
Pre-Event Selections:
Dustin Johnson @ 10.519/2
Patrick Reed @ 55.054/1
Jason Day @ 55.054/1
Matt Wallace @ 440.0439/1 (added after the preview first published)
In-Play Picks:
Lee Westwood @ 60.059/1
Joaquin Niemann @ 75.074/1
Harris English @ 20.019/1
Bubba Watson @ 75.074/1

*You can follow me on Twitter @SteveThePunter
New on Betting.Betfair – Betslip
You can now bet without leaving Betting.Betfair with our brand new on-site betslip for Exchange markets. You'll see the Exchange back and lay prices at the end of articles - simply login and place your bets as you would do on the main Exchange site
Discover the latest articles
Read past articles