The Punter's Open In-Play Blog: Morikawa's the man to beat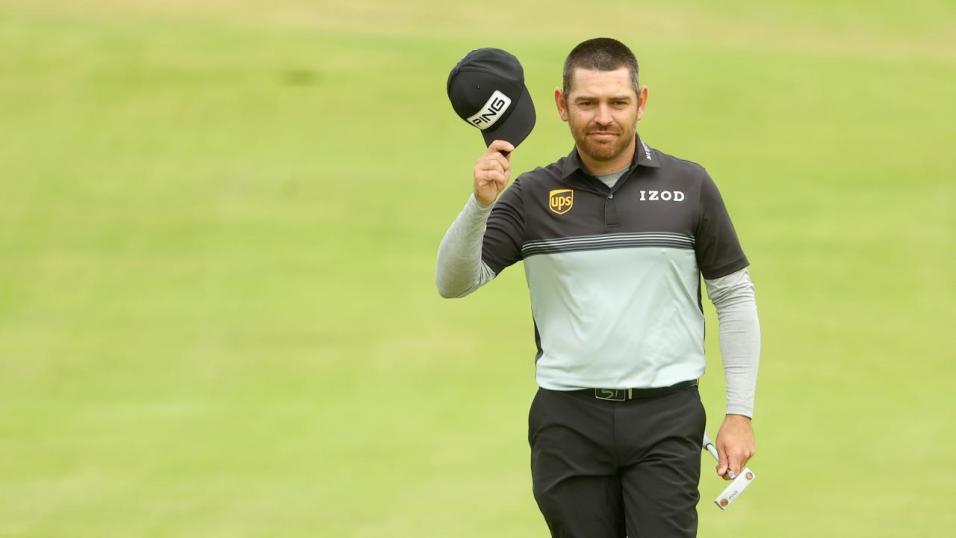 Louis Oosthuizen in action in round one
There's just one round to go at the Open Championship and Louis Oosthuizen still holds sway but can he go on to win wire-to wire and lift the Claret Jug for a second time? Read Steve's final thoughts here...
"Louis heads the market and as a previous Open winner with a one-stroke lead he has to be the man to beat but I much prefer the man in second, Collin Morikawa, at the prices,"
23:00- July 17, 2021
Louis Oosthuizen looked to be wobbling on the back-nine today but a lengthy par save at 15 shifted his momentum and a birdie at 16 swiftly followed so for the third day in-a-row the 2010 winner will sleep on the lead.
Here's the 54-hole leaderboard at the Open Championship with prices to back at 22:50.
Louis Oosthuizen -12 2.747/4
Collin Morikawa -11 3.1511/5
Jordan Spieth -9 7.06/1
Scottie Scheffler -8 21.020/1
Corey Conners -8 30.029/1
Jon Rahm -7 20.019/1
Dylan Frittelli -7 90.089/1
Mackenzie Hughes -7 100.099/1
-6 and 110.0109/1 bar
In front after three rounds is the place to be given three of the last four winners were leading and that the last four to hold a clear lead lifted the Claret Jug.
Louis' lead is as narrow as it gets but that's been enough more often than not with four of six one-stroke leaders going on to take the title since 1996. Thomas Bjorn at this year's venue, Royal St George's, in 2003 and 59-year-old Tom Watson in 2009 were the two to fail, and one of the four to succeed was Darren Clarke here in 2011.
This will be the 18th time Oosthuizen has led or co-led a 72-hole event and he's successfully converted on eight of the previous 17 occasions, although his record isn't as strong as it was in his earlier days. Since winning the Malaysian Open from the front in 2012, he's converted just two of eight leads with the most recent being at the US open last month.
It's very difficult to crab that performance at Torrey Pines though. He began the final round tied for the lead alongside Russell Henley and Mackenzie Hughes but was beaten by a stroke right at the death when Jon Rahm birdied the last two holes to pip him. Henley and Hughes finished 13th and 15th.
As highlighted this morning, Oosthuizen hasn't won since 2018 and that isn't the only negative. He's been leading since day one and he was starting to look a little ragged on the back-nine. It looked like the pressure may just be starting to tell and if he were to go on to win wire-to-wire tomorrow it would be the first time in his career.
Louis heads the market and as a previous Open winner with a one-stroke lead he has to be the man to beat but I much prefer the man in second, Collin Morikawa, at the prices.
Morikawa started slowly today, playing his first five holes in two-over-par, but he collected himself brilliantly after that and he's the man to beat for me.
Morikawa is bidding to become the first man in history to win two majors at the first attempt, having also won the USPGA Championship at the first try last year, and he has the class to get the job done.
At just 24, he's already won four times on the PGA Tour, including a major and a World Golf Championship, and at anything over

3.0

2/1

he looks a very fair price.
Jordan Spieth was matched at a low of 2.3611/8 after he'd birdied five of his first ten holes today but he finished poorly, with very scruffy bogeys at 17 and 18.
I know he's won this year but there's a fragility about him in-contention that wasn't there before his infamous collapse at Augusta in 2016 and I'm happy to continue to oppose him.
As highlighted this morning, he led this event in 2018 with a round to go but eventually finished ninth and he's just not the bombproof closer he once was.
Given the last six winners and 17 of the 20 winners this century have been within three strokes of the lead, it's hard to imagine someone from outside the front three places winning.
Padraig Harrington won the 2007 edition from six strokes back and Ernie Els trailed by the same margin in 2012 but Harrington sat third and Els fifth. Phil Mickelson won the 2013 edition from tied ninth and five back but every other winner this century has been inside the top-six and within three of the lead and the three to win from off the pace all had help from the leaders...
Sergio Garcia led by three in 2007, Adam Scott was four clear in 2012, and Lee Westwood was two in front with a round to go in 2013. All three flopped on Sunday.
Winning this Championship from off the pace is unusual and Jon Rahm is the only man I'd consider to be a plausible candidate from outside the front three but he needs to get going early tomorrow and I'm not convinced he represents value at 20.019/1.
Corey Conners commands respect but 30.029/1 isn't quite big enough to tempt me in.
I'll be back on Monday with the De-brief.
11:20- July 17, 2021
The 2010 Open champion, Louis Oosthuizen, shows the way at Royal St George's at halfway but with a host of top-class players nipping at his heels, he's there to be shot at. Here's the 36-hole leaderboard with prices to back at 11:10.
Louis Oosthuizen -11 3.711/4
Collin Morikawa -9 5.79/2
Jordan Spieth -8 6.411/2
Dustin Johnson -7 9.417/2
Scottie Scheffler -7 18.5
Dylan Frittelli -7 50.049/1
Emiliano Grillo -6 100.099/1
Andy Sullivan -6 100.099/1
Justin Harding -6 120.0119/1
Daniel van Tonder -6 190.0189/1
Marcel Siem -6 260.0259/1
Jon Rahm -5 16.5
Brooks Koepka -5 22.021/1
Paul Casey -5 50.049/1
Cameron Tringale -5 220.0219/1
Mackenzie Hughes -5 250.0249/1
-4 and 100.099/1 bar
Louis Oosthuizen led the 2010 Open Championship by four at halfway before cruising to victory and he was matched at a low of 2.111/10 yesterday when it looked like he might repeat the feat after he'd eagled the par five 14th but the South African cooled off after that, dropping his only shot of the week so far at the par three 16th and parring the other three remaining holes.
Louis has finished second in each of the last two major championships - the USPGA Championship and the US Open - and they were his fifth and sixth runners-up finishes in majors since he won at St Andrews 11 years ago.
He was beaten in extra time by Zach Johnson in this Championship in 2015 and with form figures in the event since reading MC-MC-28-20, this is the first time he's given himself a chance of redemption on the links.
Louis did nothing wrong in each of the last two majors and he's the man to beat this weekend given nine 36-hole leaders have gone on to win this century but he looks opposable to me.
He's led or co-led a 72-hole stroke play event 15 times at halfway and he's gone on to win on eight occasions but five of those victories were in lesser events in his homeland and on the last three occasions he's led at this stage, he's been beaten.
As a measure of how infrequently he crosses the line in front, Oosthuizen is still yet to win a PGA Tour title on American soil (his runaway win at St Andrews in 2010 is his only PGA Tour victory) and he hasn't tasted success anywhere since he won the South African Open in 2018.

Although I'm not keen on the chances of the leader, as highlighted in the In-Play Tactics section of the preview, up with the pace is the place to be in an Open Championship...
Ernie Els was seven shots adrift at halfway in 2012 but he was still only tied for 11th and that's the furthest number of strokes made up this century after 36 holes. David Duval also trailed by seven in 2001 but 14 of the 20 winners were inside the top-five places at this stage and 15 of the 20 were within three strokes of the lead.
Alone in second place, the 2020 USPGA Champion, Collin Morikawa, is my idea of the most likely winner. I watched much of his weekend performance at the Scottish Open last weekend and his putting was quite simply woeful, but he appears to have figured out how to putt on links very quickly after making minor adjustments.
"Last week I left so many putts short, and not just 4 or 5 feet short, 10 feet short. It's not acceptable.
"We figured out a conventional grip just has that little extra pop. I didn't have to change anything mentally from 30 feet, it was that grip and that stroke produced something that just rolled off the face a little faster."
Morikawa would be an unusual winner given this is his very first appearance in an Open Championship and that nobody has won on debut since Ben Curtis here in 2003 so that's against him but he's an extraordinary talent and he's already overcome a poor draw.
I backed Morikawa when he finished his round at lunchtime yesterday in the belief that the draw might even itself out but the bias only extenuated and those drawn PM-AM were disadvantaged to the tune of 2.41 strokes. Morikawa is the only man inside the top six places that didn't begin the event on Thursday morning.
Alone in third, the 2017 champ, Jordan Spieth, is an obvious threat to the front two but I'm not entirely convinced he's yet ready to win another major after a lengthy period of poor play finally came to a halt this spring. So poor was his slump that his victory at the Texas Open in April was his first since he won this event in 2017.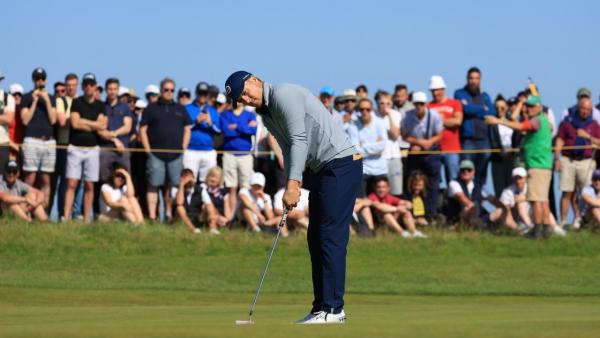 He's such an elite links exponent that he was able to compete in each of the last two editions of the Open Championship, despite being so badly out of form so it's no surprise to see him back in-the-mix. He led the 2018 edition with a round to go before finishing ninth and he finished 20th at Royal Portrush in 2019.
I suspect he will win another Open title but I'm just not sure he's ready to do so yet. His victory in Texas was fairly straightforward with nobody really putting up a fight and he was quite disappointing at the Charles Schwab Challenge the following month (an event he won in 2016) when after rounds of 63, 66 and 66 he shot 73 on Sunday to lose the lead to the often-flaky Jason Kokrak.
Dustin Johnson is next up in the betting and he's crept into the championship nicely but he has an extraordinarily strange weekend record in the event of late and it's one that puts me off.
DJ sat second at this stage in both 2013 and 2014 and he led at halfway in 2015 but he finished 32nd, 12th and 49th! This the first time he's been in-contention since his collapse at St Andrews.
There's no logical reason to think the world number one will struggle again this weekend but given he trails by four, I'm in no rush to side with him at a single-figure price.
Dave Tindall's each-way fancy, Scottie Scheffler, is alongside DJ but he looks short enough too given he's yet to win anywhere let alone win a major and the pre-event favourite, Jon Rahm, recovered brilliantly yesterday after a slow start on Thursday, but he may just have too much to do from six adrift. As is the case with Brooks Koepka.
It's a fascinating leaderboard but it's a tough event to call so to a large extent, I'm going to wait and see what today brings but I've topped-up my position on Morikawa this morning at 5.85/1 and I've had a tiny bet on South Africa's Daniel van Tonder at 190.0189/1, who trails by four.
Like Morikawa, he's had to overcome a poor draw and given he's already won on the European Tour this season, at the Kenya Savannah Classic in March, and that he won four times on South Africa's Sunshine Tour last year, the market appears to be overlooking him fractionally.
17:15 - July 16, 2021
Having taken 4.03/1 about Collin Morikawa to win the Open Championship at lunchtime, once he'd posted his six-under-par 64 to take the lead, I was hoping the first round leader, Louis Oosthuizen, and Jordan Spieth might struggle this afternoon but that hasn't been the case at all.
Oosthuizen is currently two-under-par for the round through eight holes and Spieth is three-under through 11.
Both men are within one of the Morikawa's lead as they head into the back-nine and the next hour or so is going to be pivotal.
That trio are now dominating the market with the best two players on the planet, Dustin Johnson and Jon Rahm, who trail the lead by six and eight shots respectively, the next best.
13:15 - July 16, 2021
I'll return at the halfway stage of the Open Championship either tonight or tomorrow morning, but I suspect the halfway leader is already occupying top spot.
With the wind still gently blowing and the sun burning the Royal St George's links, it's very hard to envisage scoring improving this afternoon. Yesterday's afternoon starters averaged more than a shot-and-a-half worse than the early starters and Collin Morikawa's 36-hole score of -9 might take some passing.
I'm happy to get Morikawa onside at

4.0

3/1

after his six-under-par 64 this morning and see where we stand at the close of play.
08:55 - July 16, 2021
The weather forecast had hinted at a slight advantage to the latter starters on day one of the Open Championship but it was the morning wave that made hay and at the end of round one, only two of the top-eight and five of the top-18 began their campaign's yesterday afternoon.
Scoring by wave, day 1 at #TheOpen

Early
70.11, 32 rounds in 60s

Late
71.75, 15 rounds in 60s

? Justin Ray (@JustinRayGolf) July 15, 2021

Here's the state of play with prices to back with UK tee-times or holes played in round two at 08:50.
Louis Oosthuizen -6 (14:59) 7.06/1
Jordan Spieth -5 (14:26) 7.06/1
Brian Harman -5 (14:37) 27.026/1
Collin Morikawa -4 (thru 1) 12.011/1
Webb Simpson -4 (9:25) 23.022/1
Stewart Cink -4 (15:10) 38.037/1
Mackenzie Hughes -4 (14:37) 85.084/1
Dylan Frittelli -4 (14:37) 110.0109/1
Benjamin Hebert -4 (8:47) 200.0199/1
Tommy Fleetwood -3 (10:09) 21.020/1
Scottie Scheffler -3 (15:32) 34.033/1
Justin Rose -3 (15:21) 38.037/1
Francesco Molinari -3 (thru 2) 44.043/1
Danny Willett -3 (12:20) 90.089/1
Selected Others
Dustin Johnson -2 (15:21) 24.023/1
Brooks Koepka -1 (13:04) 26.025/1
Viktor Hovland -2 (12:42) 30.029/1
Xander Schauffele -1 (9:58) 32.031/1
Rory McIlroy Level (10:20) 42.041/1
Paul Casey -2 (12:53) 44.043/1
Jon Rahm +1 (14:59) 50.049/1
Sergio Garcia -2 (15:32) 60.059/1
Christiaan Bezuidenhout -2 (12:31) 95.094/1
-3 and 100.099/1 bar
Collin Morikawa, Webb Simpson, Tommy Fleetwood, and Francesco Molinari are the ones to keep an eye on this morning and the first named is the one that interested me the most.
Morikawa putted deplorably at the Scottish Open last week where he finished 71st and anyone that watched him miss short putt after short putt around the Renaissance Club over the weekend wouldn't have been remotely interested in backing him to emulate the 2003 winner here, Ben Curtis, and win the Championship at the first attempt.
The 24-year-old Californian had finished second at The Memorial Tournament and fourth in the US Open in his two previous starts so it wasn't difficult to jump to the conclusion that links golf might not be for Morikawa.
Averaging only 1.5 putts per green in regulation yesterday, he appears to have worked out very quickly how to putt links greens and watching him play his second round this morning is going to be fascinating.
The world number four is such an elite player from tee-to-green that when he does putt well, he contends but I'm not prepared to jump in just yet. His price has already dropped from 20.019/1 to 12.011/1 after a birdie at the first and that looks like a big overreaction to me.
Except for Find Me a 100 Winner pick, Stewart Cink, my pre-event picks have been disappointing but I'm happy to sit on my hands for now and see how the day pans out.
15:25 - July 15, 2021
With a very late finish to round one today and an extremely early start to round two tomorrow, I thought I'd crack on and kick the Open Championship in-play blog off early, and the story of the day so far is just how poorly the warm favourite, Jon Rahm, has performed.
It hasn't been quite as bad as the start witnessed by the last Open Championship favourite, Rory McIlroy, who opened the 2019 Championship at Royal Portrush with a quadruple-bogey eight before missing the cut, but it wasn't what was expected after a stunning run of form.
Rahm started nicely enough hitting approaches close at one, two and four but after missing all three very makable birdie attempts, he must have been frustrated.
With scoring much better than expected Rahm double-bogeyed the ninth to put himself under pressure and he's just finished his round after a string of pars after the turn and a birdie three at the 18th. At the time of writing, he's tied for 71st and seven off the lead and that looks too far back already. The last player to win the Open from seven back after round one was Mark O'Meara in 1998. He sat tied for 68th.
Playing ahead of Rahm, the 2017 Open Champion, Jordan Spieth, who was one of four players I backed at a triple-figure price to lead after every round and win, posted the clubhouse lead with a five-under-par 65 but half-an-hour later, playing alongside the misfiring Rahm, the 2010 Open winner, Louis Oosthuizen, posted one better, with both men highlighting in no uncertain terms, just why past Open winners command respect.
Louis and Jordan are vying for favouritism at this very early stage with both men trading at

6.2

5/1

.
Having backed Rahm a few weeks ago as he won the US Open, his start was very disappointing but Stewart Cink, who was one of three past winners selected for the Find Me a 100 Winner column, has started nicely with a bogey-free four-under-par 66.
Rory McIlroy has only just started his opening round and the final three-ball doesn't tee-off until 16:16 UK time so there's an awful lot of golf yet to be played on day one but when the music stops late today, it's probably best not to scan too far down the leaderboard. As highlighted in the preview, a fast start is often key at this major.
Looking back at previous Opens, it's nearly always been vital to be up with the pace early on and 12 of the last 15 winners were inside the top-ten after the opening round. The three winners that weren't are, Francesco Molinari and Padraig Harrington at Carnoustie (where the majority of winners have come from off the pace), and Henrik Stenson at Troon three years ago.
Molinari sat tied for 18th and four adrift and Stenson was 12th and five back. Harrington was tied for 38th and five back, so he was the only player to pass a lot of traffic.
Pre-Event Open Championship Selections:
Jon Rahm @ 12.011/1
Brooks Koepka @ 22.021/1
Tyrrell Hatton @ 44.043/1
Lee Westwood @ 101.0100/1 (ante-post)
Christiaan Bezuidenhout @ 201.0200/1 (ante-post)
In-Play Picks:
Collin Morikawa @ 4.03/1 & 5.85/1
Daniel Van Tonder @ 290.0289/1
Find Me a 100 Winner Selections:
Back 2 ½ u Phil Mickelson @ 160.0159/1
Place order to lay 10u @ 10.09/1 & 10u @ 2.35/4
Back 2 u Phil Mickelson - Top-20 Finish 6.611/2
Back 2u Stewart Cink @ 180.0179/1
Place order to lay 10u @ 10.09/1 & 10u @ 2.35/4
Back 1 ½ u Padraig Harrington @ 320.0319/1
Place order to lay 10u @ 10.09/1 & 10u @ 2.35/4
Back 2 u Padraig Harrington - Top-20 Finish 7.613/2
*You can follow me on Twitter @SteveThePunter

Discover the latest articles
Read past articles