The Punter's In-Play Blog: Penultimate three-ball can get hot in Mexico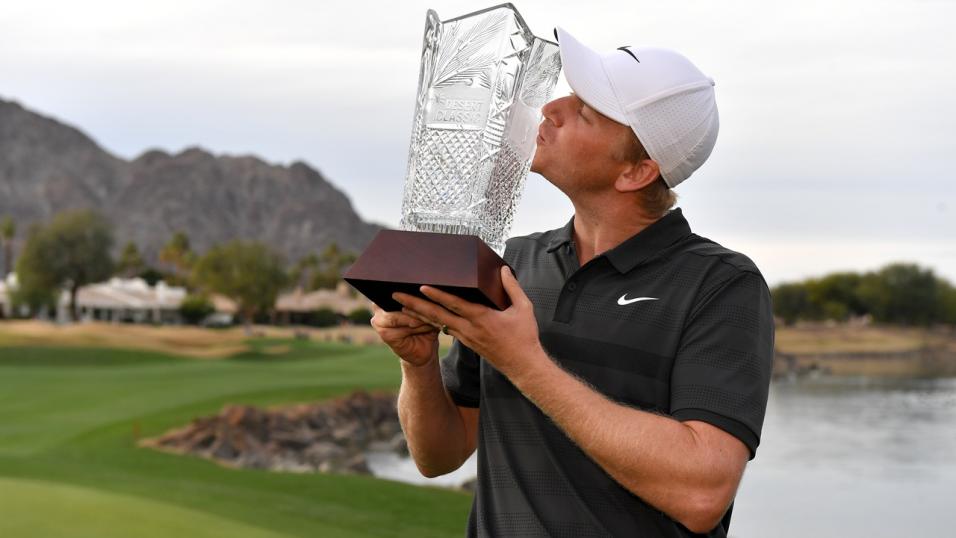 Adam Long - poised to pounce in Mexico
Emiliano Grillo leads the Mayakoba Golf Classic with a round to go but is he a fair price to become the fourth 54-hole leader in-a-row of to win the event?
"Playing with the two leaders in the final three-ball might be a negative for Hovland if they start messing around and I can see the winner coming from the penultimate trio of Justin Thomas, Adam Long and Patrick Rodgers. "
11:00 - December 6, 2020
It may only be December 6 but we have just one more round to look forward to on the PGA Tour in 2020 - the fourth and final round of the Mayakoba Golf Classic in Mexico - and we haven't got long to wait...
With the threat of inclement weather, the tee times have been moved up and the players will finish their week in threesomes off split tees. The leaders now tee-off at 15:00 UK time and here's the 54-hole leaderboard with prices to back at 10:50.
Emiliano Grillo -16 3.412/5
Tom Hoge -15 6.411/2
Viktor Hovland -14 4.77/2
Adam Long -13 13.5
Justin Thomas -12 8.415/2
Patrick Rodgers -12 38.037/1
-11 and 34.033/1 bar
The stats tell us that Emiliano Grillo is in the right place given the last three Mayakoba Golf Classic winners have all been in front with a round to go and in 13 previous renewals, we've only witnessed one winner from off the pace - John Huh in 2012.
Huh trailed by fully seven strokes in a tie for 13th before a final round 63 saw him end round four tied with Robert Allenby, who had also come from off the pace before the playoff, having sat tied fifth and five adrift. It is perhaps worth putting Huh's victory in a bit more context though, just to demonstrate how unlikely an off the pace winner is. Allenby was the only player in the top six to break par (shot 65) on Sunday with the two-stroke 54-hole leader, Daniel Summerhays, flopped badly with a two-over-par 73.
Every other winner here has been within three strokes of the lead and inside the top-five with a round to go so we probably can't scan too far down the leaderboard.
Grillo is taking a lead into the final round of a PGA Tour event for the first time but he's gone into the decisive round in front in his native Argentina on the Latinoamerica Tour, in Japan, in South Africa and Qatar on the European Tour and a couple of times on the Korn Ferry Tour so he has plenty of experience.
He's two from six when leading so it's not an awful strike-rate but it's not great either and he was pretty poor in round four at the Barracuda Championship in August when in with every chance to win what's an opposite field, low-key, Stapleford event.
Having started the final round in a tie for second, he opened with back-to-back birdies but the brakes were soon applied and he finished in a tie for ninth after a woeful finish. He looks like one to take on today.
After a pedestrian start, Tom Hoge finished his third round with a flourish, birdying five of his last six to muscle back into contention but he too is hard to fancy given his previous.
Since winning on the Canadian Tour from one back with a round to go nine years ago (his sole success), he's finished eighth, second and 22nd on the Korn Ferry Tour when inside the top-four places and within three of the lead and he shot 70 in round four of the Sony Open in 2018 to finish third on the one occasion he led with a round to go.
Viktor Hovland, who trails by two, is an obvious danger to the front two but he looks fairly priced and no more. I thought he was slightly fortunate to convert from the front at the Puerto Rico Open in February and that he was disappointing in-contention at the Workday Charity Open in July. Playing with the two leaders in the final three-ball might be a negative too if they start messing around and I can see the winner coming from the penultimate trio of Justin Thomas, Adam Long and Patrick Rodgers.
Having been convinced this track is as perfect a fit as it gets for Thomas, I'm very happy to see yesterday's nine-under-par 62 confirm the theory but equally, I'm still fed up with his opening 72 and the fact that he bogeyed the last two holes in round two, presumably rushing to get finished before it got dark.
He's a fair price now and if I wasn't on, I'd be backing him this morning. Thomas could very easily back up yesterday's low one and breeze past the leaders in conditions that clearly suit him and the same can be said of both his playing partners.
Adam Long was very well backed before the off and understandably so given he was second last year and that he was extremely impressive when winning the Desert Classic in January 2019 - getting the better of Phil Mickelson and Adam Hadwin in extra time. He's been well-backed again this morning but is still a fair price and so too is Rodgers.
His sole success to date came on the Korn Ferry Tour at a similar venue to this one and the closest he's come to victory on the PGA Tour came two years when he shot weekend rounds of 61-62 before losing to Tyler Duncan in a playoff at the RSM Classic. He could go really low today after rounds of 70, 66 and 65 and he's a decent price at 38.037/1.
18:40 - December 5, 2020
A third successive five-under-par 67 around the Gary Player Country Club has seen last week's Alfred Dunhill Championship winner, Christiaan Bezuidenhout, ease five strokes clear of the field in the South African Open. Here's the 54-hole leaderboard with prices to back at 18:30.
Christiaan Bezuidenhout -15 1.282/7
Dylan Frittelli -10 11.010/1
Jamie Donaldson -10 18.017/1
Dean Burmester -9 30.029/1
JC Ritchie -9 65.064/1
-8 and 90.089/1 bar
Bezuidenhout's lead is a healthy one and it's one that he's experienced before. He led the Andalucía Masters by five strokes with a round to go in June last year before shooting 71 around Valderrama to win by six.
Since 1996, someone's led a 72-hole European Tour event by five strokes 38 times and on 32 occasions they went on to win. That's a healthy strike rate of 84%.
The most famous failure is that of Jean Van De Velde's at the 1999 Open Championship and the most recent came in this event in January 2015, when nerves got the better of Charl Schwartzel, who's still seeking his first win his national title.
I'm disappointed how this one's panned out. As highlighted in the In-Play Tactics section of the preview, the last four Nedbank Golf Challenge winners at this venue have all come from off the pace and I was hoping for a bunched leaderboard with inexperienced leaders that would have been likely to struggle but what we have is a proven winner unlikely to fold.
After a tough grind at Leopard Creek last week, mental and physical fatigue is still a possibility for the leader but even is he does have a bad day tomorrow, it's hard to see him shooting a bad enough round to be caught and I'm happy to leave the event alone.
Anything can happen when someone's trying to win their national title and I wouldn't put anyone off laying the leader but he's not too short at around 1.330/100 and I'm happy to swerve it.
15:20 - December 5, 2020
Antoine Rozner has won the inaugural Golf In Dubai Championship and Christiaan Bezuidenhout is out in front and odds-on during round of the South African Open and I'll be back later with a look at that after the round's complete but for now I'm concentrating on the Mayakoba Golf Classic.
After a delay to the start of round two yesterday, a number of competitors needed to come back this morning but we're now back on track so here's the 36-hole leaderboard with prices to back at 15:10.
Emiliano Grillo -13 3.02/1
Tony Finau -9 6.05/1
Tom Hoge -9 18.017/1
Russell Knox -8 18.5
Joel Dahmen -7 26.025/1
Kyle Stanley -7 40.039/1
Aaron Wise -7 46.045/1
-6 and 23.0] bar
After an impressive eight-under-par 63, Argentina's Emiliano Grillo is the 47th player to take a four-stroke lead into the third round of a PGA Tour event since 1996 and he's bidding to become the 20th to convert.
Given 41% of four-stroke 36-hole leaders have gone on to win, and that Tony Finau, sat tied for second, has an awful record in-contention, odds of around 2/1 about the leader look more than fair but I'm far from convinced. Grillo isn't the safest of conveyances himself. He once led a European Tour event in South Africa with a round to go before opening up the fourth round with a quintuple-bogey nine!

Tom Hoge, alongside Finau in second, has only one win, on the Canadian Tour nine years ago, so I'm happy to pass him up at this stage and the one I like is course specialist, Russell Knox.
At 35, which is the average age of the winners here to date, and with course form figures reading 30-31-37-2-3-9-33, Knox was on the shortlist before the off and he looks a fair price at halfway.
20:15 - December 4, 2020
After a short weather delay in Mexico, the second round of the https://www.betfair.com/exchange/plus/golf/market/1.176180620 is underway and currently live on the red button on Sky Sports but for now I'm going to concentrate on this week's two European Tour events, starting with the most advanced of the two, the Golf in Dubai Championship. Here's the third round leaderboard with prices to back at 20:00.
Andy Sullivan -21 2.26/5
Matt Wallace -19 4.47/2
Renato Paratore -18 12.011/1
Ross Fisher -18 13.5
Antoine Rozner -17 29.028/1
Francesco Laporta -17 44.043/1
Robert MacIntyre -16 30.029/1
-16 and 55.054/1 bar
Pre-event 29.028/1 pick, Andy Sullivan, was matched at a low of 1.784/5 as he made the turn with a four-stroke lead but he put the brakes on a bit after that. He bogeyed the 10th hole and parred the next five before pulling away again with birdies at 16 and 17.
That run from the seventh to the 16th without recording a birdie today could transpire to be his quiet spell and he could kick on and take the trophy tomorrow, but he's been in front for some time now and he's starting to look a bit vulnerable.
Having layed a bit of my Sullivan wager back yesterday to recycle stakes on Matt Wallace, I've now done the same thing with one the two men tied for third - Renato Paratore. I've spent a fair bit of time today wondering why on earth I didn't back him before off at 80.079/1 given I wrote this in the preview.
"I've been told that the Italian pair, Renato Paratore and Guido Migliozzi, have been playing here a lot of late and I'm more than happy to chance the latter."
Of course, Migliozzi, who I backed at 95.094/1, missed the cut but I must question my own logic, leaving out Paratore. He was impressive today and I couldn't let him go and win unbacked.
Moving on to the South African Open, where they've reached the halfway stage, last week's winner and pre-tournament favourite, Christiaan Bezuidenhout, is very much the man to beat and four men dominate the market. Here's the 36-hole leaderboard with prices to back at 20:10.
Christiaan Bezuidenhout -10 2.568/5
Jamie Donaldson -10 5.59/2
Dylan Frittelli -8 5.39/2
Dean Burmester -8 9.417/2
Matthias Schwab -5 24.023/1
Joost Luiten -5 30.029/1
-5 and 50.049/1 bar
The big question here is how much is left in the Bezuidenhout tank? Winning is never easy and it always takes its toll, especially when victory comes at a track as demanding as last week's venue - Leopard Creek. He's also attempting to win his national title and as classy as he is, I'm in no rush to back at 6/4.
The star of the show today was 45-year-old Welshman, Jamie Donaldson, who's nine-under-par 63 was an incredible knock. He's going to do very well to back that up tomorrow though and it's now more than six years since he won.
Big hitter, Dean Burmester, often flatters to deceive in contention and as talented as his is, he's still only won once on the European Tour (the Tshwane Open in 2017). I'm happy to swerve him and the only one of the four leaders I came close to backing was Dylan Frittelli but after much deliberation, I'm happy to sit on my hands for now and see what tomorrow brings.
20:30 - December 3, 2020
The first round of the South Africa Open at the Gary Player Country Club has finished and last week's winner, Christiaan Bezuidenhout, is one of six players tied for the lead on five-under-par but he's far from the only well-supported player riding high early on.
Austria's Mathias Schwab and South Africa's Dean Burmester are alongside Bezuidenhout, PGA Tour winner, Dylan Frittelli, who was seven-under-par through ten this morning, sits one back in a tie for seventh, with the highly promising, Wilco Nienaber just two off the lead.
Those five now dominate the market and they all had early tee-off times today and it was most definitely an advantage, with the morning starters averaging 2.19 strokes less than the afternoon wave. Admittedly, the better players were drawn early, but the wind did get up a bit in the afternoon.
My three picks were all drawn in the afternoon but that didn't make any difference as they've all been truly awful and they trail the leaders by eight, 11 and 14 strokes respectively! I'm going to leave this one alone for now and take another look at halfway.
Fortunately, things are going considerably better at the Golf in Dubai Championship where pre-event pick, Andy Sullivan, leads by three at halfway. Here's the 36-hole leaderboard with prices to back at 20:20.
Andy Sullivan -17 2.285/4
Matt Wallace -14 5.04/1
Ross Fisher -14 11.521/2
Antoine Rozner -12 28.027/1
Craig Howie -12 80.079/1
Max Schmitt -12 120.0119/1
-11 and 34.033/1 bar
It's never easy to back up a super low round so Andy Sullivan's six-under-par 66 was a decent knock today after his 11-under-par 61 opener and it could have very easily been a few shots better as he missed a few makeable birdie putts.
He looks to be in control of his game and it's hard to see him shooting anything worse than four or five under tomorrow and Saturday, although that still might not be enough. It's difficult to envisage anyone winning from five or more back and I'm not a massive fan of Ross Fisher in-contention so the one I fear is Matt Wallace.
Wallace will relish chasing Sullivan down and he has the ability to go very low so I've layed some of my pre-tournament wager back and recycled the stakes on Wallace.
The first round of Mayakoba Golf Classic is underway and live on Sky and I'll look at that one tomorrow.
17:50 - December 2, 2020
It's only Wednesday evening but this week's golf is already underway with the first round of the inaugural Golf in Dubai Championship all done and dusted. Pre-event pick, Andy Sullivan shows the way after an 11-under-par 61 but he was far from the only one to get hot and shoot a low score around the yielding Fire Course.
Frenchman, Antoine Rozner, and England's Matt Wallace, who like Sullivan teed off early, both shot 63s to get within a couple of the leader but that wasn't the end of the low scoring.
I thought the morning starters would get much the better of it today but those that teed it up in the afternoon averaged 69.34 compared to the 70.17 averaged in the morning. Several players made inroads into Sullivan's lead, with Ross Fisher ending the day alongside Rozner and Wallace in a tie for second.
As highlighted in the In-Play Tactics section of the preview, when scoring is low like this it's very hard to come from too far off the pace, so it's no surprise to see the front four dominate the market. Here's the early leaderboard with prices to back at 17:45.
Andy Sullivan -11 4.1
Matt Wallace -9 6.05/1
Ross Fisher -9 15.5
Antoine Rozner -9 16.5
Oscar Lengden -8 42.041/1
Marc Warren -8 44.043/1
Craig Howie -8 70.069/1
-7 and 17.016/1 bar
On six-under-par and out early tomorrow, Robert McIntyre 17.016/1 and Martin Kaymer 19.018/1 are the only players not listed above that trade at below 28.027/1 and even though he trails by five, I've decided to have a very small wager on McIntyre.
Apart from a sloppy couple of holes around the turn, McIntyre was impressive today. He started slowly last week and improved (50th after round one - finished sixth) so I'm half expecting to wake up tomorrow and see that he's shot a low round to take the lead. I'm certainly not getting up to follow his progress (he tees off at 03:40 UK time) but I didn't want to wake up and see he's shot ten-under and that he's trading far shorter than he now. He's playing with lots of confidence after his first win on the European Tour last month in Cyprus and he's a bigger price now than he was before the off.
It's going to be a very busy day tomorrow when the other two events kick off - the South African Open (previewed here) and the Mayakoba Classic (previewed here) - so I'm not sure when I'll update again. In the meantime, here's the Find Me a 100 Winner column, with three picks in Mexico, and as highlighted below, since publishing the preview yesterday, I've also added Patton Kizzire to the portfolio.
As is so often the case on a Wednesday, there have been plenty of players that have drifted out today and he's touched 120.0119/1, having been too short a price for the Find Me a 100 Winner column this morning! Kizzire won this event three years ago and with current form figures reading 24-11-10, he's too big to ignore at a triple-figure price.
*You can follow me on Twitter @SteveThePunter
New on Betting.Betfair – Betslip
You can now bet without leaving Betting.Betfair with our brand new on-site betslip for Exchange markets. You'll see the Exchange back and lay prices at the end of articles - simply login and place your bets as you would do on the main Exchange site
Discover the latest articles
Read past articles