British Masters 2020: Form stats ahead of this week's European Tour event in north-east England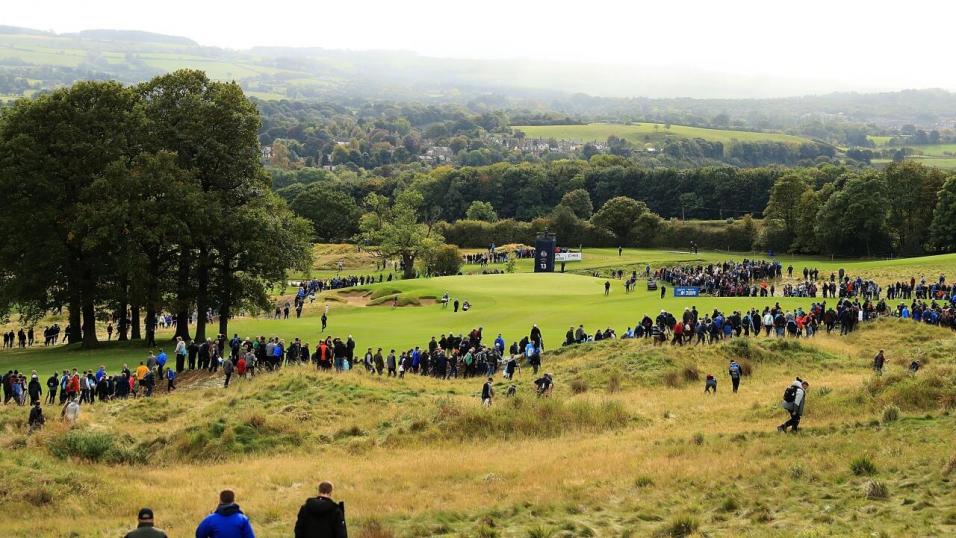 Close House: Laid out in traditional rolling UK countryside in Northumberland
Close House, near Newcastle, stages the British Masters for a second time this week and Andy Swales is here with all the key form stats...
"Ross Fisher should feel at home in this landscape. The experienced 39-year-old from Ascot, the world No 174, was another pro to start the calendar year in good shape, thanks to a trio of top-10s in the Middle East."
The rolling countryside of Northumberland welcomes the European Tour for this week's British Masters.
Starting Wednesday, the tournament will be the first of six events to be staged in either England or Wales over the next 40 days.
Located 10 miles west of Newcastle city centre, Close House Golf Club will be making its second appearance on the European Tour, having hosted the same event in 2017.
Although it can hardly be described as a bumper field, the quality of entry is certainly a handful of notches higher than for the two events played in Austria during recent weeks.
Venue for this week's gathering is The Colt Course, opened in 2011 and named in honour of famous English architect Harry Colt whose many designs include the West Course at Wentworth.
The course is laid out in almost 200 acres of rural countryside, and sits between the River Tyne and Hadrian's Wall.
Birdie fest
When the British Masters was played here three years ago, this shortish course yielded plenty of low scores.
Fourteen golfers broke 270 for 72 holes, with champion Paul Dunne firing 260.
Back then Dunne was a relatively new pro, much heralded following a successful amateur career when he represented Great Britain and Ireland in the Walker Cup, and also led The Open Championship after 54 holes in 2015.
But after making a bright start to professional life, the Irishman's fortunes suffered a sharp downturn and he is currently ranked 476 in the world - he was once No 65.
Maybe a return to Close House can revive some good vibes and inspire him when the tournament starts on Wednesday morning.
Approximately one-third of those teeing-up sampled the course three years ago when the Masters was held there in late September.
Westwood returns to action
For a number of players, including tournament host Lee Westwood, this will be their first post-lockdown event.
Westwood was probably more frustrated than most when the PGA and European tours took an extended break in March, following his strong start to 2020 that had yielded a victory in Abu Dhabi and a tie-for-fourth at the Honda Classic in Florida.
Check out the latest betting ahead of this week's British Masters in Northumberland
Others taking their first tentative steps this week include Eddie Pepperell, Pablo Larrazabal and Ross Fisher who should feel at home in this landscape.
The experienced 39-year-old from Ascot, the world No 174, was another pro to start the calendar year in good shape, thanks to a trio of top-10s in the Middle East.
It just depends on how much practising and physical training Fisher has done recently, as to whether he has a fighting chance this week.
South Africans make the journey
The British Masters will also be the first event, for over four months, for a number of South Africans.
These include Justin Harding, Brandon Stone, Dean Burmester, Zander Lombard and 26-year-old JC Ritchie who successfully defended the Limpopo Championship in February, on Southern Africa's Sunshine Tour.
And for those who have already loosened their muscles by competing in Austria, then Adri Arnaus and Thomas Detry may enjoy an advantage over the rest of the field.
Both are ranked just outside the top 100 and have been close, during the past couple of years, to breaking their ducks on the European Tour.
Twitter: Andy Swales@GolfStatsAlive
MC* - Missed Additional 54-Hole Cut
Note: List Contains Leading Reserves
| Player | W29 | W28 | W27 | W26 | W25 | W24 | W10 | W9 | W8 | W7 |
| --- | --- | --- | --- | --- | --- | --- | --- | --- | --- | --- |
| Lee Westwood | | | | | | | MC | 4 | 22 | |
| Eddie Pepperell | | | | | | | Dq | | | |
| Marcus Kinhult | | | 14 | | | | 7 | | 69 | |
| Adri Arnaus | 11 | 62 | | | | | MC | MC | | |
| Andrea Pavan | | | | | | | MC | 73 | MC | |
| Thomas Detry | | 8 | | | | | 17 | 36 | | |
| Justin Harding | | | | | | | 28 | MC | 29 | |
| JC Ritchie | | | | | | | | | 32 | 5 |
| Romain Langasque | | | | | | | 38 | MC | | |
| Francesco Laporta | 57 | 55 | | | | | | MC | | |
| Min Woo Lee | | | | | | | MC | MC | | |
| Guido Migliozzi | | | | | | | MC | 4 | | |
| Andy Sullivan | | | | | | | 21 | MC* | | |
| Ryan Fox | | | | | | | | MC | 29 | |
| Calum Hill | | | | | | | MC | 54 | | |
| Sami Valimaki | MC | MC | | | | | 38 | 1 | | |
| Mikko Korhonen | | | | | | | MC | 4 | | |
| Jordan Smith | | | | | | | 38 | 6 | | |
| Pablo Larrazabal | | | | | | | 7 | 65 | 64 | |
| Scott Vincent | 18 | 25 | | | | | 26 | MC | | |
| Ross Fisher | | | | | | | 53 | 10 | | |
| Brandon Stone | | | | | | | 44 | 2 | 10 | MC |
| Jason Scrivener | MC | | | | | | 21 | MC | | |
| Dean Burmester | | | | | | | 53 | 67 | | 11 |
| Jack Senior | | | | | | | 17 | MC | | |
| Matthew Southgate | | | | | | | MC | MC | | |
| Kalle Samooja | | | | | | | 3 | 30 | | |
| Rasmus Hojgaard | | | | | | | MC | 6 | | |
| Matthew Jordan | | | | | | | 28 | 18 | | |
| Andrew Johnston | | | | | | | | | | |
| Zander Lombard | | | | | | | 28 | 25 | 26 | |
| Joachim B Hansen | | | | | | | MC | MC | | |
| Antoine Rozner | | 44 | | | | | 53 | 10 | | |
| John Catlin | 43 | 8 | | | | | MC | MC | | |
| Masahiro Kawamura | | | | | | | 53 | MC | | |
| Darius Van Driel | | 4 | | | | | MC | 36 | | |
| Scott Jamieson | | | | | | | 12 | MC | | |
| Sam Horsfield | | | | | | | MC | MC | | |
| Richie Ramsay | | | | | | | 53 | MC | | |
| Aaron Rai | | | | | | | MC | MC | | |
| Alexander Bjork | | | 20 | | | | 6 | MC | | |
| Maverick Antcliff | | | | | | | MC | 43 | | |
| Wil Besseling | | 3 | | | | | | MC | | |
| Jeff Winther | | | | | | | 3 | 50 | | |
| Adrian Meronk | | MC | | | | | MC | 54 | | |
| Renato Paratore | | 15 | | | | | 47 | MC* | | |
| Louis De Jager | | | | | | | | 36 | 30 | 8 |
| Connor Syme | | 4 | | | | | MC | 10 | | |
| Steven Brown | | | | | | | 47 | 60 | | |
| Robin Roussel | | 62 | | | | | MC | 18 | | |
| Julian Suri | | | | | | | | | | |
| Chris Paisley | | | | | | | 7 | 43 | | |
| Richard Bland | | | | | | | | 54 | | |
| Sebastian Rodriguez Garcia | | 4 | | | | | MC | MC | | |
| Scott Hend | | | | | | | Wd | 67 | 65 | |
| Sean Crocker | | | | | | | 61 | 71 | | |
| Joel Sjoholm | MC | 44 | | | | | | 62 | | |
| Johannes Veerman | | | | | | | MC | 60 | | |
| David Drysdale | | | | | | | 2 | MC | | |
| Oliver Farr | | | | | | | 47 | MC | | |
| Jake McLeod | | | | | | | MC | MC | | 45 |
| Nacho Elvira | | | | | | | MC | MC | | |
| Matthieu Pavon | | | | | | | 21 | MC | | |
| Grant Forrest | | | | | | | MC | 10 | | |
| Adrian Otaegui | | | | | | | MC | 30 | | |
| Cormac Sharvin | | | | | | | 66 | 36 | | |
| Adrien Saddier | | 18 | | | | | 12 | 3 | | |
| Marc Warren | | 1 | | | | | | | | |
| Oliver Wilson | | | | | | | MC | MC | | |
| Ricardo Santos | | | | | | | MC | MC | | |
| Niklas Lemke | | | | | | | 3 | MC | | |
| Robin Sciot-Siegrist | 3 | MC | | | | | MC | 67 | | |
| Rhys Enoch | MC | MC | | | | | | | 19 | 11 |
| Jack Singh Brar | | | | | | | MC | 67 | | |
| Callum Shinkwin | | | | | | | | 25 | | |
| Bryce Easton | | | | | | | | MC* | | MC |
| Justin Walters | | | | | | | MC | 30 | | MC |
| Edoardo Molinari | | | | | | | Dq | 50 | | |
| Sihwan Kim | | | | | | | 38 | MC | | |
| Alvaro Quiros | | | | | | | MC | MC | | |
| Oscar Lengden | 13 | 8 | 5 | | | | | | | 11 |
| Ewen Ferguson | MC | MC | | | | | | | | MC |
| Tapio Pulkkanen | | MC | | | | | MC | MC | | |
| Alexander Levy | | | | | | | MC | 43 | | |
| Soren Kjeldsen | | | | | | | 44 | 43 | | |
| Marcus Armitage | | | | | | | 12 | 36 | | |
| Haydn Porteous | | Wd | | | | | 47 | | 2 | 35 |
| Ashley Chesters | | | | | | | MC | 50 | | |
| Lars Van Meijel | | MC | | | | | 28 | 62 | | |
| Robert Rock | | | | | | | 66 | 36 | | |
| Ross McGowan | Wd | MC | | | | | | | | MC |
| Hugo Leon | | | | | | | MC | MC | | |
| Nicolai Hojgaard | MC | 44 | | | | | 53 | 54 | | MC |
| Dale Whitnell | | | | | | | MC | MC | | MC |
| Gregory Havret | | | | | | | 66 | MC | | |
| Daan Huizing | MC | 25 | | | | | | | | 11 |
| David Law | | | | | | | MC | MC | | |
| Lorenzo Scalise | MC | 72 | | | | | | | | 19 |
| Emilio Cuartero Blanco | MC | MC | | | | | | | | 42 |
| Ben Stow | | MC | | | | | | 54 | | MC |
| Paul Dunne | | | | | | | | | | |
| Benjamin Poke | | | | | | | 17 | 72 | | |
| Clement Sordet | | | | | | | 72 | 10 | | 42 |
| Jamie Donaldson | | | | | | | MC | 50 | | |
| Oliver Fisher | | | | | | | 47 | MC | | |
| Rikard Karlberg | 24 | 34 | | | | | MC | 36 | | |
| Maximilian Kieffer | | 55 | | | | | 53 | 30 | | |
| Alejandro Canizares | | | | | | | 28 | 6 | | |
| Steven Tiley | MC | MC | | | | | | | | MC |
| James Morrison | | | | | | | 21 | 54 | | |
| Romain Wattel | | | | | | | | | | |
| Miguel Angel Jimenez | | 8 | | | | | | | | |
| Laurie Canter | | | | | | | 61 | MC | | MC |
| Dave Horsey | | | | | | | 72 | MC | | |
| Lee Slattery | | | | | | | | MC* | | |
| Gavin Moynihan | MC | 55 | | | | | | | | MC |
| Liam Johnston | | | | | | | | | | MC |
| Jonathan Caldwell | | | | | | | MC | MC | | |
| Gonzalo F`dez-Castano | | | | | | | | | | |
| Dave Coupland | | | | | | | 47 | MC | | |
| Toby Tree | | | | | | | 61 | MC | | MC |
| Richard McEvoy | | | | | | | MC | 30 | | |
| Julien Guerrier | | | | | | | 66 | MC | | |
| Michael Campbell | | | | | | | | MC | | |
| Aaron Cockerill | | | | | | | MC | 62 | | |
| Ben Evans | | | | | | | | | | MC |
| Eduardo De La Riva | MC | 34 | | | | | | | | |
| Thomas Bjorn | | | | | | | | | | |
| Garrick Porteous | | | | | | | MC | MC | | |
| Carlos Pigem | | 23 | | | | | 53 | MC | | |
| Calum Fyfe | | | | | | | | | | |
| Pedro Figueiredo | MC | | | | | | 66 | MC | | |
| Raphael Jacquelin | | | | | | | MC | MC | | |
| David Howell | | | | | | | Wd | MC | | |
| Jens Fahrbring | MC | 44 | | | | | | | | MC |
| Paul Lawrie | | | | | | | MC | MC | | |
| Graeme Storm | | | | | | | MC | MC | | |
| Pedro Oriol | 32 | 39 | | | | | | | | MC |
| Bailey Gill | | | | | | | | MC | | |
| Michael Bullen | | | | | | | | | | |
| Andrew Willey | | | | | | | | | | |
| Jason Levermore | | | | | | | | | | |
| Player | 2017 |
| --- | --- |
| Lee Westwood | 15 |
| Eddie Pepperell | MC |
| Marcus Kinhult | |
| Adri Arnaus | |
| Andrea Pavan | |
| Thomas Detry | |
| Justin Harding | |
| JC Ritchie | |
| Romain Langasque | MC |
| Francesco Laporta | |
| Min Woo Lee | |
| Guido Migliozzi | |
| Andy Sullivan | 44 |
| Ryan Fox | |
| Calum Hill | |
| Sami Valimaki | |
| Mikko Korhonen | 20 |
| Jordan Smith | MC |
| Pablo Larrazabal | 26 |
| Scott Vincent | |
| Ross Fisher | MC |
| Brandon Stone | 31 |
| Jason Scrivener | MC |
| Dean Burmester | MC |
| Jack Senior | |
| Matthew Southgate | |
| Kalle Samooja | |
| Rasmus Hojgaard | |
| Matthew Jordan | |
| Andrew Johnston | |
| Zander Lombard | |
| Joachim B Hansen | |
| Antoine Rozner | |
| John Catlin | |
| Masahiro Kawamura | |
| Darius Van Driel | |
| Scott Jamieson | 31 |
| Sam Horsfield | |
| Richie Ramsay | 8 |
| Aaron Rai | 52 |
| Alexander Bjork | |
| Maverick Antcliff | |
| Wil Besseling | |
| Jeff Winther | |
| Adrian Meronk | |
| Renato Paratore | MC |
| Louis De Jager | |
| Connor Syme | |
| Steven Brown | |
| Robin Roussel | |
| Julian Suri | |
| Chris Paisley | MC |
| Richard Bland | MC |
| Sebastian Rodriguez Garcia | |
| Scott Hend | MC |
| Sean Crocker | |
| Joel Sjoholm | |
| Johannes Veerman | |
| David Drysdale | 44 |
| Oliver Farr | |
| Jake McLeod | |
| Nacho Elvira | 11 |
| Matthieu Pavon | |
| Grant Forrest | |
| Adrian Otaegui | 31 |
| Cormac Sharvin | |
| Adrien Saddier | |
| Marc Warren | 15 |
| Oliver Wilson | |
| Ricardo Santos | |
| Niklas Lemke | |
| Robin Sciot-Siegrist | |
| Rhys Enoch | |
| Jack Singh Brar | |
| Callum Shinkwin | |
| Bryce Easton | |
| Justin Walters | MC |
| Edoardo Molinari | MC |
| Sihwan Kim | |
| Alvaro Quiros | MC |
| Oscar Lengden | |
| Ewen Ferguson | |
| Tapio Pulkkanen | |
| Alexander Levy | 44 |
| Soren Kjeldsen | |
| Marcus Armitage | MC |
| Haydn Porteous | MC |
| Ashley Chesters | 52 |
| Lars Van Meijel | |
| Robert Rock | 37 |
| Ross McGowan | |
| Hugo Leon | |
| Nicolai Hojgaard | |
| Dale Whitnell | |
| Gregory Havret | 26 |
| Daan Huizing | |
| David Law | |
| Lorenzo Scalise | |
| Emilio Cuartero Blanco | |
| Ben Stow | |
| Paul Dunne | 1 |
| Benjamin Poke | |
| Clement Sordet | |
| Jamie Donaldson | 37 |
| Oliver Fisher | 60 |
| Rikard Karlberg | MC |
| Maximilian Kieffer | |
| Alejandro Canizares | 60 |
| Steven Tiley | |
| James Morrison | MC |
| Romain Wattel | |
| Miguel Angel Jimenez | MC |
| Laurie Canter | 52 |
| Dave Horsey | 31 |
| Lee Slattery | 31 |
| Gavin Moynihan | |
| Liam Johnston | |
| Jonathan Caldwell | |
| Gonzalo F`dez-Castano | |
| Dave Coupland | |
| Toby Tree | |
| Richard McEvoy | |
| Julien Guerrier | |
| Michael Campbell | |
| Aaron Cockerill | |
| Ben Evans | |
| Eduardo De La Riva | 44 |
| Thomas Bjorn | |
| Garrick Porteous | |
| Carlos Pigem | |
| Calum Fyfe | |
| Pedro Figueiredo | |
| Raphael Jacquelin | MC |
| David Howell | |
| Jens Fahrbring | MC |
| Paul Lawrie | |
| Graeme Storm | 4 |
| Pedro Oriol | |
| Bailey Gill | |
| Michael Bullen | |
| Andrew Willey | |
| Jason Levermore | |