The Punter's Live Golf Blog: The Open Championship
The Open

/ Steven Rawlings / 16 July 2011 / 16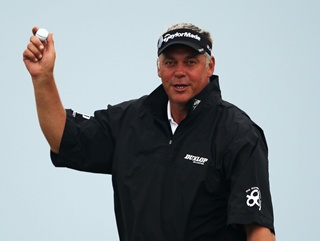 Darren Clarke – Can he hang on?
"Although it would be a fantastic story, I can't help thinking Dazzler (currently [4.1] to back) is going to struggle to get the job done tomorrow and the market agrees. Even though he trails by a shot, Dustin Johnson heads the market at [3.80], but would I advocate steaming in at that price? No."
Popular Irishman Darren Clarke takes a one shot lead into the final day but can he hang on?
23.50 - July 16, 2011
After a fascinating third day's play at Royal St Georges Darren Clarke will enter tomorrow's final round with a one shot lead over Dustin Johnson and we're heading for a thrilling final day but before I look at what tomorrow may bring, I'll just detail today's trading...
I'd written yesterday that a wrong forecast could cause carnage and after play ended today I couldn't help feeling a bit fortunate. The forecast had suggested a pretty foul day with a very slight improvement in conditions as the day wore on. What we actually got was a vast improvement and I couldn't help wondering what a mess I'd have been in had the forecast been even more wrong and the morning had been benign with worsening conditions. It doesn't bear thinking about!
As it is, the way things panned out suited me just fine and I've managed to get myself in a lovely position for tomorrow. I've listed today's in-running bets, and those that were made after play had finished. The upshot of all that activity is that should anyone on a score of +3 or better win tomorrow I'll have a profitable week.
By some distance, my best result would be a win for Rickie Fowler. As detailed in my Top American piece, I rated young Fowler the best value in the field this week and I wasn't alone here at betting.betfair.com. Dan Geraghty highlighted his chances and so did Romily Evans and Paul Krishnamurthy made him one of his Find Me A 100 Winner picks. And he's been knocking so hard at the door with that column that the hinges are definitely buckling!

Rickie put in one of the best Open rounds I've ever seen today - shooting 68 in just about the worst of the weather. He was also drawn on the wrong side of the draw, so the fact that he trails Clarke by just three is admirable indeed. The groups drawn with an early start on Thursday shot an average of 3.15 strokes more than those that started the event on Thursday afternoon - a big disadvantage.
Although it would be a fantastic story, I can't help thinking Dazzler (currently [4.1] to back) is going to struggle to get the job done tomorrow and the market agrees. Even though he trails by a shot, Dustin Johnson heads the market at [3.80], but would I advocate steaming in at that price? No.
Johnson entered the final round of last year's US Open with a healthy lead and trading at heavy odds on but he failed to break 80! I'm not saying he's necessarily a lay at his current price but I wouldn't fancy backing him at the price.
Fowler hasn't won an event of any sort yet and was atrocious in the mix at the AT & T a couple of weeks back when entering the final round with every chance but I'm not looking to lay him yet. He has to win one sooner or later and boy was he impressive today.
Playing alongside Fowler and also trailing Clarke by three is Bjorn and he looks decent value at [17.0] if you're looking for a final day flutter but he does have a similar profile to Clarke and I do wonder if he had his chance back in 2003. The golfing gods rarely give a second chance.
I've backed Miguel Angel Jimenez, just to ensure a stress-free day, but I can't fancy him and at [20.0] he looks short enough. His playing partner, Lucas Glover, on the same -1 score and trading at around five or six points bigger, looks a much better bet. He played magnificently from tee to green today but putted deplorably. A better day with the flat-stick and he could be bang there tomorrow but I fancy the winner may well come from the two-ball that starts ten minutes before Mig and Lucas...
Phil Mickelson and Anthony Kim have a great chemistry together, they make a great Ryder Cup pairing, and they could just feed off each other. They're both on level par and five behind Clarkey but they could yet have a big say in the outcome. And every credit to Dan Geraghty, he highlighted the chances of both before a ball was struck.
I'll be back tomorrow night or Monday with my De-Brief.

15.40 - July 15, 2011
There's no doubt about it, the players drawn late -early have definitely had the advantage. The scoring average yesterday afternoon was 71.21, compared with 72.86 in the morning - a difference of 1.65 shots and with the wind getting up again this afternoon, after a calm morning today, it's not going to be a level playing field at all.
As stated in the preview, my plan was to trade heavily over the first two days to try and get myself a decent portfolio going into the weekend. We're not there yet and I'm obviously still wary of a closer this afternoon but I'm more than happy with things...so far!
The best score of the day is 67 at this stage and with the weather seemingly worsening I can't see too many changes at the very top of the leaderboard today now. Only two winners in the last 15 years (Padraig Harrington 2007 and David Duval 2001) have been more than four shots off the lead at halfway so I fancy the winner is currently under par. After a busy day and a half, I've managed to get most of that bunch onside - all listed below. I also backed Lee Westwood early on but I managed to lay him back soon enough.
I haven't traded as well today and could and should have backed out of a few players as they stuttered. Bubba Watson in particular - I knew it was only a matter of time before he struggled but did precisely nothing about it and I've also taken pretty poor prices about Darren Clarke (tied for the lead at present) and Phil Mickelson.
Just to clarify my position, the selections made vary from being a great result (Charl Schwartzel) to a modest win (Phil Mickelson) and if I don't lay anything back or have the winner in my team I'm in for a poor week indeed.
My theory is that the weather will be so poor over the weekend that very few players will make a run from halfway and that I should be able to pick up any closers easily enough. We'll see. Things have gone to plan so far but a wrong forecast could cause total carnage! If the wind drops now or is benign until the leaders go out tomorrow I'm in big trouble. I could also do with young Rory McIlroy struggling this afternoon.
By the way, if you are trying to trade in-running and weren't aware, Radio Five is ahead of the TV fairly often...

21.00 - July 14, 2011
The event's 6th reserve, Thomas Bjorn, who only got into the event on Monday thanks to David Toms' late withdrawal, did his level best to lay the ghosts of 2003 to rest today. Bjorn had famously and tragically (especially if you were on!) thrown away this great tournament eight years ago here when he took three attempts to extricate himself from the greenside bunker on the 70th hole when holding a two-shot lead.
In by far the worst of the conditions this morning the Great Dane put up a masterful display of links golf to shoot a magnificent five-under par 65 - a total that wasn't matched until 7.20 this evening, when another Tom shot the same score.
20-year-old English amateur Tom Lewis, named after his playing partner Tom Watson, came into the event as a warm favourite to finish the week as top amateur - he's now been matched at just [40.0] to win the whole thing! It's seems we have a new phenom!
I'd written in my preview on Tuesday that the forecast suggested that those drawn late -early would have the advantage and for once the forecast was right. In fact, it was absolutely spot on and if it's right again tomorrow, poor old Bjorn could find himself a long way back by the time he tees off at 12.26. He could also find he's got his work cut out to catch up again because after a calm morning, the wind is due to pick up tomorrow, probably at about 12.26! Bjorn must think the golfing gods have something against him and you couldn't really argue with him could you!
I've had a long and tiring day's trading but it's gone quite well. Tomorrow (morning in particular) will be just as busy but by the time we reach halfway I'll hopefully be in a decent position. I've listed all the bets below. There were a few others that I layed back at around the same price but as I no longer hold the positions there's no point in listing them all.
I really should have gotten Graeme McDowell onside by now but other than that, I'm happy with things at this stage. I still believe, with worse weather forecast for the weekend, that it's absolutely essential to be right up there at the halfway stage and with the morning looking likely to provide the easiest playing conditions I'll be looking to get myself set up by lunchtime.
KJ Choi @ [65.0]
Rickie Fowler @ [120.0]
Alvaro Quiros @ [120.0]
Bubba Watson @ [130.0]
Y E Yang @ [150.0]
Robert Rock @ [180.0]
Simon Dyson @ [300.0]
Ryan Palmer @ [340.0]
Nicolas Colsaerts @ [350.0]
George Coetzee @ [430.0]
Thorbjorn Olesen @ [440.0]
Joost Luiten @ [48.0]
Gary Boyd @ [580.0]
Kyung-Tae Kim @ [680.0]
In Play trades
Day one
K J Choi Layed back at [60.0]
Thomas Bjorn @ [70.0]
Edoardo Molinari @ [100.0]
Chad Campbell @ [200.0]
Justin Leonard @ an average of [160.0]
Freddie Andersson-Hed @ an average of [200.0]
Tom Lewis @ [95.0]
Martin Kaymer @ [17.0]
Lucas Glover @ [50.0]
Webb Simpson @ [36.0]
In Play trades
Day two
Steve Stricker @ [21.0]
Charl Schwartzel [40.0]
Darren Clarke @ [20.0]
Jung-Gon Hwang @ [220.0]
Phil Mickelson @ [30.0]
In Play trades
Day three
Raphael Jacquelin @ [120.0]
Dustin Johnson @ [8.2]
Phil Mickelson (again) @ [36.0]
Anthony Kim @ [75.0]
Zach Johnson @ [150.0]
Close of play bets
Miguel Angel Jimenez @ [21.0]
Anders Hanson @ [65.0]
Davis love III @ [65.0]
Tom Lehman @ [190.0]
Adam Scott @ [230.0]
Freddie Jacobsen @ [450.0]
'.$sign_up['title'].'
'; } } ?>