Open 2011: Can Fowler follow in Rory's footsteps?
The Open

/ Romilly Evans / 07 July 2011 /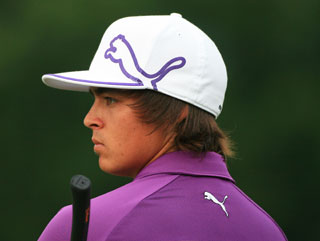 Can Rickie do a Rory?
"Fowler has all the attributes: a robust and repeating swing, pitch-perfect ball striking and a silky smooth putting stroke. Fowler performed strongly on his links debut at St Andrews last year and is fast acquiring the confidence to beat any field."
With Tiger out and Phil struggling, Romilly Evans looks at where the next great American golfer will come from

Phenomena wouldn't prove quite so phenomenal if they came along on regular basis. Just so, at a time when the two icons of American golf, Tiger Woods and Phil Mickelson, are struggling to reassert their dominance on the game ahead of The Open Championship, there understandably appears to be a dearth of US talent capable of stepping into their Footjoys.
Of course, not that this has stopped the US media from daring to dream that someone should fill the void. And with Tiger's recent withdrawal from Royal St George's, as he continues to rehabilitate his shattered knee, the search for a new star in the stripes has intensified.
But how realistic is this quest? No country is entitled to perennially produce the best players in the world (the UK is currently enjoying its own prolific period with three of the top four). Even so, Uncle Sam does have a fine track record marshalling the top guns in the game. Palmer, Nicklaus and Woods each bestrode their eras like the proverbial Colossus. And while history may never mention Mickelson in the same breathe, the left-hander is another towering talent who simply had the misfortune to ply his trade at the same time as Tiger.
After all, in spite of his recent travails, Woods still owns 14 majors and 71 PGA Tour wins. Mickelson, for his part, owns four majors and 39 wins on home soil. Bearing in mind that the Tour once introduced a concession for life-time membership should one of its players ever reach 20 wins, and you get an idea of just how good these guys were. Their combined duopoly on the world rankings lasted the best part of a decade.
However, perhaps we shouldn't be talking in the past tense here. At 35 and 41 respectively, Woods and even Mickelson could yet halt their slide. Tiger has pledged that his best years will still be ahead of him when he returns to full fitness. This might sound like blind optimism rather than credible defiance, but we have learnt never to underestimate Woods, whose single-minded determination to overhaul Nicklaus' record tally will doubtless see him back in the vortex of major competition soon.
So too, Lefty, who has been battling painful arthritis in his hands. Unlike Woods, Mickelson has never had a problem prioritising his personal life over his profession. The well-documented health issues in his close-knit family, coupled with his bid to manage his own painful joints, have made him seems like a part-timer for the past few seasons.
That's about to change, however, with big Phil gearing up for a sustained period of tournament play which will see him take in every big event till the end of September. He believes this will kick-start a flashback to form and former glories. We'll see. But in Open week, where the layers are often out in force to get him on account of his high trajectory ball-flight (already plenty of liquidity to back at [36.0]), Mickelson finally enjoys a pressure-free environment in which to subdue the fickle winds of the British links.
Whichever way it goes, the wonders of medical science and golf equipment technology should at least extend the respective life spans of Tiger and Phil. Adages are there for a reason, though. And if time waits for no man, who are the young pretenders to take US golf back to the future?
Well, the highest-ranked Yank (at No.5) is actually Steve Stricker. Trouble is, at 44, Strick is even older than his compatriots. Plus, he still to win a major. Further down the class register lies a mini-generation of good-but-not-yet-great players. Nick Watney, Hunter Mahan and Bubba Watson are already multiple winners on Tour. All are around 30, however, and haven't made the major impact many predicted.
Watney, who triumphed for the second time this season at last week's AT&T, looks like the pick of that triumvirate. A big-hitter who's also unerringly straight when he's on song, the affable Californian might just be ready for the big time - especially now that he's rebounded from last year's implosion at the USPGA.
Major victory in that same tournament was more viscerally snatched from Dustin Johnson, who incurred a post-round penalty for grounding his club on a patch of sand which was locally ruled as a bunker. That final-hole blunder took Johnson out of a play-off for the title, and checked the giant strides the 27-year-old had been making. Johnson's god-given blend of club-head speed and bullseye putting doesn't come together every week. But Mickelson still rates him their brightest young talent, and he's also under the tutelage of Butch Harmon, who knows a thing or two about getting major results.
If DJ has a few years in hand on his countrymen, Rickie Fowler has nearly a decade at a tender 22. Many will point to the fact that this former No.1 amateur is still to break his duck on Tour, but he's come close both in play-offs and final-round shootouts. It's just a matter of time.
Rory McIlroy is the same age, and has quickly become a friend and inspiration for Fowler with his trailblazing romp to US Open glory. Like McIlroy (who still only has three worldwide wins), Fowler has so far struggled to match his dazzling play with the accompanying victories. He has all the attributes, though: a robust and repeating swing, pitch-perfect ball striking and a silky smooth putting stroke. Fowler performed strongly on his links debut at St Andrews last year and is fast acquiring the confidence to beat any field (he's a tempting [110.0] to back for St George's).
What an incredible maiden win that would make. One might even suggest phenomenal. But whether you deal in hyperbole or reality: if you're looking for the next great American golfer, your search stops here.

'.$sign_up['title'].'
'; } } ?>