The Punter's picks for the Open Championship
The Open

/ Steven Rawlings / 12 July 2011 / 2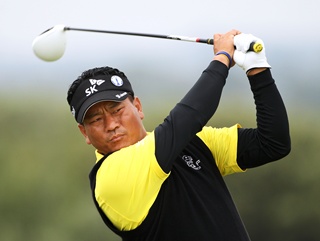 KJ Choi practising at Royal St George's today
"KJ Choi is in fine fettle this year and he's played well at this championship in the past, including here, when he finished tied for 22nd despite opening up with 77 in '03."
Steve's gone for a baker's dozen to get the ball rolling but it's all about the weather and In-Play strategies for our man...
Does any other sporting event have a more apt name? The Open Championship is just that and if you fancy someone at [1000.0] - go for it. Tiger Woods and Padraig Harrington have won two a piece over the last eight years but check out the other four winners!
Louis Oosthuizen trotted up by seven shots last year after going into the event as a huge outsider - trading at over [600.0]. 2004 winner Todd Hamilton was much the same price, 2009 champ Stewart Cink traded at over [300.0] and at the last Open Championship staged at Royal St George's in 2003; Ben Curtis went off at the maximum odds of [1000.0]!
Open by name, open by nature.
Having said all that, 11 of the 13 winners at this venue have been truly great players and those that followed Curtis home included Tiger Woods, Davis Love III and Vijay Singh so the cream does tend to rise to the top here.
Reports suggest that after a dry spring, the rough is minimal this year and big-hitters may well have a significant advantage. A wayward drive might not be as disastrous as it has been in the past and besides, even a good drive can be rewarded with a poor lie here. With blind tee-shots and undulating fairways, patience will play a big part this week and those that get frustrated quickly by a bit off ill-fortune need not even bother starting.
Luck plays a huge part at this tournament with the biggest fortune factor being the weather. It really can be cruel and if you get the wrong side of the draw it's a double whammy. Not only do you have to play in the worst conditions, you then have the mental turmoil of watching a significant percentage of your opponents having a much easier time of it. If you're not physically drained, mentally you could be.
My PC's straining with all the weather sites open and at this early stage forecasts suggest that the late starters on Thursday have the advantage. Of course it could all change quickly enough (hence all the open sites on my pc) but it could also get worse for the morning starters too.
Given the weather and given the fact that, as Paul Krishnamurty points out here, you really need to be up on the pace at this event, I shall be trading fervently on Thursday and Friday and my picks from the outset, although plentifully, are mostly modest.
I've been backing players for this event for the last few weeks and unfortunately the two I really liked have both got morning tee-times on Thursday. KJ Choi is in fine fettle this year and he's played well at this championship in the past, including here, when he finished tied for 22nd despite opening up with 77 in '03.
I've detailed Rickie Fowler's chance in my Top US piece and even though he could be drawn poorly, I still think his price is way too big.
Alvaro Quiros and Bubba Watson are both speculative big bombers. Alvaro has bits of links form though, as well as a beautiful short game and given how often he wins I couldn't leave him out. The selection of Watson is harder to justify, especially after his dreadful trip to France. It's highly likely that his propensity to sulk could resurface but if he knuckles down he could surprise. He's not just a big hitter - he also heads the PGA Greens in Regulation stats and given he's already won twice this year he too is big enough to risk.
I've argued Robert Rock's case in my Top English piece and Paul has him as one of his Find Me A 100 Winners too.
Three of Simon Dyson's four wins have come on a links course. He won the 2009 Dunhill Links Championship and he's twice won the KLM Open at the Kennemer Golf and Country Club. He played fairly well in Scotland last week and as a late entry, in the field thanks to the withdrawal of David Toms, he could well take full advantage of his unexpected chance.
Texan Ryan Palmer is a multiple winner who can handle windy conditions. He's performed fairly well at his last three majors (T33 2010 PGA, 10th at the US Masters and T21st at the US Open) and has a favourable draw if the forecasts are to be believed.
Nicholas Colsaerts is another of Paul's Find Me A 100 Winner picks and I can see why. Mercifully I nipped in last week while he was performing well in Scotland, so I've got a great price about the big-hitting Belgian. And I've also followed Paul in on Joost Luiten.
I've backed George Coetzee, Thorbjorn Olesen and Gary Boyd a few times lately at huge prices and all three has come close to winning. They all have big futures in the game and they're all generously priced.
Last but not least is Kyung-Tae Kim who has halved in price since I backed him a week ago. Kim plays in Japan and has form figures that read 1-3-2-12-30-2. The 30 came at the US Open where a disappointing final round saw him slip down the leaderboard. Ranked 30th in the world rankings, the Korean could still be underrated.

Selections:
KJ Choi @ [65.0]
Rickie Fowler @ [120.0]
Alvaro Quiros @ [120.0]
Bubba Watson @ [130.0]
Robert Rock @ [180.0]
Simon Dyson @ [300.0]
Ryan Palmer @ [340.0]
Nicolas Colsaerts @ [350.0]
George Coetzee @ [430.0]
Thorbjorn Olesen @ [440.0]
Joost Luiten @ [480.0]
Gary Boyd @ [580.0]
Kyung-Tae Kim @ [680.0]
Although 13 seems a lot of selections, I must stress that stakes have been kept low and the plan is to build up a decent portfolio over the first two days. The forecast could change beyond recognition before kick-off but if it pans out as it suggests it will I'll be looking to get the late starters that make a move onside on Thursday afternoon.
I'll be back on Thursday evening with a look back at day one and if I do anything else before the off I'll post it here in the comments box. Good luck and enjoy!

'.$sign_up['title'].'
'; } } ?>