Line Markets on Betfair: Everything you need to know as NBA and NFL are added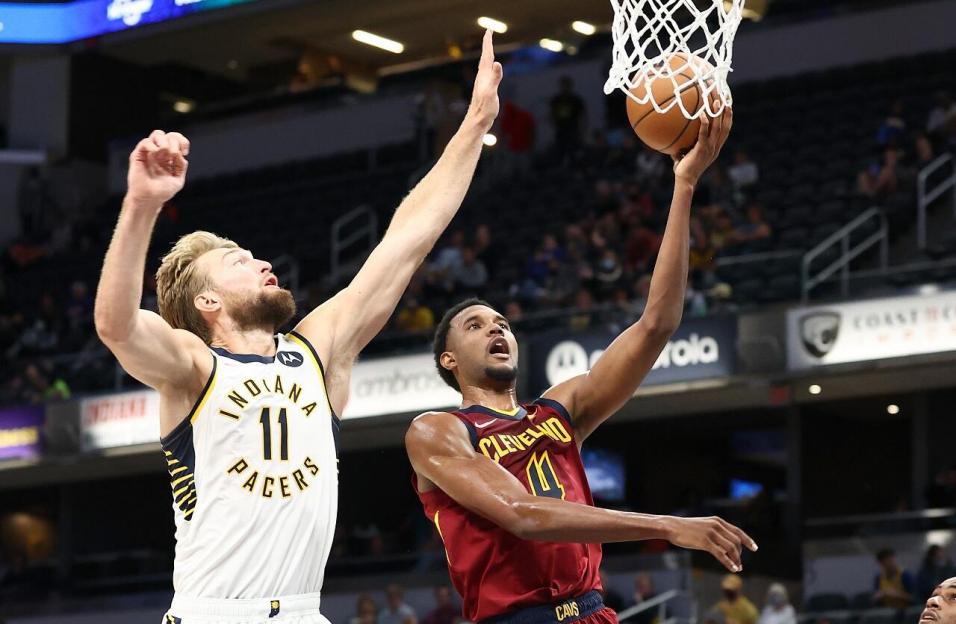 Our popular line markets are now available on NBA and other sports
Find out everything you need to know about Line Markets on Betfair - a fun and flexible way to bet that's now available on NBA and NFL as well as cricket....
What are they?
Line Markets are a different type of market from Betfair that allow you to bet on whether a total within an event will be above or below a specific amount.
With the new ability we have at Betfair, the total of what and when will depend on what sport you are betting on. So that might be Total Points scored in an NFL match, Total Rebounds in the 1st Quarter of an NBA match or, Total Tries in a Rugby match.
How do they work?
The odds for Line Markets are always fixed at 2.0 (evens); so rather than the price changing the line at which your bet wins or loses changes. And rather than backing or laying - you select either under (sell) or over (buy). You can always tell when you are betting on an under/over market as the boxes are coloured green and not the traditional blue or pink.

So if you bet £10 on Under 34.5 Points for an NFL match, you win if 34 or fewer points are scored. Your payout on this bet would be £10 x 2.0 = £20.
As with normal odds betting on the Exchange, you can also offer a line into the market and have your bet unmatched.
Where are they available?
Line Markets betting is available across both desktop and mobile - with new profit and loss tables also available cross all platforms.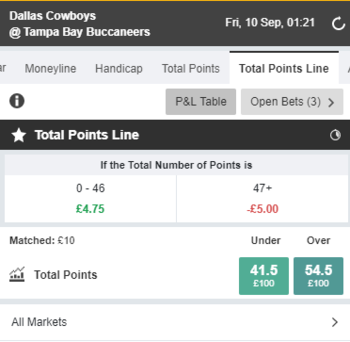 Why should I use them?
Line Markets are ideally suited for events that are high scoring and where the potential outcome moves quickly.
In contrast to previous totals markets where a changing outcome made it hard to focus on a single line - Line Markets allow you to respond to changing events without having to move to a different market.
As part of our recent releases we have also launched profit and loss tables for Line Markets. This allows to you to keep a close eye on where your winning or losing line is and what the outcome will be at this point.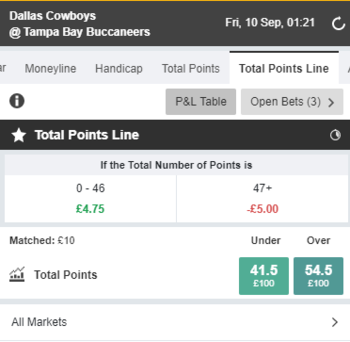 What sports are they available on?
Line Markets exist on Cricket already - and we have now expanded to NFL and NBA in time for the 2021/22 season.

For both NFL and NBA, the focus is on Total Points Line Markets where the sum of points scored by both teams is being wagered on, with all bets are struck at even money (2.01/1).
So as the baskets are being sunk you'll be able to quickly update your thinking and change the line you want to bet on. And all the while, with our P/L tables you can keep an eye on where your money is.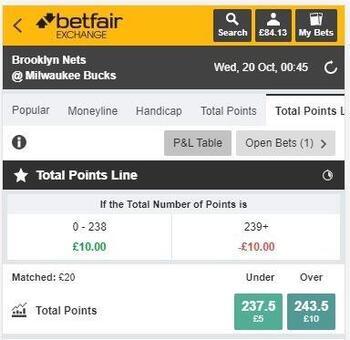 With the NBA being a higher scoring sport than the NFL, it does have different opportunities; our plans currently focus on Total Points but potentially in the future we could include Team or Individual Points, or even Rebounds. Watch this space.
What types of Line Market are there?
For now - alongside existing Cricket run Line Markets - we will focus on Total Points Line Markets in NFL and NBA.
However, just as we have the capacity to switch this on for different sports, we can also create Line Markets for different units and intervals.
Line Markets - FAQs
What sports will I find these markets on?
Initially we'll be offering these markets on NFL and NBA matches for the 2021-22 season but expect to expand to other sports in the coming months.
When will the market be settled?
These markets will be settled when the specified time period is completed and at no time before.
Can I Cash Out on these markets?
At the moment we have no plans to release Cash Out functionality on Line Markets.
Do Line Markets have something comparable to Best Price Execution?
Yes - if you're betting on over 33.5 points and then over 31.5 points becomes available your bet will be placed on over 31.5 points.
Discover the latest articles
Read past articles