Help shape the new Betfair: Get a first look at our new mobile experience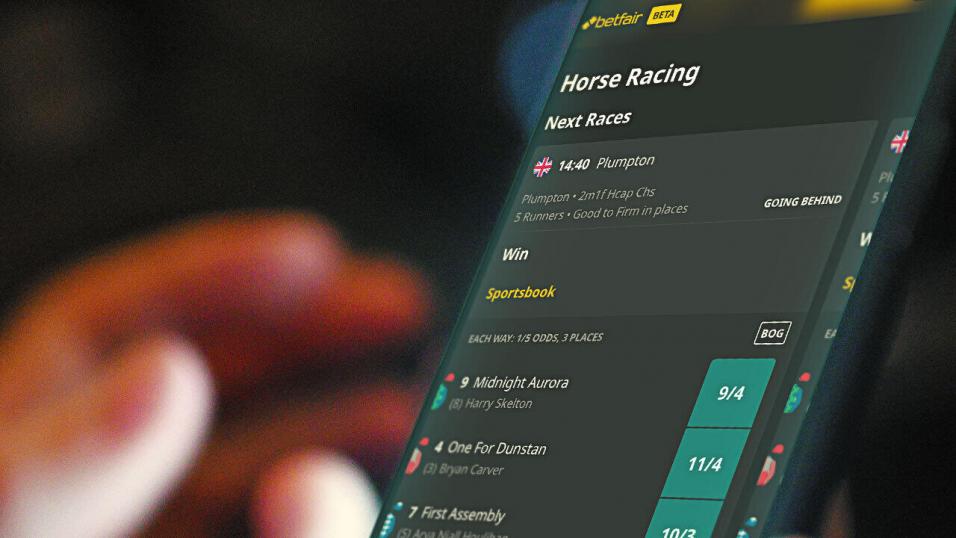 The new mobile experience on Betfair
The Betfair mobile experience is about to be transformed and we want your help to make it faster and easier to use. Here's how you can get involved...
We need your help to make Betfair better
What would you improve about Betfair? We want to know as our developers are working on an improved mobile experience that will combine the Exchange, Sportsbook and Gaming in one place.
We have just opened the new product in 'Beta' (development) form and want you to take part in the process so that we get it right and make sure Betfair gives you everything you need for a better betting experience. If you're reading this on a mobile, click here for the new experience. If you're reading on desktop, head to a mobile device and type 'betfair.com/betting' into the browser.
We've come a long way since shaking up betting in the 2000s with our revolutionary Exchange that empowered punters and upset traditional bookies. Since then we've added the Sportsbook and so much more to give you an edge when betting.
But there's always more we can do.
Easier to use and faster
The new Betfair experience will be easier to use and faster than what you're used to.
We've already made lots of improvements to our product that we think you'll love and some of them are already out there, such as improved look and feel, navigation and making it easier to place your bets. We've concentrated on horse racing to start with.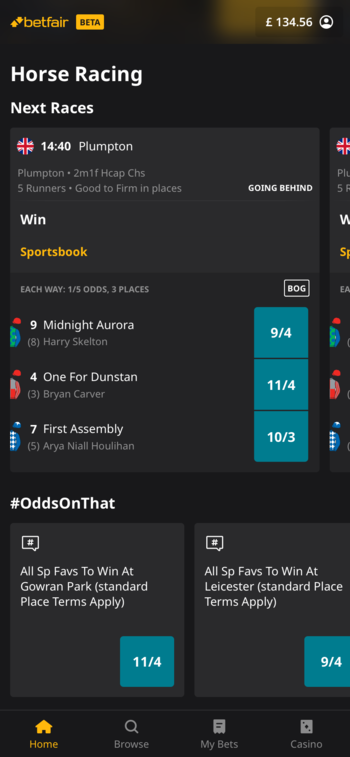 Over the next few months there are many more improvements to come.
We will focus on improving our key sports, with a more-rounded racing product that means you have more resources at your grasp - including stats, video and other helpful insight - and further expansion of our football product.
The new experience will also make it easier to access Gaming from the within the Sportsbook.
Where is the Exchange?
The new mobile experience will ultimately feature all products in one place but we are focusing on getting the Sportsbook right first. Exchange will be added later in the year and it will look something like this: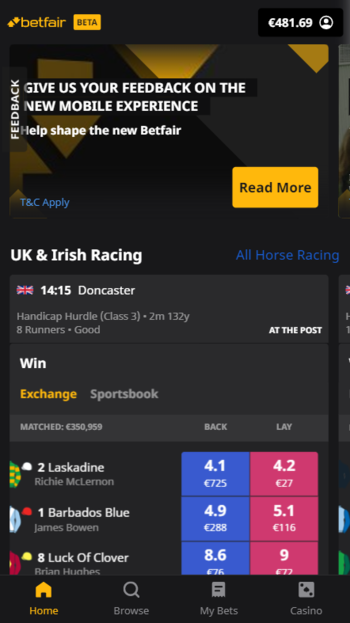 Get involved!
Not all the new features are available yet and this is where you come in. We love hearing from our customers so tell us:
What would you improve, and what additions would you make, on the site to enhance your betting on the new experience?
This is your chance to play your part in the next chapter of Betfair's evolution.
Click the Feedback button to take our customer survey.
FAQs
Where is the Exchange?
As mentioned above, we are focusing on getting the Sportsbook product right first of all - with your help - but the Exchange will follow later in the year.
Why can't I see many markets for football or other sports?
We are focusing on getting the horse racing product right first but football and other sports will follow in due course.
Why only mobile web?
We are testing the product in mobile web form but the app will follow later down the line.
I've spotted a bug
You can send general feedback by clicking on the survey but if there is a specific issue to report, use the 'feedback' button on the top left of the beta site.
Discover the latest articles
Read past articles