How to use historical market data to test your strategy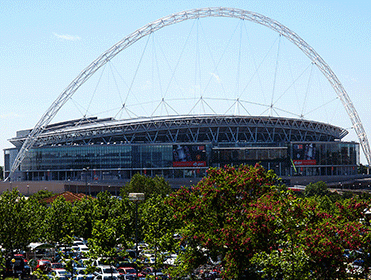 Want to recreate the markets from a historical game? Now you can
A typical bettor is limited in time and patience required to find an ideal betting plan. But there is a quick and realistic way of testing betting strategies with actual Betfair historical market data as MarketFeeder Pro explains
Coming across an idea for your betting plan is one thing - it is mainly about research. Setting it up to bring you profit is a completely different one - it is about testing it. 
Proving that a certain staking plan is worthwhile in the long run often requires having hundreds of markets analysed. If you are lucky enough, you will be able to spare several hours a day to sit down and do your betting, in the exact time slot when the necessary markets take place.
However, a typical non-professional bettor has a day job, family and other social activities that make it impossible for them to be in front of their betting bots in time for the first race of the day. 
That's when a Time Machine would come handy - and this is exactly what a new tool for virtual betting on historical markets is called. It can save you tons of time by letting you reconstruct the markets of your interest that took place in the past, as many times, as you want it, 24/7.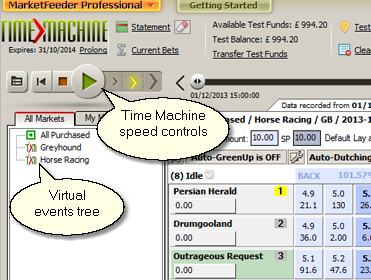 Suppose you want to test a betting system with your own settings. Normally it would take you at least one full day of betting in one race after another, and you could still need more iterations.
There are good and bad days, the latter including problems with your internet connection, the API service temporarily down, running out of bank too fast, or merely not enough appropriate markets that suit your criteria.
With the Time Machine, you simply choose the markets you want to work with and load them on your computer. Their data is 100% authentic, recorded from the Betfair server in real time and stored online. You can get access to these markets from any place and at any time you like.
Let's take a look at a very popular HiPro86 staking plan - this is one of those you can test with Time Machine. Watch the video below that demonstrates what I've told earlier.
The video gives you the main idea of working with the Time Machine. The markets you choose are arranged in the order of their start time, and you can see their marks on the time line. When a virtual clock starts ticking, the markets begin refreshing - just like they would in real mode. Only they can do it with up to 15 times faster. As they finish and get settled, your virtual profits and losses add up to form a virtual statement that you can review after you have done with the current round of testing. 
The markets in Time Machine are recorded every day, so tens of thousands are available already and more are on their way. You will never feel short of statistical material for your systems.
For a selection of Betting Apps for Betfair.com please see the Betfair App Directory. 

Discover the latest articles