Trading the US Masters: Going green on the Augusta greens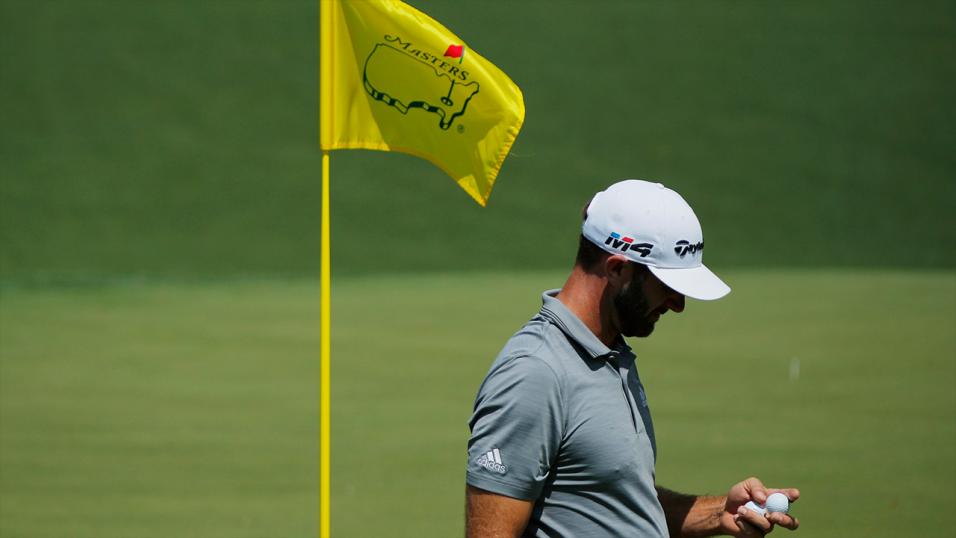 Knowing where players tend to drop shots at Augusta can help your trading strategy
With the Masters at Augusta this week, we asked Bet Angel founder Peter Webb for his top tips on Golf trading on Betfair and guaranteeing a profit whatever the outcome of the first major of the year at Augusta...
"Second round contenders within five of the leader produce a winner 82% of the time and that will have risen to 94% by the end of the the third round."
Peter trades on Betfair using Bet Angel. Download here and start your free trial today.
I enjoy the US Masters at Augusta each year from a trading perspective, because it's the only major played on the same course each year. This means you can collect a ton of stats on how the course plays. This gives me a good guide as to when to trade in or out of a position. You can do this on most courses, but because the Masters is at the same location every year it is much more predictable.
How the course plays
If you are a golf player, when you step up to the first tee you will already know which are the hardest and easiest holes thanks to the stroke index. When trading, knowing the hardest holes isn't sufficient, you need to know what impact each hole is likely to have on the score. Augusta gives us this chance.
Laying shorter priced players ahead of a trickier part of the course or backing bigger prices approaching easier holes can be a good strategy. Order of play can influence this. If one player has just passed through a trickier section without dropping a shot and is followed by a rival. A lay is a good bet on the chasing player. Any dropped shot or the potential for one will send their price out.
The most likely hole to drop a shot on is the 11th, but variance to par, one of my main metrics, means that a dropped shot is quite likely to occur in bunches. The most expensive three holes on the course are holes 10-12 where on average there is a nearly a 28% chance of dropping a shot.
Players tend to pick up shots on the par fives so holes 13-15 are where they're more likely to do that. There is an average 40% chance you will pick up a shot on these holes. Players are most likely to eagle the 13th, but two holes later is another chance. The last three holes are testing and dropped shots are likely.
If you cluster the holes into groups of three holes this gives you better view. Using a bit of maths to highlight the chance of dropping a shot at any of those three, Holes 10-12 show the highest chance of dropping a shot, 13-15 the lowest.
Chasing the leader
One in seven tournaments the first-day leader sees out the whole tournament. But that doesn't sound as bad if you say the opposite, which is that 86% of the time they won't. But, of course, some of this is down to how much they lead by in each round.
90% of eventual winners are at least five shots within the leader after day one. This is similar on day two but weighted towards the top of that group and at the end of day three if you are within three of the lead that's where 86% of the eventual winners come from. Only four of 80 winners I looked at were six shots or more behind on the final day.
Previous years
Golf can present some fantastic results when trading on Betfair. In 2014 Rory McIlroy was sent off favourite at 11.521/2 but had slipped to 110.0109/1 by the cut. Eventual winner and former green jacket holder Bubba Watson was three shots in the lead and trading at only 3.02/1 by the cut. McIlroy went from 36.035/1 to 7.06/1 in 2011 before losing and just 3.55 from an SP of 8.07/1 in 2012. In 2013 he was sent off at 15.5 and reached 6.25/1.
Jordan Speith was on fire in 2015 and couldn't be caught, in 2016 he traded as low as 1.091/11 before shooting a seven on the tricky 12th hole to hand the Masters to Danny Willett. 2017 was notable for a huge battle for the title that ended in a playoff between Garcia and Rose. Their prices flip-flopped alternatively as one of them headed for the title. Golf often produces these sorts of outcomes, but the last two years have been great markets.
The 'perfect' trade
There is no such thing as a perfect trade, but in 2017 we came close. Spieth opened the day three under for the tournament and had a good front nine. That left him seven under on the turn. Holes 10-12 are quite likely to see a dropped shot so the focus on whether he could avoid that. Danny Willett was already through the same section and was having a fine round. So far he had moved from par for the tournament at the open to two under after finishing at hole 12. Holes 13 to 15 present opportunities to pick up shots.
As Spieth approached the harder part of the course, Willett was already through the same section and was having a fine round. So far he had moved from par for the tournament at the open to two under after finishing at hole 12. Holes 13 to 15 presented opportunities to pick up shots and close in on the leader.
Spieth was trading at 1.091/11 for the tournament but went and dropped a shot at the 10th and 11th. Nerves kicked in on 12th where he ended up in the water twice and then the bunker for a seven on the tricky par three. Suddenly Willett was in the lead just had to try and not drop a shot or two on the final three.
It took just 33 minutes for Spieth to go from 1.091/11 to losing by three shots. That's golf for you!
General advice
Some of how the Golf plays out depends on the weather, which we don't know for sure just yet. If it's consistent then stick with the leaders later in the tournament. If it's not, then start laying them. A lead of a few shots will get more valuable with each hole played. It's best to stick with opposing players who have a slender lead to lose on a harder part of the course. Always bear in mind the tougher and easier holes and you will put yourself in a good position to trade out for a profit.
It's tricky to just pick off one or two selections. So use Bet Angel's dutching or dobbing tool to capture value on a bunch of them. You will only need one or two of those to have a good round for their price to shorten dramatically and put you into profit.
Don't do this on the front of the field as this tends to be a different battle for honours, your best bet is to focus on the mid to back field to get the results when dutching or dobbing. This tactic tends to make sense on the first and second days, but focusing on the leaders in the final two days is where you will find opportunities.
Good luck!
Peter trades on Betfair using Bet Angel. Download here and start your free trial today.
Discover the latest articles
Read past articles