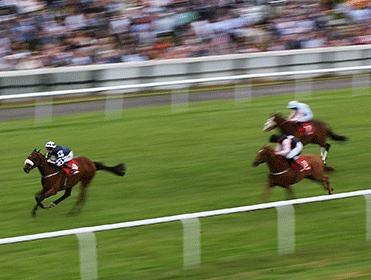 Guarantee a profit even if the steamer doesn't win
When a horse starts getting backed, people will often pile into the gamble and the price will steam in. Peter Webb explains how you can benefit from this, using Bet Angel automation...
"There are many ways to spot a steamer and on Bet Angel you can get it to look for and trade one automatically."
Understanding the steamer

One of the best trades to pick up on in a horse racing market is a jolly good 'steamer'. That is racing parlance for a horse who keeps on getting backed and backed, the opposite to a 'drifter'.
There can be any number of reasons for this to happen but one of them is definitely psychological. When people see money coming for a horse they feel the market may know something they don't.
Typically people 'feel' that the horse is being presented for a win, does the yard know something? So seeing the price of the horse shorten then jump aboard for the gamble by backing it. As a result the price gets even shorter and before long more people have joined in the fun.
From a trading perspective 'steamers' or gambled horses are great because you can trade the market actively, get a profit and be left with none of the risk. Not all gambled horse win by any measure and therefore an outright punt on one of these horses can be a risky business. Trading is much less risky and you can profit regardless of who wins.
Finding the steamer

If you are looking for a market where a gamble can occur it helps to focus on non-handicap races. In theory, handicaps are races where all horses and equally weight to give them all a chance of winning a race. If a yard is lining up a horse to win a race it's less likely, though not impossible, to be a competitive race. Therefore it's best to focus on races where the horses are less likely to be fairly matched.
A quick way to check this is to look for shorter priced favourites. Competeitive Handicaps tend to see the favorite starting at odds of [4.0] or higher and the next horse in the field will be a similar price. Money arrives in a market like this in a mixed manner and often without signficant amounts of momentum. If you look for a race where the favoruite is [3.50] or less then it's much more likely money will appear and start backing the favourite. Races where the horse has little form or a large gap to it's last decent run can also spark of a gamble. Therefore, maidens or races where a horse has changed distance can produce some activity.
Trading the steamer

Trading a steamer is a great way to profit from them. If you just back and your horse loses, then you just lost your stake. Anything could happen in the race, your selection may not get off to a good start, it could get boxed in during the race, the jockey may not give it a good ride, or maybe it just doesn't turn up on the day. With trading you can profit regardless of what happens in the underlying race. At worst you can create a free bet where you will win on the steamer if they do go on to win and lose nothing if they don't!
When looking to profit from a steamer you would back it in exactly the same way you would when you have a normal bet. But instead of letting the bet stand you simply cash out before the race starts. It can be really simple, but very effective strategy. In three out of four weeks this month just pursuing this strategy without any refinement of your selection would have netted you a profit.
Even better than that, with Bet Angel you can get it to look for and trade a steamer automatically. Using the automation on Bet Angel you can 'spot' a steamer by comparing recent price activity against past activity. To simplify the process for you I have produced a video that you can use to replicate this, which you can view below.
In summary, by trading rather than punting a gambled horse you can profit whatever the result of the race, rather than crossing your fingers and acting on a hunch!

Download a free copy of Bet Angel today